---
There's a lot of history on the grounds of Glenelg Estate, nestled along the banks of Tasmania's Derwent River. The property has been in the Downie family for nearly 200 years, when Andrew Downie was granted an initial 1000 acres in 1822, which he used to establish the family's first flock of Merino sheep, and started something special. Today, 'Glenelg' is a thriving producer of superfine Australian Merino wool and six generations later is successfully run by Charles Downie.
Charles, along with his wife Sally and three young children, has been running the operation since 2003. Like so many other Australian wool-growing properties, 'Glenelg' has remained in the family, with each generation building upon what was laid before them and striving to leave their land, their sheep and their business in a healthy state for the future. The dry, hilly climate of Tasmania's Derwent Valley provides the perfect environment for the Downie's 16,500 Merino sheep, who live on the simple mix of fresh air, sunshine, water and grass. "I think consumers now recognise the environmental credentials that wool producers have," says Charles. "It's a natural product that has relatively minimal impact on the environment compared to our competing fibres." After all, wool is a natural, renewable and biodegradable fibre, with attributes unmatched by other types of fibres.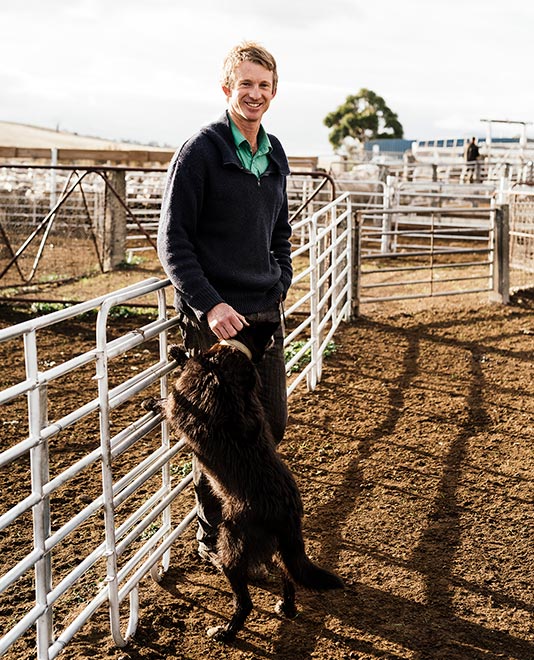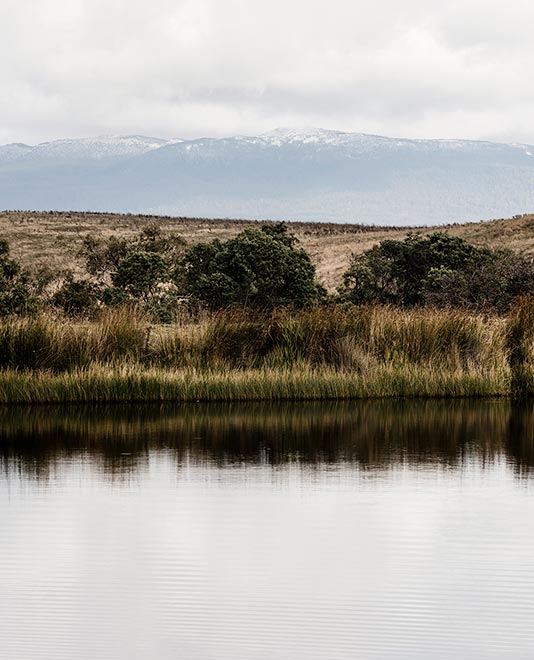 (Left) Charles Downie of Glenelg Estate.
Caring for the environment is something that Charles is passionate about, and it seems so were his forefathers. It's obvious that each generation has cared a great deal for their land, leaving it in better condition as they pass it on. "One the great things about family businesses and farms in particular is that we don't have to manage for results in 12 months' time, we're managing for generations. The health of the landscape is important to us, not only for now but for 30 or 60 or 100 years' time. Once these areas of native bush are lost to the landscape they're gone forever."

'Glenelg' has partnered with several organisations across the years to carry out works to improve the environment, such as Greening Australia, Natural Resource Management South and Landcare. The property has about 1700 hectares of remnant vegetation, with a parcel of this shut off from running stock, such as sheep. 1200 hectares is under a management arrangement to be reserved as forest for 25 years, which generates carbon credits that are sold to the Australian Government. "My grandfather and dad first started locking areas up and keeping stock out. This hasn't affected our day-to-day operations but it's great for the environment." In addition, the Downies have fenced their three kilometres of frontage along the Derwent River, which is Hobart's water source. This not only prevents stock erosion and but has also allowed for wonderful bush regeneration. "Our focus has been to minimise our impact on the land over a long period of time, so that the land is secure for whoever manages 'Glenelg' after us."
What has, however, contributed to the production and evolution of Merino wool according to Charles, is the use of technology on the farm. While the basic operation of wool-growing hasn't changed too much in the past 200 years, the day-to-day operations have been immeasurably changed by technology. "That's what I brought to the property more than anything I think: the use of technology. You could go back 200 years and my forefathers would recognise what we're doing here today; it's quite similar. But the big difference is the technology we've got available. You can identify individual sheep, measure the traits in the wool enterprise that we want; identify the correct wool that suits the market and consumer demand and monitor animal health or identify what they need."
Looking to the future, Charles is certain that his land, and his sheep, will be left in good hands. "Whatever we do changes the environment, but our aim is to leave it better than we found it."
"Our focus has been to minimise our impact on the land over a long period of time, so that the land is secure for whoever manages 'Glenelg' after us."