---
From Banjo Paterson's iconic Clancy of the Over Flow, to Hugh Jackman's character in Baz Luhrmann's epic film Australia, connotations of the rugged Australian farmer are often imagined to be men of great brawn.
Women, by comparison, are typically portrayed to have a less hands-on role. Yet what many people fail to realise is that two of the greatest pioneers of Australia's wool industry were women. Instrumental in founding the Australian wool industry, Elizabeth Macarthur established one of Australia's first wool-growing properties and spearheaded the exportation of Australian wool. Another, Eliza Forlong, played a large part in introducing Merino sheep to Tasmania and establishing the region as one the world's nest wool-growing areas.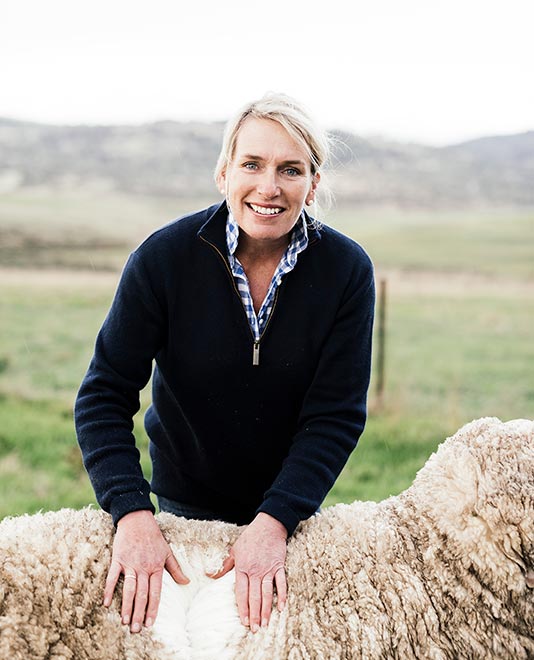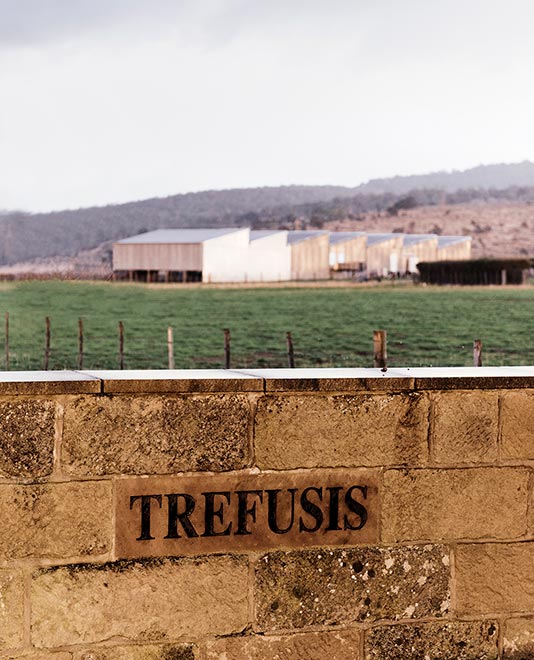 (Left) Georgina Wallace of Trefusis.
Today, women continue to play an integral role on the land. Whether they are busy producing the world's best wool, shearing sheep, or working as wool handlers, the women of wool continue to flourish. For Georgina Wallace, a life on the land has always come naturally. Having grown up in the Central Districts of Tasmania, near the historic town of Ross, the Australian wool producer has spent her life surrounded by sheep. Her parents – Jim and Jo McEwan – had four daughters, but it was Georgina who found her calling at a young age. Today she manages Trefusis, a 7000-hectare property in the Tasmanian Midlands, with her husband Hamish.
When Georgina and Hamish took over Trefusis in 2007, having sold Uplands, a property they had owned for 23 years, they had big shoes to fill. Georgina's father had won the Ermenegildo Zegna trophy for extra fine wool an incredible 15 times. "I've always loved working on the land and being outside," she says. "I love the versatility of the work – no one day is the same as the next. It does have its challenges at times; some days you don't want to be outside in howling winds or snow, but I love working with sheep, particularly Merino sheep. I just love the fibre; I still get a buzz today when I open up a sheep's fleece and you think 'That's pretty special'".
Wallace's passion for the wool industry sparked at a young age, helping out on the farm, especially during school holidays. "Cheap labour, I suppose," she laughs. "However, I always looked forward to those times and I've always been very passionate about sheep and wool. Back in my early years it wasn't all that common to see women working like men on farms, but I was fortunate that my father encouraged my sisters and I to do so. There weren't many women attending agricultural college at the time, something I would have loved to have done if the opportunity was there. I definitely think the level of support has dramatically changed nowadays and women are just as competent and employable as their male counterparts. It's a great industry for women to be involved in." This became even more apparent when, in 2015, Wallace became the first female president of the Australian Association of Stud Merino Breeders, a position which had, until then, only been held by men.
The road to wool hasn't always been as smooth as it seems today, and perhaps things could get rocky again tomorrow. A life on the land means a life at the bittersweet mercy of Mother Nature, who can be kind one minute and cruel the next. "A lot of people don't think droughts happen here in Tasmania, but they certainly do. We had a really bad drought here from 2006 until late 2009 and it was a really tough time for many farmers in this area. It was at that point that my husband Hamish and I decided that we had to do something to try and drought-proof this property."

After months of planning and crossing hurdles, the Wallaces, in cooperation with their neighbour, built a 7000-megalitre dam, which they proudly say has gone a long way to drought-proofing their property. "We have some 700 acres under centre-pivot irrigation which has given us diversity and the security that, when times do turn dry, we can look after our sheep. It's been a huge bonus to this property." In addition to the mega-irrigation scheme, the Wallaces engage in various land conservation arrangements to look after the native flora and fauna on their land, with designated areas fenced off to see the native vegetation flourish. "We have destocked these areas and make sure that we only run sheep there for three months of the year. We want to see native flora and fauna thrive and I think for the whole biodiversity of this property it's important to look after native land. We've also fenced off some waterways and creeks to look after those areas and that vegetation. We see this as quite a holistic approach to the farm – you have to look after all aspect."
Wallace, along with the tens of thousands of other proud woolgrowers across Australia, are true guardians of the land. Taking great care of the land that allows for their livelihood is just as important to the tireless work of producing the world's nest wool as ensuring that their sheep are happy and healthy. "I see that we are custodians of this property for the next generation. When we moved back here, the property was in very good condition, and that's largely due to my parents' hard work. We want to leave this property in even better order for the next generation, and I think we owe it to the land. It's really important to look after your land and look after your livestock. I for one like to see my sheep healthy and happy, and when my sheep are happy it makes me happy. That's how we want to leave this place – healthy and happy."
"I think wool is such a wonderful, sustainable, clean and green product, and I think that augurs well for the future."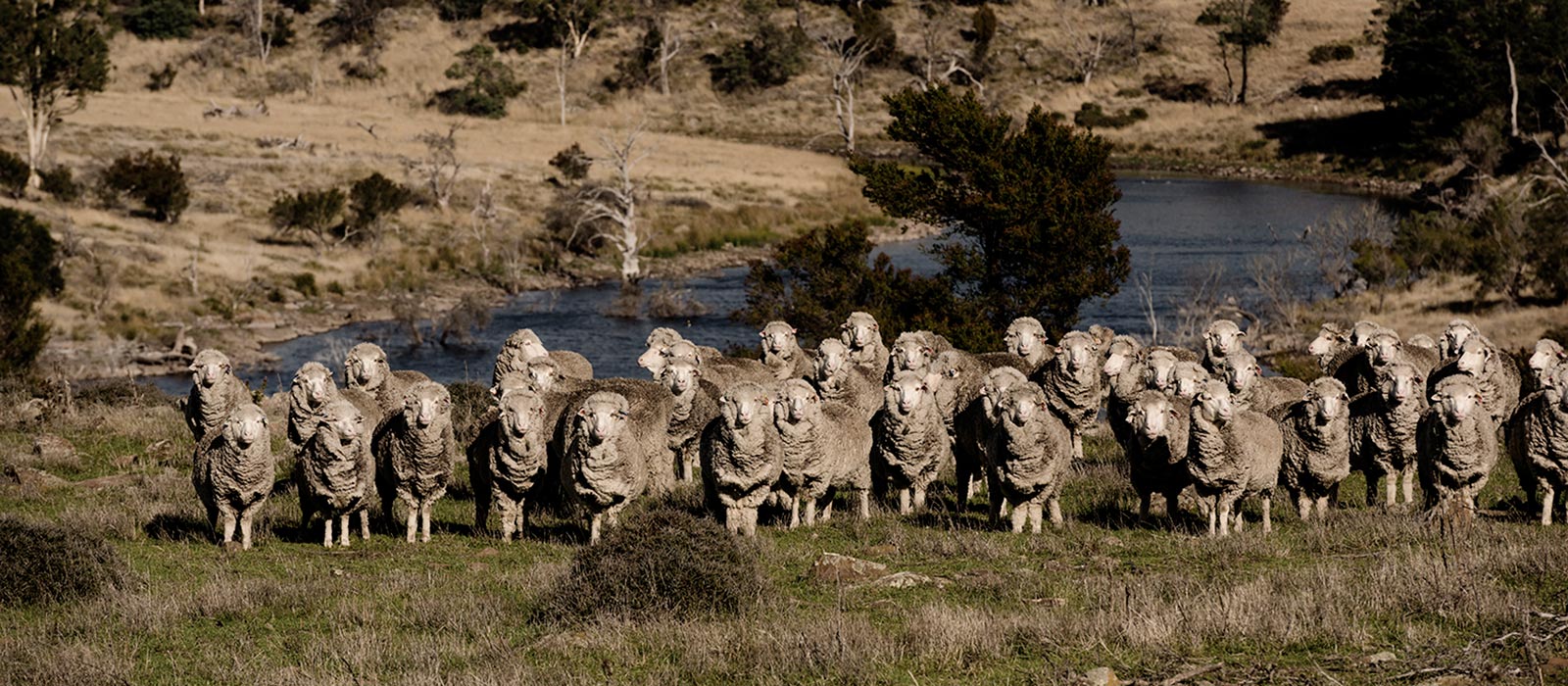 So what does the future of wool-growing look like? Very bright, if you ask this woolgrower. "I think wool is such a wonderful, sustainable, clean and green product, and I think that augurs well for the future. I think it has wonderful properties and such great diversity for fashion designers. From next-to-skin apparel right through to an overcoat, it's such a versatile fibre. Activewear is such a big part of our industry and it's a huge growth area for wool, as are other areas such as the benefits for those who suffer from eczema, especially babies and young children. It's a very exciting time and the industry has a really bright future."