---
A glance at the window displays of number 19 Savile Row these days may well trigger thoughts of the male peacock revolution of the sixties. It may even install a late-1960s' Stones or Beatles hit as the rest of your day's earworm. There's good reason for this: Edward Sexton – the legendary cutter, designer and tailor who, with his business partner Tommy Nutter, dressed rock-and-roll royalty in the sixties, in the process revolutionising Savile Row – was brought into Chester Barrie as a consultant in 2011 and created a new block and cut for The Row's go-to house for made-to-measure and off-the-peg tailoring.
"He stripped back the Chester Barrie suit to its bare bones and rebuilt it layer by layer," explains the house's creative director Christopher Modoo, who has quite a sixties' sensibility himself having taken his earliest sartorial inspiration from his father's 'Notting Hill mod' style of dressing. "So things like the roped shoulder, the fullness of the chest, the more generous lapel – that's all part of the look now. Then there's small details like the inside pocket being up higher – how annoying is it when you put on a beautifully fitting suit, put your wallet inside and it falls straight down to the waist? We didn't just bring Edward in for the name. He really got his sleeves rolled up."
Sexton is perhaps the Godfather of UK tailoring, and the recent injection of his clean, sharp approach into Chester Barrie's output is a booster to the quintessential Britishness that begins with that amalgamated name. Having made his fortune opening a chain of eponymous outfitters across The Pond, the company's entrepreneurial founder, Simon Ackerman, returned to England in 1935 and set up a factory in Crewe due to its proximity to both Huddersfield's mills and the port of Liverpool's role as a commercial gateway to the USA. Chester is a city close-by, while 'Barrie' came from the Peter Pan author JM Barrie, Ackerman considering both names to sound pleasingly English (even though the latter was actually Scottish).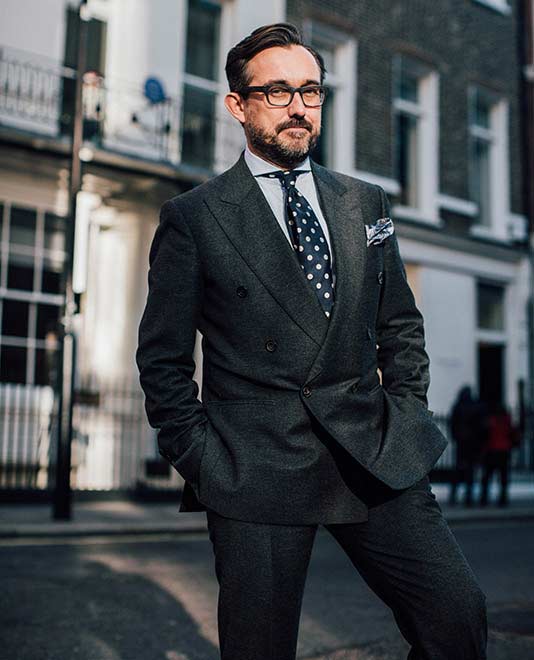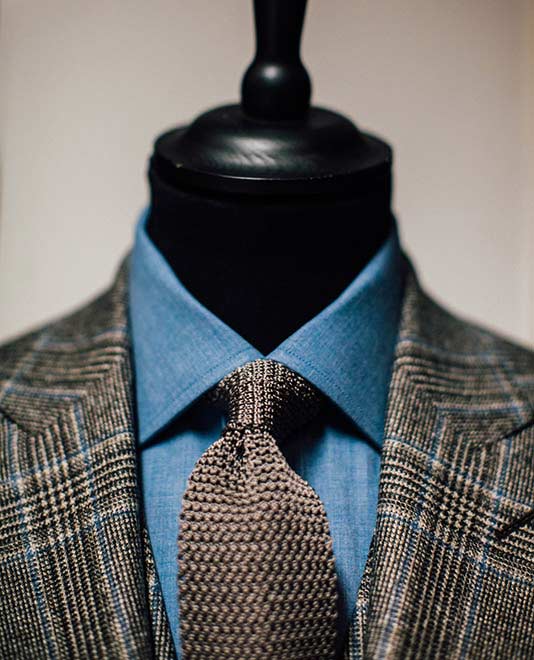 Chester Barrie creative director Christopher Modoo.
Ackerman's son Myron turned Chester Barrie into a global success story, and by the 1960s, so many of its suits were being sold in the prestigious milieu of Savile Row – including the ones worn by Sean Connery in Dr No and Steve McQueen in The Thomas Crown Affair – that more than 1,000 staff were required to manufacture them up in Crewe. A series of rocky patches and multiple changes of ownership followed, but now, under the aegis of Prominent Europe, part of Japanese conglomerate Itochu, the firm is flying high once more.
Sexton's input has proved invaluable, but it's Modoo – who learnt his formalwear trade on the sales floor working for Thomas Pink, 40 Savile Row and then Ede & Ravenscroft – that is steering the brand into exciting new waters now. "The key word with us is accessibility," he says. "We've always been the ready-to-wear specialists, and with made-to-order as well, we can take our products to a wider audience. Our price points are lower than with a bespoke suit, so there's less of a leap of faith. We also appeal to people who are bespoke customers but haven't got time to plan their wardrobe as carefully. People come in because they like our fit, our shape and our taste." The fact that orders take only four to six weeks to complete, and that only one or two fittings are required, is surely another draw for the time-poor.
Modoo – who today is sat in front of a huge whiteboard on which small swatches of felted, worsted and just about every other type of wool one could think of are surrounded by hastily scribbled notes - is a genuine aficionado when it comes to cloth. "Fabric dictates my entire design process," he says. "I didn't go to fashion college, I never studied design, I can't draw, I can't use pinking shears: what I do is go with an open mind to a good cloth mill – Vitale Barberis Canonico, William Halstead, Loro Piana – and see the new collections, go through them all, hold and feel the fabric and work out what to do with it."
Producing a ready-to-wear collection, Modoo says, has facilitated relationships with the cloth mills that gives him a broader repertoire of materials to work with than others on The Row, and Merino wool, in particular, seems to suit his instinct-based approach to creativity. "I like cloth with character, and that's what Merino has," he says. "A lot of other cloths are well-made, soft, tailor well, but the results look like an airport uniform. Bland. No character. If you're going to make a suit of Savile Row quality, why use high street style cloth?"
Aside from its newly reinvigorated design credentials, Chester Barrie is making great strides when it comes to commercial partnerships. In 2011 it became the dress-wear sponsor for the Olivier Awards – the London theatre scene's answer to the Oscars. "We do all the red carpet dressing," explains Modoo. "We dress the presenter and maybe four or five actors in dinner suits. Over the last four or five years, men's dressing on the red carpets has been getting so much more media attention than it used to, and people have got a lot braver in what they wear. That gave me a bit of a license to be more creative, and play around with colours and forms. It's really good fun because we end up doing brown or red dinner suits, cocktail suits. We can be much more flamboyant."
"Things like the roped shoulder, the fullness of the chest, the more generous lapel – that's all part of the look now."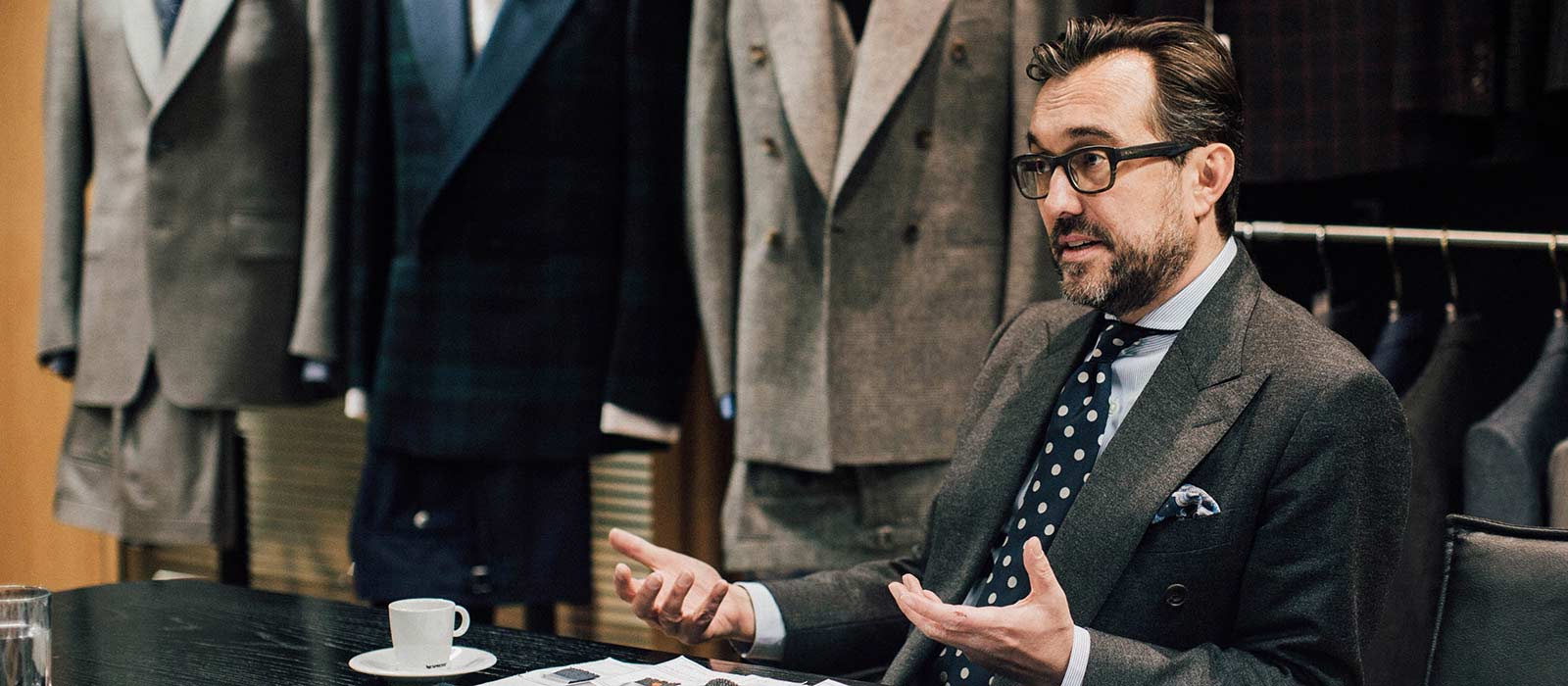 Another commercial partnership, meanwhile, allows the house to show off its technical tailoring credentials. "We're now menswear supplier to the Leicester Tigers," Modoo says. "Now, if you can fit 50 guys with difficult shapes like that… If one of these guys gets injured, their body shape changes between fittings. You can get a 12-inch change in waist size. And they don't have necks – just muscle between the chin and the chest. So now we can say to customers who might have, say, a drop shoulder, or a slight pot belly, 'Well, if we can fit those guys…'"
Prominent figures with more, shall we say, tailor-friendly shapes to darken the doors at number 19 on a regular basis include the model David Gandy and actors as diverse as David Harewood, Hugh Bonneville and Mark Gatiss. Given the creative flair, technical prowess and sheer sartorial nous found within its walls these days, expect Chester Barrie's upward trajectory to go on for the foreseeable future.