---
With Koché, designer Christelle Kocher continuously breaks the moulds of high and low fashion with her handmade hybrid garments and surprising textural interventions, writes Dan Thawley.
As the fashion world continues to question the traditional boundaries of style, gender, and luxury, French designer Christelle Kocher's unapologetic mashup is somewhat of a breath of fresh air. A graduate of London's Central Saint Martins, and with years of experience at the helm of Chanel-owned Paraffection atelier Lemarié (specialists in haute couture feathers and fabric flowers) her label Koché could certainly puzzle some expectant onlookers – far removed as it is from the dramatic gestures of the traditional couture world. The fact is, you are more likely to find an embellished football jersey and a hooded sweatshirt chez Koché than you are a ballgown or a cape, as Kocher tiptoes along the lines of good taste to create hybrid artisanal garments that sit firmly in the 'now'. In order to do so, her playful designs elevate sport and streetwear ideas in noble and innovative fabrics in which not only Lemarié, but also The Woolmark Company, play a hand.
Since Pre-Fall 2018, Kocher has created three Koché collections in partnership with The Woolmark Company, exploring new developments in wool for all seasons. "Woolmark has acted like a real partner with me, and as such it's been a really strong collaboration," says Kocher. "I visited ateliers in Bishu, Japan and it was so inspiring! I met artisans in the wool factories there and we worked on custom fabrics. They also allowed me to have access to fabrics I would not have otherwise been able to use, meaning I've been able to mix wool with both sportier and more artisanal designs: to embroider it, and to print over it too." For Kocher, that could mean anything from cheetah printed felt wool suits for boys and girls alike, or spiral knitted sweaters in loose woven stripes. Some pieces even combine Woolmark-certified fabrics with Lemarié techniques, like a chunky woollen sweater embroidered with feathers and airbrushed (like graffiti), or an elegant black wool suit studded with rows of Swarovski crystals. "For me it's very beautiful to mix those two worlds. And I love that wool allows you to create very bright colours, as it holds the dye so well."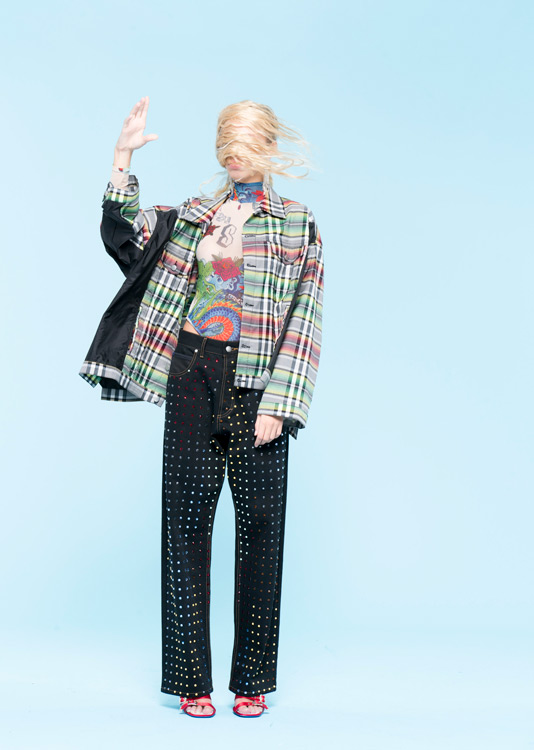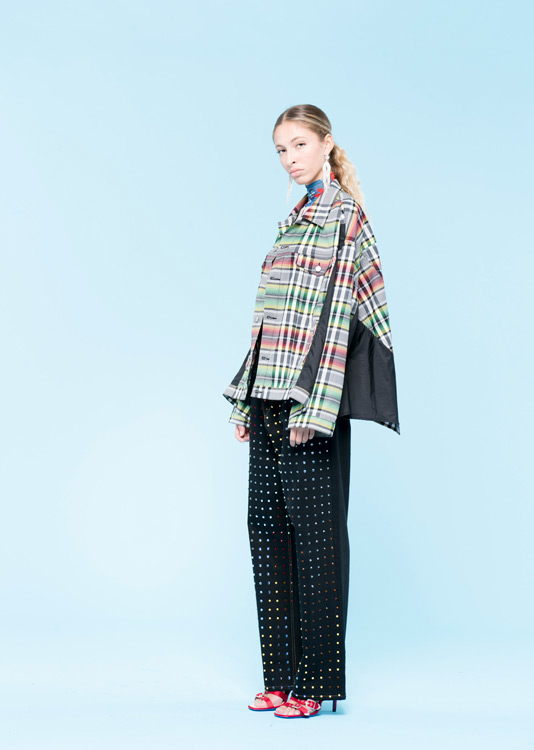 This June, Kocher took her Resort 2019 collection to the OpenMyMed festival in the south of France, holding an off-schedule fashion show that took place on board a cruise ship. "I was invited to show in Marseille, a Mediterranean port city that for me is sunny and electric, yet very urban," said Kocher. "There is such a mix of people and a very inspiring energy in the city. For this collection I wanted to work on both a more casual and more sophisticated proposition at the same time, so there were pieces like the hand-knitted sweaters in emblematic Marseille colours like white and turquoise. They were mixed with jersey and wool that was worked to behave like sportswear." A sunny yellow cardigan and spliced black sweater both displayed a myriad of techniques in wool too, as did a lace-shouldered blazer (another of Kocher's intricate eveningwear alternatives) – all elements that played into Koché's quirky soup of style references that here managed to ping-pong across both sides of the Med from North Africa to Italy and back to France. In a poignant finale, several of her street-cast models marched out bearing archive pieces on clothes hangers, in a mini-retrospective of past collections that expressed her continuity, evolution, and dedication to craft.
Fast forward to September, and Koché returned to Paris to present "United Hearts of Koché", her Spring Summer 2019 collection that solidified the brand's bond with The Woolmark Company more than ever. "We worked together on a special check jacquard in Bishu," explained Kocher, of a multi-chequered wool development striped through with red, yellow, orange and green bands, and then flocked with a sportswear treatment. "We made a trench coat, different trouser styles, and a jacket where the Japanese wool is spliced with nylon: it's somewhere between a windbreaker and a deconstructed jean jacket." Continuing the global spirit of her work, from the diverse street-cast models of various sizes and colours to multinational motifs in the clothes themselves, the collection defied the pigeon-holing of fashion trends via the pure sense of individuality that each of her characters personified.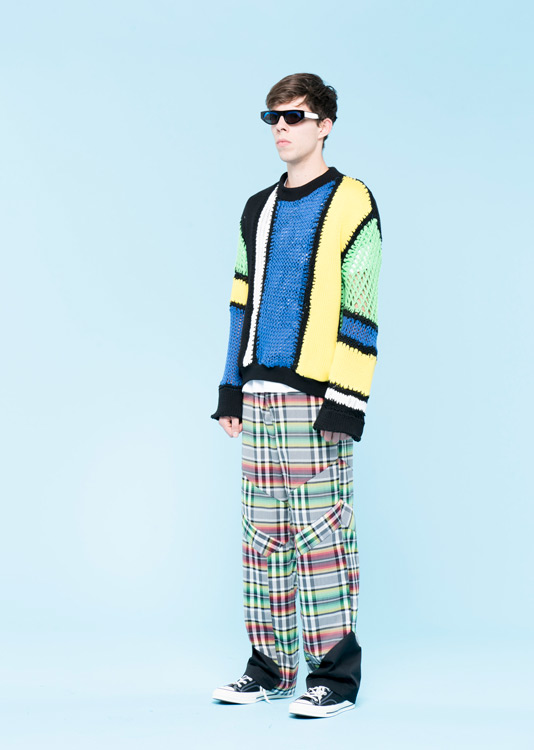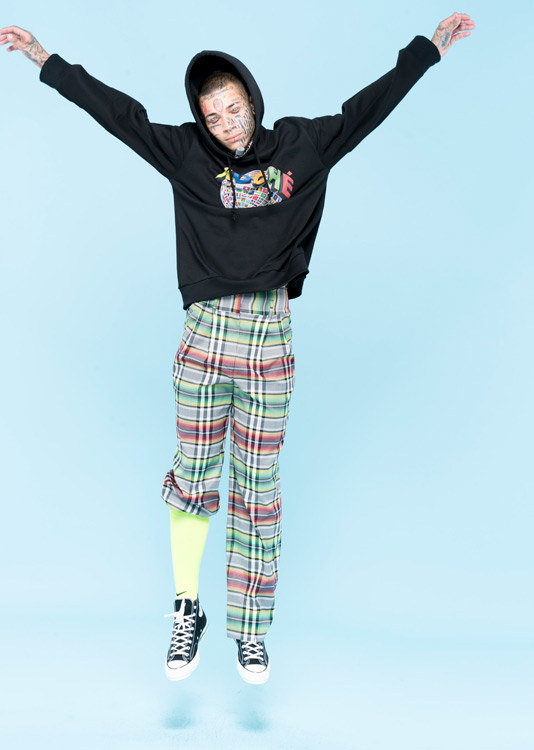 "It was an homage to countries I have visited, but also to imaginary places," said Kocher. "It's never really literal, everything is a hybrid. Even my tattoo prints started with Japanese references then became mixed with contemporary art, so in the end it becomes a cultural appropriation with authentic origins that takes on its own identity." Take from that what you will, but in a collection that fuses cheongsam details with snap-stud trackpants, flamenco ruffles, Berber headpieces, wetsuit stripes and rainbow crochet, the idea of 'something for everyone' seems reductive. Instead, Koché's universality hones in on a more discerning clientele: an able and willing customer who revels in the dualities present in these truly original clothes – their classical base subverted by the strength of her pattern, print, or textural intervention. These are jarringly new propositions in an increasingly homogenous industry.