---
Menswear in winter is not without its own particular appeal, bringing with it the luxury of layering and the structured warmth of coats. Winter coats are a charming way to add character, texture and contrast to your daily look while providing much-needed warmth against the elements.
Here, a short guide to the key winter coat styles for men.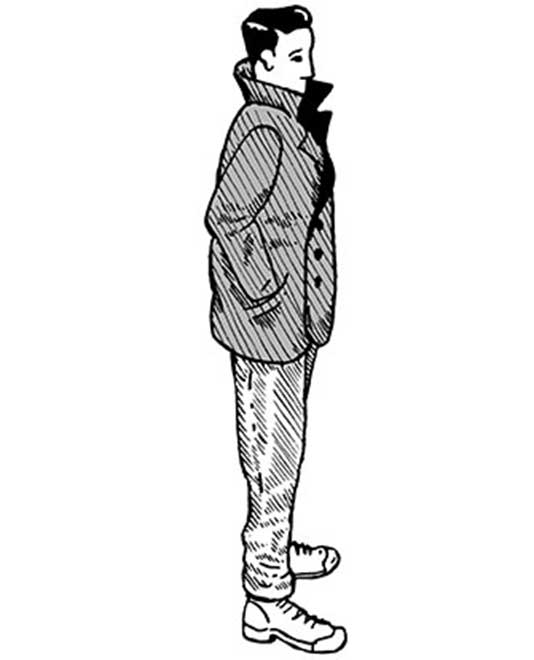 Duffle coat
Popularised by the British military, the coat became a menswear hit when a surplus was released to the general public after WWII.
Slightly boxier than an overcoat, the modern duffle has evolved to become more streamlined but still with a generous overlap in the front. Its rugged finesse is best worn with similar harder-wearing garments like jeans or chinos, although a cable knit jumper or wool roll-neck sweater will add a contrasting softness.
Pea coat
The origins of the pea coat tend to blur the further back you go, but its strongest association is the nautical one, being the coat of choice for the British navy.
Slightly longer than a regular jacket and with more shape than a duffle, the pea coat should be worn snug around the shoulders. In fact, "sizing down" is a common practice. Broad lapels and slightly indented at the waist, the pea coat has the added benefit of slimming the silhouette.
This is a great winter coat to team with smart casual looks while still being sophisticated enough to wear to the office.
Overcoat
A more formal style of outerwear, the overcoat is worn over a suit and should fit squarely on your shoulders without too much room around the chest.
Despite the formality, when offset against a more casual ensemble of jeans and shirt, the overcoat can bring a smart rakishness with it.
Field jacket
Another combat-inspired jacket, this time by GIs who served in Vietnam and Korea, the field jacket is instantly recognisable for the amount of pockets it has down the front and a belted waist. Relatively lightweight, the field jacket is also ideal as a trans-seasonal piece.
A slightly unstructured appearance makes it the more casual of coats, it works a treat with sneakers and jeans but a crisp collared shirt will add some sharpness.
Trench coat
The longest variety of coat, reaching the knee, the trench was literally born in the trenches of WWI with invention claimed by both British heritage labels Burberry and Aquascutum.
Traditionally camel or khaki in colour, the trench makes for great layering over wool sweaters and shirting and is often worn in lieu of an overcoat with a suit. As such, it should be large enough to comfortably accommodate extra bulk.