---
A unique community craft project demonstrates the power of bringing people together, writes Linda Morris.
The conventional story of the refugee in Australia is one of boats, detention and visas. But a tapestry work designed and made with the help of 200 refugees tells a very different tale. In vibrant wool yarn, small moments of friendship, healing, strength and community in the Friendship Garden of Auburn, Sydney have been woven into the fabric of a couch. Locals share food, children play, people pick blueberries after work.
One colourful vignette shows a man watering his new corn crop. "It's good to see things grow," the man told project collaborator Tasman Munro. "I am very worried about my family in Pakistan. But when I come to the garden I have time to forget and relax." Another shows a child planting vegetables, bringing to life one woman's words Munro heard in the garden: "We can grow a better place for our children."
The idea for the tapestry couch came more than a year ago when master Afghan tapestry artist Sayd Shahmamood Abdali walked into a woodworking workshop Munro was running at the Auburn garden, wheeling behind him a trolley of his tapestries. With textile artist Jane Theau, Shahmamood Abdali was teaching fellow migrants his unique hook technique – using a needle adapted from a syringe used to inject cows – at the fortnightly community kitchen run by Settlement Services International. Munro suggested a collaboration that brought together the skills of the woodworkers and the tapestry group.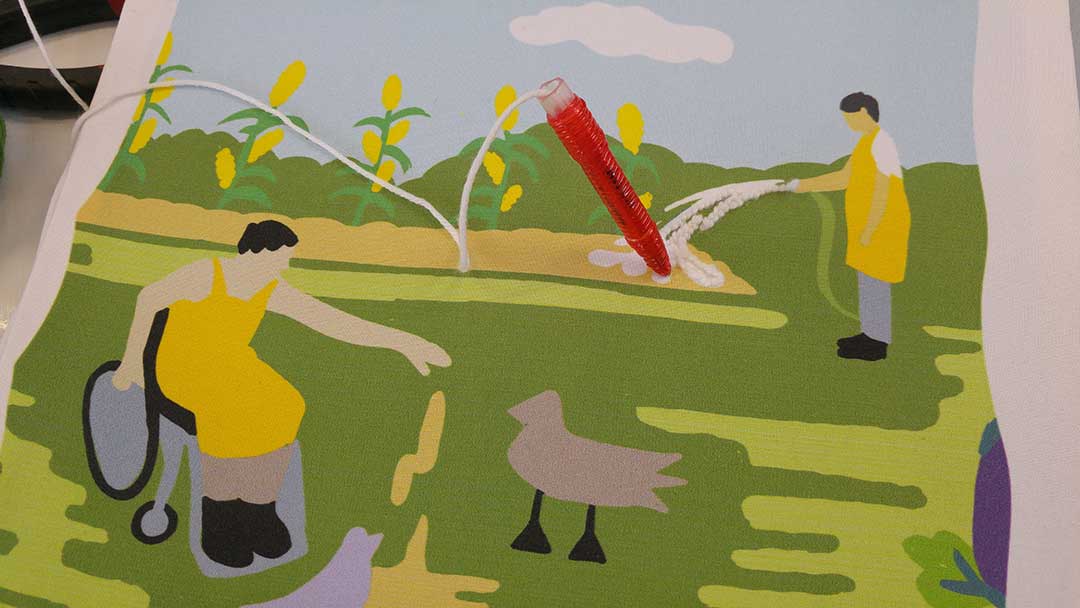 The aim was to make a piece of furniture for the entrance of the Auburn Centre for Community, with the project forming part of Munro's PhD at the University of Technology Sydney. Munro has been investigating ways a narrative approach to social design can disrupt negative narratives among communities. Syrians, Tamils, Rohingyas, Afghanis, Iraqi, Hazaras, Persians, Vietnamese and Nepalese communities sat together to share their stories and learn from Mahmood, who has honed the art form for 30 years. Until his arrival in Australia two years ago, Shahmamood Abdali had been supporting his family in Iran by selling tapestries of wool, cotton and silk and kits for other people to make their own.
"It's been really good to share my work with so many people," he said. Shahmamood Abdali is planning to make a tapestry of Afghan Girl, the 1984 photographic portrait by journalist Steve McCurry that appeared on the June 1985 cover of National Geographic. "The process of making has also been healing in itself and many friendships have been fostered along the way," Munro said. "One participant expressed that, 'I have lived through war and very di cult things in my life. I need to do this at home, it makes all the bad memories disappear'".
The couch was exhibited alongside Mahmood's personal work and those of other refugees at the exhibition Singular/Plural at 107 Projects in Sydney during Refugee Week, and continues to be displayed at the Auburn Centre for Community. Co-facilitator Theau said Shahmamood Abdali's technique, akin to that used in hook rugs, was simple and forgiving so people of all skills could be involved. "If people want to see tangible evidence of how to communicate despite not sharing a language, how to create a thing of beauty through collaboration and compromise, and the importance of community projects, they should view this exhibition – from the comfort of this tapestry couch."