---
Having crafted her reputation with more than 50 years of material-based artworks, Sheila Hicks shows no signs of slowing down. The artist speaks with Alison Kubler about the joy of materiality.
On a Sunday morning down the line from Paris, Sheila Hicks' voice is indistinct. I can only hear every second word. I ask her if she wouldn't mind bringing the phone a little closer, and it transpires that she had me on speaker so she could weave as we speak. A multi-tasker par excellence, Hicks grudgingly albeit sweetly relinquishes the loom so we can have a more fulsome conversation about art and life. She tells me she is thinking about lime green, which she is weaving, and how it will really "bounce" when she injects some plum. It is intensely frustrating to not be able to see what she is so lovingly describing.
Hicks' career is a considerable one; she has been a practising artist for some 50 years and at the age of 83, she shows no sign of resting on her laurels, although she would be more than qualified to do so. In 1957 she was awarded a Fulbright Scholarship, which afforded her the opportunity to travel to Chile, which was the catalyst for studies in textiles and weavings and the start of many journeys to South America, Mexico, South Africa, Morocco and India. She has exhibited at, and been collected by, all of the major museums and fairs, including the Whitney Biennial, Whitney Museum of American Art, New York (2014); Glasgow International, Glasgow, Scotland (2016); The Hangzhou Triennial of Fiber Art, Hangzhou, China (2016); and the current 57th Biennale di Venezia, Venice, Italy (2017). Her practice is time- and labour-intensive and requires real physical rigour. Her favoured medium is wool and other natural fibres, but abandon here all visions of macramé; Hicks has been using textiles since the 1970s to make work that straddles the realms of art, craft and architecture. By creating works which vary from intimate weavings to large monumental installations that challenge the properties of her chosen medium, Hicks explores scale in ways that are always surprising and never cliché́.
Hicks has a unique ability to transform her humble prosaic materials into wondrous objects that stimulate conversations about sculpture, painting and the decorative arts. Her oeuvre, too, engages with an enduring conversation about formalism and art; indeed, her early studies at Yale University, under the late painter Josef Albers, are evidenced perhaps in her approach to colour and abstraction. Also evident is the influence and shared experiences of her milieu, among them fellow alumnus and feminist heroine Eva Hesse, whose work embodies some of the same approaches to soft sculpture, but Hicks is quick to observe that much of the writing around the art and artists of that era, the 1970s, is a kind of retrofitting of history. She uses the term 'threads', without irony, to describe the way art and artists have been woven together to create a narrative. It is di cult to align Hicks to any one art movement.
Even the most casual of art observers would be aware of the current trend in contemporary art for the handmade. This return to craft again – once a derogatory term in art circles – is evidenced especially by the popularity of ceramics. Indeed, these days it is almost impossible to walk into a gallery without encountering a hand-thrown pot. This elevation of craft to high art forms part of a larger cultural craving for the haptic experience, the ancient Greek concept of communicating by touch. In Hicks' work we can see the hand of the artist, though Hicks prefers the term 'repetitive gestures' to handmade. "My work comes to life through repetitive gestures," she explains. "These may include looking at the sky at the same time of day every day, sewing or cooking or gardening. Drawing and writing, too, are repetitive gestures, the weaving of the verb and the noun." The term 'practice' well describes her daily artistic actions.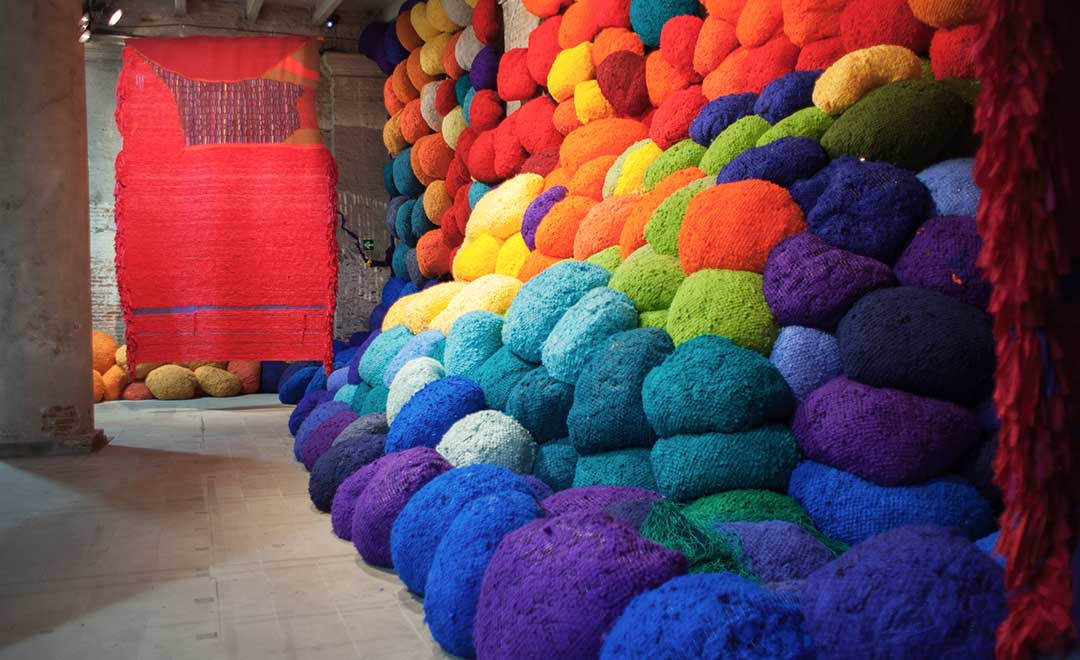 Sheila Hicks, Escalade Beyond Chromatic Lands, 2016-17, mixed media, natural and synthetic fibres, cloth, slate and bamboo, on display at the Venice Biennale, Italy.
Above all else, Hicks' work is unashamedly ebullient. Whether it takes the humble form of an intimate weaving or a series of giant puff balls in exuberant colours, such as her colossal installation Escalade Beyond Chromatic Lands for the current Venice Biennale, it begs to be touched, and audiences are welcomed to engage with it in a thwarting of the traditional white-box approach to exhibition. Hicks' work appeals to that most innate of desires to touch and feel, to be warmed, and wool is a material that has endured across history from the earliest incarnations in clothing. As a medium its historical significance should not be underestimated but in Hicks' hands this most arcane of fibres becomes as precious as a jewel. In this sense, her work is about transformation from one thing into another.
I ask Hicks about what it is that drives this enduring interest in materiality. "Isn't everybody interested in materiality?" she posits. Certainly, but in Hicks' case I hazard it seems more than an aesthetic interest; a mantra, perhaps. "It's just that it has more or less taken over my life. I can't attribute it to any one decision on my part. I can just attribute it to encounters and fascination. You begin walking a path every day. Say Luxembourg Gardens is the path you take every day. You try and vary it, and take different paths through the garden, but you end up taking a path that you return to over and over again. And the interesting thing is, you think you know the path and then you discover something new practically every day on the same path. And, you see, it's interesting I am wearing out that path. Why do I keep returning to that path? You never quite come to a conclusion so you keep walking the path. And that's what has happened to me."
When we speak, Hicks has just returned home to Paris (where she has lived since 1964) from New York, where she completed a large-scale installation on the High Line entitled Hop, Skip, Jump and Fly: Escape from Gravity. Located at the site of the Western Rail Yards, she says the work was designed to inject some levity to the city, something light and bright and joyful. The subtitle, she says, is to address what she identifies as the "mood of gravitas" in the city at present. She is busy working on two solo exhibitions at Museo Amparo, Puebla, Mexico (2017) and the Centre Georges Pompidou, Paris, France (2018), but before then she will create a large-scale work for the gardens of Versailles, no small feat. She won't reveal its form yet, but it is designed to be surprising and incongruous, a colourful moment of disorder in an ordered garden. It will be very Hicks.
Sheila Hicks' installation Escalade Beyond Chromatic Lands, at the 57th Biennale of Venice, will be on display until 26 November 2017; Hop, Skip, Jump and Fly: Escape from Gravity will be on display at the High Line, New York until March 2018; her forthcoming installation, within the gardens of Versailles, will open in October 2017.