---
Meet the Aussie extreme knitter who is loved by stylists the world over. From searching for the perfect creative outlet to features in the world's most influential magazines, Jacqueline Fink does not take knitting lightly.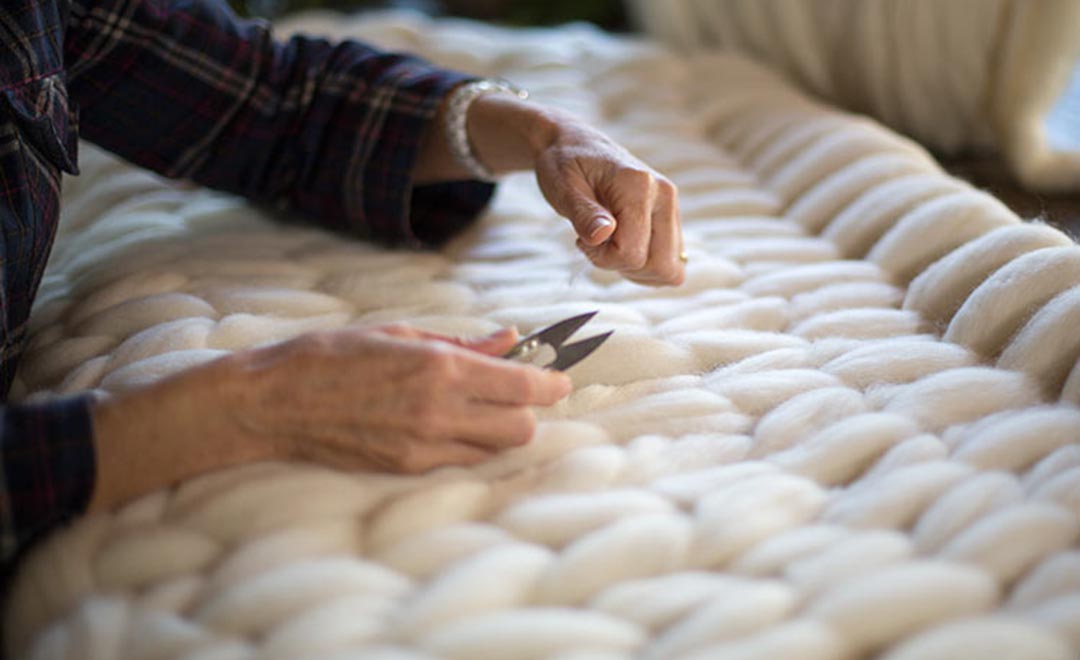 Jacqueline Fink
Art as therapy
As children, we are brought up being told to follow our dreams. For many, this is harder to practice than preach. But for Australian extreme knitter Jacqueline Fink, her current path literally came to her in a dream.
"There was no imagery to the dream, it was just dark and there was a big loud booming voice, which said: 'You have to knit and it needs to be big!' recalls the Sydney-based mother of three. "It woke me up from my sleep. Nothing troubles me much but I was terrified. So I thought right, I think I better listen to that."
And listen she did. This strange encounter in the dead of night was enough for Fink to ditch the law books (she used to be a lawyer) and pick up knitting needles, just as she had with her mother when she was a child.
What made the dream even more poignant was that Fink had been on a soul-searching journey since 2006, which, like her passion for knitting, also stemmed from her mother.
"In short, my mum was diagnosed with a terminal lung disease and we realised at that point that it had a familial connection. In my family's case it's really slow progressing until the end comes. Then it's rapid."
After her mother received a life-saving double lung transplant, Fink found herself in a heightened state of creativity, which after months of experimentation resulted in the launch of Little Dandelion.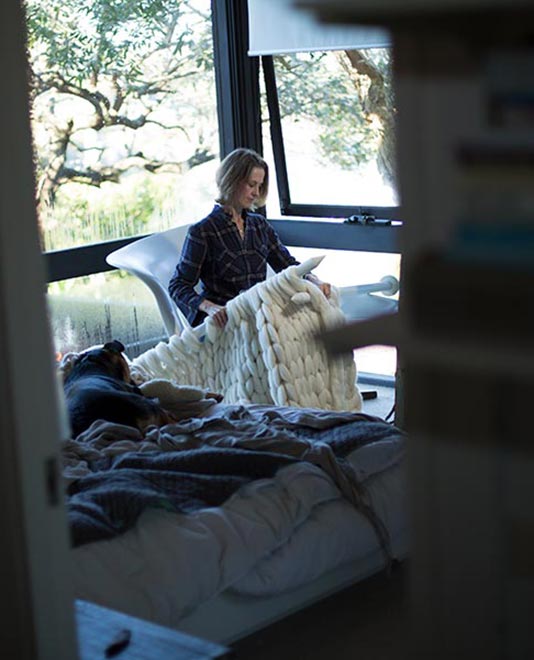 KNITTING BIG: Jacqueline Fink uses needles made from PVC piping to achieve her supersized one-of-a-kind creations.
"Knitting never occurred to me (before the dream), although it was something mum taught to me as a child and I was always aware of its therapeutic quality. Working with wool and the process of knitting always calmed me down.
"For me knitting is wool. You don't knit without wool: it cannot be acrylic, it cannot be cotton, it has to be wool."
Hand crafting stunning blankets, throws, wall hangings and home furnishings, Fink is taking knitting to the max - it's her quiet rebellion against mass production. Sourcing fine quality, luxurious Australian Merino wool direct from a farm gate in South Australia, Fink fell in love with this fairy floss-like fibre right from the get-go.
"This beautiful woolgrowing family in South Australia had some lovely hand-spun yarns which were natural coloured, and this is very important to me. They also had roving and when I received my first big bag of this fairy floss in a sandy colour, I knew this was it."
Knitting with roving is different to knitting with regular yarn. It's extreme. It took months of trial and error to figure out what to do with this oversized textile. It was her father who came to the rescue, first making some hand-turned timber needles, followed mega-needles made from PVC pipe, 50mm in diameter that are each over one metre long.
"It's heavy, heavy work. It's great for the biceps," Fink laughs.
"Everything I do is to make wool the main event. Growing up I lived in a semi-rural area and there were lots of sheep. In fact, sheep was actually one of my first words. Now, my work is all about wool. This is my anti-depressant, the tactile feedback I get from working with this fibre is just a pure delight for me."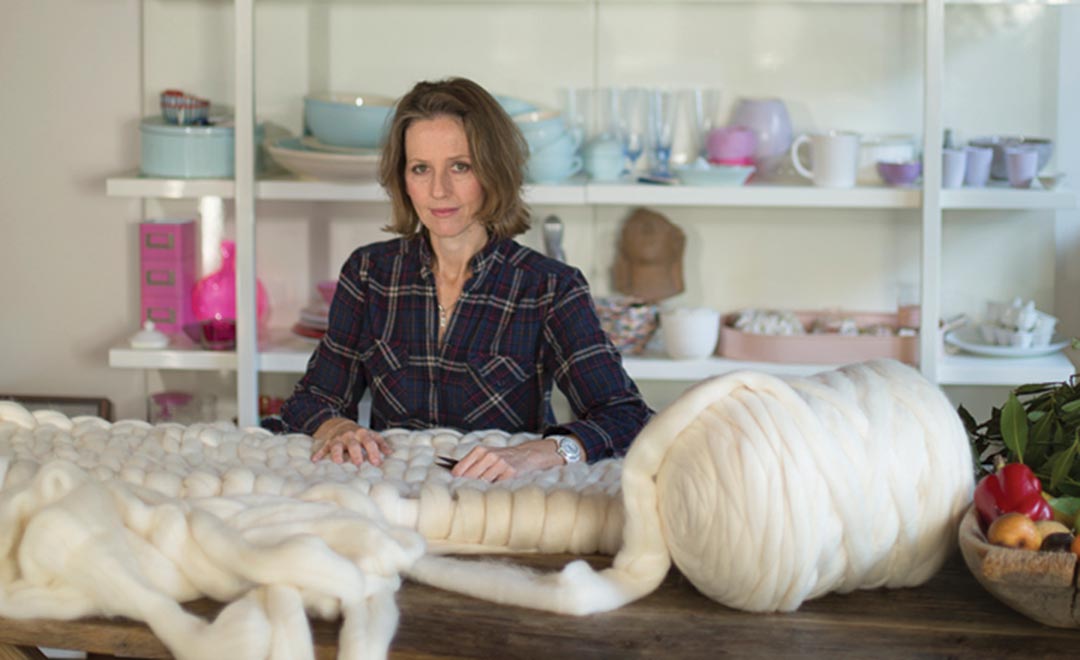 Wool remains Fink's go-to fibre.