---
In 1953, The New York Times sent a journalist named Aline B. Louchheim to write a story on Eero Saarinen and the rise of his celebrity. Saarinen had already designed the Crow Island School, in Illinois; the Kleinhans Music Hall, in New York; and the Charles and Ingrid Koebel House, in Michigan. These buildings followed one of Saarinen's most audacious European remodels: the Swedish Theatre, in Helsinki, on which he worked with his father, Eliel Saarinen, one of Finland's most famous architects. But Louchheim made a crucial observation during her reporting. She wrote that Saarinen and his wife, the sculptor Lilian Swann Saarinen, enjoyed a Valhallan romance. Each was famous for their own art, but the frisson that inspired their union had begunto simmer. "Very occasionally, in a musing, somewhat rueful tone, Eero Saarinen questions whether he has not let architecture devour too much of his life," Louchheim penned. "But one wonders if there could have been any other way for him." Eero and Lilian soon divorced; he married Aline the next year, in 1954.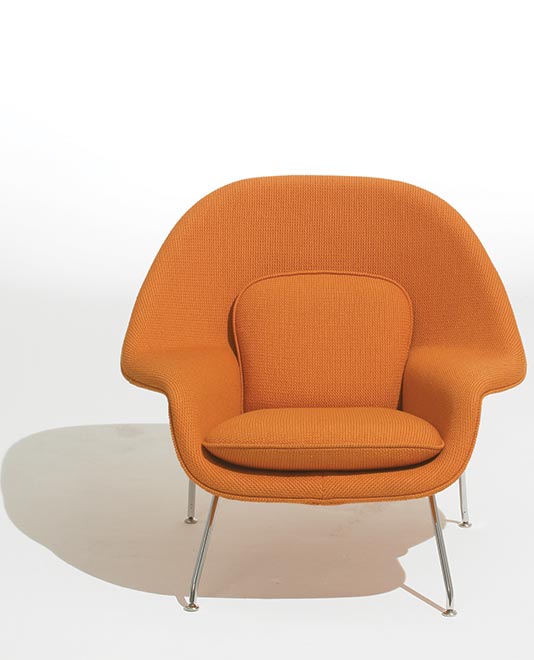 The designer's 'Grasshopper' chair, on display at an exhibition of Saarinen's work at Kirkland Museum, 2010. Photography: Cyrus McCrimmon/Denver Post.
By the time they said their vows, Saarinen's new wife was acquainted with his pedantry. Aline's original draft for the Times has been preserved in the Archive of American Art. The eight-page document was the subject of enthusiastic, even delirious editing – not by Aline's editor, but by Saarinen himself. She wrote that, "his speech, with singsong cadence and long vowels betraying his Scandinavian background, is deliberate." On that, he corrected her: "Actually not Scandinavian because Finland is not in Scandinavia." In other paragraphs, Saarinen calls her writing "corny but O.K.", and recommended omitting and rephrasing various passages. "But it's your article," he finally relents. Still, the vast collection of photographs archived by posterity show their joyful life together. They include postcard scenes of trips on a yacht, where their profiles are haloed by sunlight. Others are intimate diary snapshots with their son, Eames, who stands atop a stairway in a black tuxedo as his father, dreary and dignified, teeters a cigar in one hand and burrows the other into his woollen pocket.
"I'm really tired of lounge chairs that are really two dimensional things. They're just like a straight line that goes up and down." – Eero Saarinen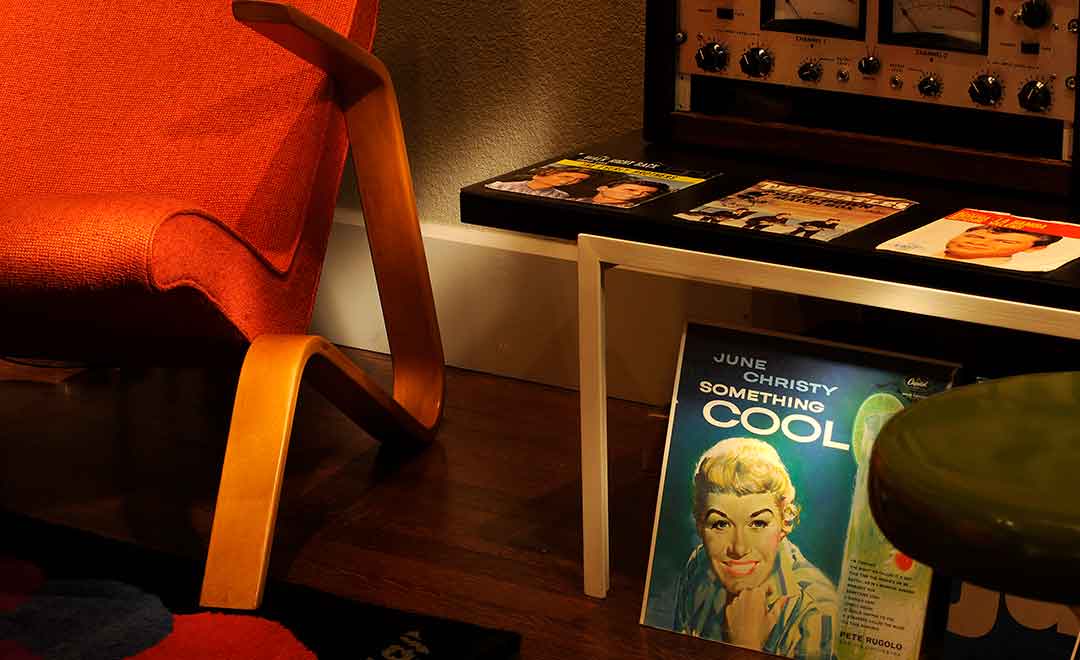 Caption: Casa Mollino, a residence in Turin, Italy, featuring wool-upholstered 'Tulip' chairs by Eero Saarinen for Knoll. Photography: Ivan Terestchenko/Figarophoto
Eero Saarinen was born on his father's 37th birthday, on August 20, 1910. He began drawing door details and houses at the age of five. When the boy was twelve, the family moved to Bloomfield Hills, Michigan, where his father was a teacher at the Cranbrook Academy of Art. Saarinen graduated from the Yale School of Architecture in 1934, and wherever he went his pedigree followed. In one archive picture, from the late fifties, Aline and Eero stand in front of a collegiate brick wall that has been smothered by vines. The gentleman's fleecy black coat skims his figure, which was always comfortably wide – like a king's – as the lady gazes at her husband. Later, as they pose in front of a Picasso painting during a gala, Saarinen's cummerbund glistens from behind the folds of his wool-blend suit. By then, he had already presented the winning design for what is perhaps his most monumental work, the Gateway Arch in St. Louis, Michigan (it was completed in 1965, four years after his death). His father also entered that competition. A dubious first telegram had wrongly announced the senior Saarinen as one of five finalists invited to re-enter for the $40,000 prize. With every late portrait, Eero Saarinen projects the immodest aura of a man on the make, and on the run from a famous surname.

In this in-depth video, created for the Indianapolis Museum of Art's 2014 exhibition Eero Saarinen: Shaping the Future, the architect's significant contribution to the American built landscape is explored.
Saarinen was brilliant, but his wife possessed less glamorous virtues – diligence, patience, fast typing – in sustaining his legacy. In 1962, she published Eero Saarinen On His Work. It is a neat composition of Saarinen's own statements regarding his designs, and the solipsistic monologues are peppered with gorgeous photographs of the buildings from impossible angles. But Brian Lutz, a furniture historian, decried the scarcity of literature devoted to Saarinen's furniture designs, most of which were finished in wool. His 2013 book, Eero Saarinen: Furniture for Everyman, sated the gap.
Saarinen photographed at home in his study, 1958. Photography: Frank Scherschel/The LIFE Picture Collection.
In 1940, Saarinen and a friend, Charles Eames (after whom his son is named), entered the Museum of Modern Art's "Organic" design competition. It was supported by twelve American department stores who promised to sign contracts with manufacturers on the condition that the winning design be feasible on an industrial scale. The duo won two of the six furniture categories. One of their triumphs is now known as the Organic Armchair. When it went on display at the museum, in September 1941, there were key differences between their original and the industrial version. The moulded plywood shell was lined with foamed rubber, as outlined, but the legs were made from solid birch wood and not the intended aluminium, which was difficult to secure during the war. The structure was upholstered in crimson wool. Sadly, manufacturing costs soared, and the chair never made it into serial production.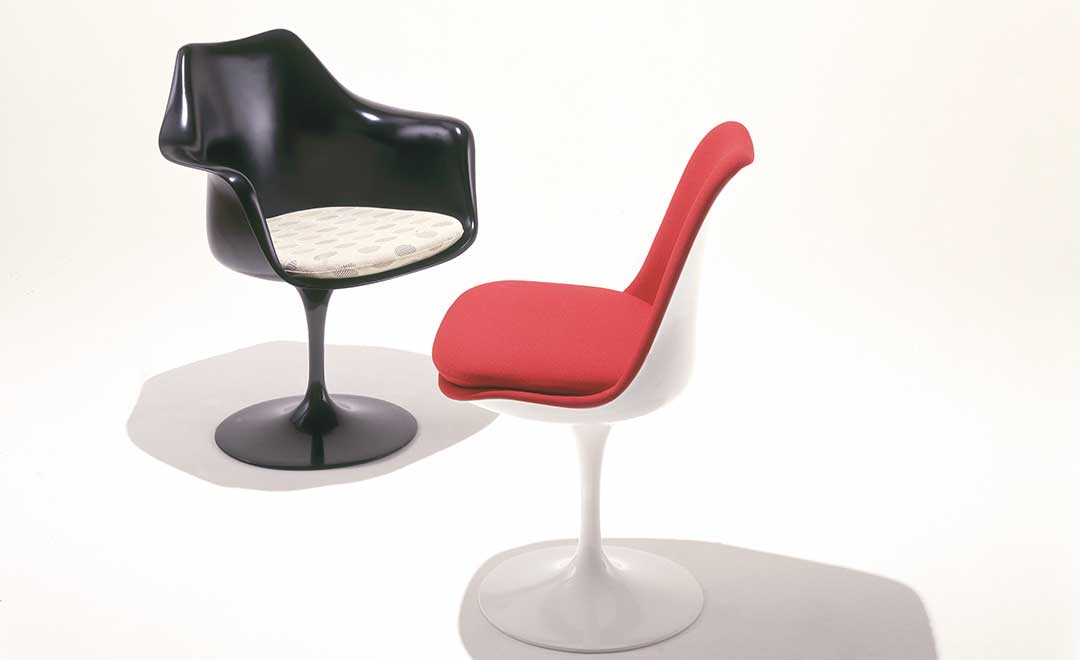 Saarinen's 'Tulip' chairs for Knoll.
Saarinen's other designs, however, have been part of Knoll legacy. The company was founded in 1938 by Hans Knoll and his wife, Florence Schust, an architecture graduate and Saarinen family friend. Knoll first produced Saarinen's Grasshopper chair, which was a feat of spatial cunning. Saarinen took the armrest and leg extensions and combined them into a triangulated support base. It suffered no deficits in cool, but proved unprofitable for the company. One day, Saarinen brought in a triad of elegantly curvilinear armchairs. "I'm really tired of lounge chairs that are really two dimensional things. They're just like a straight line that goes up and down," Schust whined, according to Lutz. "My knees don't bend where the chairs say they should. I want a chair I can curl up in." Saarinen proposed the womb chair, and it remains a Knoll best seller. Its upholstery can be customised in wool in various shades of ash, brown and red.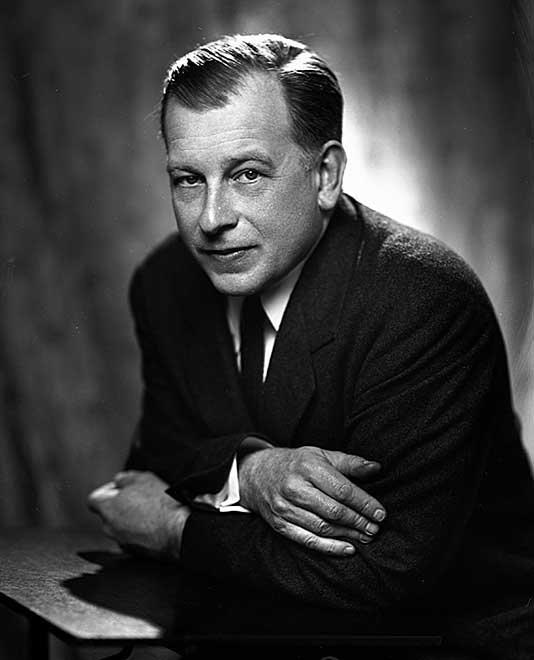 Saarinen photographed in 1940.
Photography: Oscar White/Corbis Historical.
On July 2, 1956, Time ran a cover story on Saarinen that superimposed his likeness against a birds-eye view of a modern city, with its greeneries and waterways. His face looks waxen; his eyes are searching. "I think the immediate future is black. There is too much that is ugly," Saarinen says. "Architecture is not just to fulfill man's need for shelter, but also to fulfill man's belief in the nobility of his existence on earth."