---
Golf attire has come a long way since the wool knickerbockers and high socks of yesteryear. Yet while the aesthetic designs may have vastly changed, there's been a common thread that's stood the test of time: Merino wool. And nobody knows this better than Scottish Golf clothing brand Glenmuir.
Tee-off with Merino wool
Nobody knows better than Glenmuir that Merino wool will help keep your cool from the fairway to the clubhouse. That's why the Scottish golf clothing brand has a range of Woolmark-certified Merino wool golf gear to help you through all 18 holes. From Merino wool sweaters and slipovers to hats and wool socks, you'll breeze through the green in both comfort and style.
6 reasons to choose Merino wool for golf
For golf clothes that work as hard as you do, choose Merino wool, the world's original performance and technical fibre.
Breathable: In contrast to synthetics, wool is an active fibre that reacts to changes in the body's temperature, keeping you cool as a cucumber from tee-off to the final putt.
Moisture wicking: Merino wool fibres absorb large amounts of moisture vapour and allow it to evaporate, so you stay fresh on the fairway.
Odour resistant: Merino wool fibres lock away odour molecules, which are only released upon washing, meaning you sweat less and smell better.
Gentle on the planet: 100% natural, renewable and biodegradable, Merino wool is the responsible choice in conscious consumption.
Naturally soft: Merino wool fibres are extremely fine, enabling them to bend far more than coarser fibres, delivering next-to-skin comfort whilst not compromising performance.
Easy to care for: Resistant to stains and wrinkles, Glenmuir's Merino wool golf clothes are machine washable.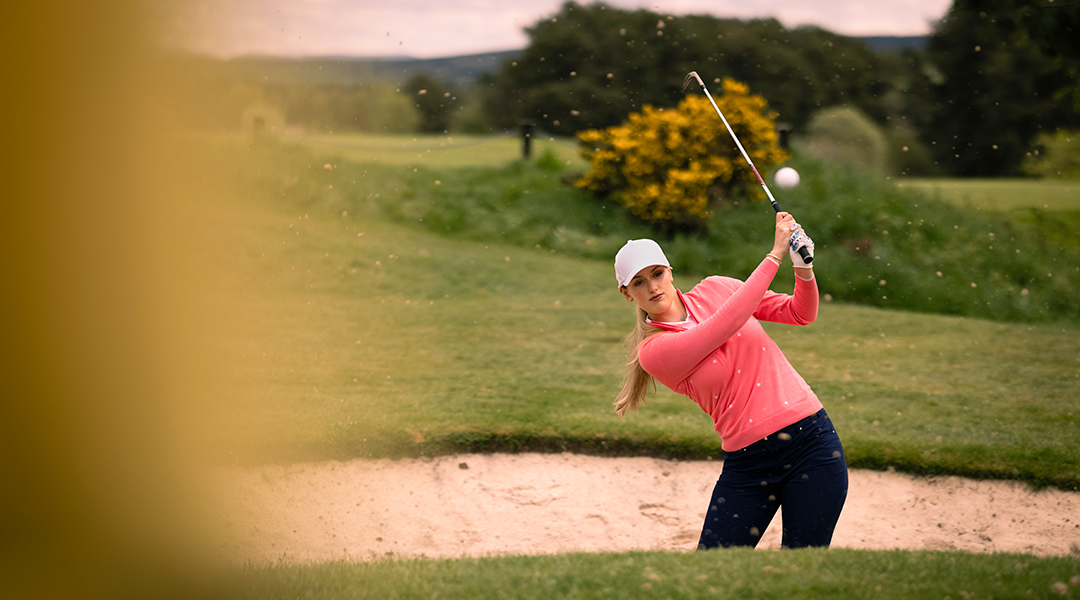 Glenmuir's sustainable Merino wool golf clothes
Glenmuir chooses 100% extra-fine Italian-spun Australian Merino wool yarn for its signature Merino wool sweaters and 100% British Lambswool sweaters not only for the fibre's performance benefits, but its eco-credentials too.
'We have worked directly with The Woolmark Company to ensure our wool products are crafted in a sustainable and ethical manner," says Glenmuir Managing Director Mikhel Ruia. "Merino wool has been a core part of our golf clothing collection for much of our 130 years history due to its high-performance functionality, environmentally sustainable credentials and its versatility in design and craftsmanship. It is the smart choice for the modern discerning female or male golfer in all climates and conditions. We are proud to offer the widest collection of merino wool products in golf."
Shop Glenmuir's men's Merino wool sweaters and women's Merino wool sweaters.