---
Ending a season rich and varied use of wool, near every designer showing as part of Paris Fashion Week presented a collection crafted from nature's miracle fibre. Whether dense and textured, such as in the coloured knits of Kenzo and the tweedy suits of Chanel, or fine and lightweight, as with the clean-lined tailoring of Jacquemus and Celine. We took a front row seat to report on the season's best.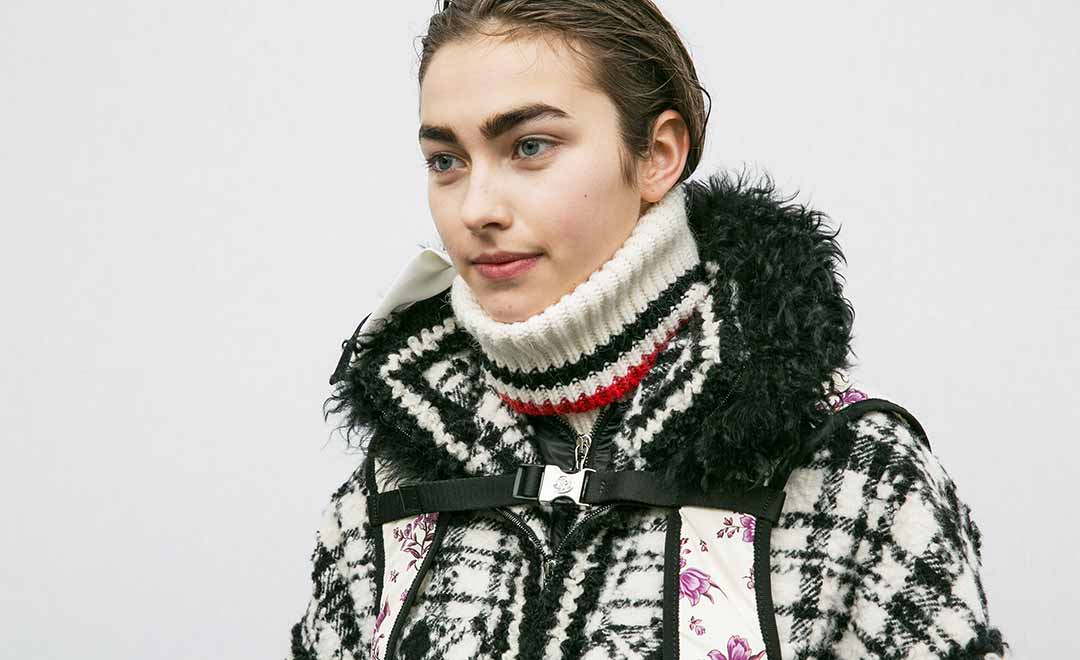 Australian designer Kym Ellery recently relocated to Paris, and in her fall/winter 2017 collection, presented at the Palais de Tokyo, you could see the ways in which her new French surrounds are informing her design practice. According to the show notes, the concept for this collection was of a traditional, bourgeois woman who goes on a journey of self-discovery. Here, each new silhouette served as metaphors for her trip, with corsetry, roll-neck knitted boucle sweaters and cinch-waisted tailoring crafted from checked grey wool representing the character's conservative edge. Later, the looks become more daring, with cutaway bare shoulders and midriffs, bell sleeves and vivid tie-dye prints becoming prominent. The collection, says Ellery, "talks to both sides of a woman. It understands the desire for two extremes and deconstructs social expectations."
Given her interest in sustainability, it's not uncommon for designer Stella McCartney to use wool in her collections, such is its properties of biodegradability and ethical practice. And for fall/winter 2017, it was the perfect fit for a collection of tailoring inspired by British equestrian culture. What was interesting here, though, was the ways in which McCartney updated typically historic outfits. By draping cloth on the body, checked wool took on a sculptural quality in high-necked dresses. Tailoring, meanwhile, was structured and cut to create powerful shapes, such as thigh-length, double-breasted coat dresses in Herringbone wool, oversized coats with side splits, and blazers that hugged their wearer's middle, giving them an hourglass silhouette.

Kenzo, too, uses fashion as a way of shaping a better future for the globe, with co-designers Humberto Leon and Carol Lim choosing to save money from this season's show production to instead give it to the environmental organisations Earth Guardians and Ideas for Us. In lieu of a lavish set, they brought the backstage area – hair and make-up, dressing, and so forth – into the centre of the room for all the audience to see. But what does such an initiative matter if the clothes themselves aren't made ethically, the fibres from which they're made contributing to landfill? Wool came into play in this respect; in Alex James' documentary Slowing Down Fast Fashion, we see just how a garment crafted from the natural fibre will quickly decompose when buried in the earth. Wool formed a significant part of this collection, with cropped ribbed sweaters and long-line skirts, felted overcoats (cut with rounded hips and oversized arms, giving them a cocoon-like shape) and chunky cable-knit sweaters tie-dyed in shades of green, blue, white and yellow, as inspired by the Aurora Borealis.
The Northern Lights were also inspiration for another designer – Issey Miyake – who dyed Shetland wool five different colours and then combed the yarn into five different threads. The resultant effect of the clothes was that they changed colour from every angle they were seen, much like the sky that served as inspiration. Miyake used the innovative cloth to drape clever shapes on his models: robe-like coats that appeared as a perfect throw-over, sleeved tunic dresses and caped ponchos, with hints of purple, aqua, sky blue and plum glimmering under the lights of the Hotel de Ville, where the show was staged. Wool was used throughout the rest of the collection, too, with hooded coats, tailored dresses and wide-legged trousers embellished with glue-printed pinstripes serving to enhance the theme of the collection, and belted wool felt overcoats offering pops of solid colour.

Sonia Rykiel will forever be known as the Queen of Knitwear, such was her revolution of the form, and ongoing influence on it as a style and what it represented for women. As Colin McDowell wrote in our tribute to the designer following her passing last year, "With one garment, Sonia Rykiel had introduced a new element into Paris fashion." It makes sense then that in her wake, the house's current artistic director Julie de Libran would continue that legacy. But here, she took wool knitwear in new directions. Highlights included V-neck sweaters with threads that ran loose from the seams, creating a sense of movement as the models walked the runway. Elsewhere, she used types of cross-stitching to weave together primary colours with collaged skirts and coats. The collection was inspired by the work of French sculptor Niki de Saint Phalle, who was well known for her abstract compositions that combined bright colours, and the garments here paid great respect to both artists: de Saint Phalle and Rykiel.
Tailoring, of course, was ever-present in this season's collections, much-loved for its practicality for the workplace and beyond, as well as for its timelessness. At Alexander McQueen, Sarah Burton presented some of the season's best, with one particular wool tuxedo that was cut away beneath the front flap pocket, adding a billowing piece of fabric that trailed behind the model as she walked. A sleeveless version was similarly striking, particularly with silk inserts that gave a shimmer beneath the show lighting. Young French designer Simon Porte Jacquemus showed tailoring, too, as inspired by the women he sees in his home city. This included tailored black wool coats that sculpted the lines of the body – in at the waist, out at the shoulders and hips – and feminine blazer-and-skirt ensembles that had a sense of youthful quirk in the ways in which they were put together, such as how the jacket clasped to the side. The tuxedos at Celine were, like everything that Phoebe Philo designs, made to be worn and loved, and above all, comfort was key, with easy-to-wear shapes and the use of high quality, lightweight cloth.

Certainly, wool presented itself in plentiful ways elsewhere throughout the Paris Fashion Week season. At Chanel, Karl Lagerfeld continued to riff on the classic tweed two-piece, this time taking it sci-fi (a rocket was situated in the centre of the runway at the Grand Palais). Thom Browne, too, played with tweed at Moncler Gamme Rouge, cutting it to create shorts and coats, which accompanied argyle-print wool sweaters and cardigans. By contrast, at Rochas, designer Alessandro Dell'Acqua showed just how feather-light wool can be, presenting ultra-fine wool dresses in shades of blush that had whispers of 1940s Hollywood glamour. The possibilities with the fibre, it seems, are rather endless.