---
When editors and buyers received their invitations to the fall 2016 menswear show of Dries Van Noten, held in January as part of Paris Fashion Week, their curiosity was piqued. To be held inside the Palais Garnier – that most decadent symbol of French architecture – it was certain to be a show to remember.
But rather than entering via the venue's main doors, guests were instead ushered in via little-known back entrances and led through the theatre's backstage warrens to the wings of the stage. Here, with the runway photographers situated where the audience is typically seated, and the stage lit in the golden hue of magical chandeliers, witnessed a triumphant marriage of stylistic references particular to the Belgian designer. Known for his interest in historic art periods and innovative thwarting of traditional styles and silhouettes, Van Noten presented a menswear collection that riffed on military garb but fused it with altogether softer pieces. Pyjama-style silk robes mixed with aircraft bomber jackets, while structured wool overcoats were decorated with golden regalia. Van Noten's show, held at the end of the fashion week circuit, confirmed a trend that emerged throughout the season: military dressing is back.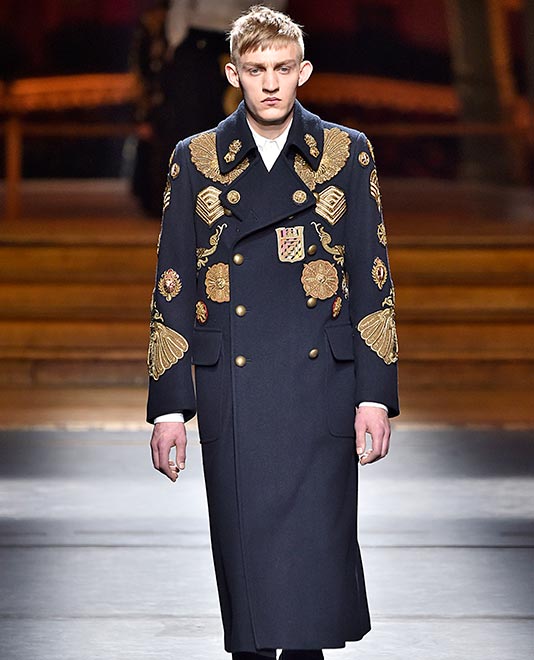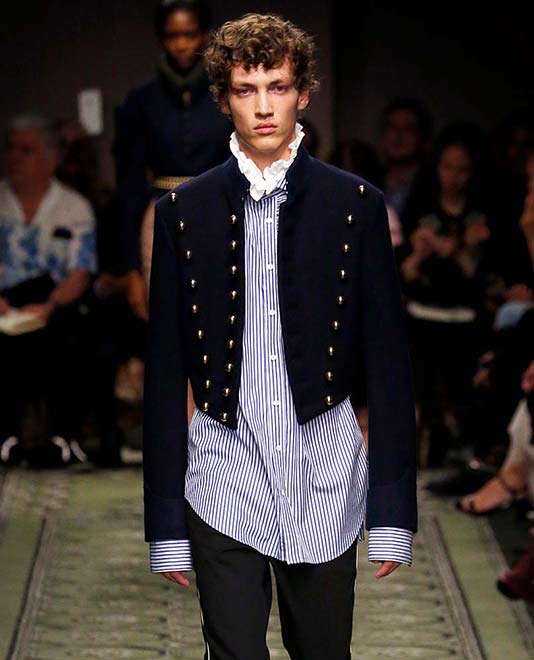 A look from Dries Van Noten spring 2016. & A look from Burberry spring 2016.
British brand Burberry, of course, boasts a history in military dress – as its recent brilliant Christmas campaign tells, its founder, Thomas Burberry, was responsible for developing the thick gabardine trench coats worn by soldiers in the First World War to protect them from the elements. And so in its first full see-now-buy-now collection, the house's chief creative officer, Christopher Bailey, mined Burberry's archive to produce a series of thick wool coats. Studded with buttons and rope-like epaulettes, and cropped short above the waist in the style of the 19th-century, the men's and women's pieces celebrated the legacy of the house whilst contemporaneously making it relevant for a contemporary shopper by mixing it with elongated button-down shirting, slim-leg trousers and suede boots.
On-the-rise Italian designer Andrea Pompilio continued the trend in Milan, where he showed (in an intimate industry presentation) a series of oversized double-breasted officer coats in high quality navy wool, replete with gold buttons and XX armbands. Paired with sneakers and beanies, and designed to be worn casually, Pompilio's offering is perfectly poised to attract a younger audience. Balmain managed a similar feat. Under the artistic direction of Olivier Rousting – himself an unofficial ambassador for double-breasted tailoring – the French house brought military garb firmly into the 21st century by cinching the wool coats and jackets cut close to the body and pairing them with ultra-luxe sweat pants leather and velvet sneakers, and accessorising them with removable badges and decorative details.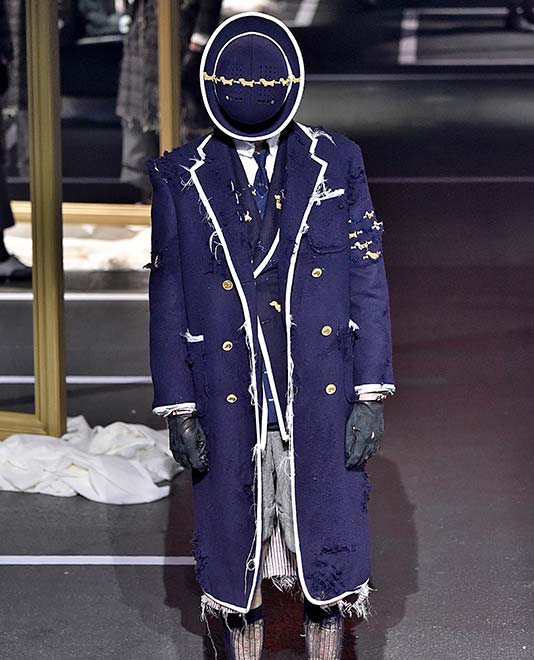 A look from Thom Browne spring 2016.
Having trained on Savile Row, Alexander McQueen was well known for the precision of his tailoring, and in his absence, his namesake house continues to deliver excellence the way it cuts cloth for the body. In a dark-toned collection, the British housed showed double-breasted wool coats cropped above the thigh and sharpened at the waist by a belt, with silver buttons, epaulettes and contrasting detachable velvet collars as part of its collection. Thom Browne, the maverick American designer, did what he does best: continued to reinvent the suit by imbuing it with surreal thematic concepts. In this case, he took beautifully tailored navy wool outerwear and shredded it – quite literally – so as to give it frayed edges, patches of exposed lining and a dramatic aesthetic quality that is testament to his ability to find newness in traditional dress.