---
It might have been a mild Monday evening in Soho when British mega-brand Burberry staged it's February 2017 men's and women's fashion show but it was the spirit of Yorkshire that breathed life throughout the entire venue. The front row of wicker chairs filled by industry heavyweights including American Vogue's Anna Wintour appeared alongside a wondrous display of seminal works by the British sculptor Henry Moore.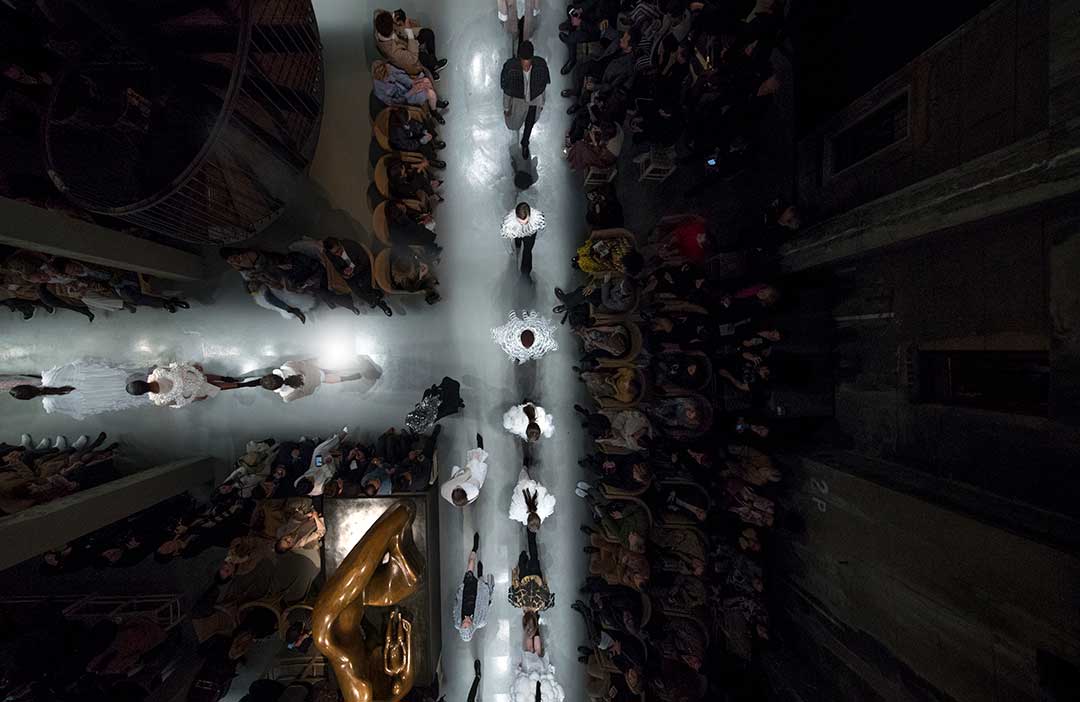 Pieces such as the 1983 bronze Draped Reclining Mother and Baby set the scene and duly flooded Instagram ahead of Christopher Bailey's latest endeavor to celebrate home turf heritage on the global fashion stage. The layers of Yorkshire-ness at play here certainly ran deep: Bailey grew up in Yorkshire, Moore lived there and Burberry's trench coat, the piece of clothing so associated with the company, is also made in the region.
To a soundtrack by British musician Anna Calvi, who performed with the Heritage Orchestra and Choir live from the upstairs space, amid more of Moore's work, models wove through show venue Makers House in a series of looks that were perhaps unsurprisingly sculptural, asymmetric, deconstructed and wholly celebratory of the artist's work and personal wardrobe. Sweat shirting fabric and wool were cut together like collages, a cream double-faced wool women's coat featured a knitted back section, men's Aran-style sweaters were cropped over shirt tails while one in grey featured a rib-front. The trench was re-imagined with a certain slouch and often also worn over other knitted pieces. Herringbone and tweed was cut as a double-breasted men's jacket or as an elegant overcoat. Oversized shirtdresses gave off poet vibes; women's heels featured a Moore-style cutout detail.
Bailey, who reportedly worked closely with Moore's daughter and the artist's foundation – 2017 marks its 40th anniversary – talked backstage about his lifelong love of Moore's work. Meanwhile ahead of the show he explained: "Looking at – and thinking about – his work set up a series of conversations as we were working on this collection; discussions about scale and proportion, texture, patina and shape." In tandem with the presentation of the runway show – the second for the brand that subverts the long held traditional spring/summer and autumn/winter fashion schedules in favour of a straight to consumer approach where the clothes are available to buy immediately after they are shown – a temporary exhibition celebrating Moore's career was staged. Here, visitors also had a chance to understand the connection between the latest Burberry collection and the artist, revealing Bailey and his teams own working processes.


Images of Moore working at his sculptures in his studio featured alongside framed fashion sketches, various yarn and fabric experiments, examples of knitting techniques, coat fitting polaroid's and moodboard references, including pictures of sheep and landscapes, all of which formed the gusts of this collection. A glass case featured the likes of shells or feathers also provided insight into the show's finale where every one of the 78 models reappeared wearing an individual couture cape each referencing the Burberry archive.
Though perhaps the loveliest artefact on display was one of Moore's own striped butcher's aprons hanging on a wall in all its love-worn glory. "At Burberry we're always fascinated by the making process, where it is hidden and where it is revealed," said Bailey. "Images of Moore in his studio - the stripes of his apron, the tools of his trade, the artist at work - ended up feeding into the collection itself." Cue Breton stripes and elegantly washed out workwear alongside Moore-inspired printed cotton shirting – all of which also appeared on the runway.
Gallery. He also worked as a teacher. His work celebrates nature and landscape, the curves of the female form alongside his own instantly recognisable take on abstraction; his preparatory sketches literally hum with a force of pure imaginative spirit. In an archive film posted on Burberry's Instagram in the run up to the show, he discusses the three dimensional facets of sculpture, likening the experience of walking around one to that of circling a tree. He suggests the viewers experience varies depending on the point of view at which they have walked around it. It is a comment that can easily be applied to the work of fashion designers whose clothes are rarely meant to be experienced from the front alone – a notion that rang true in this latest Burberry collection. "We looked at the contradictions in Moore's work, between power and gentleness, heaviness and lightness, familiarity and abstraction," Bailey explained. "Between the hardness of his materials and the fluidity and softness of his forms. And we thought about the way in which he makes objects that combine beauty with oddness, the recognizable with the strange."
The collaboration and dialogue between artists and fashion designers is becoming increasingly visible in an era where brands must present a vision that will have weight and intellectual purpose in an otherwise crowded, social media obsessed market. Raf Simons whose current eponymous menswear collection is collaboration with the Robert Mapplethorpe Foundation is a case in point. Simons' interest in art is central to his work. He has teamed up with American artist Sterling Ruby on his own label, as well as during his time at Christian Dior, and most recently he commissioned Ruby to create an installation for his men's and women's debut at Calvin Klein in New York. Similarly, last season, Phoebe Philo showed her women's collection at Celine within a pavilion created by Dan Graham while Jonathan Anderson, the creative force behind British label J.W.Anderson and Spanish brand Loewe, has curated the show 'Disobedient Bodies' at the Hepworth Gallery in Wakefield.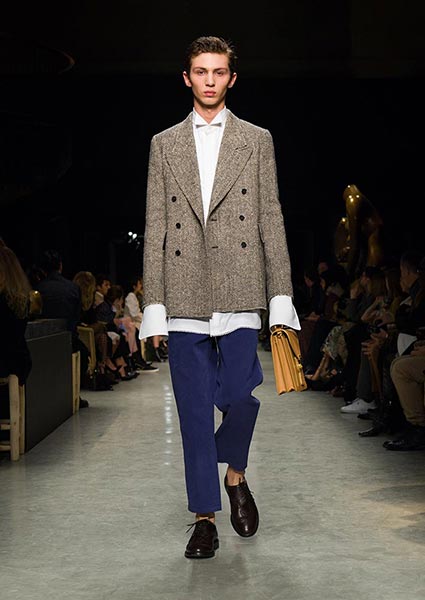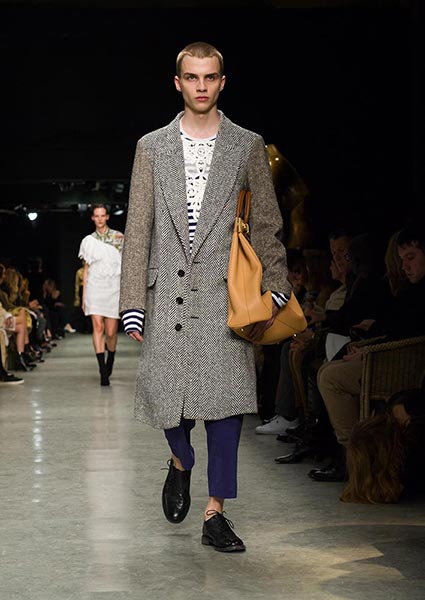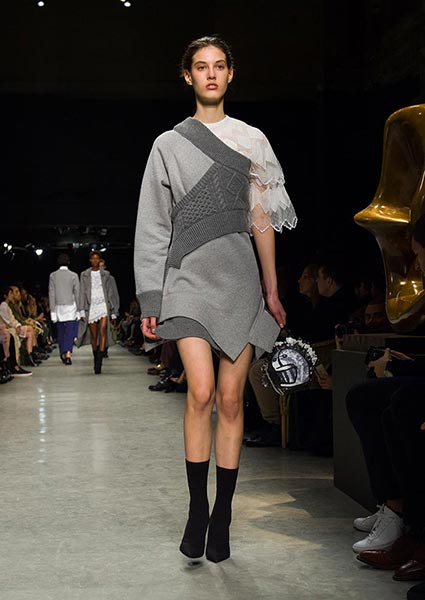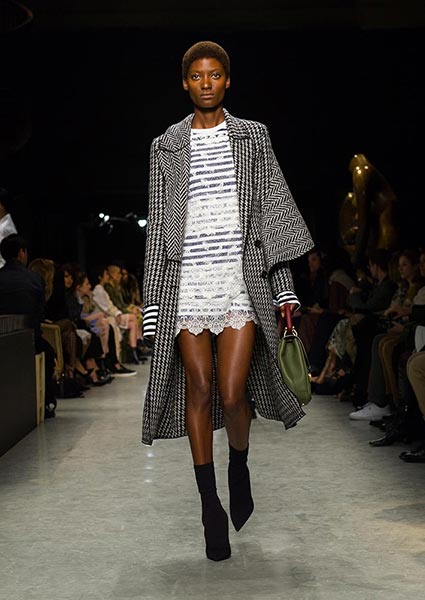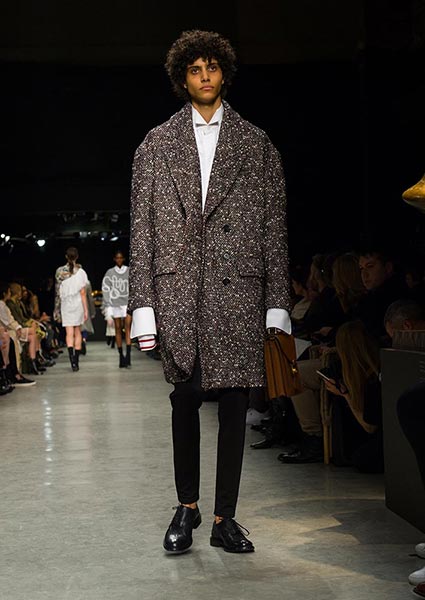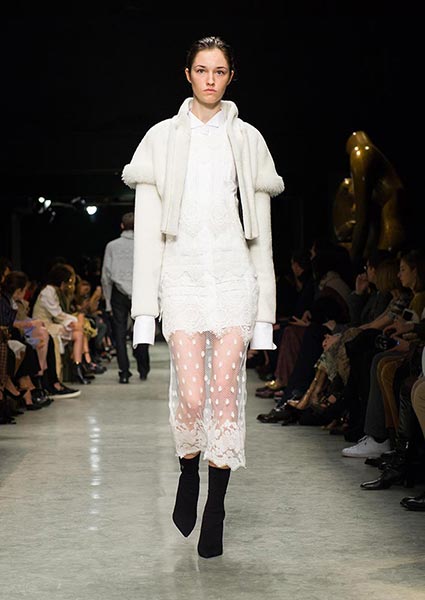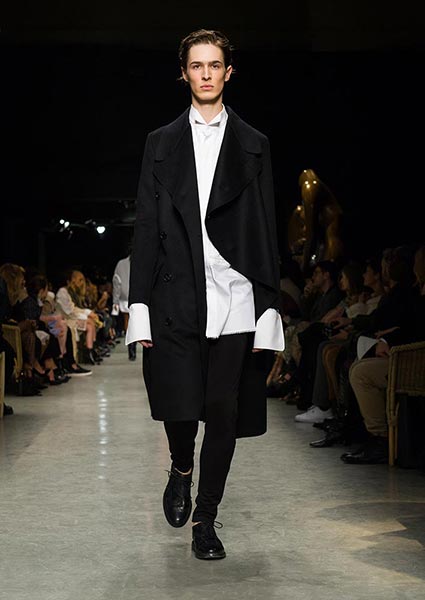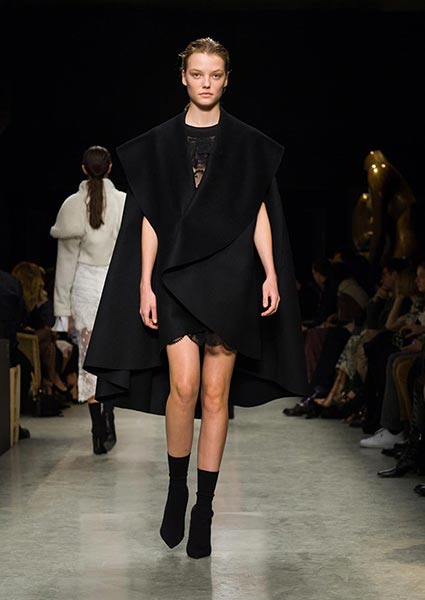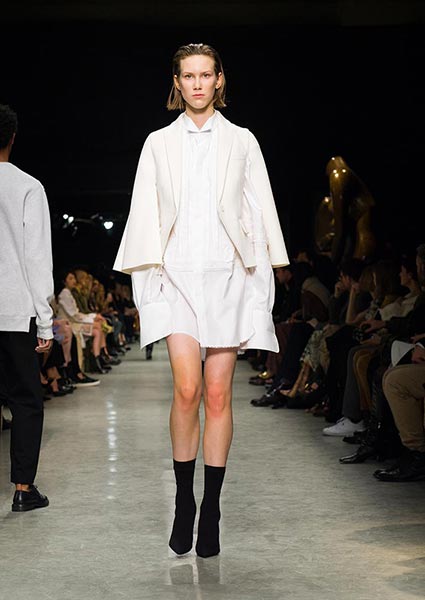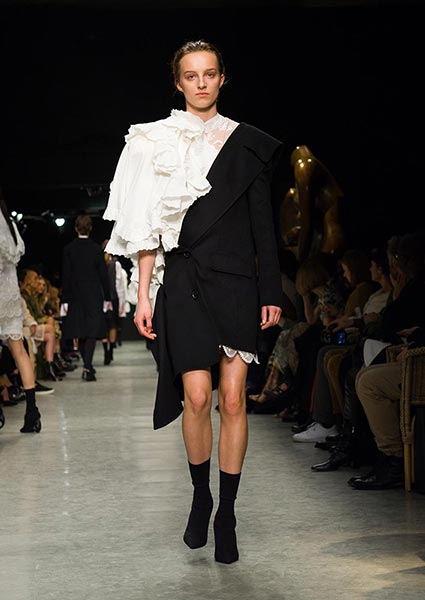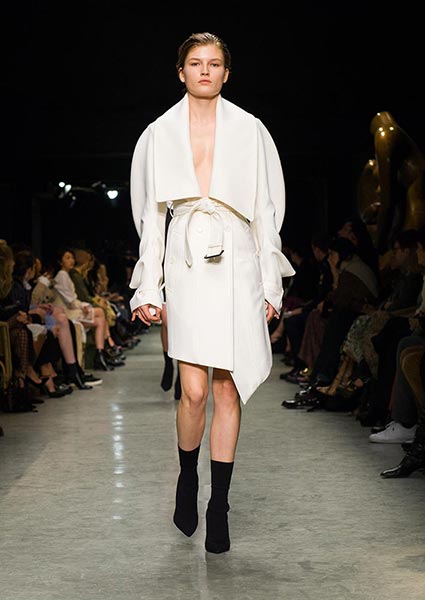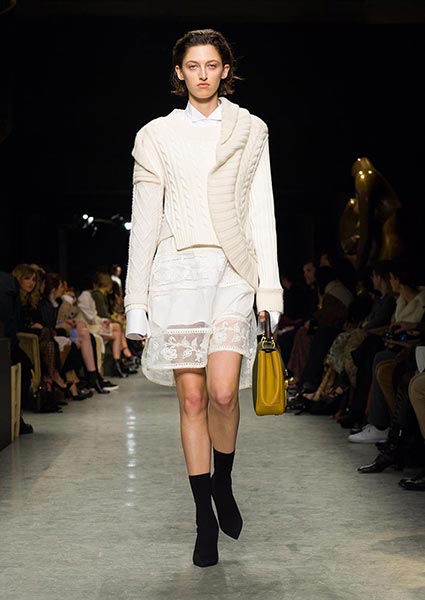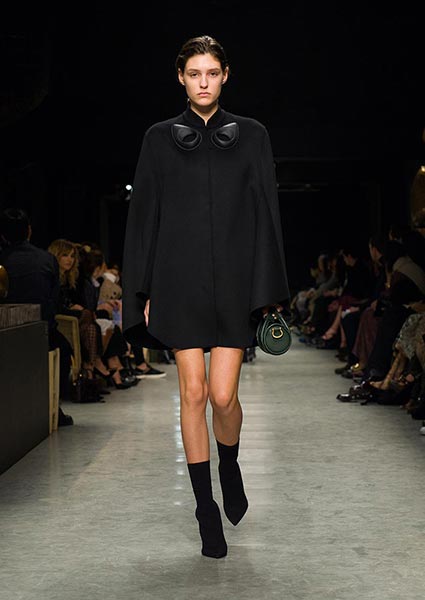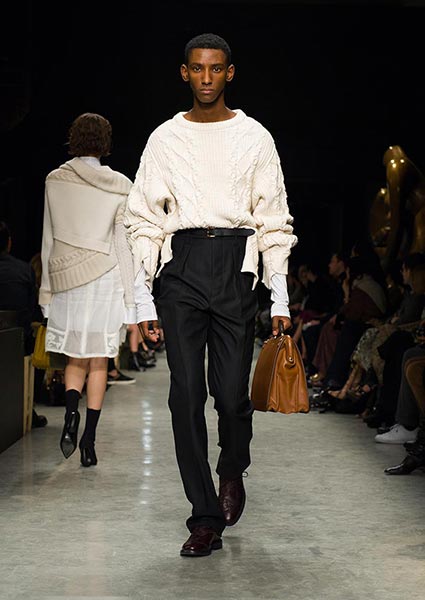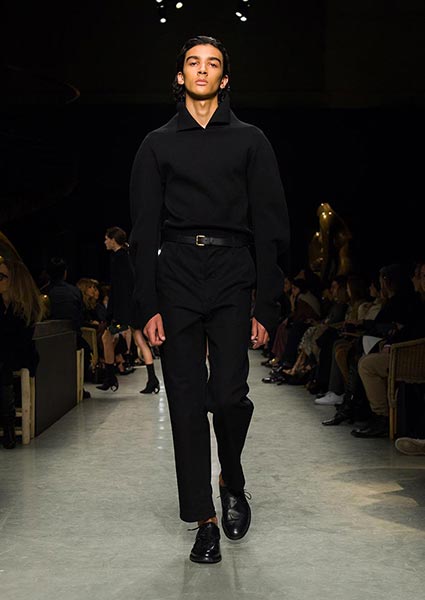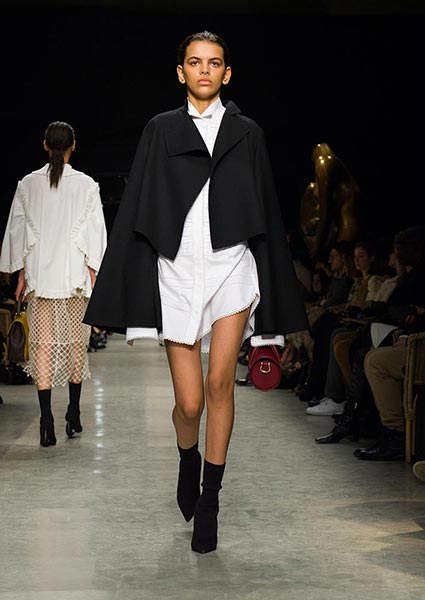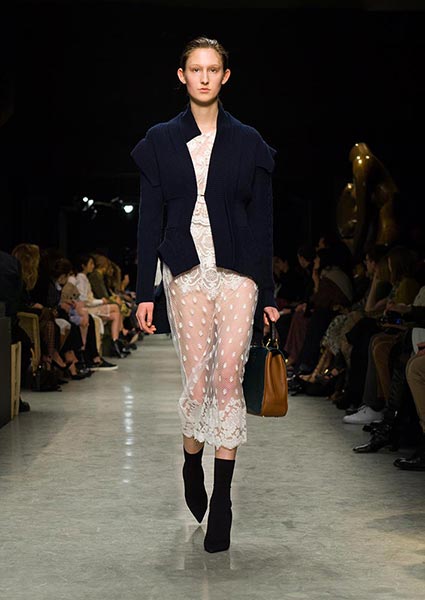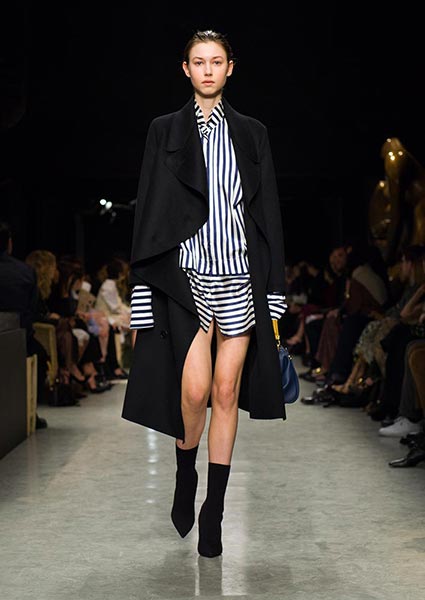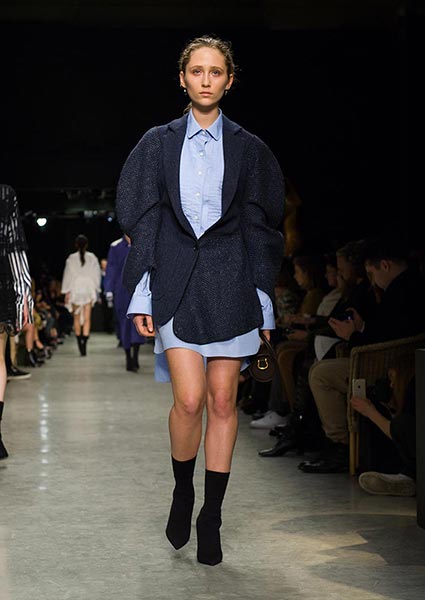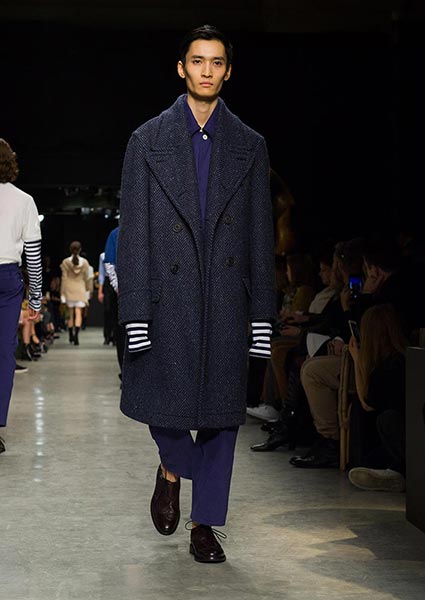 Burberry February 2017 show