---
In temperatures that went down to approximately minus twenty degrees celsius, even looking at wool became a visual comfort in itself. You lost count of the number of instances where you wanted to reach out onto the runway and take whatever sweater or coat was on the model for yourself. Wool was, of course, in abundance, and the myriad of forms it appeared in collections made for a veritable smorgasbord of tactile textures that felt appropriate for the extreme conditions outside.
There were a lot of brushed and distressed techniques that gave the appearance of wool looking deliberately like it had been washed or pilled. The designers of former International Woolmark Prize winning label Public School, Maxwell Osborne and Dao Yi-Chow, were prime instigators as they created a burnt-looking texture in a standout quilted degrade wool coat at their own show, and at their sophomore show for DKNY, also distressed pinstriped wool to create a boiler suit, complete with safety straps. They were instances of wool that felt like your most well-loved and well-worn knitwear.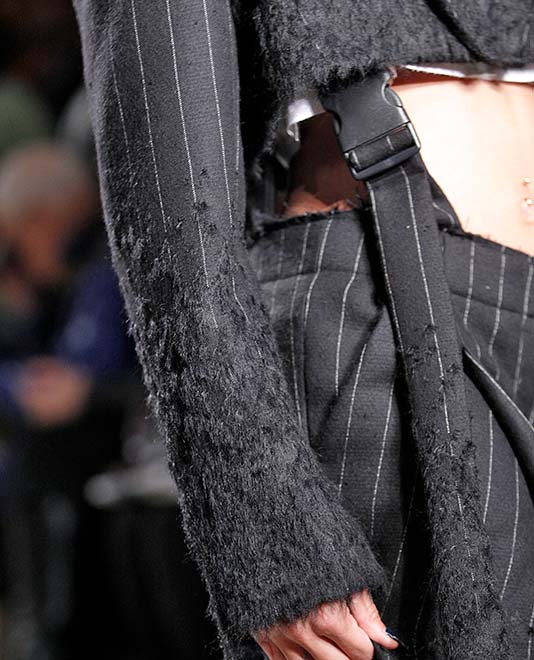 DKNY, photographed by Victor Virgile.
At Alexander Wang, there was also some wool-based disruption in the form of camisole tops, kilt skirts and sweaters that had pole dancers on them. Dion Lee also sought to inject a note of rebellion into his wool pieces by piercing his Merino boiled wool coat with a metal ring to cinch the waist in. The technique created volume in his pieces as well as an unexpected touch of hardware.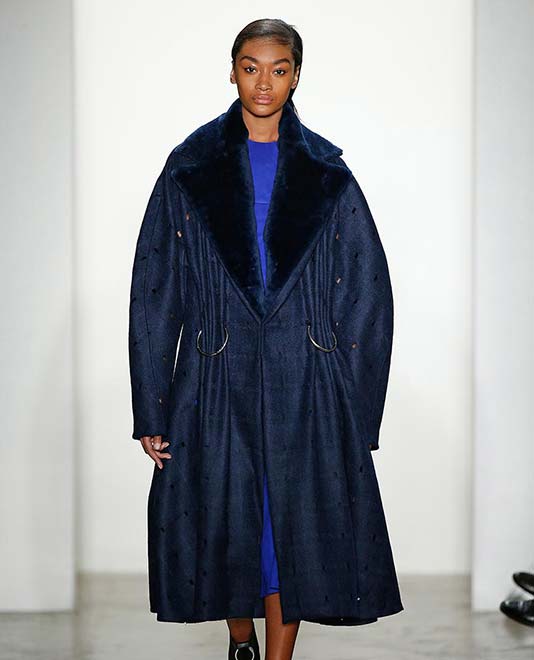 Dion Lee, supplied.
Ethnic inspired knitwear was also rife, with Altuzarra travelling to find Indian and Turkish-derived patterns, via the Jim Jarmusch film Only Lovers Left. The designer had woollen tabards with fringing and chunky roll-neck jumpers stitched with leather ribbons to add weighty texture to the ditzy floral prints.
The classic check is a tried-and-tested companion to wool and at Tanya Taylor, one of this year's International Woolmark Prize finalists, they came in an autumnal palette of navy blue and deep scarlet on a cape coat and wide-legged trousers.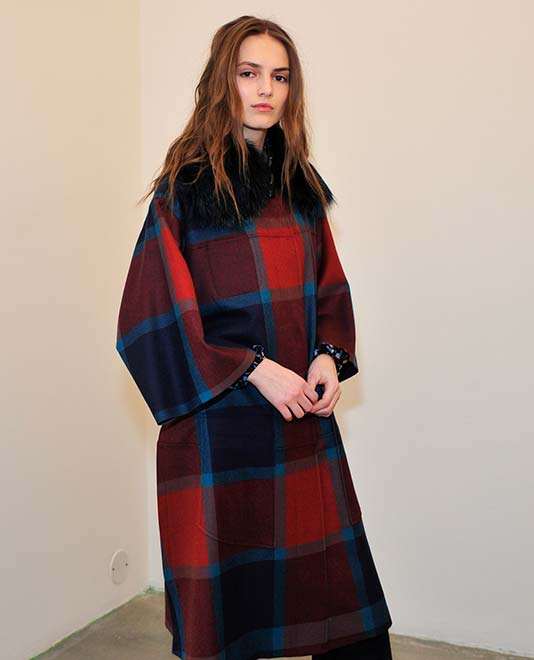 Tanya Taylor, photographed by Arun Nevader.
At Jason Wu, natty check patterned skirt suits in a brushed wool reminded you of school uniforms, and at Thom Browne, round about 1930-something, his upper-crust ladies wore checked trousers with men's deconstructed tailoring to contrast with the more feminine Chanel-esque cable knit dropped waist dresses and matching cardigans. Browne certainly knows how to dress the well-heeled and well-to-do.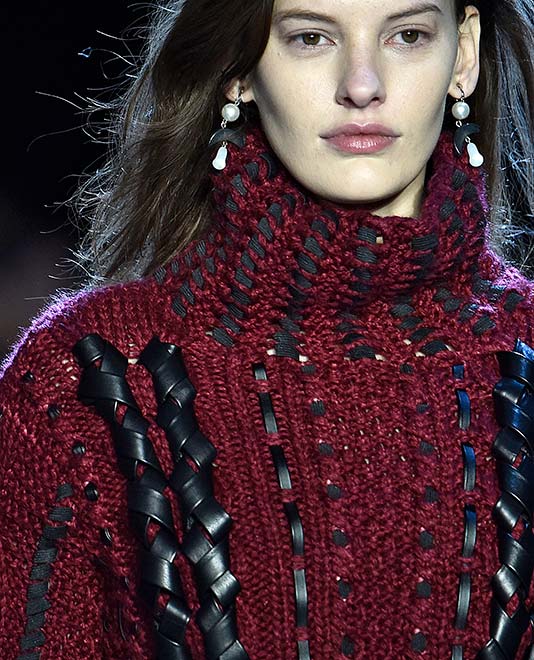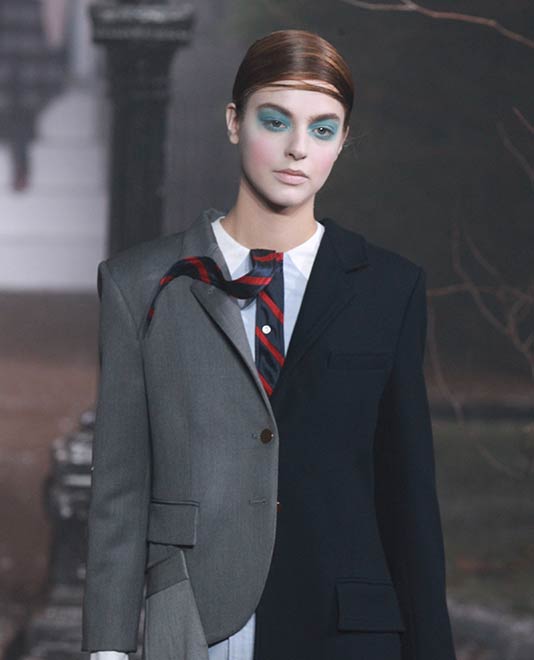 Altuzarra, photographed by Victor Virgile. & Thom Browne, photographed by Antonio de Moraes Barros Filho.
There were also very slick incarnations of wool as seen at Victoria Beckham, where the body was zoned in jacquard knitwear and the sensuality of wool was coaxed out. At Proenza Schouler, wool jackets were laced up and cinched in on the top and then descended into loose and slouchy trousers - an exercise in what the duo called "control and release".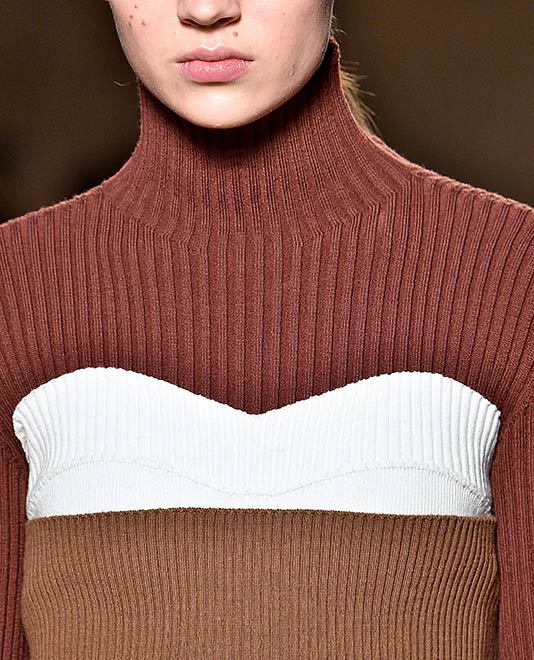 Victoria Beckham, photographed by Victor Virgile.
Marc Jacobs' last word featured wool heavily in all its fifty shades of grey glory. Poor boy holey sweaters and giant proportioned coats in Prince of Wales check with dropped shoulders and elongated sleeves were all part of Jacobs' "ghosts of New York" fantasy. There was nothing ghoulish though about these clothes. Even with a restricted palette, Jacobs' textural gamut ran amok. And wool was one of the core textiles, anchor to a collection that left an audience breathless.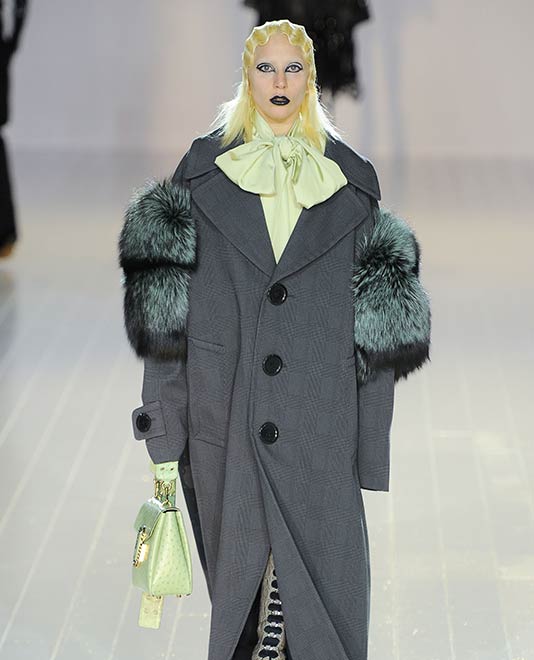 Marc Jacobs, photographed by Victor Virgile.