---
"Some things have to be broken," as some anonymous sage once put it, "so new things can be built. Destruction is just construction in disguise." It's an adage that Kathryn Sargent, as a young woman driven to follow in the footsteps of Vivienne Westwood, embraced heartily when she was studying fashion at Epsom College, England.
"In order to be a great designer, you need to understand how things are made," she says, "so I started taking clothes apart and putting them back together again. There are very well dressed people in Epsom, so I could get great stuff from the charity shops." Sargent's hunger to grasp the anatomy of garments certainly paid off: a couple of decades on, she has worked with David Beckham and the Royal Family and, having taken up an invitation to open a pop-up atelier at the wood-panelled former haunt of Nick Tentis last year, has an appellation which now follows in her wake: Savile Row's first ever female tailor (or, to put it more accurately, the first woman ever to have an eponymous premises on the street).
Today, settled into a sofa in her permanent home on nearby Brook Street, she's modestly good-humoured about what she jauntily refers to as breaking "the window-pane check ceiling" – although, she laughs, you have to earn your pinstripes as a female on what was, for so long, a scene dominated by the Y-Chromosome. "I'm part of the gang now," she says. "They've always known me, because I've come through the ranks. With Savile Row it's a case of evolution, not revolution – things change at a slower pace than they do in the fashion industry. My being a female proprietor of a bespoke tailoring house here is still a talking point, but in a few years' time it won't be, like the first female Prime Minister isn't any more."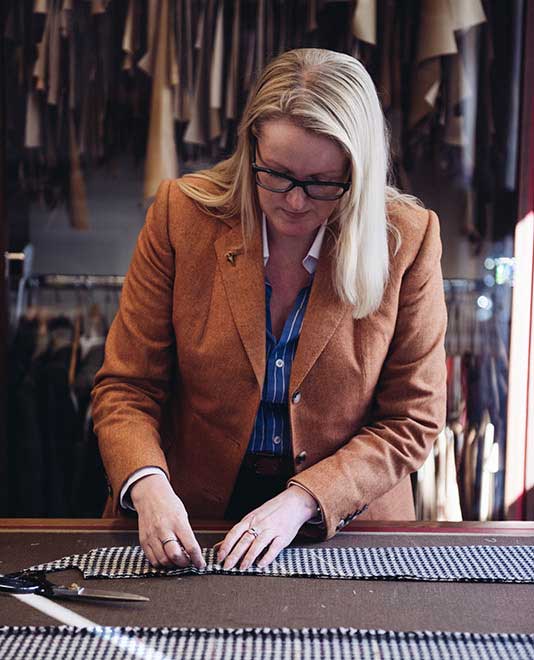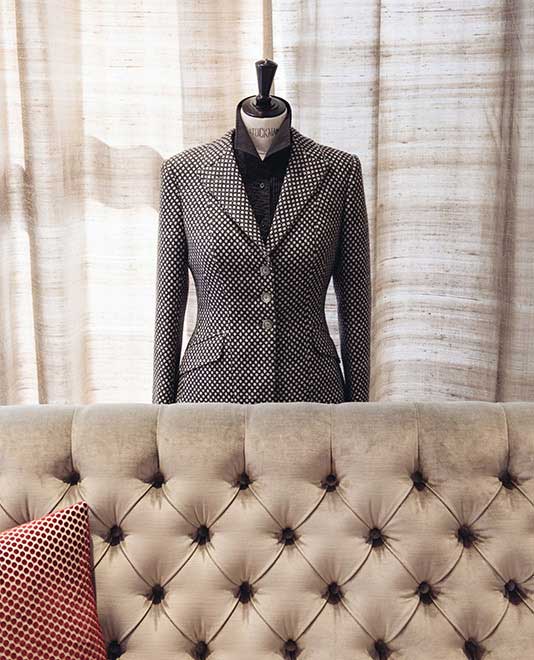 Kathryn Sargent.
Despite The Row now being "a rich, diverse community, with people from all different backgrounds", Sargent – who is originally from Leeds, at the very heart of England's fabric heritage – found that she had to fight her ground when, having completed her training, she embarked on an apprenticeship at Gieves & Hawkes. "I was young, ambitious and fired up, and very much 'Let me at it!'. I had to convince them to let me have a go with the cutting, though."
As she made her way up to the position of Head Cutter, did the strong ceremonial dress tradition at No.1 Savile Row have a bearing on her creative journey? "Massively. The first thing I did there was making black arm bands for royal deaths, livery for foreign monarchs and so on – I worked on Coronation uniforms for the King of Tonga, for example. That's great experience because it's very disciplined cutting. I was fortunate enough to work with Robert Gieves, who was the fifth generation of the family, before he passed away. He took me under his wing. You really felt like you were working for his family company – there were guys there in that era who were getting their carriage clocks for seven years of service."
For Sargent, choosing a tailor because you wish for a certain cut or house style is a case of the tail wagging the dog. "The beauty of bespoke, for me, is that all your clients are so different. I love the variety and the challenge of that. Tailoring used to be about customers being told what they should be wearing: 'You'll need a blue pinstripe, you'll need this, you'll need that.' That philosophy turns suits into boardroom uniforms. I love the quote, 'The suit's not wearing you – it's part of you.' When that statement applies, it means the tailor has understood the client's individual style rather than imposing their design on them. If you had a suit made with every cutter on The Row, they should all be different, because all of us has a different eye as well as different skills. I like to treat a first visit as a personal consultation, and advise customers on style from the beginning."
Her original plan was to spend her career at Gieves & Hawkes, but after 15 years there chose to strike out alone, driven in large part by her wish to make garments for women. Another of her favourite quotes is a witticism from English author Caitlin Moran: "When a woman says 'I have nothing to wear', what she really means is 'I have nothing to wear for who I need to be today.'" Does this epitomise her approach to female apparel? "Yes - it's about expressing your own individual style, and that can be very different according to different occasions, different surroundings. I make a lot of women's pieces which are very versatile, so they might be able to wear it over an evening dress, as a jacket, but also with jeans on the school run or with matching trousers as a suit."
"My approach to it has always been the same: I'm not trying to change the world – just to do the job I really love doing."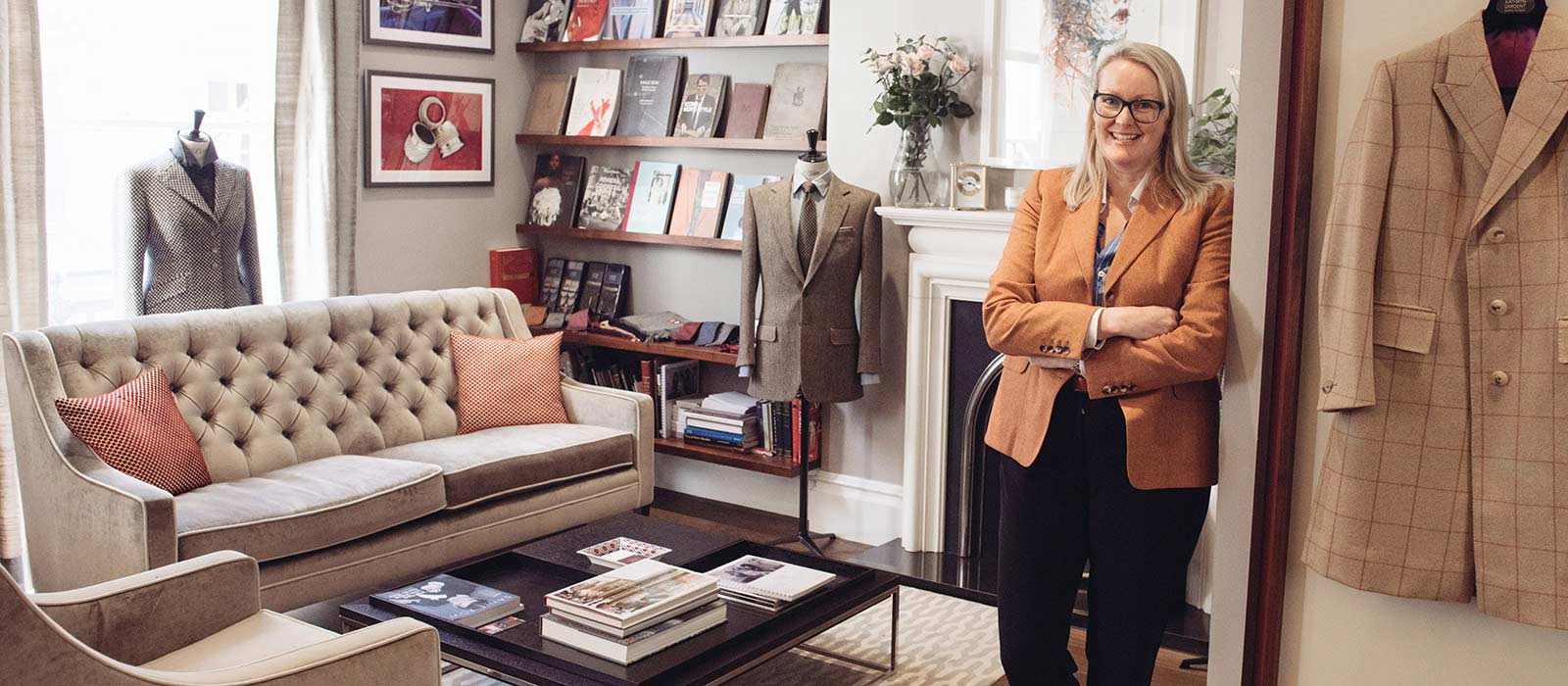 Sargent believes that most Savile Row tailors avoid womenswear because the lack of rigid options – single versus double-breasted, notch versus peak lapels and so on – makes it a creative quagmire: the equivalent, perhaps, of a life-long poker player being asked to learn the intricacies of bridge. "Women are all different shapes or sizes," says Sargent, "and there are therefore so many different approaches to tailoring for them. There are very shaped, fitted garments that have evolved from equestrian style – kind of like a contemporary Hermes jacket – or I can do more of a boy cut: a women's version of a man's suit. It depends on body type, and I feel like I can empathise with the women I make for."
For her, any kind of challenge is a welcome one though. She's impassioned not only by the materials of her profession ("Merino is so strong – we can steam it, pin it, shrink it, stretch it and mould it, all without it looking like it's been 'through it'"), but by the tools of the trade and every task in the production processes too – so much so, the large table that serves as her atelier's focal point trebles as a reception desk, work station and display unit, in order that customers can witness and fully appreciate the finer points of garment making.
The handful of staff in an adjoining room include assistant cutter Alistair Nimmo, who also measures clients, but Sargent carries out every part of the process herself - client facing, measuring, cutting, pattern making – while also running the business. "My true love is cutting and fitting and working with the clients," she says. "I love nothing better than having a stack of measurements and a clear visualisation of somebody and getting my pencil out, cutting a pattern out and getting on with that creative process. My approach to it has always been the same: I'm not trying to change the world – just to do the job I really love doing."