---
India's enduring hand-weaving traditions are moving away from historical notions of gender, thanks to innovation and engagement with contemporary trends and culture.
According to the most recent Handloom Census (2009-10), almost 4.4 million people in India are engaged in the handloom sector, 77 per cent of whom are women. Despite this fact, the labour is generally gender-divided: men tend to do most of the weaving (75.7 per cent), and women make up the bulk of allied work.
Delhi-based label Kashmir Loom is run by textile scholar Jenny Housego and her Indian partners Asaf, Hamid and Zahid Ali, who specialise in fine Merino wool, lambswool, and cashmere products. "In our country," reports Asaf Ali, "it is fabulous that we still have the tradition and skills for weaving, embroidery, zardozi, you name it. What you can do with the hand here is incredible; we haven't completely lost that knowledge. We've had the craft, but didn't know how to market it, how to contemporise it, or the little design details and colourways that made a difference. When Jenny came she asked how we could take this craft skill, make it relevant, and yet ensure the long-time sustainability of this craft." According to Housego (who is known for a textile that found its place in the Victoria & Albert Museum's Fabric of India exhibition in 2015), in Kashmir, "women do the important job of hand cleaning and spinning the wool," though do not weave. Women excel, says Ali, in aari embroidery on wool, in which a needle is used to perform chain stitches.
Gallery 1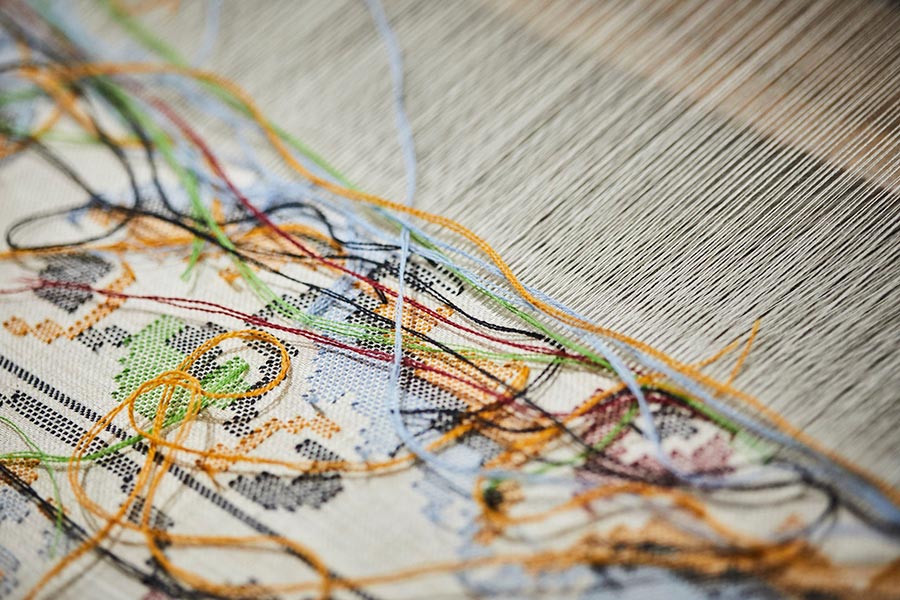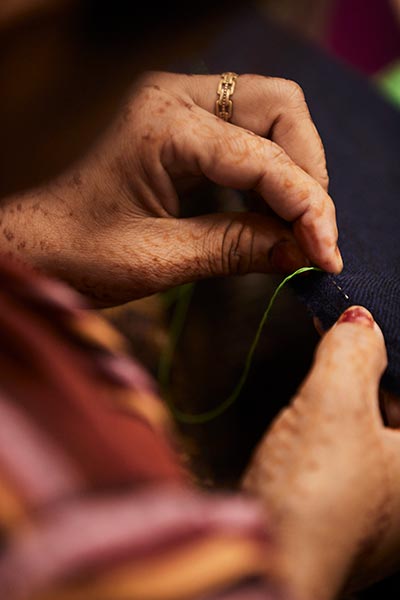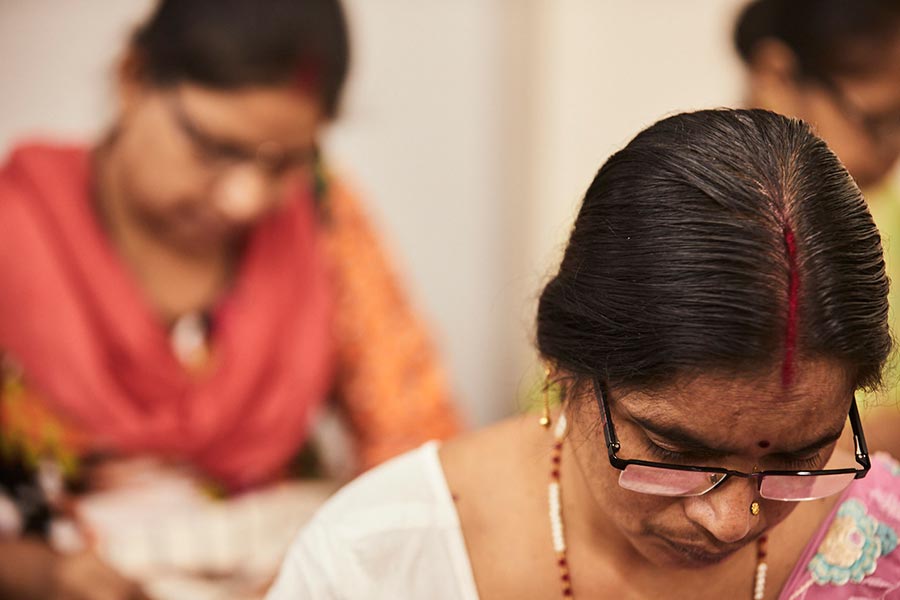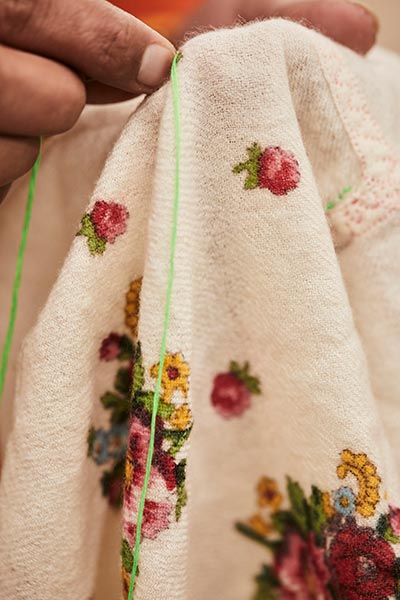 Employees of Aneeth Arora's Pero studio in Dehli, India.
In 2005, Ghayur Alam and his wife Patricia set up Himalayan Weavers, a business which uses natural dyes to hand-dye woven wool, in the Himalayas, east of Delhi. Alam reiterates that here, too, "there is very little tradition of women weavers. Women process the wool: they clean it, wash it, have it carded, and then spin it." Alam admits, however, that in neighbouring Himachal Pradesh, weaving is almost equally divided between men and women.
Textile scholar and director of Ahmedabad's Calico Museum, Rahul Jain, reinforces this. "Historically the entire tradition from East Asia to Western Europe has almost invariably been male," he says. "With the exception of the hill states, in upper India, the front of the operation has been unquestionably male, with women doing the ancillary work. It's a fairly laborious and somewhat heavy task, comparable to an industrial occupation. Plus, a lot of the public negotiations are outside the purview of a woman's role."
In Uttar Pradesh, in the ancient city of Varanasi, famed for its brocades, Hemang Agrawal runs his four-decade old family business, The Surekha Group. Agrawal, too, confirms, "that everything pre-loom (preparing the warp and the yarn; and dyeing) and post-loom (cutting and finishing) is done by women." He reasons that traditionally it was the female's physique that restricted women from weaving; the prevalence of the throw shuttle loom in Varanasi meant that women didn't sit at the loom. "The shuttle is manually thrown by hand, for which," he explains, "an arm span has to be more than 50 inches. Our women are petite, which limits them because they don't have that span. As weaving progressed, and the fly-shuttle came into being, it became the biggest differentiator in terms of women doing the actual weaving, [and] now fly-shuttle looms have enabled women to do so."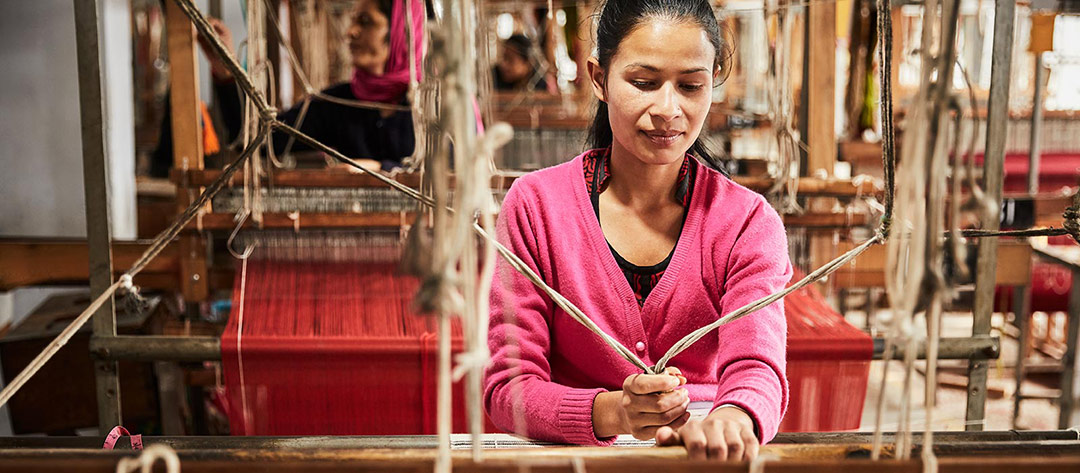 Hand-loomed wool textile at the Bhuttico workshop in Kullu, India.
Indeed, in the broader region, within which Varanasi sits, fly-shuttle looms contribute to a greater balance of the labour between the genders. At Kullu's Bhutti Weavers Cooperative Society, chairman Satya Parkash Thakur claims that 60 per cent of its workforce is female. "Every member of our co-op, whether they be the chairman or director, knows how to weave. We pay equal wages, and don't differentiate based on gender or religion." Over decades, they have continually upgraded their source materials, now working with the much softer Australian Merino wool.
Thakur also credits design intervention with making their craft more marketable. This year, they collaborated with designer Rajesh Pratap Singh, resulting in the state's first fashion show. Pratap, whose championing of textiles predates the current trend, agrees that "the role of a designer is import-ant in giving crafts a new direction, a new viability. He welcomes the resurgence of hand crafting as a sign of "confidence in who we are".
Gallery 2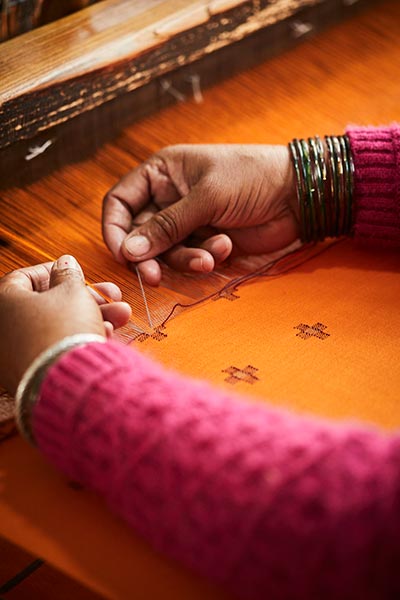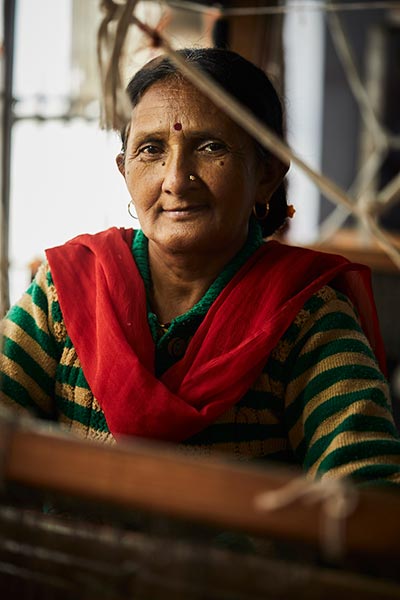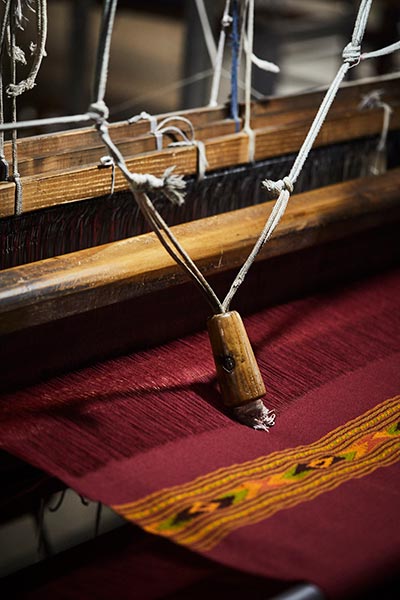 Employees at the Bhuttico workshop in Kullu, India.
There are also groups like Avani, in the mountain state of Uttarakhand, which was set up in 1997 with the aim of empowering women via sustainable means. One of the ways it does this is through its Kumaon EarthCraft Self Reliant Cooperative, which works with 1400 families across 64 villages. 85 per cent of its workers are women who work with wool, as well as silk and linen. Co-founder Rashmi Bharti's efforts have focused on making their skills relevant in the commercial arena by using modern materials. "This has meant innovating with materials that are globally acceptable," says Bharti. "Not everyone wants to wear coarse Tibetan sheep wool, so we've adapted that same product into Australian Merino wool. We've saved the skill of hand weaving by introducing materials for the community to contemporise their skill with."
Delhi-based Aneeth Arora's international ready-to-wear label Pero also works extensively with Merino. While their actual weaving is done in Kullu, her Delhi studio is responsible for her trademark whimsical trimmings. "Every technique that we did, we started with wool." Pero places great emphasis on the personal and is invested in establishing a connection with its audience as well as its workers. "We have an equal number of men and women, but I feel like women are more attached to what they're doing, they're more sensitive," she muses.