---
While it shocked in the 1960s, the tuxedo suit has become a mainstay in contemporary women's wardrobes. Mitchell Oakley Smith reviews designers' spring take on the classic look.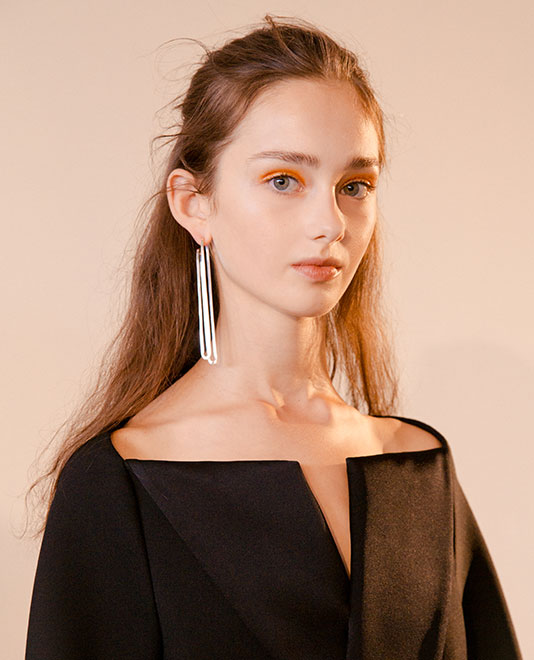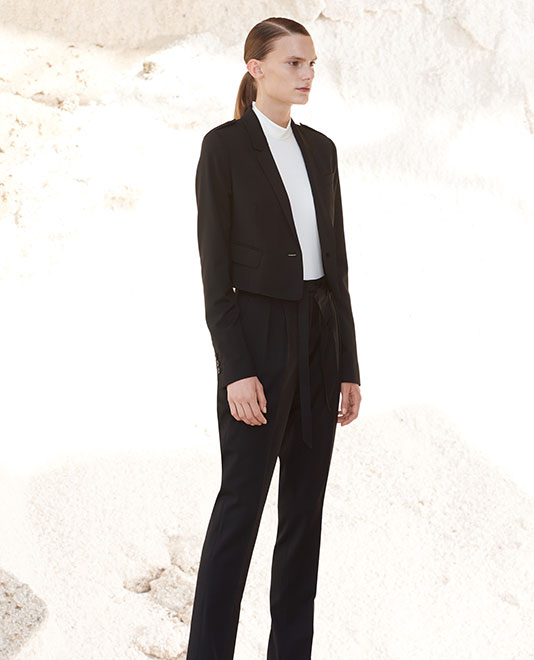 A Merino wool tuxedo from the Dion Lee spring/summer 2017 collection. & A Merino wool tuxedo from the Gabriela Hearst spring/summer 2017 collection.<
There is perhaps no more iconic fashion photograph than that of Helmut Newton's photograph for French Vogue, in 1975, of an androgynous model standing in a moonlit Parisian alley dressed in what appears to be a men's tuxedo. It wasn't, of course; it was Yves Saint Laurent's now-famous Le Smoking suit, designed almost a decade earlier, but seen here worn with heels, in dark lighting, the model standing with equal parts poise and nonchalance, the outfit, once designed exclusively for men, took on a newfound sexiness in line with the mood of the time. It showed, in Newton's signature film noir aesthetic, how a suit could evince both masculine power – suits hadn't yet become de rigeur for women, even working ones, at this stage in history – and chic femininity, in this case with the lapels cut lower and the curves of the seams more subtle, elongating the silhouette.
Unveiled to largely negative press reviews in the designer's 1966 haute couture collection, Saint Laurent had effectively reimagined the 19th century men's smoking jackets – crafted from fine wool and finished with silk lapels – in response to the women's liberation movement, at this time gaining steam around the world. Under the artistic direction of Hedi Slimane, the house of the late Saint Laurent returned Le Smoking suit to trend prominence in recent years, once again offering a radical alternative to the evening gown.
Following the designer's departure, incoming creative director Anthony Vaccarello offered his own take on the iconic ensemble for his spring/summer 2017 debut for the house, shown at Paris Fashion Week. In reaffirming the established house codes, Vaccarello returned to Le Smoking, but offered it in modern iterations appealing to Saint Laurent's youthful contemporary customer base. This came in the form of sleeveless wool and silk tuxedo jackets, the shoulder hem left exposed so as to give it a raw edging; wool tuxedo coats that wrapped the body and belted at the waist; and razor-thin versions of the classic wool tuxedo two-piece, here worn with a lacy bra and strappy stilettos.

At its core, fashion relies on function to succeed, and while fantasy plays a large role in the creative nature of fashion, a designer must ultimately be able to dress their customer in pieces that are at once comfortable and flattering. For spring/summer 2017, that concept played out more broadly in the significant amount of black tie tailoring that featured in the collections of designers both big-name, such as Ralph Lauren, and the more emerging, such as Dion Lee.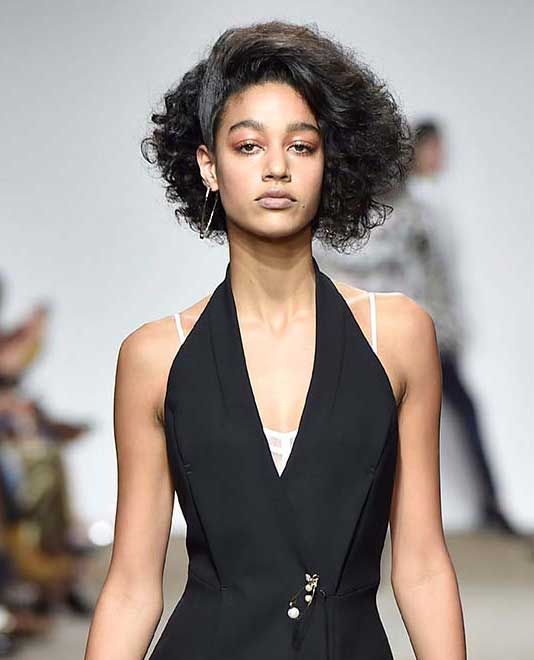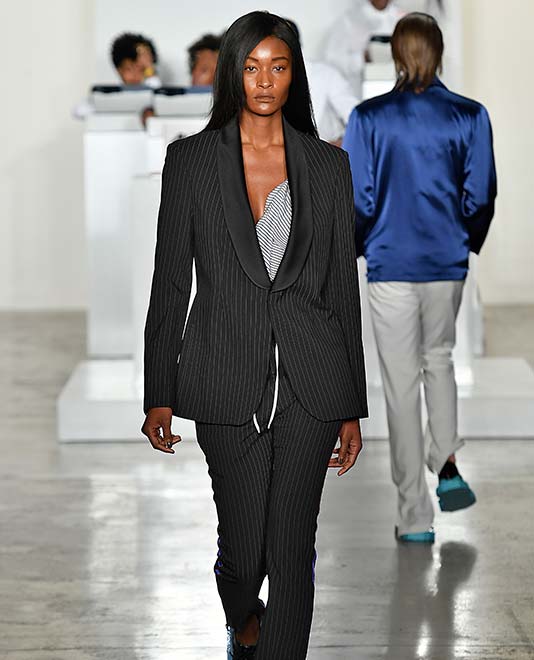 A wool tuxedo-style dress on the runway at Topshop Unique's spring/summer 2017 show. & Pinstripes differentiate the shawl-lapel tuxedo at Pyer Moss.
Yet while tailoring evinces notions of a stuffy corporate wardrobe, the offering here was far more aspirational and, in the case of International Woolmark Prize finalist Dion Lee, sexy, too. Riffing on his penchant for sharp cuts, and expanding on his newly launched range entitled SUIT, the Australian-born, now New York-based designer showed how innovative blazer and trousers ensembles can be, cutting fine Merino wool into a double-breasted tuxedo with exposed shoulders, and cropping the pants above the ankle, side splits adding flare to the cigarette-thin shape.
On-the-rise label and recent International Woolmark Prize nominee Pyer Moss explored suiting by subverting its classic shapes, with designer Kerby Jean-Raymond adding an appealing youthfulness in the process. Double-breasted blazers in white and black pinstripe were cut wide and low from the body, grey wool suiting was shrunk so as to appear cropped, the shirt layered beneath billowing out, and the classic wool tuxedo was overhauled with the addition of a nipped waist and sports-inspired trim down the sides of the trousers. Fellow Woolmark Prize finalist Gabriela Hearst showed just how luxurious wool can be, her cropped tuxedo jackets and paper-bag-waist trousers crafted from the finest of weaves for a lightweight take perfect for summer.
The DKNY girl, via the vision of Public School design duo and former International Woolmark Prize winners Maxwell Osborne and Dao-Yi Chow, is a confident one, leaving the trousers behind altogether, as in the opening looks, in which oversized double-breasted wool suiting was teamed only with boots and matching nail polish, and fastened around the waist so as to shape the body in sharp lines. The highlights in this collection, staged atop the High Line and marking the first with the new designers at the helm, were many, with the pair bringing their streetwear sensibility to the storied New York brand, a diffusion of Donna Karen, such as with slouchy, double-breasted wool jumpsuits and voluminous wool tuxedo jackets.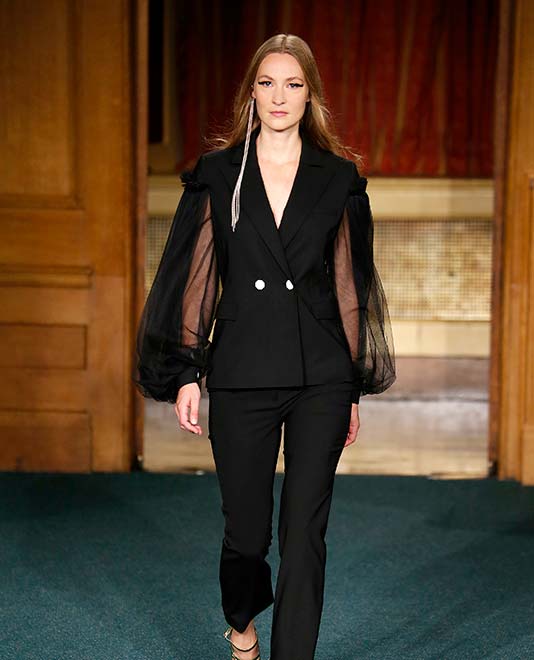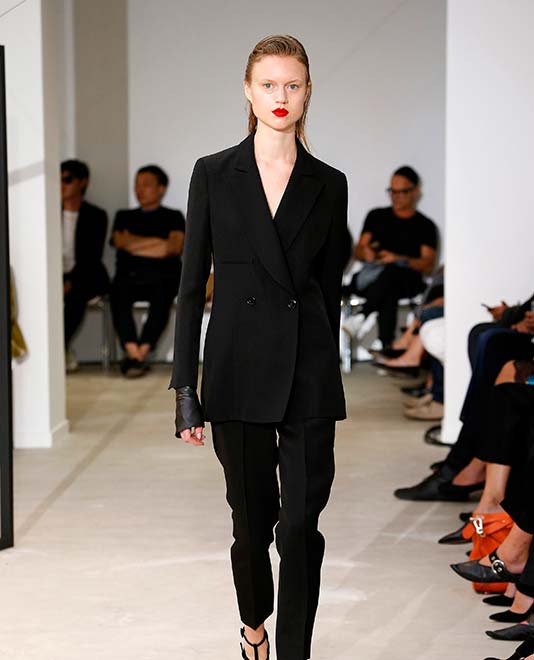 Olivier Theyskens slims the silhouette of the wool tuxedo. & A wool tuxedo with tulle sleeves at Osman.
Ralph Lauren transitioned its runway show to a see-now-buy-now concept, too, and in a spectacular show staged on the streets of Manhattan – quite literally, with a marquee built over the footpath on Madison Avenue – the iconic American designer added twists to the classic black tie ensemble. Wool and silk blazers were teamed with Ikat-printed trousers, while accessories, such as metal belts and oversized earrings, added a playful bohemia to the look. Oliver Theyskens, meanwhile, slimmed the silhouette down to its most rakish form, freeing the tuxedo of any embellishments for a distinctly sleek look.
Former International Woolmark Prize judge Osman Yousefzada was drawn to the Victorian era, and played to its romantic side with designs that comprised layers that enveloped and framed their wearer's body. That included, for example, tailored double-breasted wool blazers, sometimes with tiered skirts, others worn with voluminous tulle skirts or sleeves; cropped wool cardigans (here embroidered with pretty motifs); and tailored, man-style wool suiting.
As style icons such as Emma Watson, Kirsten Dunst, Nicole Warne and Blake Lively have demonstrated, there is no shortage of ways to pull off the tuxedo. Whether with a plunging jacket and no shirt, a silk button-down blouse, or a pussy-bow blouse, and with pants either hugging the leg or with a slight flare, taking creative license makes this traditionally rigid style adaptable to almost every body shape and style.