---
As one of India's most respected design voices, Rajesh Pratap Singh is something of a national treasure. Since starting his label in 1997, he's been known for various things – his minimalism, his tailoring, his pintucks, his suture stitches, his white shirts, and his monochromes. But at the heart of this body of work lie his fabrics.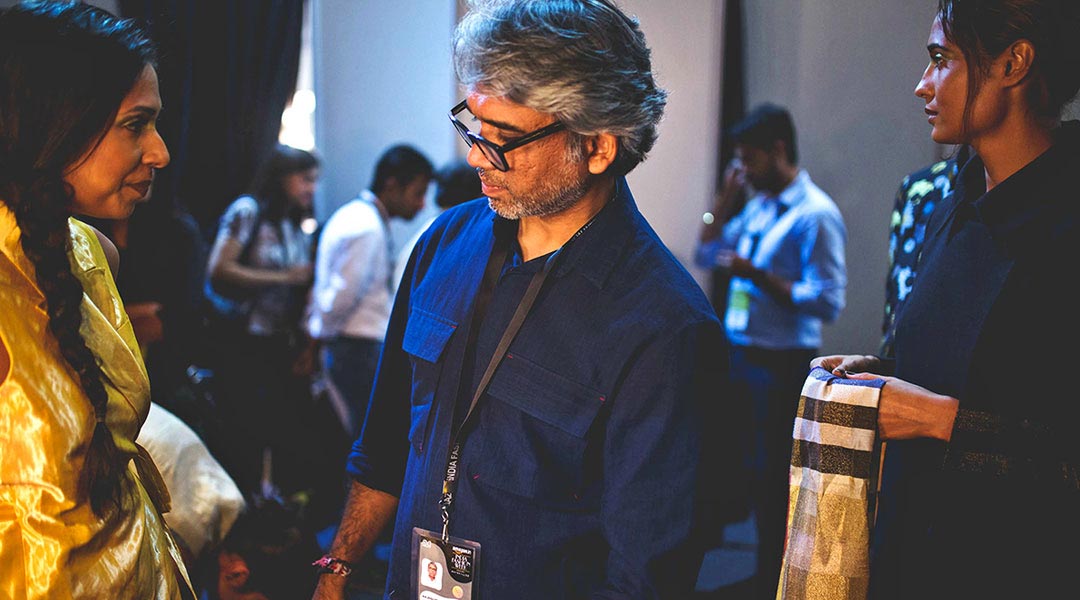 Indian designer Rajesh Pratap Singh backstage at one of his fashion shows.
So much so that fabric making – or what he modestly terms research and development – takes up the lion's share of his work. "I love the R&D part of my work, where I can indulge myself and at least try and make new things every day. We just want to make new things, and to have the freedom to do so," explains the designer. While fabric was always important to Singh, over the last ten years it has become even more so because he's started making his own.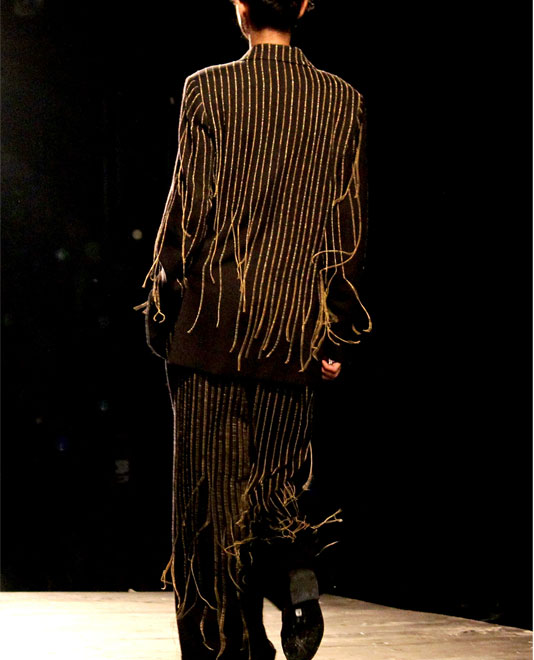 Using classic banker stripes as a reference, gold metal chains are here woven into an asymmetrical pattern on a Merino wool suit.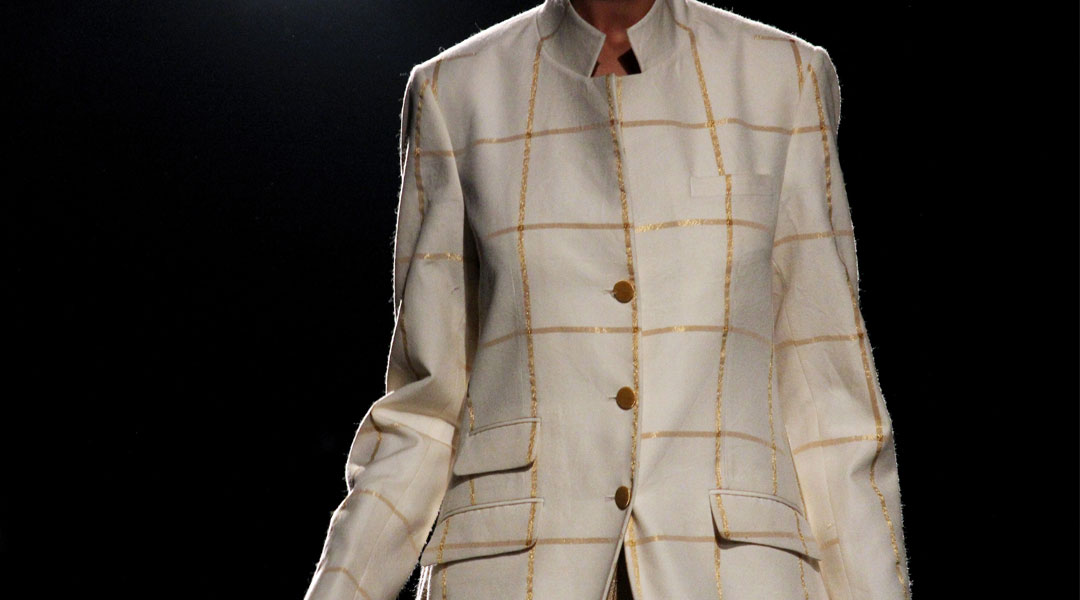 Gold metal yarn is handwoven with Merino wool to mimic the Ikat technique, creating irregular pinstripes with selvedge on this pant suit.
It's also worth noting here that for Singh, everything began with fabric. Much before he started his label, or studied fashion at National Institute of Fashion Technology in New Delhi, or worked for Italian menswear specialists Marzotto, the designer's introduction to fashion came through textiles when he worked with textile experts Rakesh Thakore and Mapu Singh as an undergraduate student.
Originally hailing from the desert state of Rajasthan, Singh knows only too well that wool is an all-weather fabric. And from the start of his career he's used it extensively. Recognising him as a long-time proponent of Merino, The Woolmark Company named him their first ambassador in India in 2013. And his explorations with wool have yielded beautiful combinations. Especially close to his heart and of special note is hand-dyed indigo wool. "I have a place at home where I work so I kept all the indigo vats at home and I do the dyeing myself," he says. Taking that forward he's also blended indigo wool with stainless steel.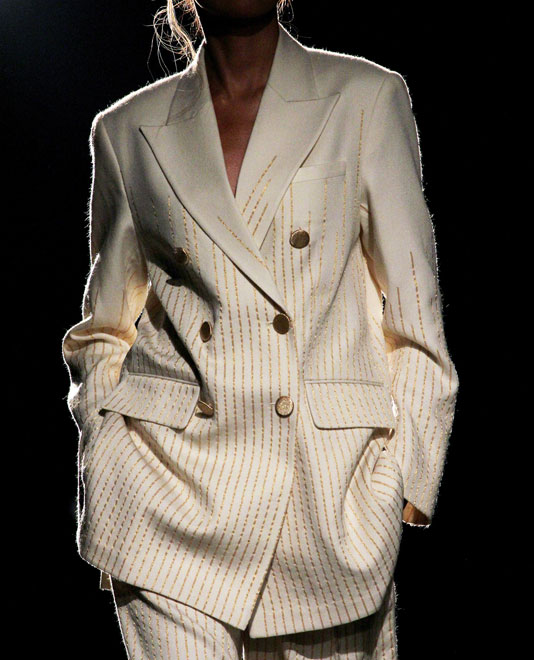 In this overcoat, gold metal yarn is handwoven with Merino wool to simulate an Ikat technique, creating irregular windowpane checks.
Currently, his gold-rich autumn/winter 2016 collection evidences his other experimentations. Using the Ikat technique, he's blended Merino wool with gold yarn to form checks and stripes. Standout pieces include a mannish suit with chains woven into wool. Then there's a molten gold velvet suit, as well as gold beaten onto snakeskin and flower prints. While his techniques are Indian, his treatments are decidedly modern. His design manifesto to himself and his team is simple: It should be modern, pure, and Indian. "I think gold is beautiful. There's this whole purity about it. I feel like there's so much more I can do with it. People might get sick of it but I'm not giving up on it so fast." Looking back, the beginning of his trials with metal yarn can be attributed to his previous Benaras collection for spring/summer 2016.
Every single one of these efforts has been perfected over time, sometimes even decades, be it khadi, ikats, denims, wool, indigo, or metal yarns. "The process has no beginning, it's an ongoing thing", he insists. Self-effacing as ever, Singh says, "I'm not gifted enough to find new inspirations every second month. So I keep experimenting and when we're ready with something and have something to say, we come out with a collection." Until the garments are made, I'm personally involved. After that, there are people more intelligent than me (in the team) and I take a backseat."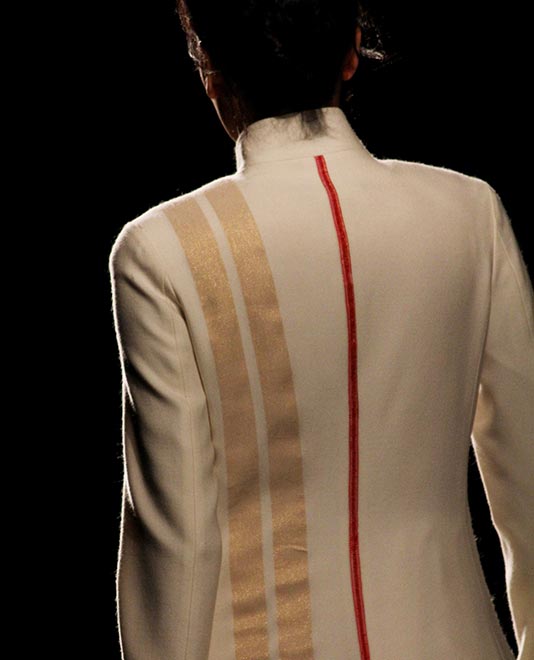 Gold metal yarn is handwoven with Merino wool in this overcoat with selvedge detail.
Much in the same vein, Singh also finds the runway shows difficult. But what he does love is the music. For anybody who's ever witnessed a Rajesh Pratap Singh show, it's apparent that if there's one thing that's as important as the clothes, it's the music. Over the years, David Bowie, Frank Zappa, Kurt Cobain, Pink Floyd, and Keith Richards have all injected a taste of rock 'n' roll in his shows. "What I enjoy doing during shows is the music, which I've always done with musician Gaurav Raina. It's not work for me at that time, it's just time I'm spending with him listening to the new amazing music he's making or he's educating me telling me why I should listen to Justin Beiber. My daughter also tells me I don't get music and that I'm still in the Seventies. But Beiber isn't on my playlist." So what is on his iPod? "A lot of jazz, classic rock, the blues. I just learnt how to make a playlist for God's sake," he laughs.