---
For a small country renowned for its splendid isolation, New Zealand punches well above its weight when it comes to international fashion. Karen Walker, Nom*D, Kate Sylvester, Zambesi and Trelise Cooper are among the Kiwi labels that have made an impact on the global stage, but during New Zealand Fashion Week it was time for a new generation of emerging talents to shine.
Harman Grubisa, Eugenie, Wynn Hamlyn and Jarrad Godman were among the names to know as part of a particularly strong group of emerging and graduate designers during the event that also had new ownership this year following three investors entering a partnership with its founder Dame Pieter Stewart in February. In line with the global trend to consumer-facing shows, NZFW also included a weekend of in season "buy now, wear now" spring summer shows open to the public in addition to four days of industry-only shows devoted to upcoming autumn winter ranges.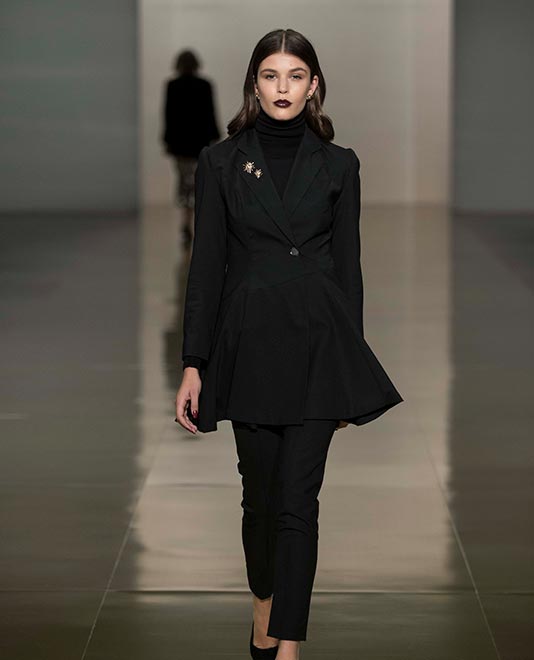 Harman Grubisa
Design duo Madeleine Harman and Jessica Grubisa of Harman Grubisa opened NZFW with an evening show of sophisticated separates and smart tailoring that demonstrated why they were nominated for the 2016 International Woolmark Prize. Long-line blazers worn with cropped flared trousers, slouchy wool sweaters paired with pin-sharp pants and flattering wrap dresses were among the pieces by the Auckland-based friends smartly pitched to appeal to women of all generations and sizes. Aptly named Rococo, the sixth collection since the brand's inception in 2014 featured high-shine metallic, full-bodied satins and a signature sumptuous brocade woven throughout.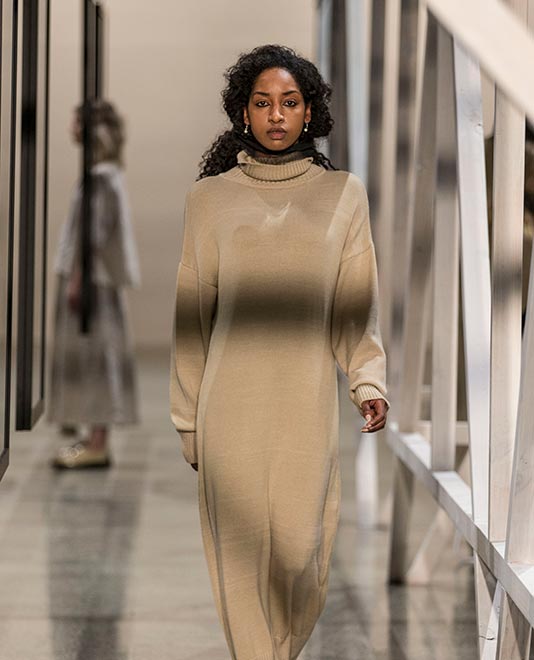 Salasai
Salasai presented an altogether darker vision when the brand renowned for its bold prints and soft tailoring showed a murky, moody collection to an equally grungy soundtrack courtesy of Nick Cave and the Pixies. Reasserting New Zealand's reputation in the 90s as "the Belgium of the South", the richly layered and deconstructed range charting the progression of youth to old age incorporated prints based on overblown, dying flowers alongside oversize knits of exaggerated proportion that ranged from fine gauge to gloriously oversize loopy sweaters that would have been equally suited to the fishing boats moored on Auckland's Waitemata Harbour adjacent to the NZFW venue.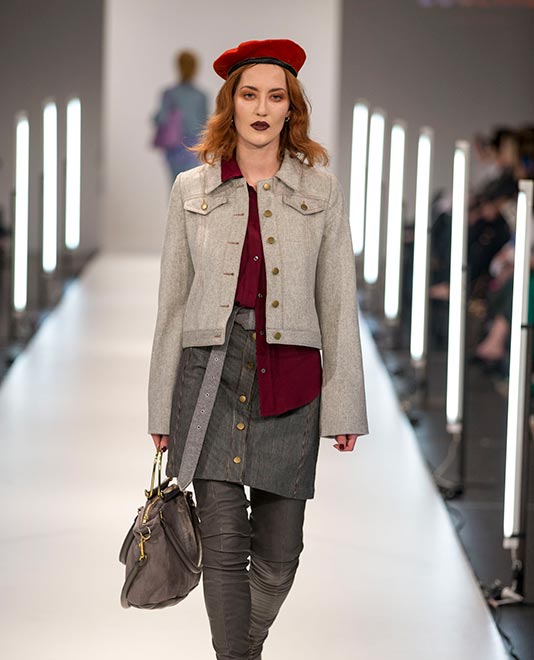 Eugenie
Eugenie does not follow the traditional fashion season calendar, the label founded by Elizabeth Eugenie Wilson instead releases styles as and when the team sees fit, deliberately keeping units low and flexible. The unorthodox approach extends to the clothes, which on this year's NZFW runway channelled a Ziggy Stardust meets Farrah Fawcett vibe including plenty of double denim skirts and jeans teamed with denim vests and jackets, plush velvet blouses and zip-front skivvies and boxy cropped wool army jackets worn with spray-on fitted pants and over-the-knee suede boots.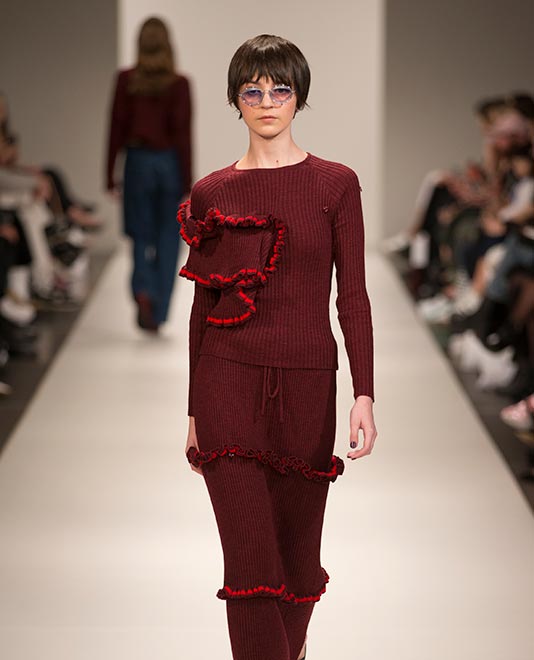 Wyn
Designer Wynn Hamlyn Crawshaw is renowned for his subtly subversive use of Merino wool and the fibre dominated his runway in all forms and textures, ranging from cropped cable knit sweaters and ribbed polo tops to maxi skirts featuring cascading asymmetrical ruffles and long-line pea coats and sleeveless trenches in oatmeal and navy. Named Axminster after the iconic British carpet brand, the collection inspired by 70s-style carpets also featured flooring-inspired prints and coats, obi belts and bags made out of carpet.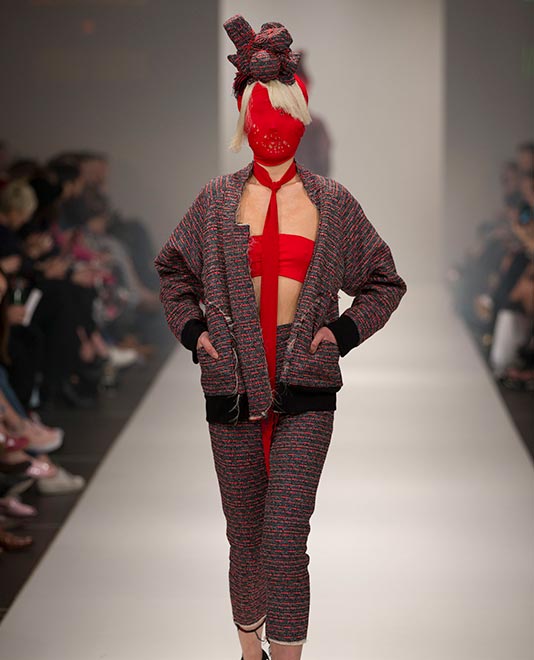 Jarrad Godman
Any designer who says he is inspired by biology, psychology and scientific practice sounds intriguing, and Jarrad Godman's name was indeed dropped throughout NZFW as a designer to watch. Missing panels, raw edges, frayed custom silk and deconstruction techniques were the hallmarks of his collection inspired by Christo and Jeanne-Claude's wrapped monuments created in 1970 and featured a nod to British designer Gareth Pugh courtesy of its striking headwear.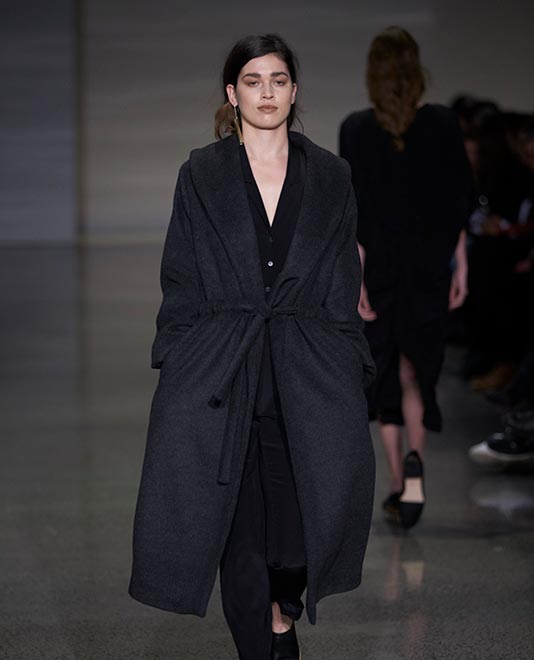 Ovna Ovich
Ovna Ovich shares a similar fascination with art, but channels it into striking a balance between masculine and feminine elements and the notions of contemporaneity and timelessness. Rich chartreuse, black and more black dominated the range including androgynous shift dresses, overalls and culottes that was remarkably cohesive and well-realised for a young designer.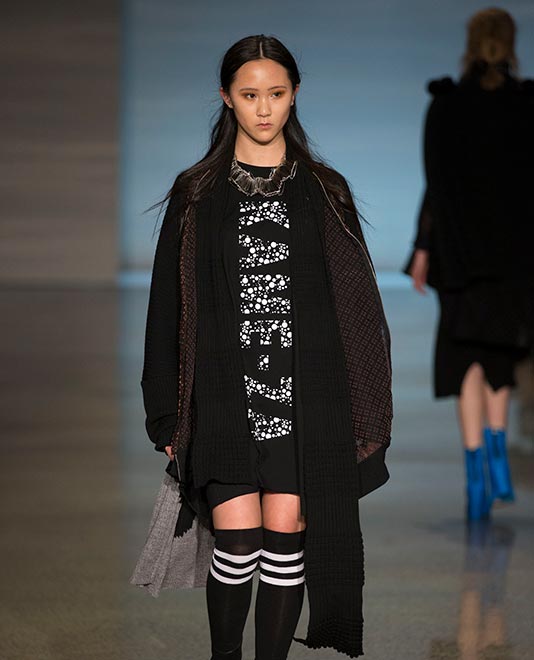 Maaike
Maaike's range Luna included the brands signature mix of soft floating silks and sporty, graphic knits with the main prints referencing outer space with moons, stars and astronauts. Influenced by the Japanese artist Yayoi Kusaman, it also included a chaotic custom polka dot print juxtaposed with intriguing textured knitwear that added a tougher, punky edge to the range worn with glitter-sprayed ankle boots.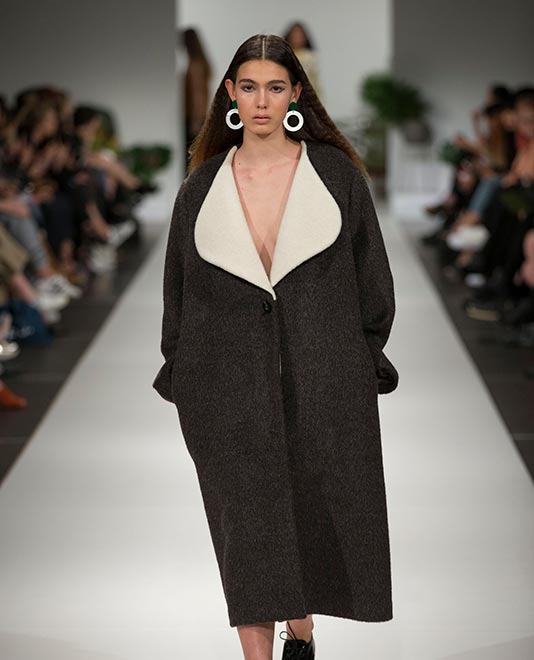 Lucilla Grey
Lucilla Gray was also a nominee for the 2016 International Woolmark Prize, and wool featured prominently in her autumn winter collection of felted wool shifts, wide-leg paper bag trousers and boxy jackets. Waists on dresses and jumpsuits were cinched with drawstrings and obis, shearling lined jackets and collars and fine gauge wool turtlenecks were layered with maxi and midi shift dresses in a neutral palette of cream, khaki and black with flashes of rust.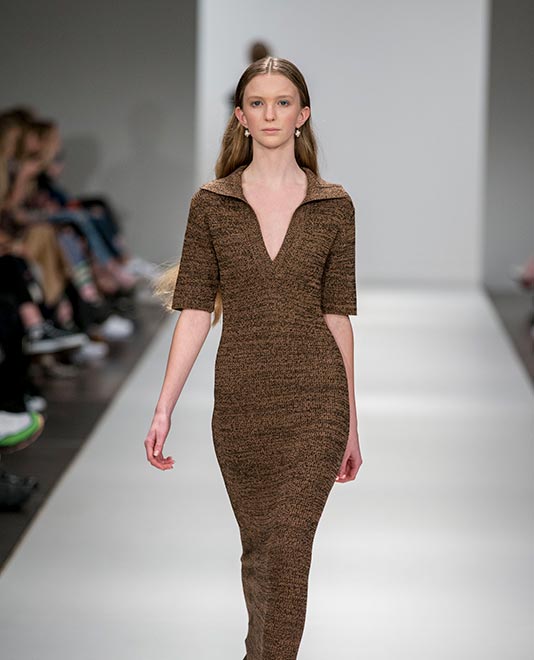 Penny Sage
Penny Sage enjoys a cult following in New Zealand thanks to quiet charm and easy wearability of her understated yet thoughtful designs. Soft silk blouses, corduroy and denim jackets and cropped jeans and floor length rib knit wool dresses were among the highlights by the designer who prefers to whisper rather than shout.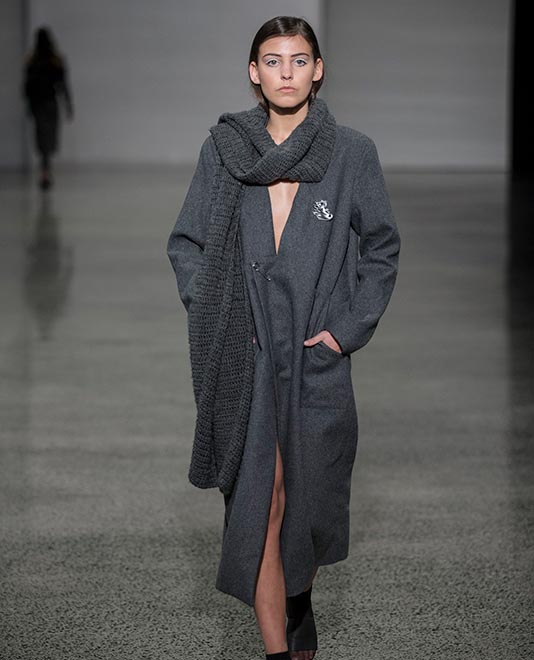 Motel Bible
The new find of the week was undoubtedly Motel Bible. Recent fashion school graduate Annalisa Bradley is fascinated by cults, natural phenomena and religious organisations and divided her highly sculptural and considered range into three segments named Jonestown, Dark Tower and Centralia, the coal seam fire that has been burning underneath the borough of Centralia in Pennsylvania since 1962. A minimalist colour palette and monastic sensibility allowed her designs to burn as brightly as the latter, exhibiting a conceptual refinement and structural sophistication belying her tender years.