---
Two months before Jason Wu's Spring/Summer 2017 collection is sent down the runway at New York Fashion Week, the New York-based fashion designer was in Australia visiting the source of Merino wool - the natural, renewable and biodegradable fibre which lies at the heart of his latest collection. The trip was part of the designer's recent partnership with The Woolmark Company, with Wu appointed as an ambassador for the global authority on wool.
Back to source
Jason Wu wasn't one of the cool kids when he was younger, these are his words, certainly not mine.
"When I was younger - like much, much younger - young designers around me were super street and I felt so inadequate," Wu says. "It ended up what made my career, but it took me a few years to get comfortable with that. I just did what felt right and really honest, and that worked out the best."
At just 33 years old, Wu has his life on track. The New York-based Taiwanese Canadian fashion designer runs his successful eponymous fashion label, holds the title of Artistic Director Hugo Boss Womenswear and just recently launched contemporary sister label Grey Jason Wu.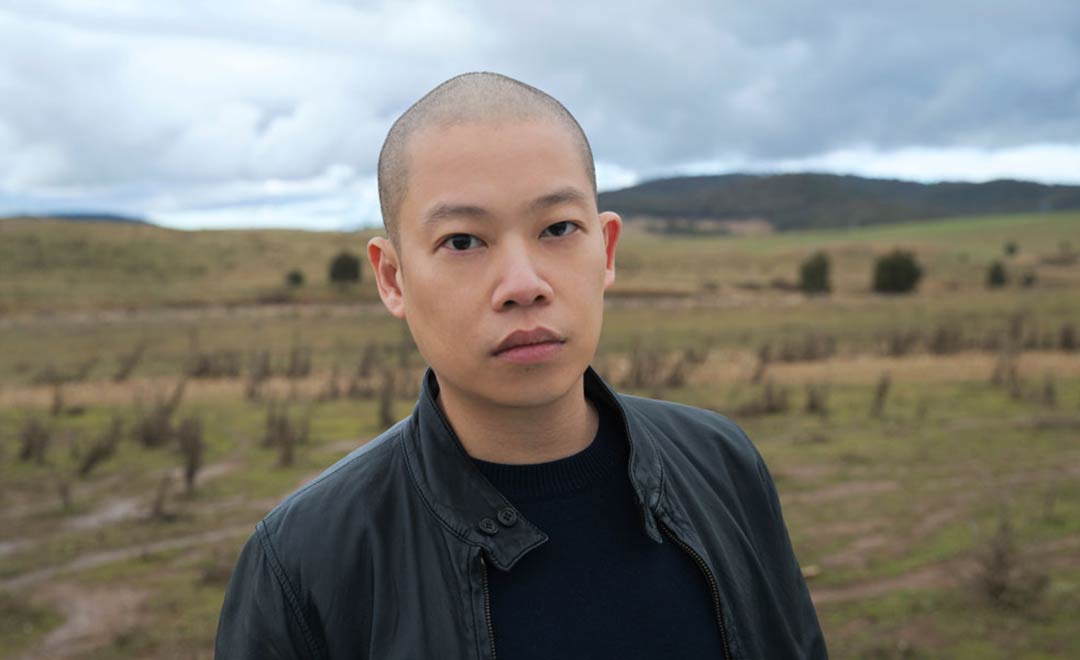 Known and loved for merging classic American sportswear elements with a sophisticated global attitude, Wu creates timeless classics with a glamorous sensibility and a distinctively feminine aesthetic. His latest Autumn/Winter 2016 collection saw Wu's unique take on wool as he unveiled a serious wardrobe with a luxury overlay. But it's his Spring/Summer 2017 collection, recently shown at New York Fashion Week, which sees the designer push the boundaries with wool and present a seasonless lightweight collection with timeless sensibility.
"I think wool has always been very important in my work; it's a staple. I would say that it's important to use wool in innovative ways. I think a lot of us think of wool for a fall/winter collection, but lightweight, featherweight wools are becoming very important with global climate changes and I'm very excited to explore this further."
During his second trip to Australia - the last being nearly 10 years ago - Wu not only had the chance to visit a wool-growing property but he also sat on the esteemed judging panel for the International Woolmark Prize Australia & New Zealand regional final, a position he also took up a few weeks later for the USA edition of the award.
"Initiatives like the International Woolmark Prize are so important as it really allows young designers the opportunity to show their work in front of industry professionals, get very important mentorship and gain further knowledge of what the fashion business is like. What was very special is that the designers were able to embody a good amount of creativity and were also business savvy - something we're not used to seeing as much. When I was at that stage of my career I had no idea of the answers."
So what is Wu's advice to emerging fashion designers? "Be honest and take it easy. I did my best work when I was the most comfortable with myself. Don't try to be anyone else or put pressure on yourself to keep up with industry demands. My sensibility has never been really cool, it took me a few years to get comfortable with that. But I just did what felt right, and really honest, and that worked out the best."
Next year is the tenth anniversary of the Jason Wu brand, and in this time he has built a solid following of luxury consumers and celebrities. "Definitely a huge goal in my next ten years is to really build my brand to the next level. I think it takes ten years to build any business - to feel like a real business. Unfortunately, our world doesn't allow that nowadays. You think about the great designers who we all look up to, they all had 20 to 30 years to perfect their craft, and we don't have that."
For Wu, his breakthrough moment came in 2011 when he got into the stores he had his heart set on - Bergdorf Goodman and net-a-porter.com - and he saw things go up online, "and they were sold out," he remembers. "That was the moment I felt like I had qualified as a professional."
For consumers of the outside world, Wu became a household name in 2009, when Michelle Obama made her first appearance as the First Lady of the United States at the inauguration ball for President Obama. Stepping out in a custom one-shouldered draped white silk chiffon ball gown, Wu, who was a 26-year-old emerging designer at the time, recalls he had two weeks to make the dress. "I knew nothing about politics or who she was, but everyone was getting really excited about her, so I thought, 'okay, I'm going to ask if she wants me to do the dress'. I gave her one design - no choices." Luckily for Wu, the new FLOTUS loved the design and today he remains one of her favoured designers.
"She's been very supportive of American and international fashion designers. What she's shown is that you can use fashion as a statement, that fashion isn't just a thing of vanity. Remember when she wore Alexander McQueen [in 2011 to the China state dinner] and the controversy?"
Wu's latest line, Grey Jason Wu, is as far from the red carpet or presidential balls as you can get. Created as a more accessible diffusion line, and based on Wu's favourite colour, the sister label was crafted for 30-something-year-olds making a decent salary and who didn't want to buy fast-fashion anymore.
"I started to look at my friends and I wanted to dress the girls around me for work and weekends. I wanted to create a collection that they could feel like they were buying something of substance that wasn't so expensive that you'd only wear it once or twice and had to be super careful with it. The Grey woman is in her 30s and doesn't only want H&M clothes anymore, she wants to start building a wardrobe."
It seems that Wu has come a long way since he first came onto the fashion seen. No longer should he feel inadequate around other designers, he's not only one of the cool kids, but he's also telling the cool kids what to wear.