---
What do Lou Reed, Jimi Hendrix, David Bowie and Patti Smith have in common? Apart from all being music legends in their own right, each artist has also been the muse for knitwear designer Mary Adams of Small Town Girl.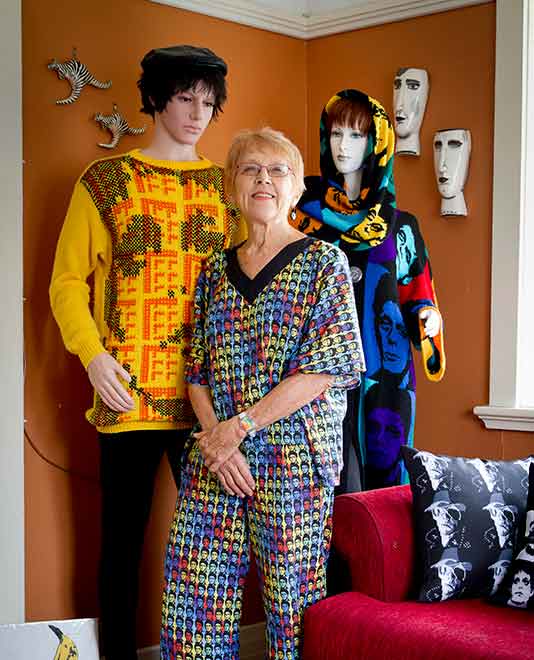 Mary Adams wearing her latest 'triple rainbow diamonds' creation. PHOTO: Katrina Mathieson.
Born in Canada, the designer now lives in Lismore – not far from the iconic coastal town of Byron Bay, Australia. It was her mother who taught her how to knit at the age of five, but it was her passion for pattern and colour which saw her transform pop culture into wearable art.
"The first picture sweater I knitted was actually for my brother; a cardigan with two Mounties on the front," said Adams.
But it was the packaging for laundry detergent brand Fab which really grabbed her eye and set her on the path she's on today.
"The design on the box, with lemons in the centre of a red and orange bullseye, was brilliant. It is still one of my very favourites. It took me a long time to get the design right - and even longer to knit - but the whole process was such a pleasure that I knew this was what I wanted to do: recreate images from popular culture in stitches."
Then, in 1972, musician Lou Reed released the David Bowie-produced ground-breaking album Transformer. Not only drawn to the swooping basslines and riveting lyrics, Adams was captivated by the album cover artwork, and knew straight away that knitting this now iconic image would be her next project. She has since designed 24 sweaters in tribute to Lou Reed albums, 25 in tribute to Lou Reed songs and 11 that play with his image in some way – a total of 60.
But what's even more remarkable is that Lou Reed himself found out about the Transformer sweater during his first tour of Australia, and sought out Adams to give his seal of approval.
In 1974 a woman wearing a Transformer sweater attended Lou Reed's first press conference in Sydney. Lou asked her to pass the following message on to the woman who had made it: "I've decided not to sue and would like to order 20". Which he did.
"For the final performance in Sydney his band and crew came out on stage wearing Transformer sweaters," says Adams. "It was one of the best moments of my life. I wanted to fall at his feet. But he was very gracious and made it all very relaxed and easy for me. I am still friends with the woman who was his tour manager at that time."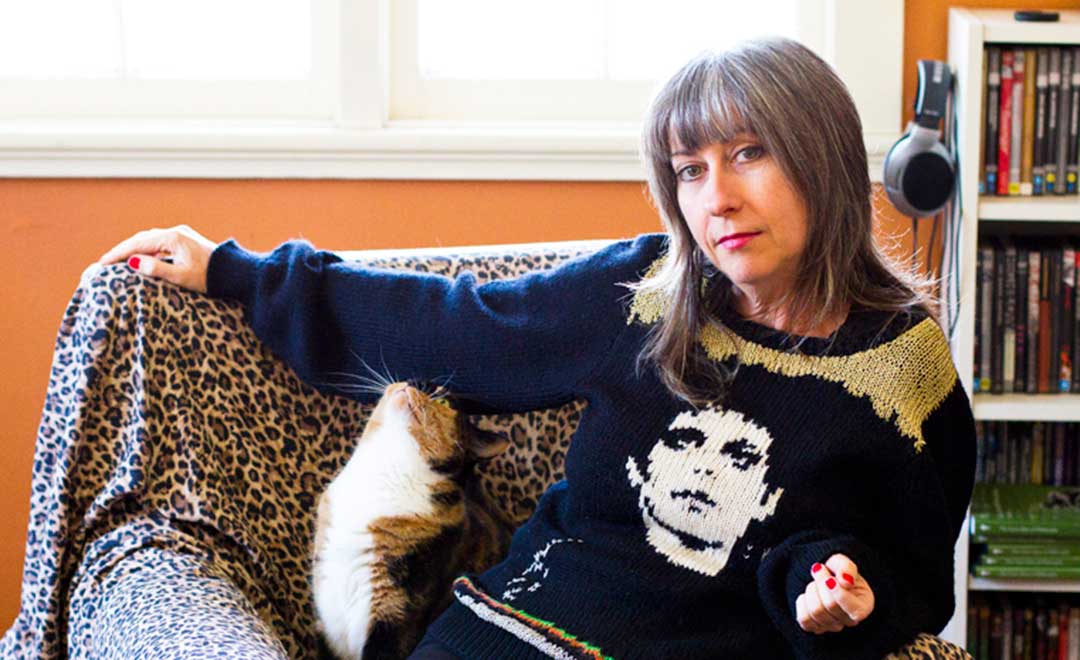 Earlier this month, on what would have been Reed's 75th birthday, the New York Public Library announced its acquisition of the Lou Reed Archive for its performing arts branch. The contents - donated by Reed's wife Laurie Anderson - will be made available to all visitors to the Library for the Performing Arts, at Lincoln Center, as soon as it is fully catalogued and prepared, which will take at least a year. And one of the early sweaters Adams knitted for Reed will be part of the collection. It has been included in a number of assorted items which are on display at the Library until the end of the month. A photograph of the sweater was included in a March 2 article in The New York Times.
"Needless to say I'm delighted," said Adams when she was told of the news.
Small Town Girl produces garments that not only stimulate the eye but are well made, elegant and fun to wear. One of the features of the knitted garments is that the images are dynamic – they are not only distorted by the shape of the body, but change constantly as the body moves.
"I love working in wool and superfine Merino is my absolute favourite – it feels good on the fingers, it feels good on the body, it breathes, it keeps its shape. And with proper care woollen garments last many years. I still have sweaters that I made over 30 years ago – much worn and much loved – and they are still in very good condition."