---
There are few companies with as storied history as Maharam, which was founded in 1902 by Russian-born American immigrant Louis Maharam. From a pushcart near Manhattan's Wall Street, Louis sold fabric fabric remnants, a business venture that subsequently evolved to become a storefront in New York City's midtown.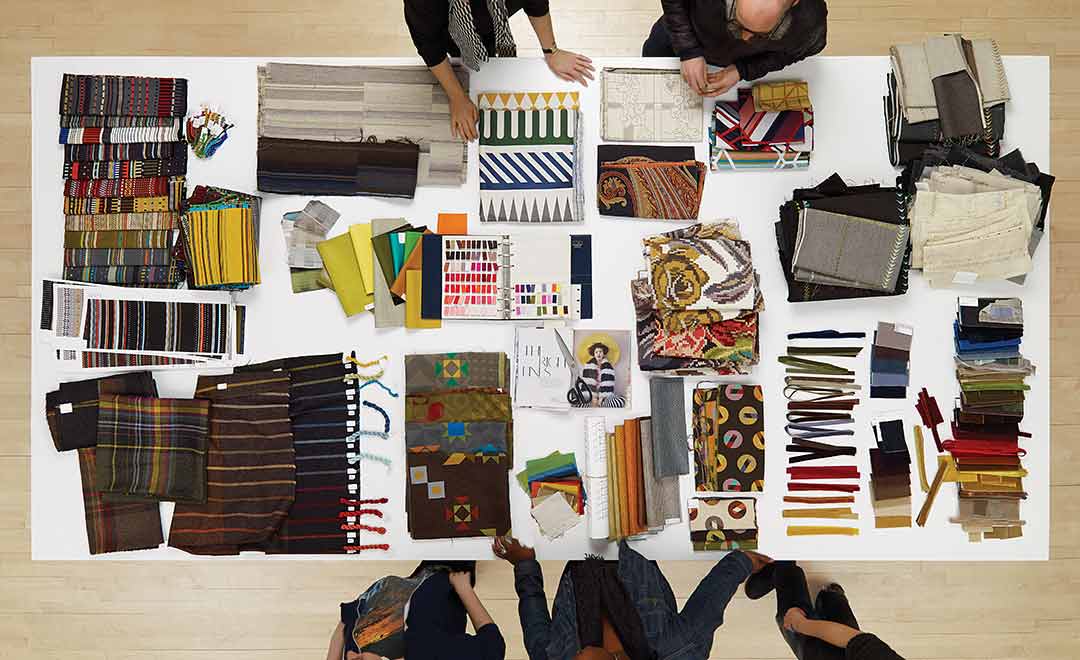 The Maharam design studio, New York City.
Through the 1940s, Maharam became a leading source of textiles for theatre costumes and set design. It wasn't until the 1960s, as the city's building boom really began to take hold with the creation of skyscrapers and offices across the island, that Maharam "really took off," says Manzari. "It really marked the beginning of the modern interior textiles industry because people all of a sudden needed a greater variety of upholstery and soft furnishings and window coverings, and it's when Maharam gained a lot of its big contracts that led to its expansion."
"It's impossible to run a successful company today if you don't have a practice in place that reduces your environmental footprint."


Today, the company works collaboratively with a range of artists and designers on its collections, creating an open dialogue across varied disciplines so as to offer its customers – largely architects and interior designers – something innovative. And while many, such as fashion designer Sir Paul Smith, lend a recognisable name and aesthetic, others are perhaps less known for their work in the interior textiles space, such as the contemporary Chinese artist Ai Weiwei. The process, according to Manzari, is one of give-and-take. "Paul Smith, for example, is an amazing fashion brand focused mainly on apparel and accessories, so what they do, the colours that they work with, is not always the same as what inspires us or what we typically work with. Working together becomes a big benefit for both design studios because it challenges our existing ways of thinking, and the same happens for [Paul Smith] and his team."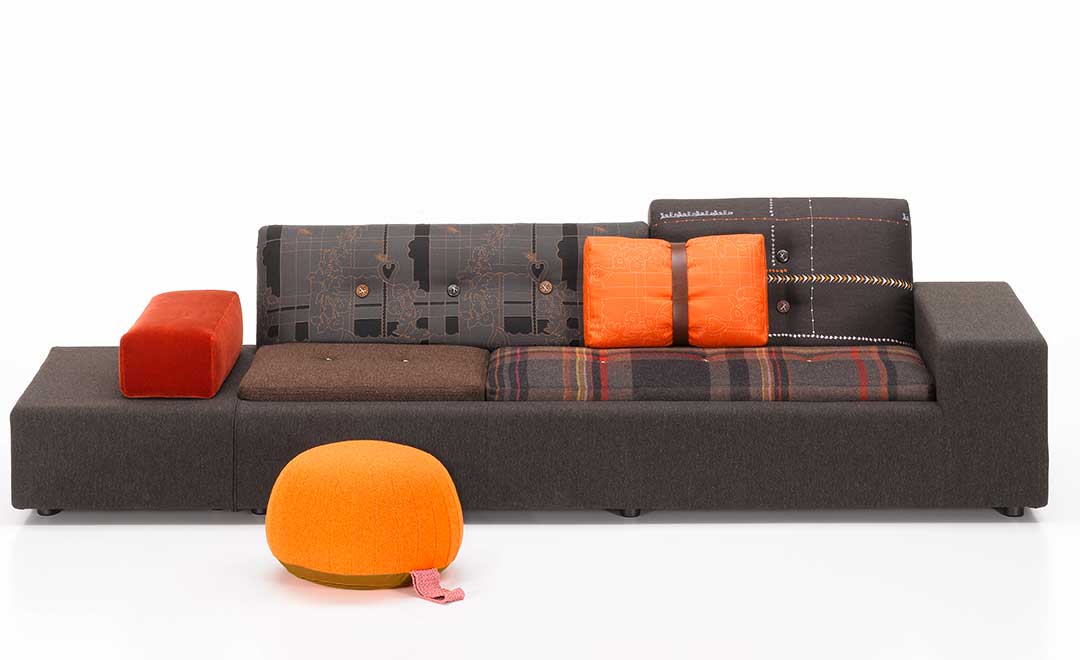 "Exaggerated Plaid" wool upholstery, by Paul Smith, on "Polder" sofa.
In some instances, the entire process of working with raw fibres is turned on its head, such as when Maharam engaged in a collaboration with the Dutch, Berlin-based industrial designer Hella Jongerius on a spate of products. While previously having worked with companies such as Vitra and IKEA, Jongerius was new to the textiles side of furniture and was thus unfamiliar with the process from yarn to finished fabric. "This is great, though, because she'll push the boundaries and ask questions that are thought-provoking, about why we do things certain ways or how we could do them differently to achieve a different finish or texture. It's here that innovation is born."
Certainly, limitations exist, and while wool as a fibre has evolved over the past century – Australian Merino wool offers some of the finest yarn in the world, each fibre nearly 50% finer than human hair – the mechanics of weaving yarn, while now operated digitally, have remained largely the same. "It's really not that different a process to what it was 50 or 100 years ago," says Manzari. "What is different are the yarns, the colours people want, the finishes desired, and that's why working with designers and artists outside of our world helps to keep Maharam curious, to keep thinking beyond what we've done before."
"In some instances, the entire process of working with raw fibres is turned on its head."
Indeed, many of the company's textiles are housed in the permanent collections of the Art Institute of Chicago, the Museum of Modern Art, and the Stedelijk Museum, among others, because of their artistic quality. "Design is the core of what we do, and as a company we're willing to take risks," says Manzari. "There are times that we've introduced a new product not because we necessarily believe it will be a commercial success but because it's innovative and will stretch people's thought process."
That said, Maharam is conscious of its heritage – a selling point in today's crowded market – and regularly looks back, too. Textiles of the 20th Century is a particularly popular arm of the business, a series of upholstery and window coverings dedicated to modern design. Here, the art and designs of some of Mid-Century Modern's leading figures – Gunnar Aagaard Andersen, Charles and Ray Eames, and Verner Panton included – are beautifully rendered and reissued, playing into the resurgence of the style in recent years. Maharam's Original Contract Textiles, meanwhile, are faithful reinterpretations of its own archive, such as original wool plaids and soft tweeds.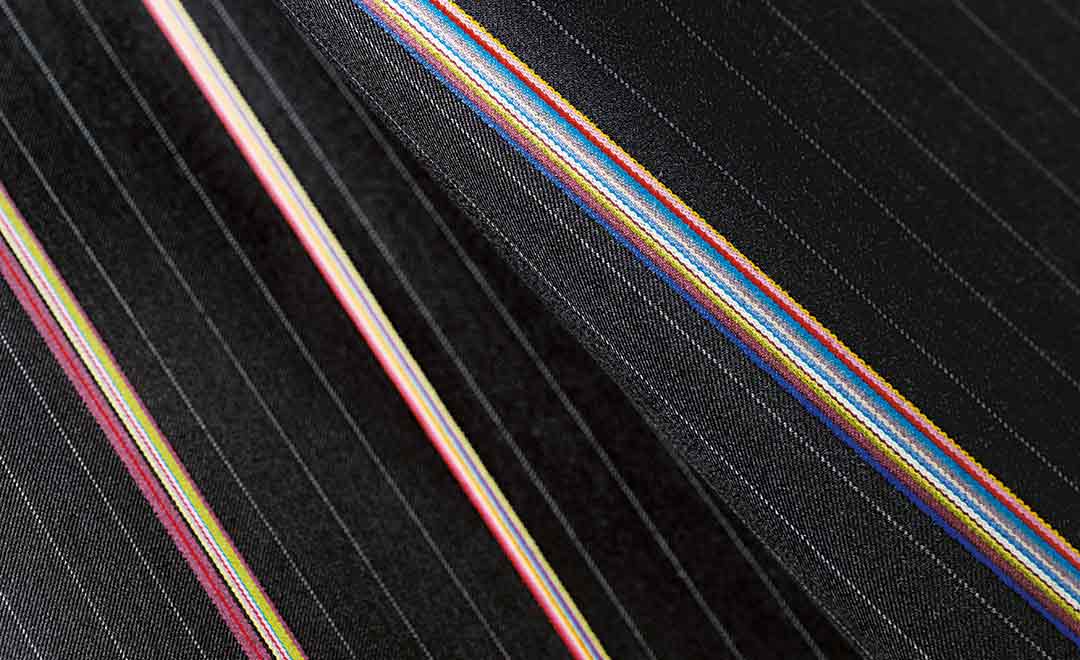 Wool fabric design by Paul Smith for Maharam.
Sustainability plays into Maharam's braoder approach to business. According to Manzari, "It's impossible to run a successful company today if you don't have a practice in place that reduces your environmental footprint. Our culture here is about reducing waste." Indeed, Maharam is an ISO 14001-certified company, but its protection of the environment stems beyond practice and into product, too, with the use of natural fibres such as Merino wool, which is both biodegradable and hardwearing. It's this combination of performance and aesthetics that results in magic, says Manzari. "Every aspect of wool creates a more superior backdrop than just about any other fibre. It accepts rich, deep colours well, you can create a multitude of textures, it can keep you warm, it can keep you cool, it passes just about every fire code. It stands to reason that the most beautiful textiles are made from wool."