---
With heavyweight e-commerce business Amazon the namesake sponsor of Tokyo Fashion Week, the event embraced globalisation for spring 2017, with runway shows of international designers and special offsite activations featured alongside local talent, solidifying its presence on the international fashion calendar.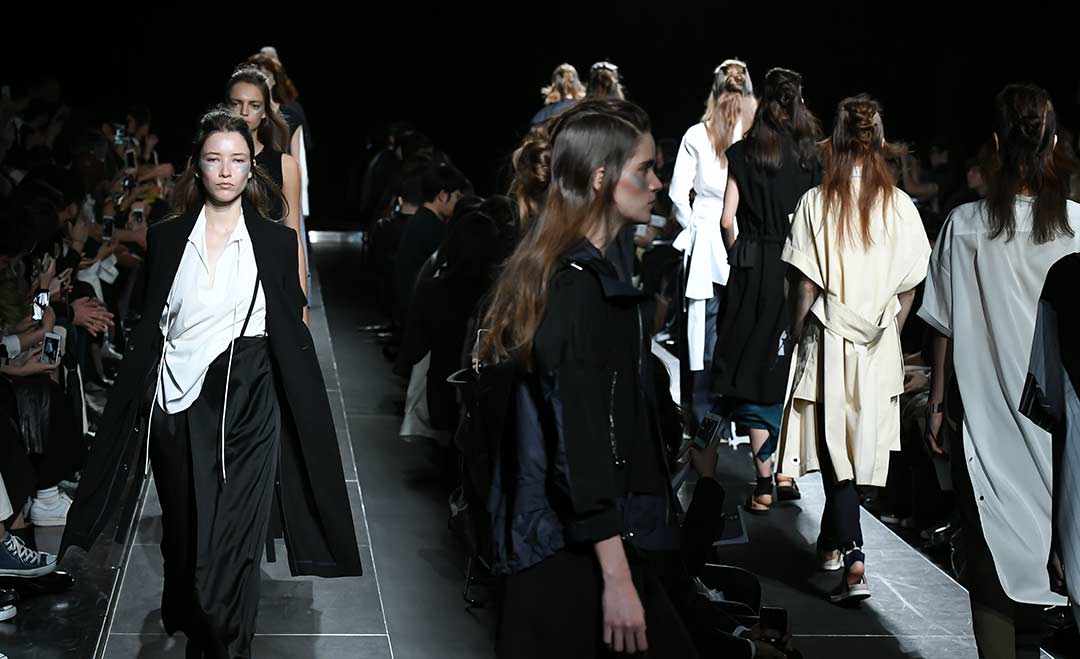 Tokyo Fashion Week Spring 2017
In all, 46 brands made up Amazon Tokyo Fashion Week, and although it comprised a broad mix of formats – from blockbuster runway shows to small-scale and intimate installations – many designers' collections were linked by a common thread: of reconstructing and reinterpreting traditional wardrobe items, such as military garb and tailoring, for more casual wear.
This came, for example, in the bold use of cut, with designers inserting deep slits into the sides of garments, offering asymmetrical hems, twisting and turning cloth, and flipping backs and fronts to dramatic effect. And by using wool, many of the pieces had a lightness and natural drape, making them perfect for the warmer months of the spring/summer season. Here, we highlight our five favourite shows of the season.
Bed. J.W. Ford
Much anticipation surrounded BED J.W. FORD's Tokyo Fashion Week debut, and in a palette of black, navy, maroon and caramel, the collection evoked a sense of elegant, gallant military uniforms. Coats and jackets were cut loose from the body so as to flutter in the wind, as though a shirt, while double-breasted styles, cross-body straps, waist fastenings and ticket pockets had a sense of the utilitarian to them.



Ujoh
Local brand Ujoh is on a steep ascent having recently shown its wares in Milan, Italy with thanks to an emerging talent program supported by Giorgio Armani, and for spring 2017, Ujoh demonstrated why it has become so popular, showing pieces for bold and elegant women by drawing on the staples of a man's wardrobe, such as button-down shirting, wide-legged trousers and oversized blazers. Oversized flower motifs were evident throughout, adding a traditional femininity to the collection, with a colour palette of dusty red, white and purple. Highlights included a trench coat with a long side slit, changing the form of the garment as it moved, as well as a shirt featuring sleeves outstretched across its front as a decorative feature, with wool poplin and wool gabardine gave natural drape and fluidity to the garments.


Dressedunderssed
Former International Woolmark Prize finalist DRESSEDUNDRESSED celebrated a milestone this season – ten years in business – and marked the anniversary with the theme of community at the heart of its collection. Here, you could see the different characters that make up daily life in the city, with wool suits and uniforms making up the collection. By cutting the sleeves and inserting bold slits into traditional items such as trench coats and tailored jackets and increasing the volume of the sleeves and hems of shirts, DRESSUNDRESSED thwarted the status quo of these traditional garments, asserting itself as an original tastemaker.



Ethosense
This season's starting point for ETHOSENSE was of intersecting lines, and by developing looks based on this concept, the label presented a perfectly integrated range of separates, each able to be mixed, paired together or worn separately. But the apparently simplicity of these garments, many of them crafted from wool, belies the technical virtuosity of the designer. The balance created from inserting deep slits in the pants and coat and using elongated lengths for each of the tops felt in tune with contemporary trends, while the slouchy cut of tailored pieces made it relevant for casual wear, tying in with the ongoing popularity of sportswear.



Matohu
Based on the theme of utsukushii, meaning loveliness from a Japanese aesthetic perspective, this collection proposes clothing that puts people in a tranquil state of mind. These clothing items convey the designer's wish that both the wearer and the viewer feel a sense of happiness from the "cuteness" of the clothing. The fabric patterns (stitching and weaving) shown in the collections were particularly unique, with motifs of flying swallows, peanuts and dancers that soothe the soul with their incredible cuteness. The A-line one-piece items and skirts that employ soft drapes and gathers are fluffy and soft, and the woollen gabardine skirt and the light grey suit made of wool are both defined by a tranquil mood.