---
As the slow fashion movement gains currency, Indian designers are increasingly looking inward. That the collections of designers for autumn/winter 2016 was dedicated to the idea of India Modern is testament to a whole movement going back to India's rich legacy of craft, which resulted in a renewed love for textiles, looking into the archives of past and innovating for the future.
At Amazon India Fashion Week, this preoccupation with textiles translated into a very subdued sort of experience on the runway. There was a stripping bare – easy silhouettes, layers, non-colours – to allow you to understand the essence of clothing: the fabric. Quietly confident, these are the kind of collections whose appreciation comes from keener inspection post-show, at a re-see. Up close, you see the luxuriousness of the hand that wove, or stitched or dyed or embroidered.
As one of the opening shows, Gaurav Jai Gupta's Akaaro established this straight off. A true textiles guy, he broke onto the scene with his experiments with weave, well before it was the fashionable thing to do. Most notable in his trajectory have been his successes with wool and stainless steel. Here too, they took centre stage alongside monofilament silks, cottons, and zari. An earthy palette was broken with shocks of turquoise, fuchsia and yellow. Stripes, sometimes sheer, were woven onto saris, tunics, pants, and coats. The result: A whole gamut of relaxed layers that are wearable and comfortable, but also endlessly beautiful.
Besides the sheer mastery on view at Rajesh Pratap Singh, the music is always equally serious business. It came to the fore this season, in what was perhaps an ode to the late David Bowie. Besides the soundtrack, Bowie's and Jim Morrison's faces were also imprinted on the lining of the outerwear. And then there was the stardust everywhere: a fixation on gold, something of a slight departure from his monochromes. Out came mannish wool pantsuits, blazers, bandhgalas and coats shot through with zari, a metallic thread, to form checks and stripes. Metal foiling too, was used to great effect on big bloom motifs and snakeskin patterns. Particularly sublime were dresses, tailored coats and pantsuits seemingly made of molten gold.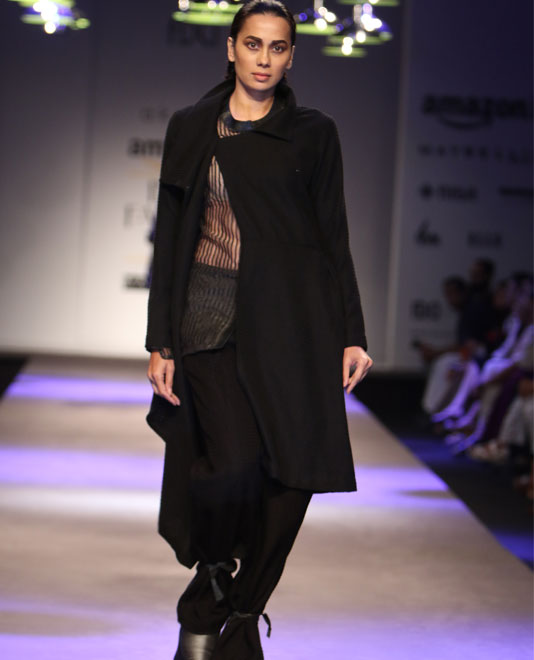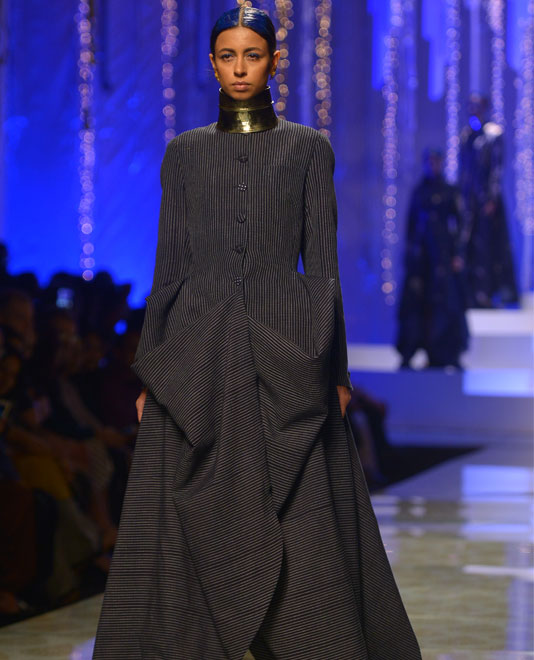 Akaaro & Rajesh Pratap Singh
At Aneeth Arora's Péro was a whole lot of hand-woven goodness that she's loved for. While outwardly lighthearted and whimsical, she presents clothes that are created with great care, love, and attention to detail. Taking her cue from uniforms, she took us back to school with relaxed layers in solid blacks and whites or monochrome ginghams. 3-D poppies, lace trims and embroidered billets-doux provided finishing touches.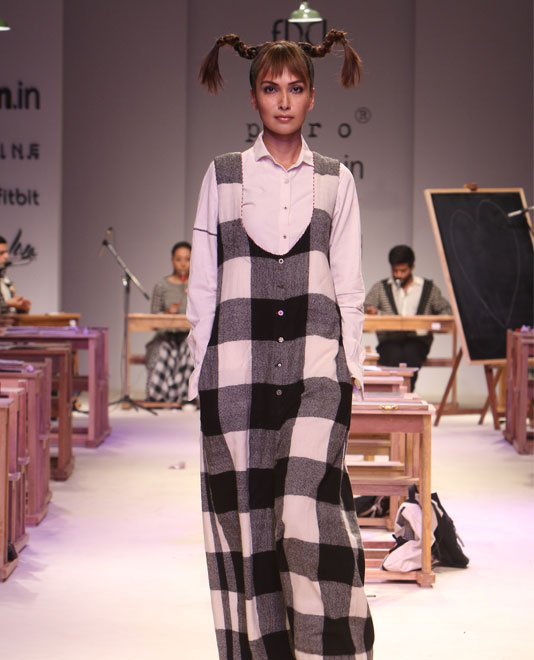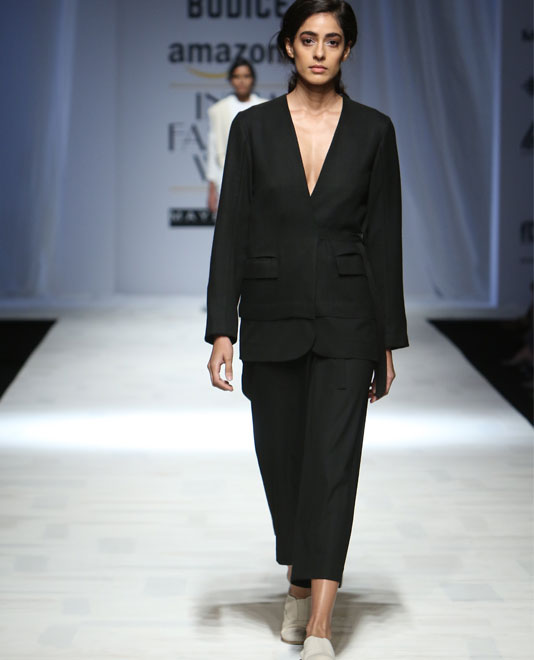 Pero & Bodice
A favourite with city girls for her cool minimalism, Ruchika Sachdeva's Bodice delivers solid wardrobe builders every season. Trenches, shifts, tunics, straight coats and skirts abounded in a trusty palette of naturally dyed olive greens, indigos, blacks, greys, and whites. As much as her silhouettes, it's her fabrics – wool-linen blends and cool wools, for example – that propel her clothes further into "I'll-have-one-of-each" territory. While this season was definitely a leaner silhouette than usual, her use of binding as a detailing technique (especially on knife-pleat skirts) ties the last few season together and acts as a clever, very visible trademark.
Meanwhile Anavila demonstrated with even more conviction than usual how her saris could be a part of comfortable daywear. Hardly a few seasons old, she's already a fashion darling for taming the often-unwieldy sari into a modern weave. Both insouciant and reverent, her saris came tied high up showing petticoat skirts or trousers, paired with shirt blouses, blazers and wooly knits, and accessorized with crossbody bags and lace-ups. Expect florals, checks and stripes in earthy lotus yarns, wool, and homegrown muga silks and kala cotton.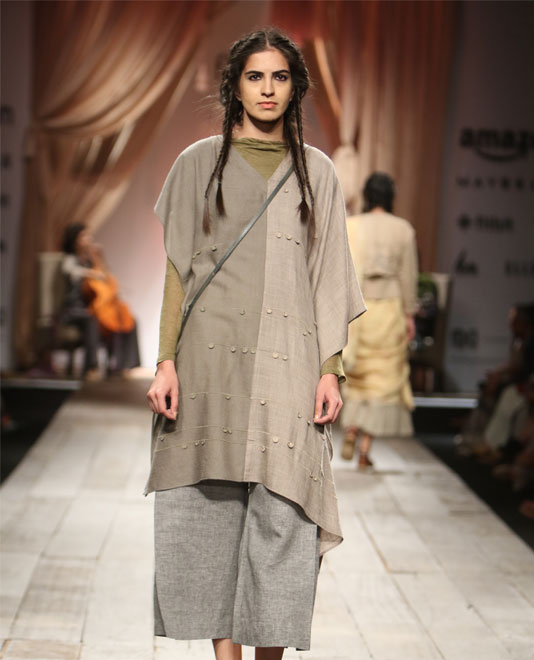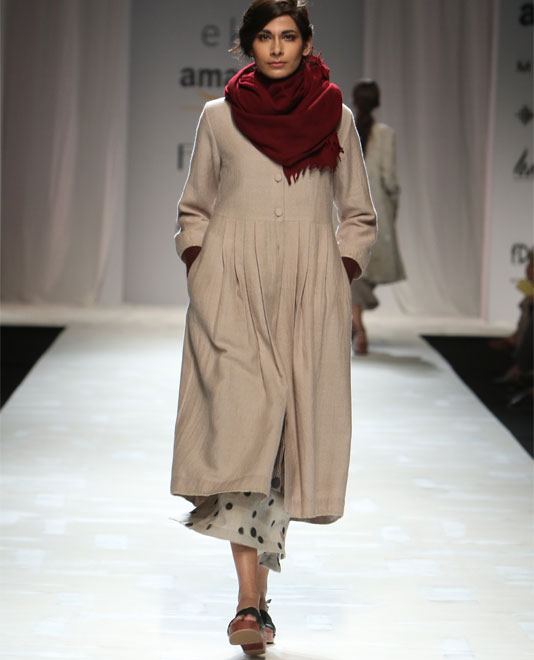 Anvila & Eka
In keeping with a global proclivity for all things military, Pankaj & Nidhi looked to European uniforms of old. Pencil skirts, big trousers, capes, and coats in Merino wool were detailed with all manner of regalia – epaulets, buttons, brooches, chain fringes and braiding. Black sequins detailed mustard yellows, olive greens, and navy blues. An attempt to sex up the latter half of the collection resulted in sheer panels, body-con dresses, plunging V-necks and lots of gowns.