---
This Wool Week Australia, buy better by choosing the original eco fibre. Wool is renewable, biodegradable and grown naturally by Australian woolgrowers.
Not all clothes are created equally. Clothes made from Merino wool are better for the environment than clothes made from synthetic fibres, which are derived from fossil fuels and crude oil. In addition, wool garments are the hardest workers in your wardrobe. They require less washing and are more likely to live on as second-hand or recycled products. Make your next purchase work harder for you and #BuyBetter.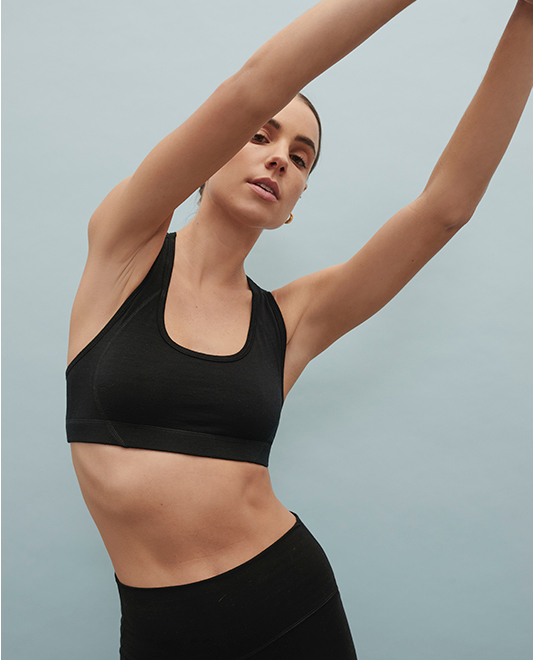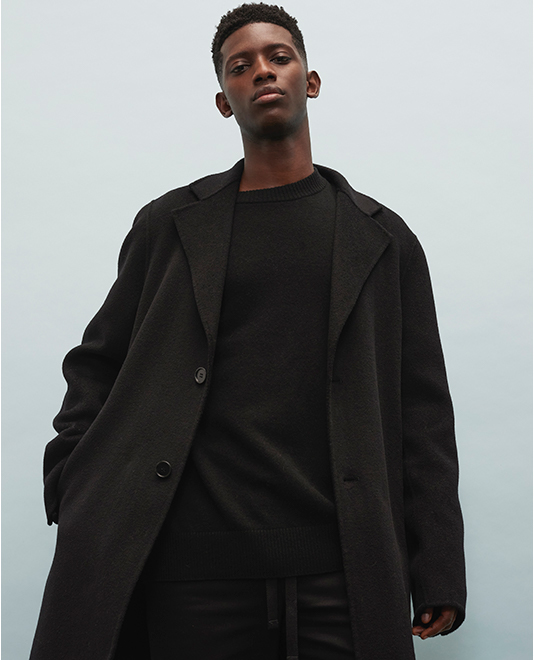 Left: Kate wears the Zodiac Crop and Merino Compression Leggings from ioMerino, both made from Australian Merino wool.
Right: Samel wears the Coda Wool Coat and the Anders Knit from Assembly Label. Both are 100% wool.
Eliminate plastic from your workout routine
The activewear industry is laden with synthetic fibres. If you check the label of your current workout gear, there is a high chance it's made from acrylic, polyester, polyamide, neoprene, nylon and orlon. In other words: plastic. The number of microfibres released from a typical 5kg wash load of polyester fabrics was estimated to be over 6 million (depending on the type of detergent used). Up to 35% of microplastics in our waterways come from synthetic clothing. In contrast, wool easily biodegrades in marine environments and does not contribute to microplastic pollution. Choosing natural fibres over synthetics can make a huge difference in protecting our waterways and oceans.
Need more reasons to workout in wool? Learn about wool's intrinsic performance benefits.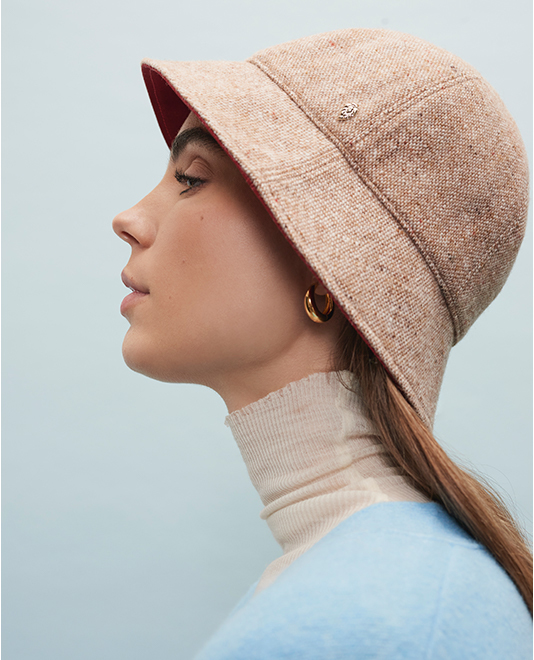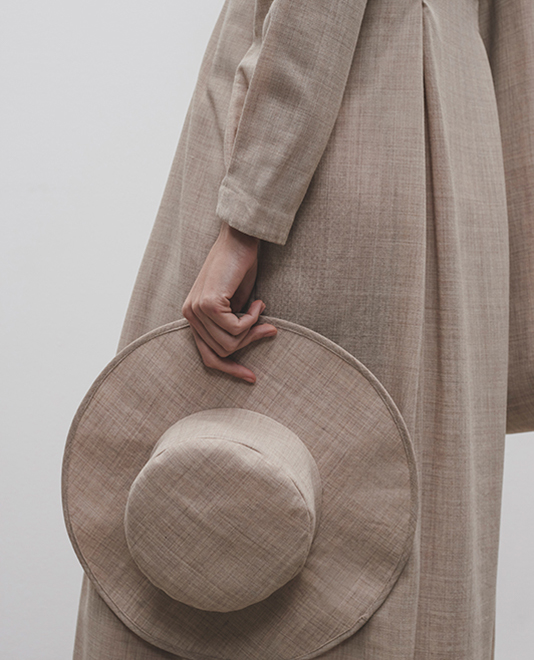 Left: Kate wears the Livia Cloche hat from Helen Kaminski, the Boucle Cardigan from Country Road and the Merino Rib Funnel Neck Skivvy from Arnsdorf.
Right: Kate wears the Golden Hour Dress, Tote and Hat from Jacinta James.
Invest in luxury that lasts a lifetime
Wool is the slow fashion champion, with wool garments amongst the longest kept in global wardrobes. 100% natural, renewable, biodegradable and recyclable, wool is Mother Nature's finest. Designers who work with wool honour the fibre by creating quality garments with classic designs that will last you a lifetime.
Reduce your impact everyday
Wool is naturally odour, stain and wrinkle resistant. This means your wool garments can be worn for longer intervals between washing. By re-wearing your clothes and washing less often, you can reduce the environmental impact of your clothes by 75%. Wool also has the lowest water and energy use per wear compared to other similar garments. Learn more about how to refresh your wool garment without using energy or water here – saving you time, money and the planet!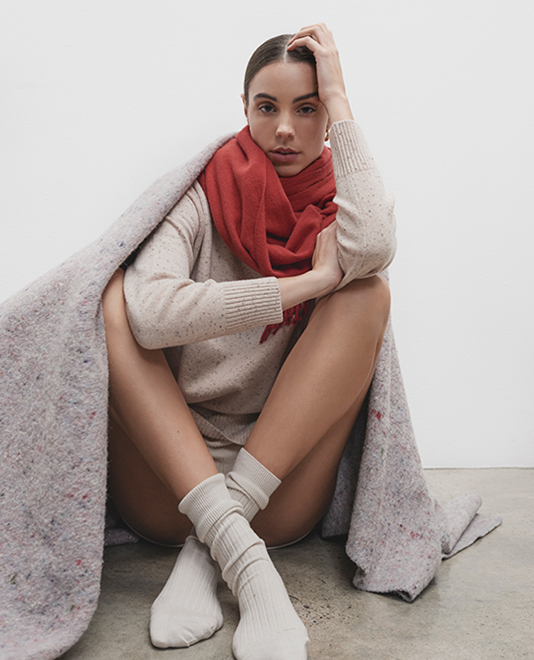 Left: Kate and Samel both wear the Nobuko Merino Fleece Hoodie from McIntyre Merino made from 100% Merino wool.
Right: Kate wears the Sunflower Speckle Wool Rib Knit from Sportscraft, a pair of Humphrey Law socks, the Fringe Wool Scarf from Oroton and a blanket from Seljak.
The future of sustainable fashion is wool
Start them young in wool so our kids grow up knowing who makes their clothes and where they come from. Most farms in Australia continue to be family owned and operated. This means Australian wool growers are always thinking about the next generation.
Not only is it great for skin health, these garments are built to last until you are ready to dispose of them. Once your children have outgrown them, these products can be passed on or donated to extend their life as much as possible.
Meet the Australian woolgrowers
At the heart of the Australian wool industry are the tens of thousands of woolgrowers who work tirelessly to look after their sheep and the land on which they graze. They take great pride in what they do and produce the world's best wool.
Photography Holly Ward | Hair and Make-up Andrea Black | Models Samel Barrie and Kate Manson