---
This week in Japan saw designers showcase their autumn/winter 2016 collection as part of the biannual Mercedes-Benz Fashion Week Toyo [MBFWT]. Here, many shows featured creations that uniquely blended natural and synthetic fibres, shaping futuristic collections that fused such binaries as sporty and ethnic, rustic and modern.
Motohiro Tanji showcased a standout collection comprised predominantly of knitwear, presented in a number of innovative, distorted techniques such as twisting and warping. Items included sweaters with the neck relocated to the abdomen, short poncho-like knitwear, and fine gauge asymmetrical sweaters with beautiful drapes. The styling placed a focus on everyday wear with the knitwear items worn with t-shirts and denim jeans. Most of the items were made from 100% wool, and among the hand-woven long-gauge knitwear pieces were also a number of garments crafted from a mixture of wool and acrylic, creating the effect of sharper silhouettes.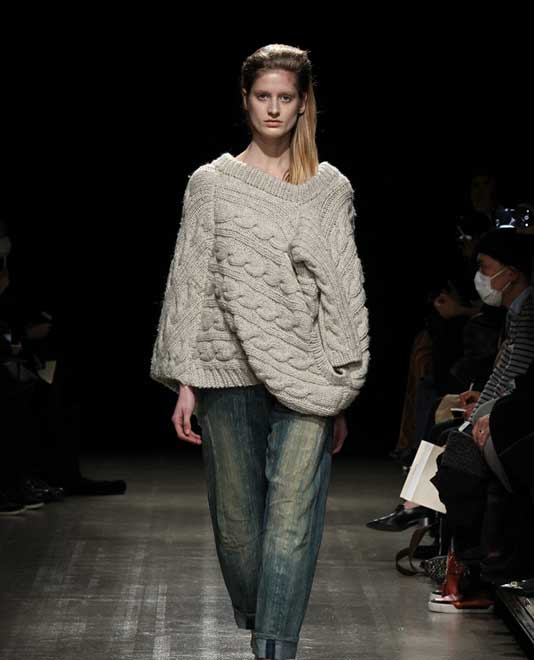 MotohiroTanji
New designer Yu Amatsu launched his career last season as the director of Hanae Mori manuscrit.In this collection, the first look shown on the runway was a deep burgundy knit crafted from 100% Aran wool. Amatsu is known for using digital prints of floral and butterfly motifs and skirts, and dresses featuring such designs were combined with turtleneck knitwear in contrasting combinations of the organic and the futuristic. The collection also featured a reversible wool suit in an elegant, form-fitting style.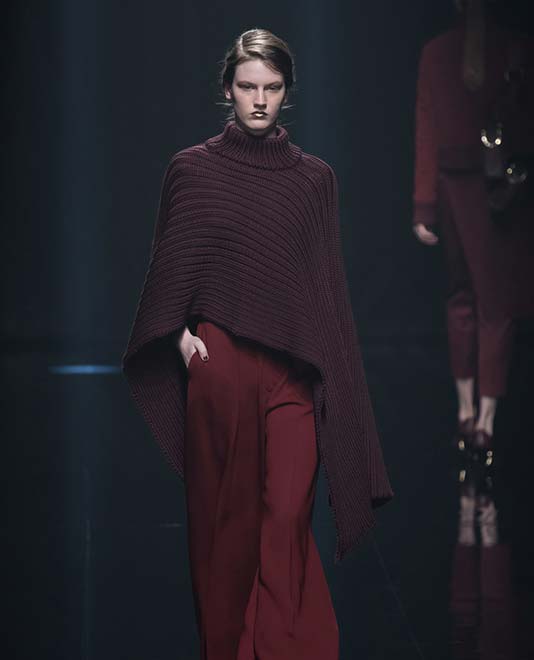 Hanae Mori Manuscrit.
Former International Woolmark Prize finalist DRESSEDUNDRESSED is a brand that employs a minimalist style with strong unisex elements. Its skillful approach in cutting and its subtle street-style influences have won it a strong reputation overseas. The woollen coats, such as hooded coats and belted over-sized coats, created a sense of fluidity on the runway, offering an alternative to more stitched-up iterations of the classic garment.
MR. GENTLEMAN showcased rich yellow Aran knitwear, with the collection giving the overall feel of being inspired by looks from the street, such as with the combination of white turtlenecks in lambswool with camel coats and camouflage skirts or layered denim. The young gentlemen on the runway showcased the versatility of the brand with its mix of sportswear and traditional suiting styles, with playful details on traditional garments creating a sense of discord.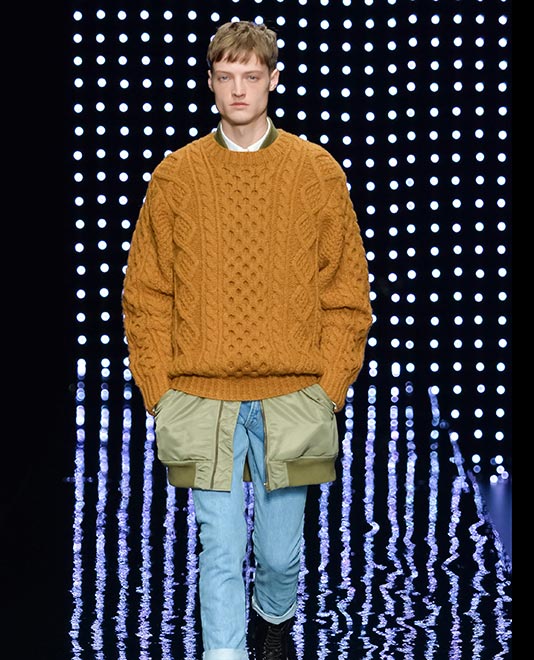 Mr Gentleman
Yoshio Kubo is a popular menswear brand in Japan, and for its autumn/winter 2016 collection it harnessed Native American motifs that will no doubt have a strong impact on the sartorial style of its customer base. The rich details of the garments, including unfinished seams, the warp and weft of tweed left flowing, and elegant tassels, drew the audience's attention in the runway show, and yet the collection felt modern with its inclusion of wool-rich materials. This included, for example, a wool military jacket with ethnic embroidery over the back, and the inclusion of sportswear finishes, such as lace-up sneakers and cropped trousers.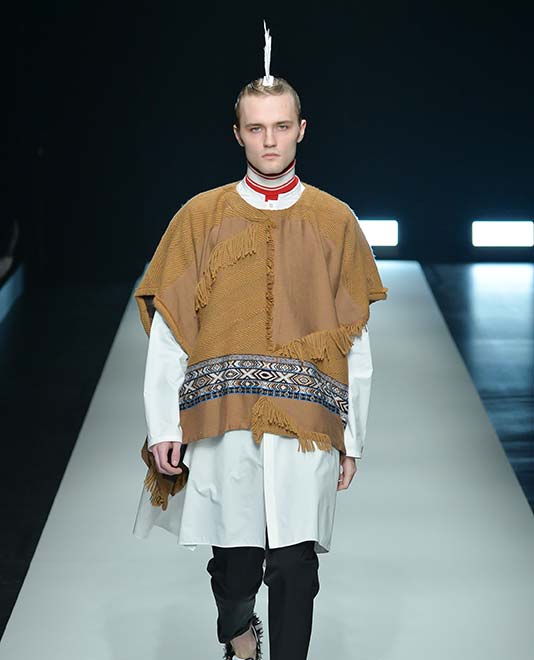 Yoshio Kubo