---
You may not have heard of Vladimir Teriokhin, but you will no doubt recognise his handiwork. As the knitwear designer behind some of the most iconic pieces by brands including Oscar de la Renta, Vera Wang, Marc Jacobs and Proenza Schouler, the former ballet dancer is the fashion world's go-to for the best in knitwear. Now, in partnership with Allyson Spencer, he has stepped out with his own label, showcasing his innovative knits to a broader audience, with stockists including Barneys New York, Goop and Harvey Nichols. Here, Teriokhin and Spencer speak with Merino about their namesake label, Spencer Vladimir.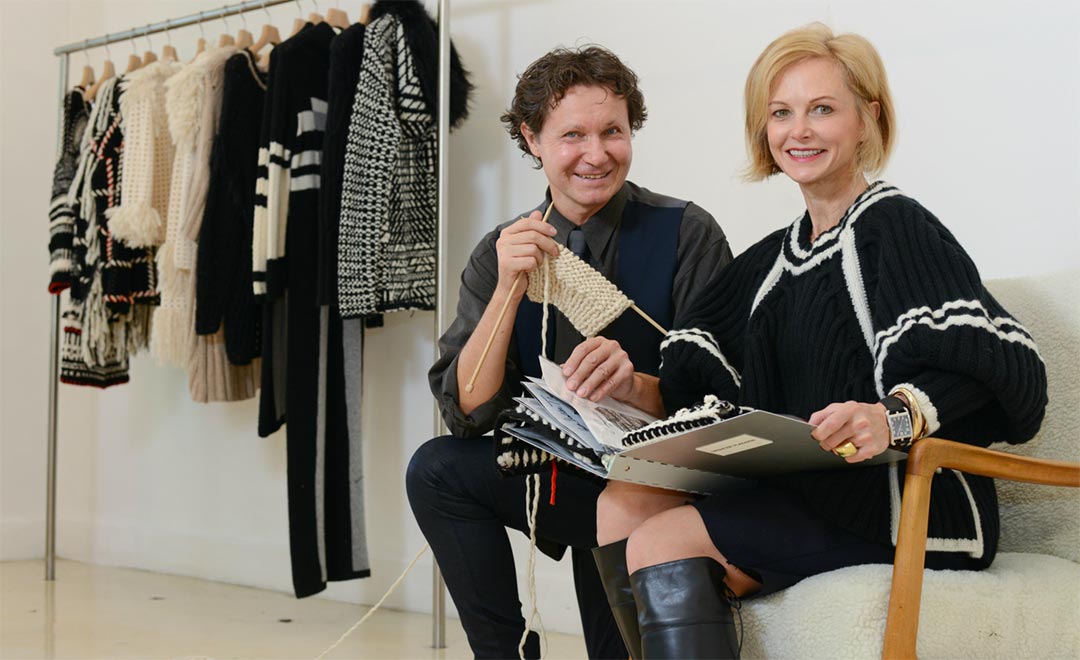 Designers Vladimir Teriokhin and Allyson Spencer.
You are known as the go-to for knitwear for the high fashion world. What led you to create your own label?
VT: I work with a lot of designers, some beginners and some very experienced. It is great and I don't want to stop. They usually want something over the top that just can't happen on a machine. It is always exciting to bring both their ideas and mine to life, taking them from paper and into 3D creations. But over the years, working with Ally has been the most special. We have had some great, memorable moments. We do something really special together. So we just had to try [doing this] under our own names.
AS: For us to have our label is really special because it has been our dream for a very, very long time. Our desire to have our own label stems from the magic of our collaboration. We share the same sensibilities.
Knitwear seems a world away from ballet. What initially drew you to the industry?
VT: In a way they are very similar. My grandmother taught me to knit and I was a dancer at a very young age. I was a very disciplined dancer. Knitting is like a dance combination. You must be disciplined, you must move quickly, count and remember, but you are dancing with your fingers and your mind.
How have you seen knitwear develop in terms of technology in the time you have been in the industry? Are the possibilities for invention much greater today?
AS: Knitting technology is constantly evolving, especially when we're talking about machines. I think I heard you can bring a cone into shops in Japan now and come out with your own sweater. Sounds like the perfect microwave oven we could use before a fashion show. Machines can knit whole garments without seams. A seamless knitted jacket exists. Seamless garments are the future and it's fantastic looking. Seamless has always existed in hand-knitting and has always had a special cache because hand-knitted seams can come out a bit too chunky.
VT: I love knits combined with hand crochet. And knits combined with woven. It's always a bit tricky to coordinate in production. But that's why it looks special. Wool, too, is moving with technology. It's being spun finer and finer and with more techno finishes and exotic blends. I am still coveting a cone of wool that's fluorescent and glows in the dark.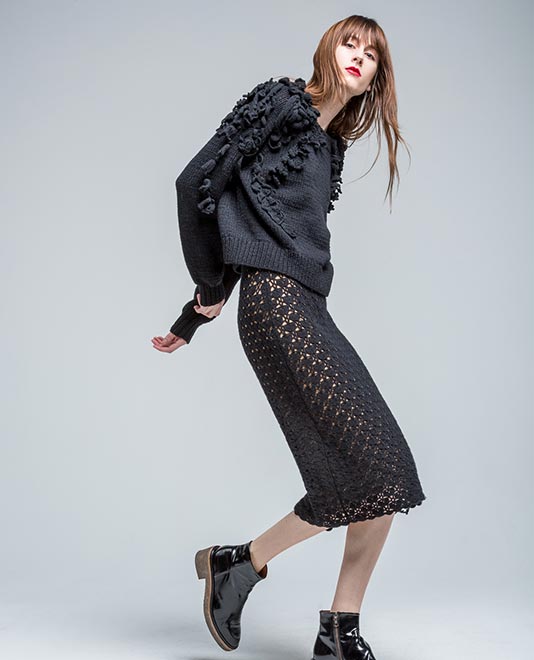 A look from Spencer Vladimir's fall/winter 2016 collection.
Does traditional handcraftsmanship still play a large part in the work you do?
AS:Definitely. Handcraftsmanship is what we are all about right now. Keeping it alive and moving it forward in new combinations. Our designs develop their own personalities. I guess that's why they get their names after they form. They tend to evolve as we create them. Sometimes, Vlad will create a piece on a Saturday. On Sunday I might try it on upside down and backwards and it becomes something else. Other times I don't dare to touch his magic. We love combining knitting with crochet, wool with plastic ribbon, cashmere with tulle. Materials are very important to us. Texture, color and form are all part of the art. There is rarely a technique we haven't seen before. Vlad is an amazing technician. He's the fastest knitter I know. I am the worst knitter I know. But the big challenge is putting it all together in a fresh way.
What, for you, is the innate appeal of wool in this context?
VT: When you knit with wool it gives dimension and stitch definition more than any other fibre. It has great body. It's great for big jumbo cables too because it's relatively lightweight. And it comes in vibrant colours. With wool you can create using a lot of techniques.
How can knitwear evolve? What can make it new and interesting each season?
VT: Our ideas will evolve us. Ally and I both have so many. It's hard to do them all. But our way of dressing is about knits head to toe as much as possible. Knits that are made by hand and make you feel great.
How are you balancing your own brand with the work you do for others?
AS: Vlad and I both are performing balancing acts. It isn't easy. Claudine, too, who is our third partner. She is a master at orchestration. Texting has increased communication one-thousand-fold. But still, we are all running around trying to knit it together. Different projects for different designers and clients enrich and evolve one another rather than sabotage each other. Ideas overlapping is natural. Look at the history of painters.
VT: Designers come to me with their style and inspiration. I offer my knowledge and ideas in line with their inspiration. But with Ally, we also have so many inspirational ideas that reflect our sensibilities. We want to funnel them into our own designs.
Would you like to see more designers using wool and knitwear in their collections?
AS: Definitely. I don't know about you, but every meeting I go to the majority of people are sitting there are in some form of a wool sweater. We would love to see more knitwear walking down runways like American Missoni collections. Wool is very American and so is wearing a sweater. But we would love it to be a special wool sweater.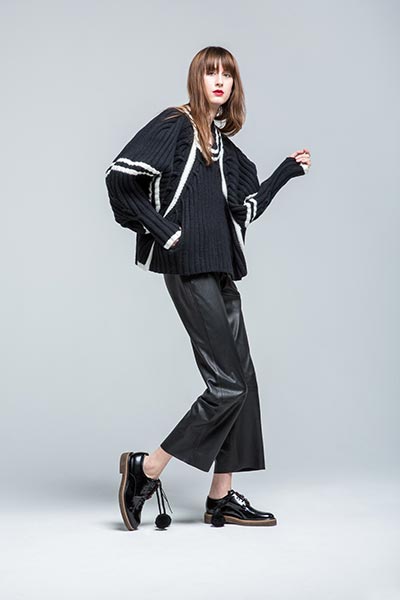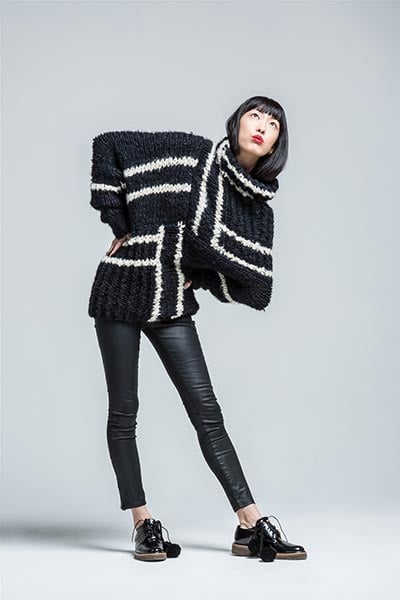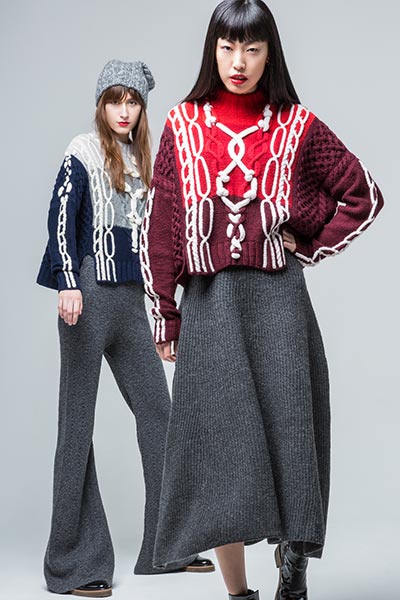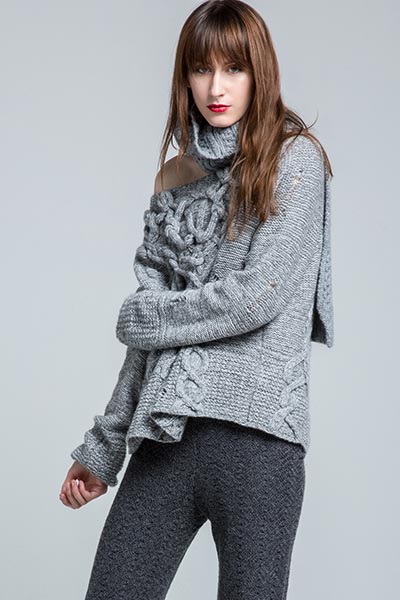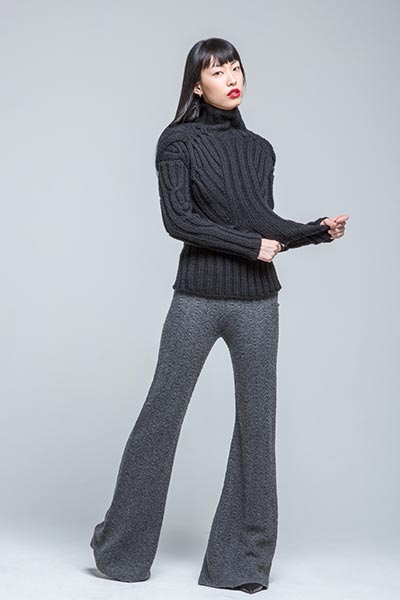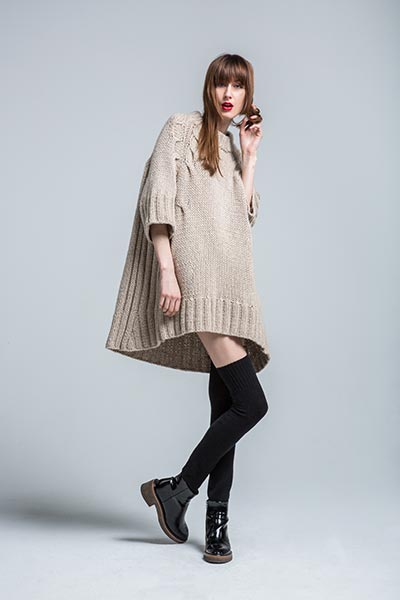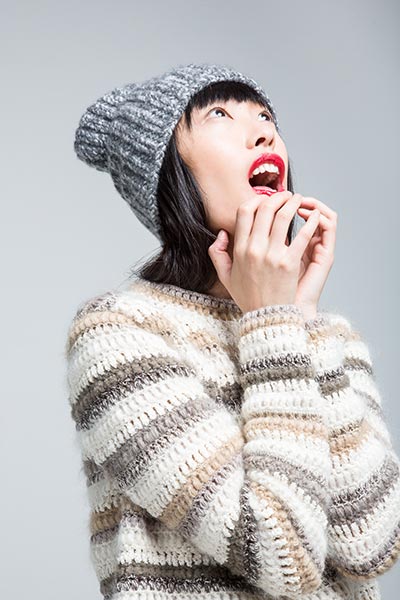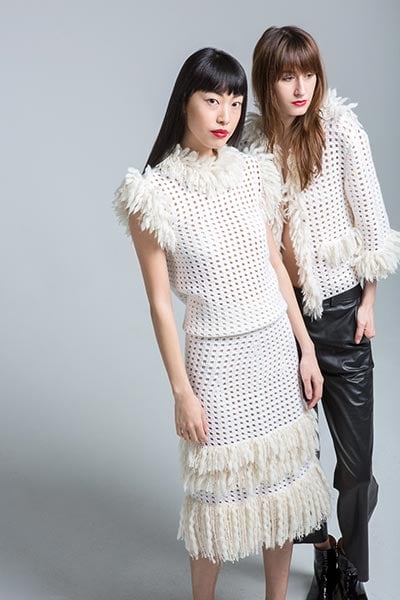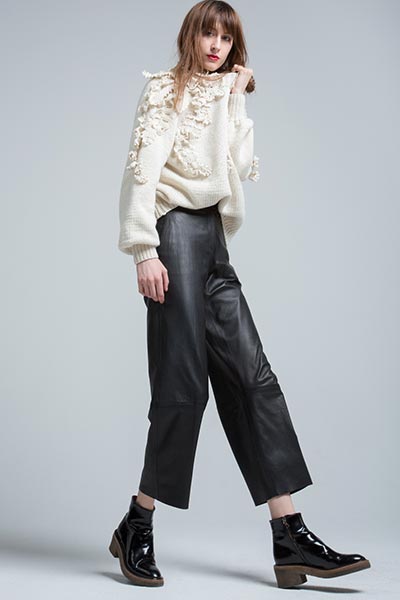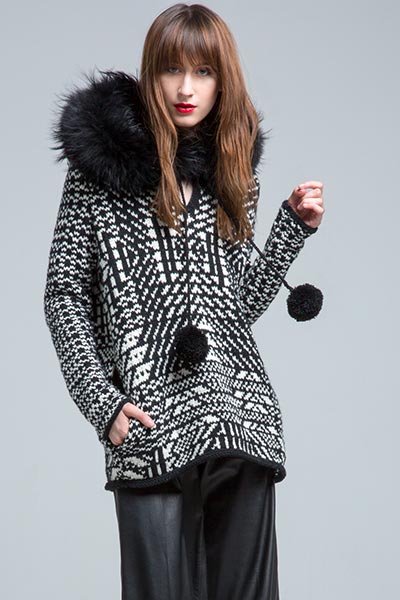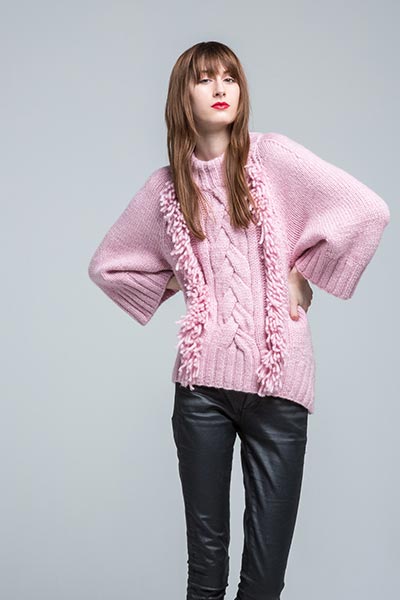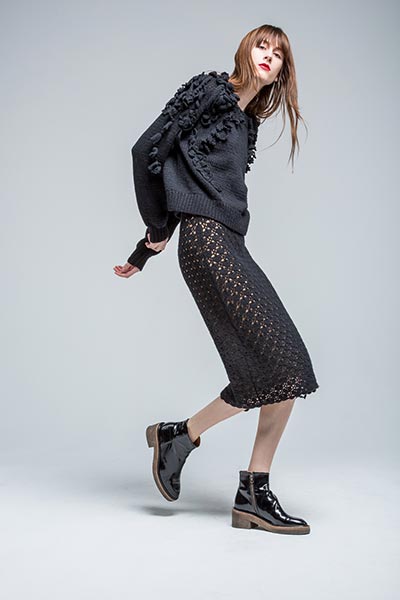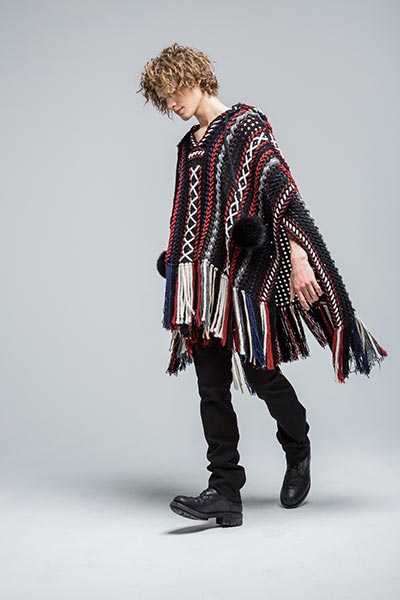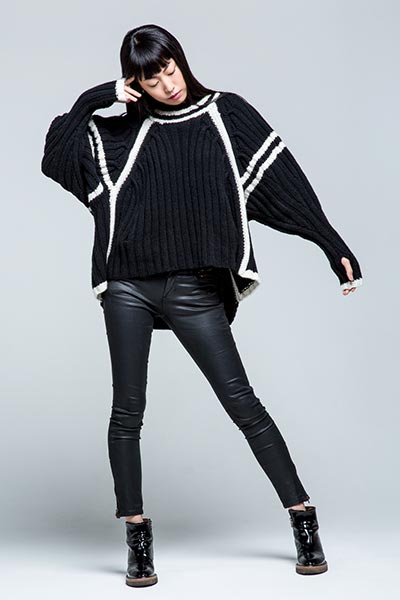 Looks from Spencer Vladimir's fall/winter 2016 collection.