---
With new designers taking the reins at Salvatore Ferragamo and Marni, and Alessandro Sartori returning to Ermenegildo Zegna, Milan Fashion Week experienced the winds of change during the fall/winter 2017 runway shows, breathing new life into some of the country's most venerated houses. Here, we recount some of the most memorable collections of the season.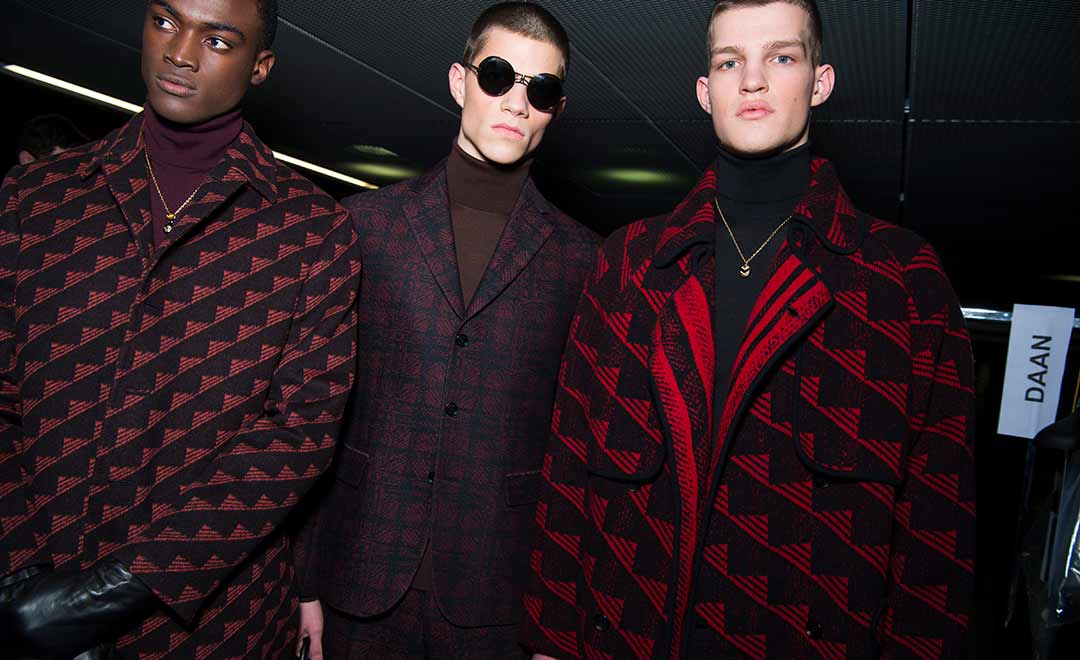 Looks from the fall/winter 2017 Versace collection.
Ex-Prada designer Francesco Risso presented his debut collection as artistic director of Italian house Marni as part of Milan Fashion Week. Risso's job isn't an easy one; in the years since establishing her label in 1994 (men's wasn't launched until 2007), Consuelo Castiglioni has developed a significant fan-base for Marni's offbeat approach to contemporary clothing – an aesthetic that somehow combines futuristic modernism with seventies bohemia in a way that's instantly recognisable. How then to reinvent the established house codes and assert his creative stamp? Risso treated the collection more as the worn-in wardrobe of a dedicated customer, mixing colours, prints, fabrics and styles in a way that tapped into the current trend for eclecticism, capitalising on quirk inherent in Marni's signature. Plaid wool coats were cut with dropped shoulders and loose from the body, knitwear featured scuba necks and seventies-style patterns, and blazers were made up by no less than four or five fabrics, such as fine wool and leather. For a first-time collection, Risso has set the mood for Marni's customer to take a bold journey forward.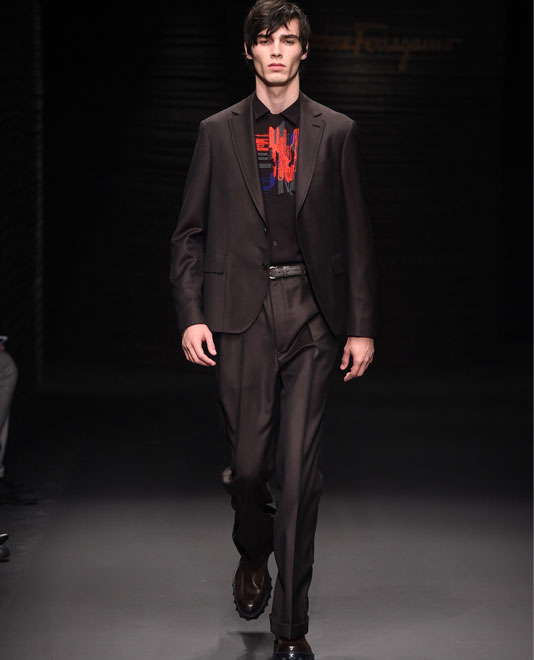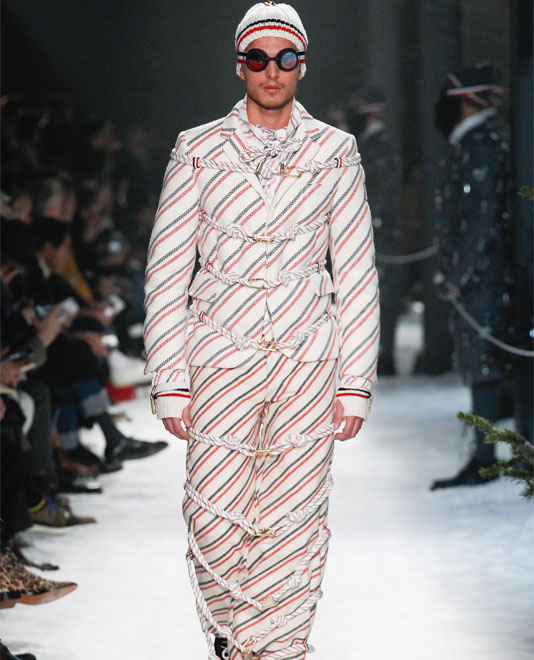 A look from the fall/winter 2017 collection of Salvatore Ferragamo. & A look from the fall/winter 2017 collection of Moncler Gamme Bleu.
Guillaume Meilland, too, had a challenge before him, stepping into the role of design director for the men's ready-to-wear category of Italian house Salvatore Ferragamo, but his collection proved one of the highlights of Milan Fashion Week. Here, Meilland's collection was characterised by binaries: two silhouettes – one elongated and tailored, the other more voluminous and relaxed – fused so as to create cross-generational appeal and an alluring aesthetic underpinned by masterful super-light construction. Highlights included a series of wool suits that, while wide-legged (without appearing overtly so), curved and tapered through the middle, giving subtle new shape to the traditional form.
For Thom Browne, subtly is largely a foreign concept, and yet despite the theatricality of his presentations, at their core his garments are always practical, and wearable, pieces. Such is the case with his latest collection for Moncler Gamme Bleu. As in previous collections, Browne tapped into a specific concept – in this instance: mountaineering – and found ways of telling a story. Here, climbing wraps wrapped and bound the wearers' bodies, wool suiting was padded so as to become outerwear, and traditional fabrics, such as Donegal tweeds, were integrated into the collection, bringing a youthfulness to that most traditional of fabrics.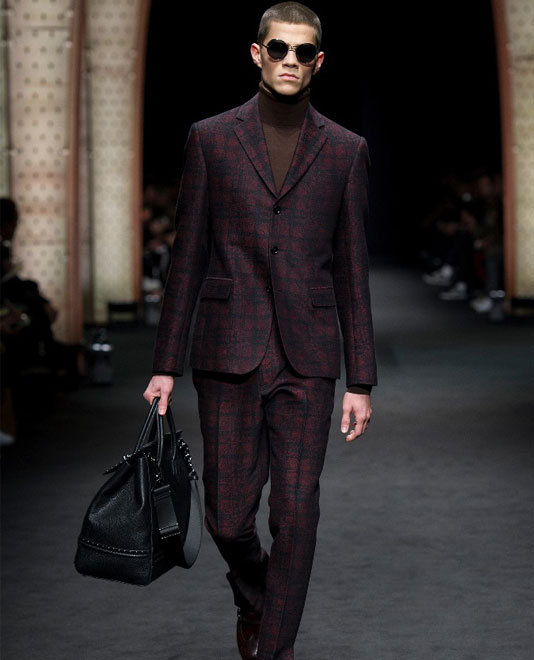 A look from the fall/winter 2017 collection of Versace.
That's something typically interesting about Fendi, too – the way it can reinvent warm, fuzzy fabrics – shearling, wool boucle, and its signature fur – each season, and this collection was perhaps the greatest example. For all the negativity in our news feeds, Fendi opted for an altogether more upbeat note for its fall/winter collection, looks that blended 80s-style sportswear (the Tenenbaums come to mind) with the sort of quality construction and fabrication you expect from a house of Fendi's status. Wool overcoats featured contrast fur collars and sleeves, tracksuits featured boldly-coloured stripes down the sides, headbands brandished slogans such as 'yes', 'fantastic' and 'love', and wool suiting was made youthful with zippered fronts and ticket pockets. Fabric seemed to be on the agenda, too, at Versace, with the designer exploring various iterations of wool tartans and checks for the modern man. There's no denying that the Italian house is super refined in terms of the shape of its clothes: structured, broad-shouldered and with a moderately slim leg and waist.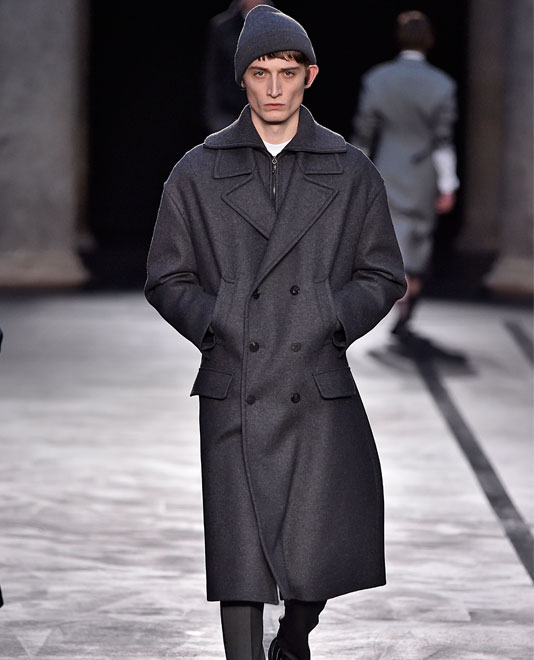 A look from the fall/winter 2017 collection of Neil Barrett.
British designer Lee Wood was yet another new name on the Milan Fashion Week schedule, having taken over the Dirk Bikkembergs brand with the aim of restoring it to its coveted former glory. He did this successfully, largely by streamlining the aesthetic and making it, quite unabashedly, masculine, the designer explains. If that sounds vague, the execution was far more precise, with a collection that, in a palette running from black through navy, grey, khaki, beige to white, presented subtle evolutions of archetypal men's garments: wool suits and coats were cut in double-breasted shapes, but with sharp shoulders, high lapel coverings and with safari-like flap pockets; ribbed knitted sweaters featured cut-outs around the arm holes, exposing the alternate underside of the fabric; cable knit sweaters featured cylindrical necks that gave the pieces a sculptural quality; and quilted puffer vests were worn over (rather than under) suiting, refreshing the concept of outerwear for the younger customer Dirk Bikkembergs seems to be – very successfully – pursuing in this new era of the brand's history.
Refining menswear codes is something Neil Barrett, too, is known for, and for fall/winter, he tapped various subcultural aesthetics with which to give the most classic garments updates. Wool suiting, for example, draped loose from the body, the shoulder line dropped for dramatic effect; fine wool skirt flaps thwarted the silhouette of the designer's models, while strap-around bags elongated the shape of the body; and white stripes, appearing as though painted directly onto wool cloth, added structure to many of the garments.