---
Since as early as the 1720s, European and, later, American naval officers have been wearing what is today called a pea coat. Crafted from this navy wool and cut loose from the body, the pea coat has changed only minimally in style in the three centuries since it was first designed as a way of protecting the military men against the elements.
While the most typical iteration of the classic pea coat is double-breasted in form and hip-length in cut, various stylistic strains of the garment still exist today, demonstrating its illustrious history. A bridge coat, for example, extends to the mid-thigh, denoting seniority in the ranks of the navy. The reefer, meanwhile, is reserved for officers, and features gold buttons and epaulettes. In the recent fall/winter 2016 runway collections, all manner of pea coats appeared on the runway, with designers riffing on the classic garment so as to reimagine it for a modern female customer.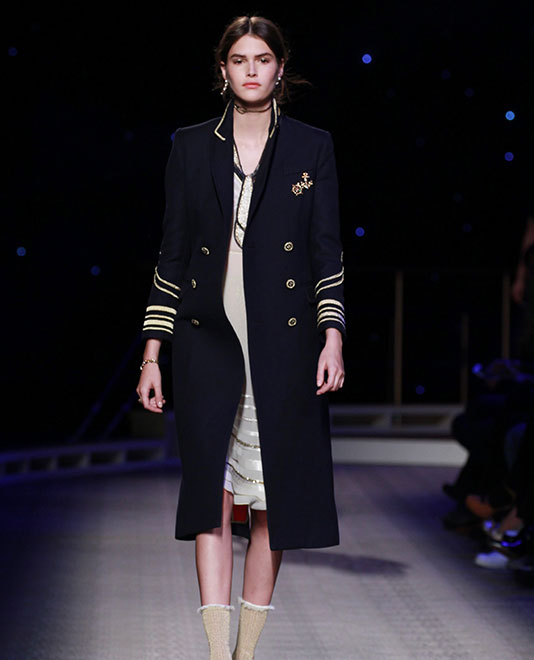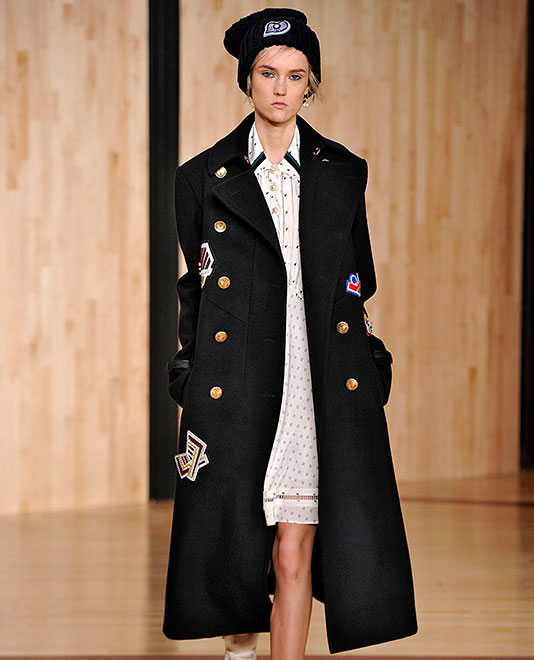 A look from Tommy Hilfiger fall/winter 2016. & A look from Coach fall/winter 2016.
At Tommy Hilfiger, a designer whose very design aesthetic has regularly borrowed from traditional naval garb, a cruise liner entitled the T.H. Atlantic was parked in the centre of his New York Fashion Week show, a hint at the nautical-inspired collection that was to follow. Pea coats played a central role in Hilfiger's play on theme, and while some appeared as though directly from a military surplus store – cut from thick navy wool and with gold and red embellishment – elsewhere, the designer took creative liberty with the garment. Cropped above the waist, sleeveless as a cape, and with satin and sequin finishings, Hilfiger imbued the historically menswear garment with a prettiness that will appeal to his legions of young followers, Gigi Hadid (who will later this year present a capsule collection for the brand) among them.
Since joining Coach as its artistic director two years ago, designer Stuart Vevers has been going about introducing a signature for the house by mining American subcultures (and their dress codes), serving up everything from Texan biker to 1980s Malibu surfer styles in the storied house's recent collections. For fall/winter 2016, Coach's collection had a feel of the Ivy League in its preppiness, although in his typically British manner, Vevers played with those conventions, mixing letterman jackets with gilded gold and silver heels, frill-embellished blouses with leather skirts, oversized wool sweaters with studs, and adorning naval pea coats with quirky cartoon patches. As a hero item in the collection, Coach's pea coats came in various forms –cropped and cut close to the body, full-length and oversized, and everything in between – demonstrating the versatility of the classic garment.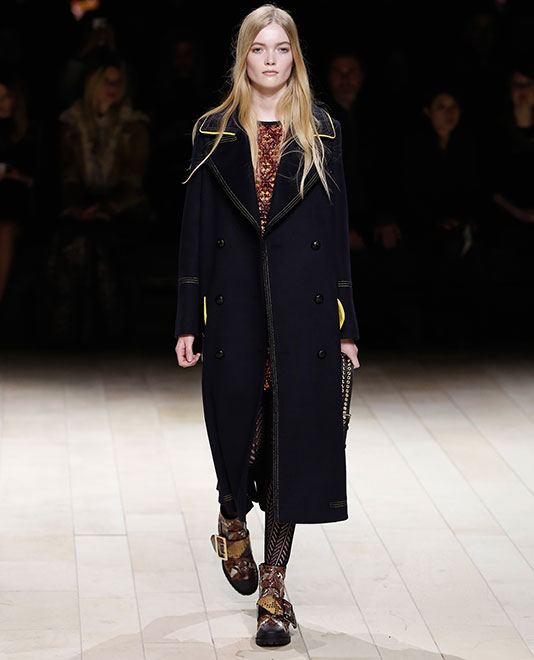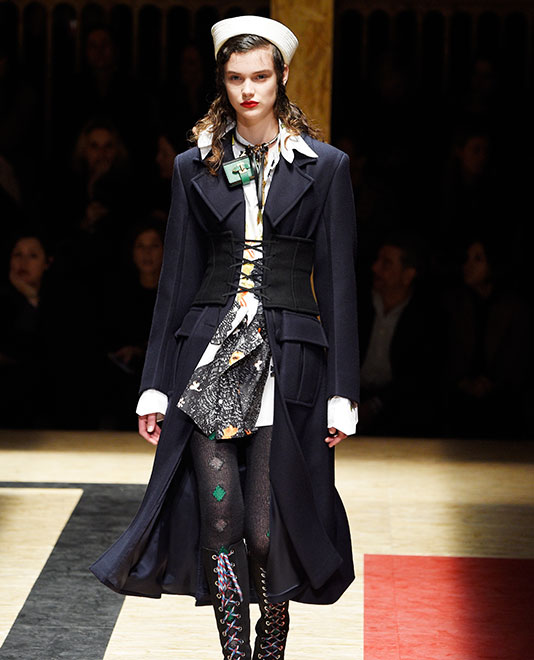 A look from Burberry fall/winter 2016. & A look from Prada fall/winter 2016.
When it comes to military tailoring, Burberry knows its history, having officially outfitted British soldiers in its now-iconic trench coat during the first world war. For fall/winter 2016, however, chief creative officer Christopher Bailey looked instead to the naval pea coat as the starting point for the 1970s-inflected collection, offering different takes on the woollen garment. In playing with proportions, some were exploded to oversized shapes – worn with slim-cut trousers so as to balance the figure – while others, lined in red piping and gold buttons, were shaped snug on the body. Men's versions were part of the mix, too, reflecting the interchangeable nature of the pea coat (read: borrow your boyfriend or girlfriend's).
This irreverent sense of play was evident in countless collections across the show season. Proenza Schouler (pictured at top) used the fastenings of the traditional military pea coat but updated the navy wool item by wrapping it around the body; Prada embraced the naval theme – models wore the classic white sailor hats – but added a demure sexiness to the heavyweight coat by cinching it at the waist with a lace-up corset; Cedric Charlier layered his pea coats, wool chunky wool knitwear and tailored trousers in a more conservative styling; and at RED Valentino, a belted waist and lightweight wool fabric gave the garment a feminine edge.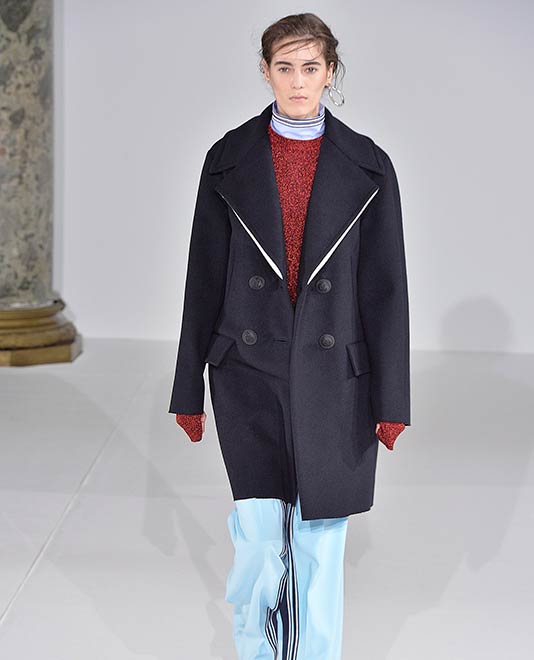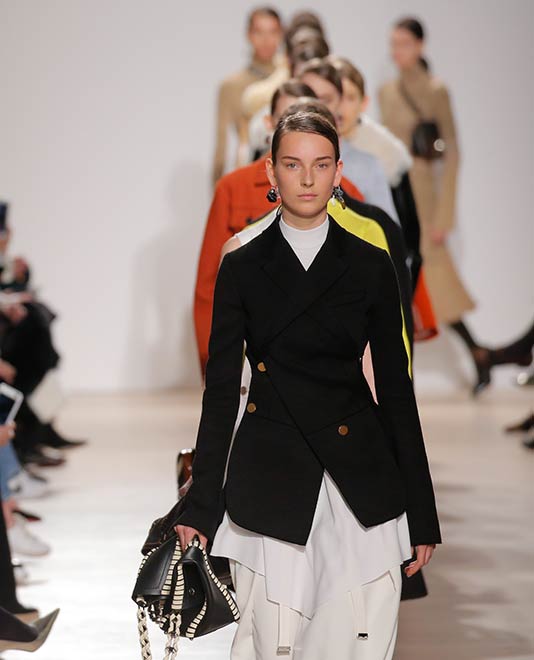 A look from Cedric Charlier fall/winter 2016. & A look from Proenza Schouler fall/winter 2016 collection.