---
Whether you're new to knitting or an expert on the needles, these five free knitting, crochet and sewing patterns from International Woolmark Prize designers are a sure way to up your knitting game. Using the softest Merino wool yarn to ensure quality, comfort and luxury, there's also proof that knitting can improve your mental and physical health and wellbeing – something we all need during these troubled times. So, what are you waiting for?

Are you looking for a new hobby? Or wanting to revive an old one? There's never been a better time to pick up a par of knitting needles, order some Merino wool yarn and knit presents for yourself or your loved ones.
The Woolmark Company's At-Home Knitting Series brings together 5 International Woolmark Prize alumni to share their favourite patterns, which can all be created from the comfort of your own home.
Knitting is good for your health
Knitting has particular benefits; the rhythmic repetitive movements puts us in the present moment. In a world dominated by technology and the growing desire for instantaneous gratification, a counter-culture has emerged during the past few years with a philosophy of slowing down. The art of the handmade, or slow craft movement, continues to rise in popularity as more and more people have a desire to buy artisanal products, or learn to make things themselves.
Accessories such as scarves, beanies and gloves have benefited from this trend, as have home furnishings – luscious throws, cosy cushions, woven wall hangings. Yarn crafts are not only admired for their aesthetic beauty, but also for meditative, therapeutic benefits.
Knitters have long acknowledged amongst themselves that knitting is an excellent form of therapy – the repetition is meditative and fuses function with therapy, improving the mental health and wellbeing for those who practice this ancient craft. A study conducted by Harvard Medical School's Mind and Body Institute found that knitting lowers the heart rate, by an average of 11 beats per minute, and induces an 'enhanced state of calm'.
Another study, from Cardiff University in the United Kingdom, also found knitting has significant psychological and social benefits, which can contribute to wellbeing and quality of life – proof that knitting can indeed make you happier. And when using super-soft Merino wool, nothing can make you warmer, or cosier. Afterall, putting on a handmade Merino wool jumper or scarf is like a big warm hug.
And for those of you looking for a beginner's guide to knitting, we suggest checking out all the wonderful videos on YouTube to learn the basics. Happy knitting.


How to knit your own wool beanie with KYE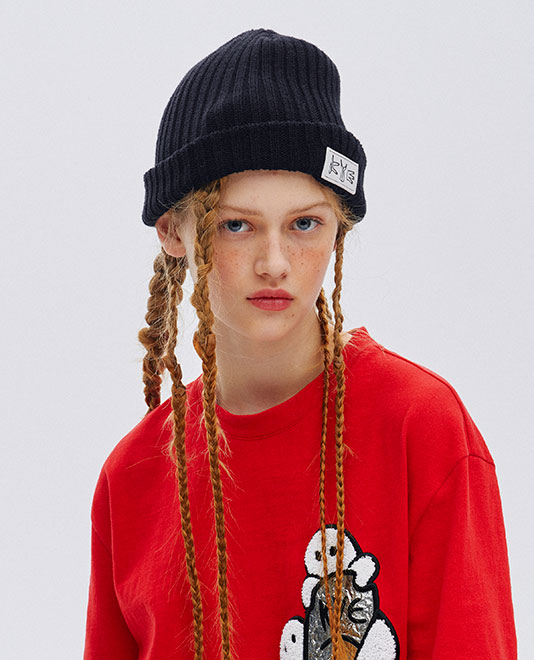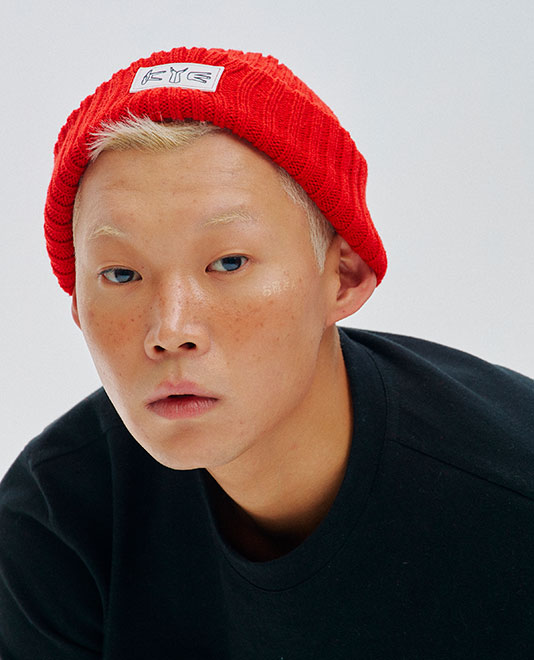 Knit your own beanie with KYE
Known for innovative and extraordinary designs, Seoul-based fashion label KYE delivers fun, humour, wit and a sense of optimism through bold colours and patterns.
KYE's strength lies in its funky yet high-end streetwear vibe combined with the designer's unique styling aesthetics. Here, designer Kathleen Kye offers a free knitting pattern for the label's best-selling signature item: a retro-style ribbed beanie.
"It's fairly simple to make so could be a great gateway knitting project to start during a time like now," says Kye. "Try personalising the front with your own initials too."
Download your free knitting pattern from KYE
How to knit your own super scarf with Strateas Carlucci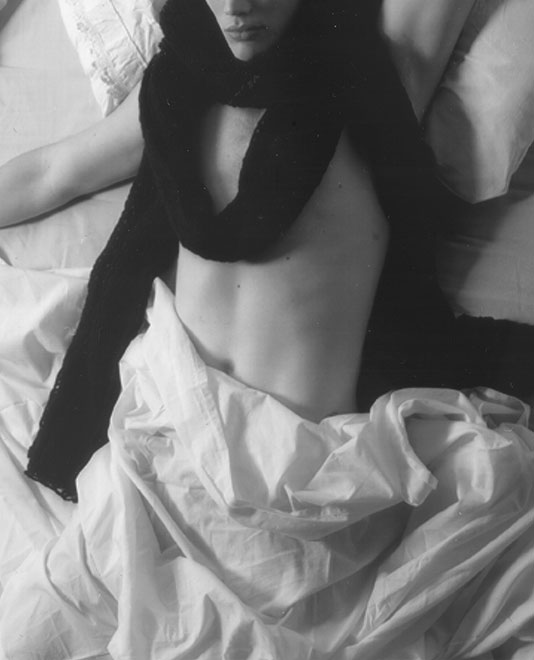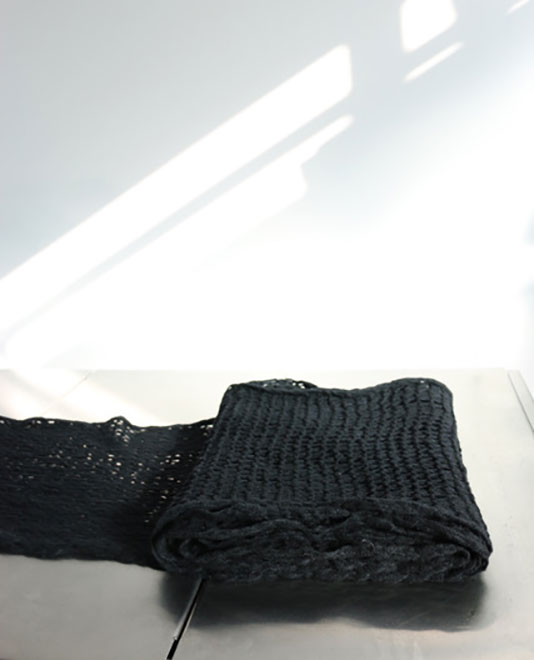 Knit your own super scarf with Strateas Carlucci
Melbourne-based label Strateas Carlucci has a long-standing history using Merino wool. Competing in two International Woolmark Prize finals in 2015, the design duo has continued to use Australian Merino wool in its mainline collections, championing the benefits of the natural, renewable and biodegradable fibre.
Despite the edgy references to underground sub-cultures and art movements, each piece from Strateas Carlucci's offering is designed to be timeless, adopting utilitarian elements.
As part of our At-Home Knitting Series, Strateas Carlucci delivers a free knitting pattern for its Python Scarf. Measuring 4.3 metres in length, this Merino wool super scarf uses an open-coarse knit and is great for social distancing.
"We love how it wraps and stacks around your neck," says Peter Strateas and Mario-Luca Carlucci.
"We also love it because it's knitted from Australian Merino wool, which is temperature regulating and really soft on your skin and a great natural fibre. It keeps you nice and warm as well."
Download your free knitting pattern from Strateas Carlucci
How to knit your own tote bag with CMMN SWDN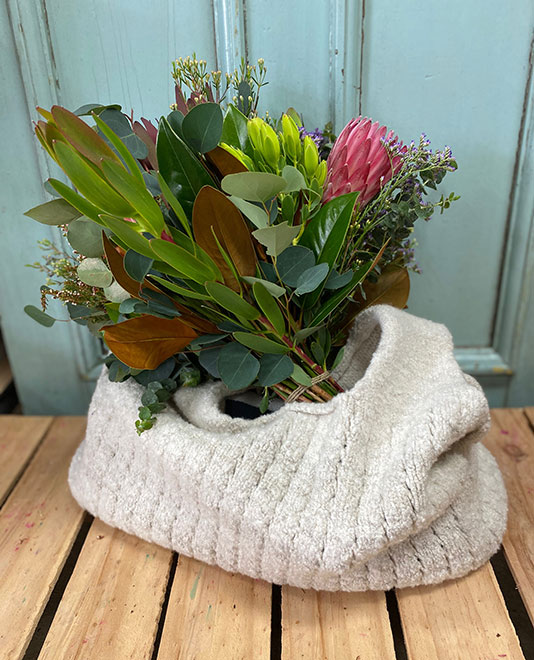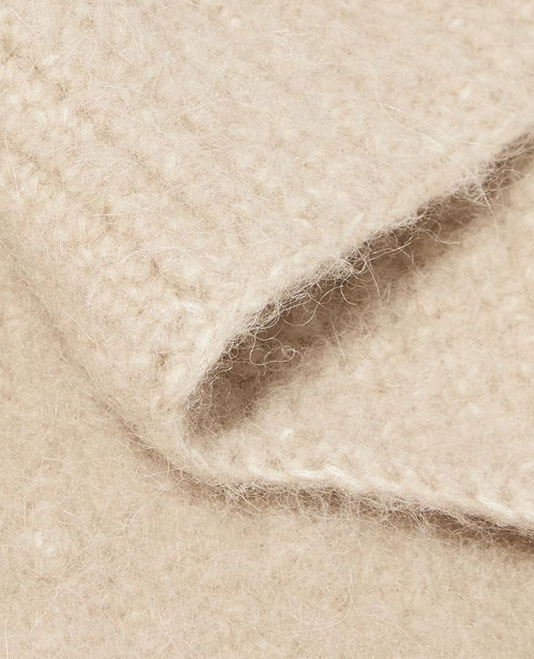 Say goodbye to single-use plastic bags as you knit your own tote with CMMN SWDN
With more and more cities banning single-use plastic items, such as the dreaded plastic bag, Swedish-based fashion label CMMN SWDN is offering a free knitting pattern to help you live your best plastic-free life, using Merino wool, naturally.
With an aesthetic inspired by their diverse backgrounds, designers Saif Bakir and Emma Hedlund's design aesthetic has won them success amongst leading retailers worldwide as they cater for the self-confident individual.
"As designers we have long been champions for a sustainable fashion industry," says Bakir and Hedlund. "During this unprecedented time, it's more evident than ever that we all must adapt to a more sustainable way of life.
"For the Woolmark Knitting Series we wanted to create a sustainable option to the single-use plastic bag. The tote is easy to knit in the comfort of your own home, using Merino wool which is 100% natural and biodegradable."
Referencing the shape of a single-use plastic bag and the construction of a classic French market bag, CMMN SWDN's tote is knitted then felted to add strength and durability. Once complete, you'll never leave home without it.
Download your free knitting pattern from CMMN SWDN
How to crochet your own hat with i-am-chen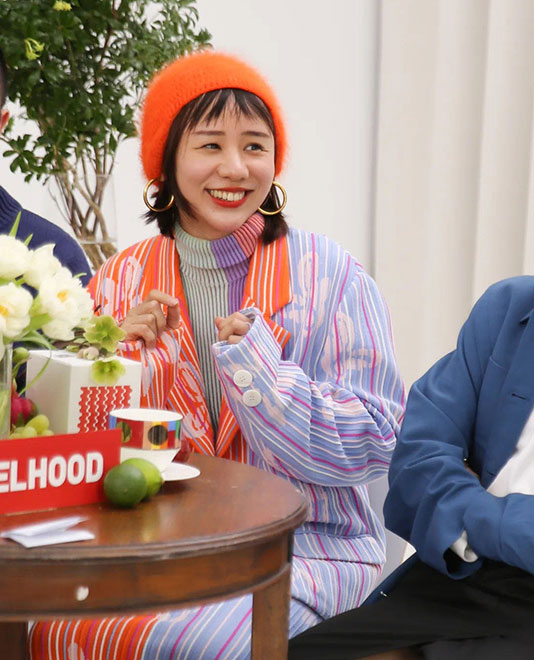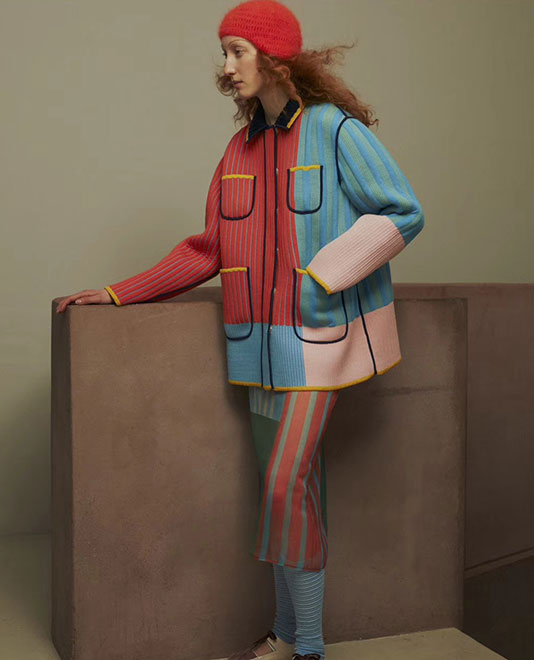 Crochet your own hat with i-am-chen
Reminiscent of a swimming cap from the Bauhaus period, i-am-chen's modern interpretation is part cap, part beanie and oozes style. Crocheted using 100% Ultrafine Merino wool yarn, the hat has two arc-shaped sides to ensure your ears stay warm and protected and leverages from the label's Autumn/Winter mainline collection.
"The reason why I chose Merino wool is because it's warm, healthy and a gift from nature," says Chen.
Hailing from Hong Kong, i-am-chen is a knitwear label that strives to bring a fun and light-hearted spirit to its audience. Now, you can bring this spirit to your home with this free pattern to crochet your very own piece imagined by i-am-chen designer Zhi Chen.
Download your free crochet pattern from i-am-chen

How to make your own cushion covers with Teatum Jones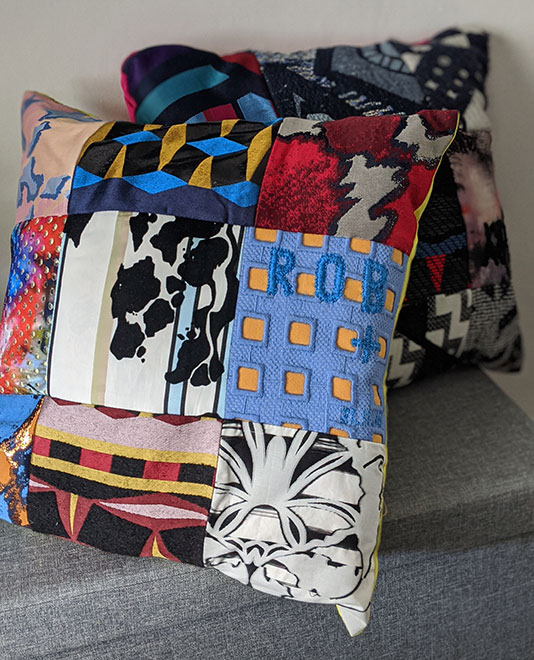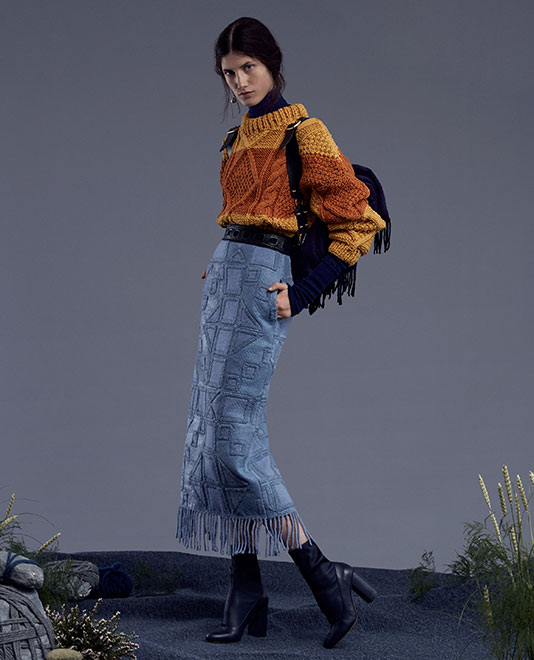 Stitch your own cushion cover with Teatum Jones
Okay, so this one is for you non-knitters of the world. We love Teatum Jones' commitment to zero-waste and creating usable items from deadstock that would otherwise be destined for landfill.
"Zero-waste is a really important part of our business; it's part of our mission," says 2016 International Woolmark Prize-winning duo Catherine Teatum and Rob Jones. "We have a motto that is 'no scrap is too big or too small'. Everything we create gets used and nothing gets thrown away."
The London-based womenswear label is renowned for creating fashion from human stories. By following this simple step-by-step guide, you too can create a Teatum Jones-designed cushion cover that stitches together your own personal story.
Download your free cut-and-sew cushion cover pattern from Teatum Jones

Download your free patchwork cushion cover pattern from Teatum Jones