---
With her unwavering commitment to sustainability, and her lifelong connection to wool, International Woolmark Prize winner Gabriela Hearst is redefining the fashion business
Gabriela Hearst is the Uruguay born designer redefining natural textiles for a new generation of fashion. Having grown up on a fully functioning ranch, surrounded by sheep, the principle of farm-to-fashion has significantly influenced her creative process. This can be most clearly seen in the extensive use of natural fibres in her collection of women's suits, superfine Merino sweaters, knitted bodysuits, and trench coats; and even in her covetable 'Nina' handbag.
Since winning the prize, Hearst's business has been booming and her love of sustainability has only grown stronger. Almost immediately following, she staged her first runway show at the Refectory of the High Line Hotel in New York City (in previous seasons, she'd shown her line at intimate presentations). She presented a bold collection of belted robes, double-breasted coats, chic dresses and pieces made from deadstock. As for the staging of the show, the chairs came from her house, and the cashmere cushions on each seat were made from leftover yarn from the knitting collective Manos del Uruguay (an organisation with which Hearst frequently collaborates).
The fashion industry is one of the least sustainable industries in the world, so to find a luxury label with as much attention to its supply chains as Hearst's is exceedingly rare. Her sustainable choices have also led her back to her roots. The wool used in the suiting and shirt dresses of her spring 2018 collection came from the sheep on her Uruguayan ranch. "It took a year and a half to do that," she says. The initiative started with the shearing of the sheep in Uruguay and the subsequent washing and processing in Italy. It was the first time Hearst used her own wool for suiting.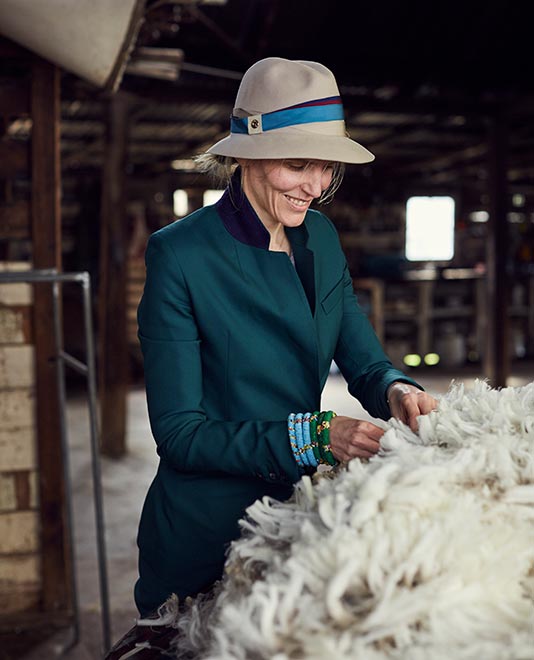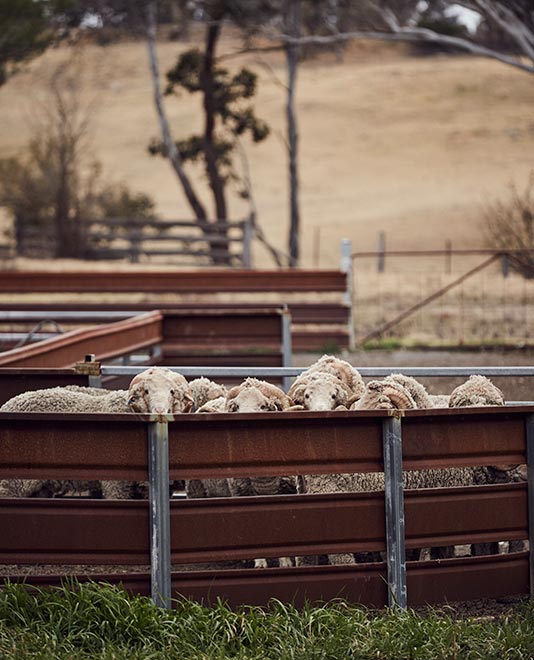 "When you think of wool, you think of your grandmother when she hand-knits you a sweater," says Hearst, a sixth-generation wool farmer. "You think wool, you think heavy, right? That's not the case. Wool can be superfine, and luxurious. That is the premise of the collection we did for the Woolmark Prize. That is always our premise: showing the light side of wool and how efficient it is. We use real wool as our ultra-luxury material so it's done in more ways than people expect it to be. It's always a big part of the materials that we use."
Before launching her own collection, Hearst co-founded the line Candela. It wasn't until she inherited the family ranch, shortly after her father passed away, that she was inspired to start her own luxury label. In light of the careful balance that Hearst has managed to strike, between running her childhood farm and leading the label that she built in her image, it is little surprise that she is able to give back to the environment through her design. "Long-term thinking and sustainability," are the two principles she's taken from working the ranch. And their application goes beyond aesthetics, affecting the way she has been running her business too.
In 2016, she launched her first bag, named after Nina Simone. Hearst initially made only 20 of the sculptural, folded calf leather bags (inspired by the forms of Colombian artist Fernando Botero) and gave them to the women in her life: the woman who makes her shoes, the actress Brie Larson, and the business woman Miroslava Duma. Hearst has subsequently produced the bag in a small number of batches, with an extensive waitlist on the designer's website. As for the packaging, it biodegrades in just 24 weeks, versus the standard 500.
"Sustainability is the most important thing that is happening, worldwide, and we should be paying attention because there's nothing more grave than climate change."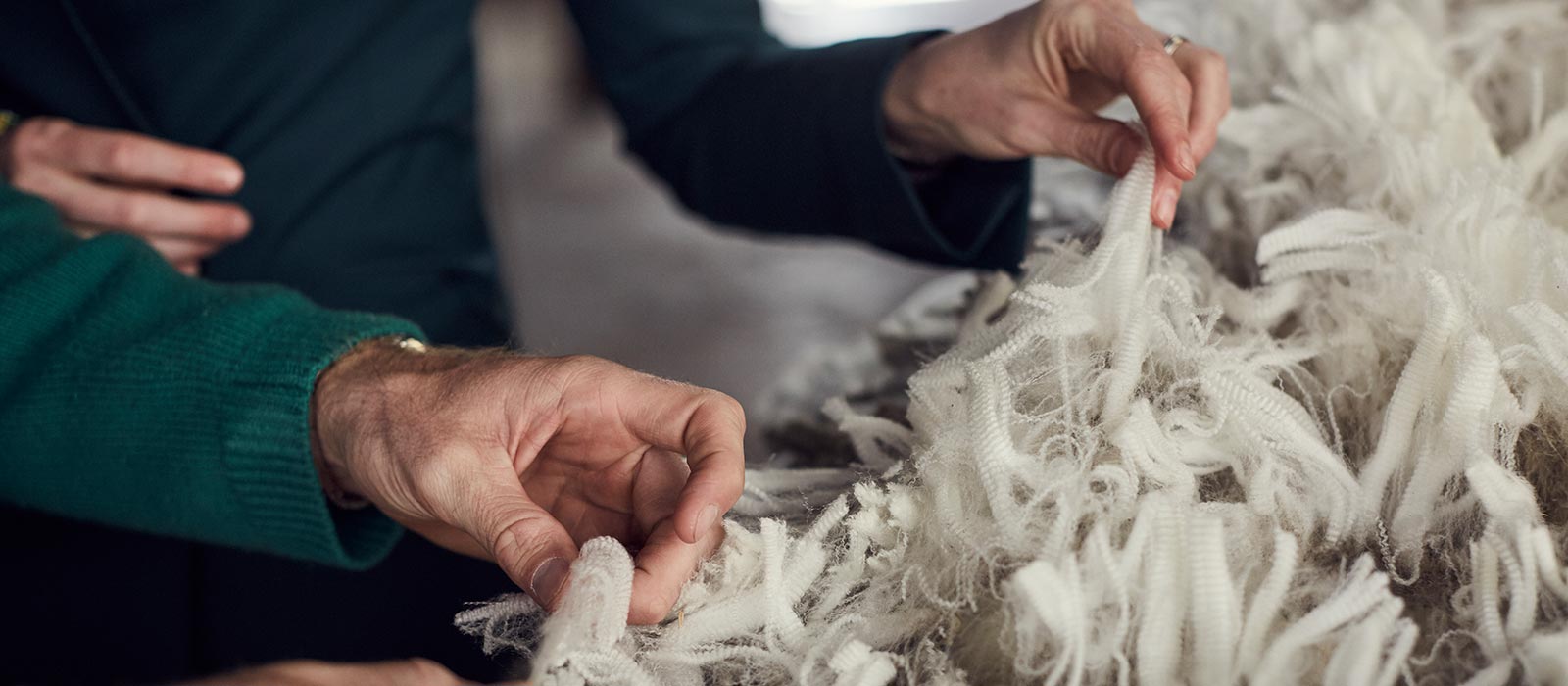 "We do not wholesale our handbags, and the reason why we don't wholesale the handbags is because when I studied the wholesale model I realised I had to produce double the amount of handbags to make the same amount of money," she explains. "And it just didn't make sense to use all those natural resources. So our distribution is very limited but our margin is bigger, so it works really well. It was a great business decision that was in principle made by a sustainability idea."
Hearst's work is often based on the motif of strong women. Fall 2017, for instance, was a tribute to Angela Davis. But her most recent collection departed from that concept by looking to eccentric men's wardrobes for inspiration instead. "I've always created the collection thinking about women, so this time we were thinking of the contemporary man of the 20th or 21st century with their elemental dressing." Winston Churchill, Chet Baker and Keith Richards were among those upon whose style Hearst drew. "We made sure the collection is still feminine, so it's the interpretation of the details more than anything like a grand silhouette."
Hearst is eagerly working on her next collection, which will continue to include Merino wool sourced from her farm. "The goal is always to evolve. I think we can push our development to new heights," she says. "We want to make sure that every season we evolve, sales-wise, colour-wise and in suiting." Suiting remains one of the brand's best sellers, and so is an important focal point. But when it boils down to it, Hearst's work centres around being well informed. "Sustainability is the most important thing that is happening, worldwide, and we should be paying attention because there's nothing more grave than climate change," she says solemnly. "I don't feel it would be responsible for me to be creating product and using natural resources if I don't do it in a mindful way".