---
Kate Moss thinks Allen Ginsberg is a god. And Alexa Chung is mad for Jane Birkin. At least those are the messages they're spreading with their wardrobe, both fashion icons fans of British designer Bella Freud's luxurious embroidered Merino wool sweaters emblazoned with brilliantly witty intarsia. Freud herself has been spotted in one such sweater emblazoned with 'psycho analysis' – a nod, of course, to her famous neurologist great-grandfather, Sigmund Freud. As the daughter of that most famous of British painters, whose daring work pushed the boundaries of contemporary art as it was known, it seems fitting that Bella's namesake fashion business has found such success through her embrace of multi-disciplinary creative practice. "I'm always looking for an idea – it doesn't matter where it comes from," says Freud simply.
"I work on each project as if it is the only thing that matters, [but] I also have lots of things I would like to develop."


Launched in 1990 with a line of knitted dresses and tailored suits, Freud used film as a way of communicating her vision as an alternative to the traditional fashion show, producing a super 8 short film entitled Day at the Races. Today, it's common for fashion brands to employ new media platforms, such as digital film, to extend their reach following the rise of the medium, aided by developments in and accessibility of film equipment and platforms such as ShowStudio.com, established by photographer Nick Knight in 2000, that champions moving image in the fashion industry. But Freud's was well ahead of the curve, demonstrative of her willingness to look beyond the traditional remit of a fashion label. "I like working in new areas, as they all feel connected and it is stimulating to be slightly out of my comfort zone," she explains. "It makes me feel dexterous and alive." Projects have included a triptych of short films created in collaboration with John Malkovich (Strap Hanging, Lady Behave and Hideous Man, 1999), the co-writing of an experimental short film with BAFTA-winning director Martina Amati, and, more recently, her directorial debut, Girl Boils Egg, a two-minute short.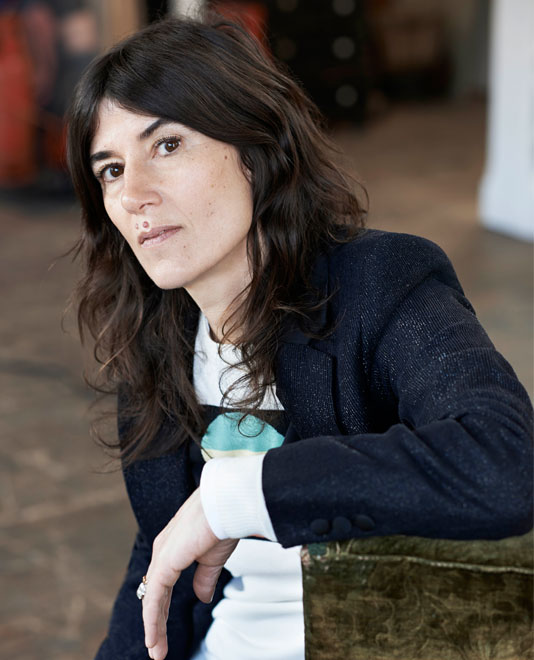 Fashion designer and filmmaker Bella Freud. & A Spring/Summer 17 look by fashion design and film-maker Bella Freud
For Freud, the creative process is not a clearly defined one, but something more intangible. "Sometimes it is a word that makes me think of a subject," she explains of her starting point for each new project. "Sometimes a song, or a music video, or a book. Sometimes it is a piece that didn't fit into the last collection and becomes the start of something new." It's a mindset that points to the breadth of Freud's artistic output despite her relative youth.
"I'm always looking for an idea – it doesn't matter where it comes from."


In addition to seasonal fashion collections, the designer has previously served as a creative consultant to British heritage brand Jaeger, imbuing it with a more youthful spirit; head of womenswear for Biba, the brand born out of London's Swinging Sixties, which she helped to relaunch; as a designer for Miss Selfridge, for which she designed three capsule collections; and the design of two capsule collections for British outerwear brand Barbour. The Bella Freud label also comprises a scented candle collection and perfume range, an ongoing collaboration with Fred Perry, and a limited edition line of sunglasses, created in 2016 with Cutler & Gross. "Sometimes I like the restrictions imposed by other peoples' requirements," says Freud. "I like to see how I can make the constraints work in my favour to keep my identity strong."
That identity is linked to a character distinct in Freud's mind when designing. "I often find a picture of a girl and imagine her world and her friends and make a wardrobe for them," she says, noting that she also thinks about her own friends and what they might like to wear. "When I'm stuck, I usually think about [Italian actress, model and designer] Anita Pallenberg, as she has such a killer eye for fashion." The resultant collections fuse It-girl desirability with comfort and quality – values inherent in the Merino wool materials Freud uses throughout – such as in the zip-front pencil skirts, crew-neck wool sweaters and peak-lapel blazers of her pre-spring and spring 2017 collections shown here. "I love the resilience and classiness of Merino wool," says Freud, noting its easy-to-wear nature. "People don't necessarily go out in search of authenticity [in clothing] but they notice the absence of it. People care very much about quality and expect things to be made well."
What's next for Freud? That the designer-filmmaker-businesswoman's pursuits are so diverse, her schedule so full, is only impetus for further creative exploration. "I like making things," she says in response. "I feel so happy when I'm shaping something. I work on each project as if it is the only thing that matters, [but] I also have lots of things I would like to develop, and [I want to] grow my business worldwide." That much seems truly assured.


Five of the best
From David Bowie tributes to love for Allen Ginsberg, Bella Freud's Merino wool sweaters are as fun as they are stylish. Here, our favourites from the designer.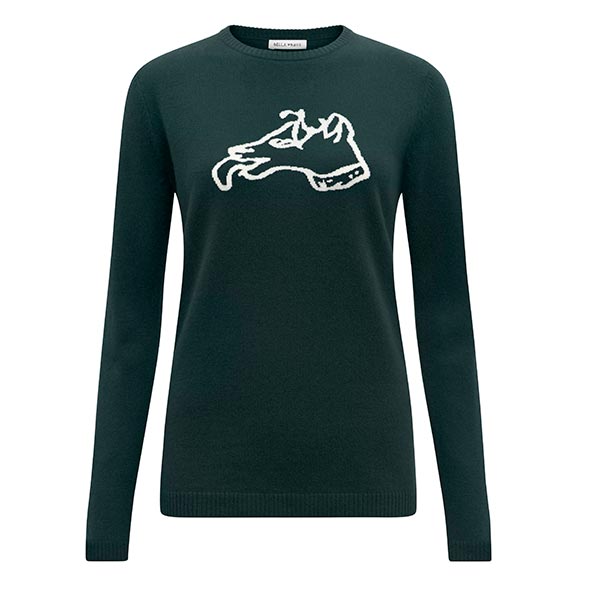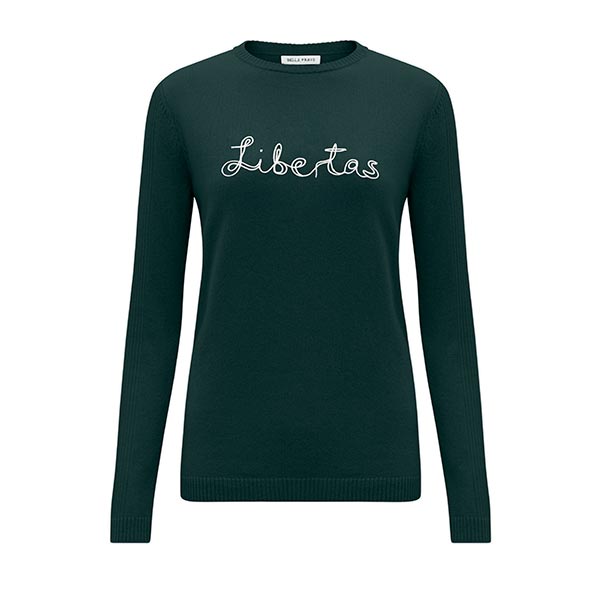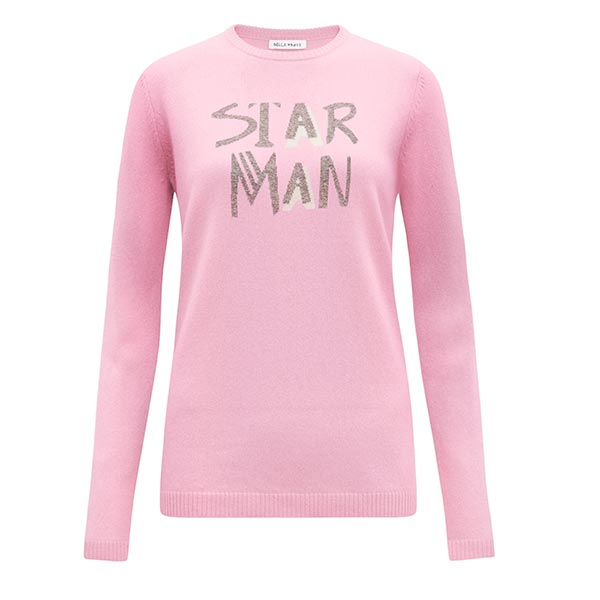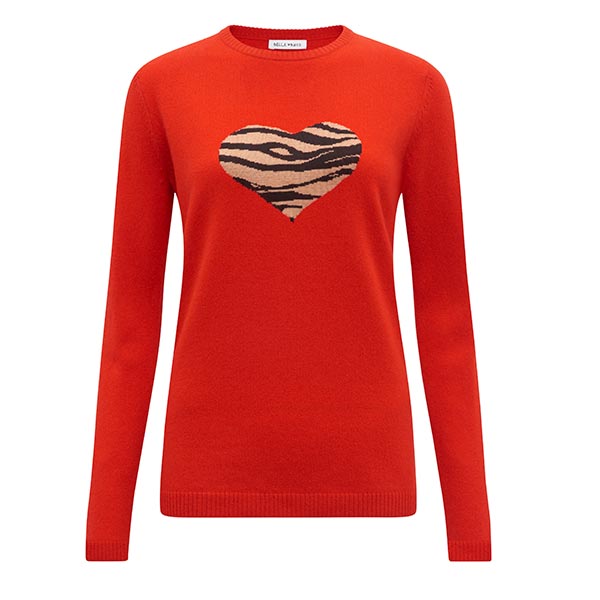 Five best Merino Wool Sweaters by Bella Freud