---
Georgina Wright's flair for colour is a unifying element in her broad-ranging designs and comes to the fore in her new collaboration with Kvadrat.
As a child growing up in Oxford, one of the most picturesque places in England, Georgina Wright whiled away the hours sketching. "I recently found some very old nursery school reports that said 'Georgina spends all her time drawing and painting and talking to the robins in the garden'," she laughs. While wandering the streets amidst the spires, churches and colleges, Wright found herself gravitating to a textiles shop owned by a friend of her parents. "He sold sweaters from the Aran Islands, Fair Isle and Shetland and he had an amazing amount of tapestry and wool in his workshop," she says. "He'd emigrated from Königsburg just before the war and textiles and wool were his passion and he was very sharing with that passion and helped pass it onto me."
As she grew up, Wright decided to merge her love of art, design and fibre. She trained in printed and woven textiles at Camberwell School of Arts and Crafts, and then as a woven textile designer at London's Royal College of Art. Over the course of her studies she discovered a gift for colour and texture and a drive to create original fabrics with a unique signature. This has made her one of the world's most in demand and respected woven textile designers working today. Volkswagen Germany, Heathrow Express, Danish textiles and home accessories company Kvadrat and Elmo leather in Sweden are among the leading global companies that have called on Wright's singular skills to develop products and projects for them from initial concept through to market.
In addition to her core business – seeing her meticulously researched hand-made prototypes through the industrial process to become finished designs – Wright also offers collection analysis, colour range development and advanced forecasting services to clients who know that she is capable of perfectly marrying form and function. "I'm a big Bauhaus principle person," she says. "I completely believe that fabric should be fit for purpose, it should be beautiful and last for a really long time without being ridiculously expensive." But while the Bauhaus school worked under Walter Gropius in Weimar, Wright works from a studio in the garden of her home in Buckinghamshire in the Chiltern Hills. "I'm surrounded by trees and nature," she says. "It's very beautiful with lots of colour but it's only 20 minutes from London when I want to get that buzz."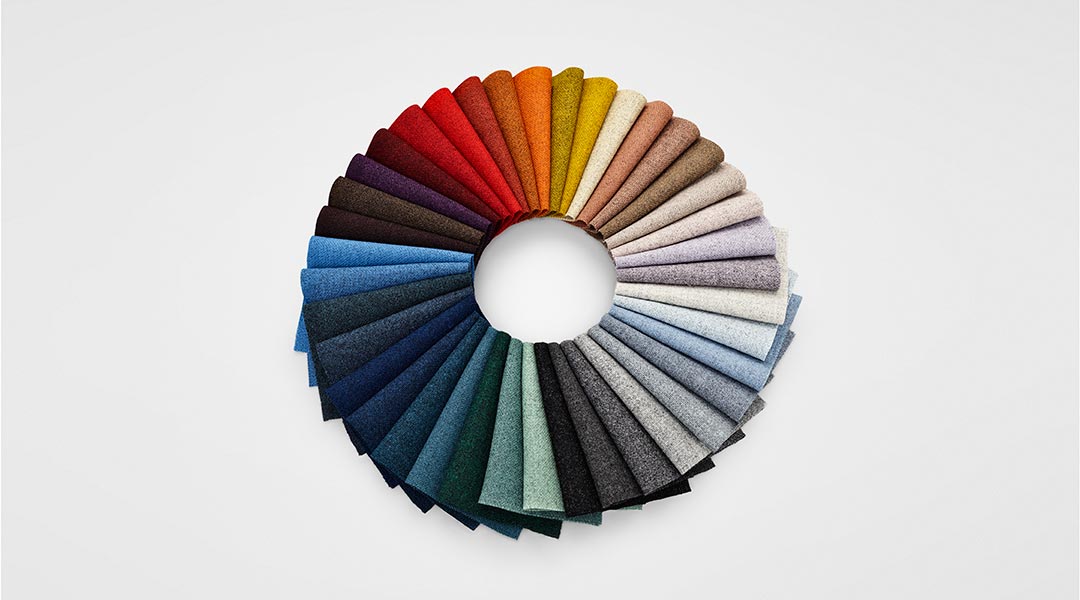 Swatches of wool textiles from Georgina Wright's collection for Kvadrat.
From her loom in the Chiltern Hills, which she describes as "a working sketchbook," Wright applies her skills in colour and textile innovation to developing new fabrics for clients including Weverij de Ploeg in the Netherlands, Switzerland's Création Baumann Switzerland, and London Transport UK. "As a weave designer I am building a fabric from the raw material up until it becomes a finished product, so I can control every part of what that fabric will become," she says. The process generally begins with a brief from the company in question, which indicates the market – commercial or residential – and the expected product life cycle. The latter affects how contemporary or trend-driven the colours should be, while clients in realms such as transportation and hotels have specific additional requirements.
"Like a train through a tunnel, the fabric has to go through a lot of fire tests, and in general in the development process you are thinking about what the end use of a fabric is. It could be subject to very heavy traffic of people or the seating could be used more than usual, like in an airline lounge."
Wright then employs colour and texture to emphasise brand identity and the particular message the company wants to convey with its project. For the Heathrow Express project, for example, the client wanted the interiors to form part of a high-end experience. "They wanted to convey the idea that the train trip should be the first part of a pleasant, memorable journey," says Wright. "We worked to create all the fabrics, carpet and wall coverings with a very unique feel and we used a violet purple as the main colour to give a premium effect."
Inspiration can come from anywhere, but Wright cites visiting exhibitions and galleries, being amidst nature, and exploring new cities as her preferred creative wellsprings. "I might find an object like a pebble on a beach or a twig from the woods that will give me an inspiration for something that I want to make that is very dry or that has an irregular pattern," says Wright. "I'm always thinking not just about what it will look like but what the visceral experience of that fabric would be."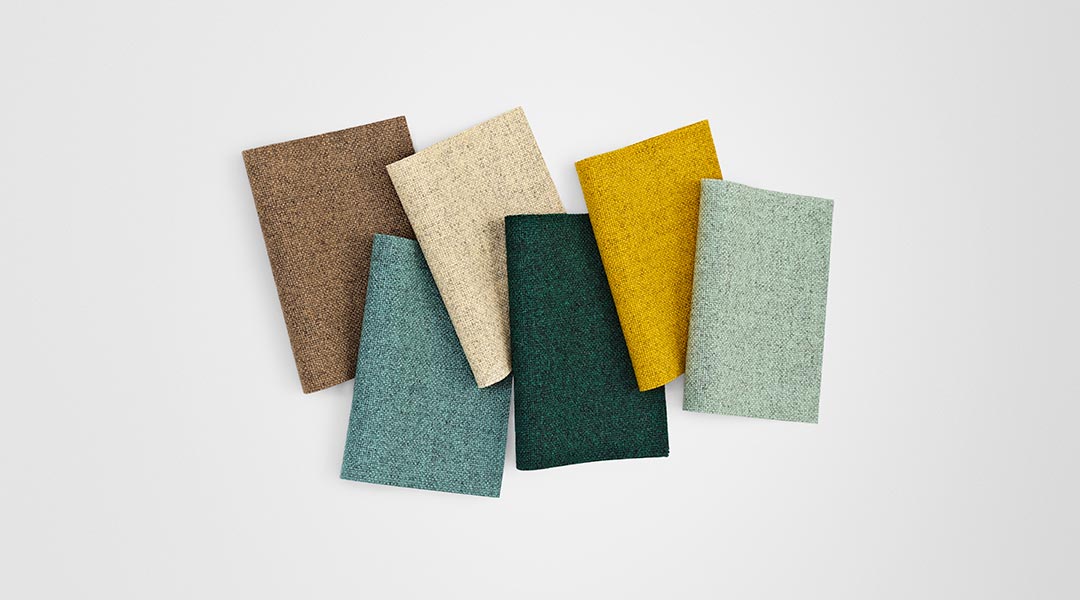 Swatches of wool textiles from Georgina Wright's collection for Kvadrat.
To see a project through to completion can take anything from six months to four years depending on the complexity involved ("it's a much longer process if we are starting right from the very beginning and developing yarns rather than using yarns we've already found") and factory visits, office meetings and conference calls are all part of the undertaking. "I enjoy all the steps in the process including going to the factories," says Wright. "I enjoy the puzzle of refining a concept down and down so it becomes purer and purer as you go through the stages."
Predicting trends in colour and interiors is also a key part of her job. "We are seeing changes in the use of green," says Wright. "Acid green is quietening down after seeing quite a lot in the market and green is becoming more gentle. The blue area is important because it's both calming and positive and there are some very saturated blacks with just a hint of colour going on." Softer textures and a greater sense of structure are also re-emerging interior design. "The natural textures and structured appearances I think are coming from an emotional need for us to connect with things that feel natural and grounded," says Wright. She says trends in textiles and interior design are influenced by the shifts that shape broader society. "They are partly driven by what's happening in art or design, but we are all so connected now that you get currents that respond to political situations and whether globally we are feeling positive or a bit down."
But however much research she does, ultimately it's about trusting her instinct. "You look at everything that's going on out there, but then you keep filtering and making choices based on what you're seeing and what's going on in your own heart," she says. "You have to be aware of the trends, but it's also a very personal conversation you have to have with yourself." Her ability to do this was put to the test when she was commissioned to forecast the next decade of the Volkswagen Golf's interiors and exteriors for three models of the car. "It's about being brave and really challenging the thought process," she says. "You have to be aware of what's out there but a lot of it comes from internal instinct."