---
Of the four major fashion weeks, London has long had a reputation for being the most daring and innovative. It perhaps comes down to the youthful nature of the designers that show on the schedule there – combined with the undercurrent of eclecticism in the city's arts culture – but the moniker certainly proved itself true for fall/winter 2017. And in taking something old and making it new again, designers at London Fashion Week breathed freshness into knitwear, playing with its proportions and the ways it can be worn.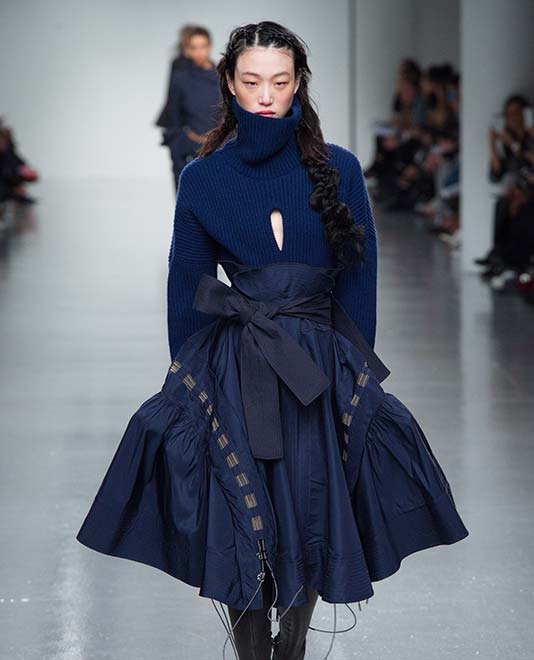 Antonio Berardi knitted Merino wool sweater. Top: Wool knitwear at Daks.
Burberry kicked off the trend for chunky knitwear early on in the London Fashion Week schedule, showing both men's and women's knitted wool looks as part of a combined see-now-buy-now show dedicated to and inspired by the late British artist Henry Moore. Like the artist's sculptures, characterised by curative and employment of abstract forms, Christopher Bailey sculpted knitted wool in shapes that enveloped the body, leaving some parts, such as cropped midriffs, exposed. It's not the first time that the British super-brand has used knitwear as a hero of its collection, but it particularly resonated for fall/winter 2017 given Moore's interest in sheep. Indeed, the latest Burberry campaign to accompany the collection is shot on location at the artist's property, with sheep seen roaming in the background of the images. Highlights here are plentiful, and include sweat shirting fabric and wool cut together like collages, a cream double-faced wool women's coat featuring a knitted back section, and men's Aran-style sweaters cropped over shirt tails.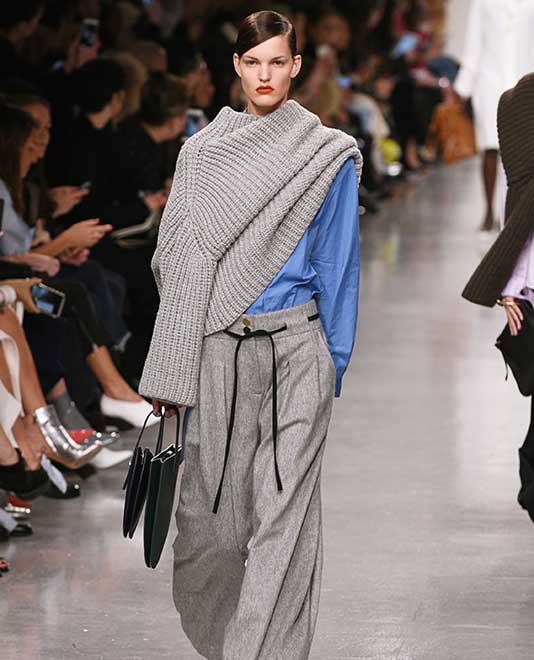 A look from the Eudon Choi fall/winter 2017 collection.
Antonio Berardi, too, looked to British cultural history for inspiration, but landed at a very different place: Shakespearean drama. Specifically, the designer was interested in that most evil of literature's characters, Lady Macbeth, presenting outfits as she might have worn them today. These included A-line skirts embellished with drawstrings, long-necked wool knitwear with cut-outs, like a bodice, and puffy-sleeved Merino wool sweaters bejewelled with crystals in traditional diamond patterns, here worn with drawstring pants for a more casual effect. At Ports 1961, creative director Natasa Cagali was also interested in ways of embellishing, presenting a wool-rich collection of asymmetric tailoring and oversized knitwear, the most daring decorated with plastic paillettes or with feathered edges.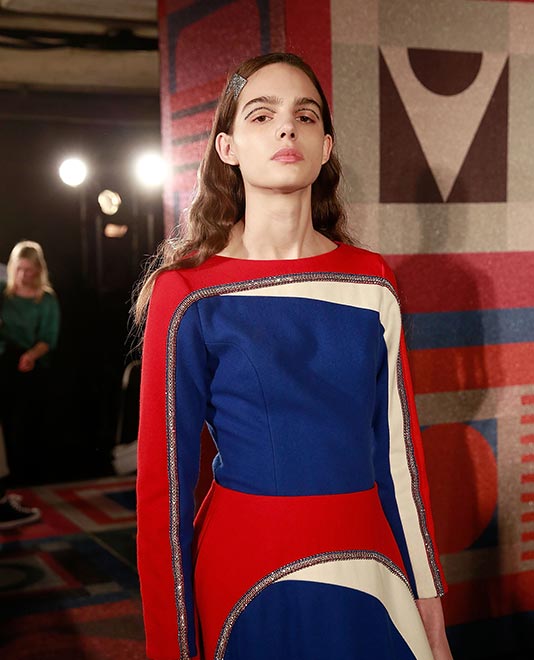 A look from the Sadie Williams fall/winter 2017 collection.
Korean-born designer Eudon Choi regularly walks a line between masculine and feminine, tailored and unstructured, and that concept threaded through his collection for fall/winter 2017 with garments that played with proportion. This came in the form of expertly tailored wool suiting and outerwear (wide-legged trousers, bell sleeves quilted parkas were key), but particularly interesting was his take on knitwear and how it could be worn – or, in some cases, not. Abundant sleeves, oversized funnel necks and super chunky knitting techniques elevated the classic items to pieces of art. Teatum Jones is masterful in its approach to knitwear, having won last year's International Woolmark Prize for the designers' interest in pushing the boundaries of the form. This season, they took those ideas to new heights, fusing colours (off white and navy, for example) with knits (waffle with twilled stripe stitches) in off-the-shoulder and three-dimensional sweaters.
Elsewhere though London Fashion Week, wool knitwear appeared in a range of styles and forms. At Daks, designer Filippo Scuffi presented man-style suiting in grey and navy plaid and navy pinstripes, such as double-breasted blazers and cropped trousers, with turtleneck sweaters, elongated knitted tops and loose cardigans. Sixties-style wool peacoats in oversized checks and high-waisted pleat-front trousers were also standouts in the collection. Emerging designer Sadie Williams used Hainsworth wool cloth to craft colourful pieces, such as embellished tops and skirts and outerwear, bringing a sense of bright optimism to season defined by a largely neutral palette. Le Kilt, too, worked closely with the fibre, producing its entire collection locally in the United Kingdom. Innovations included a wool-denim weave, home-felted knitted sweaters, each hand-dyed and hand-cut, and a series of traditional Sanquhar knitwear made in the namesake Scottish town by members of the Upper Nithsdale community, part of an ongoing project between Le Kilt and the A'the Airts Knitting Project, with the bi-colour geometric pattern dating back to the 1600s.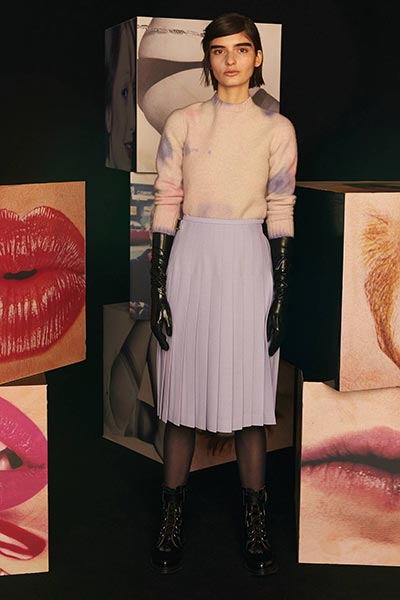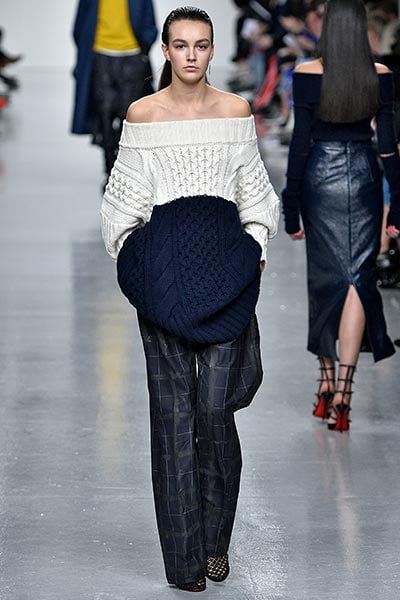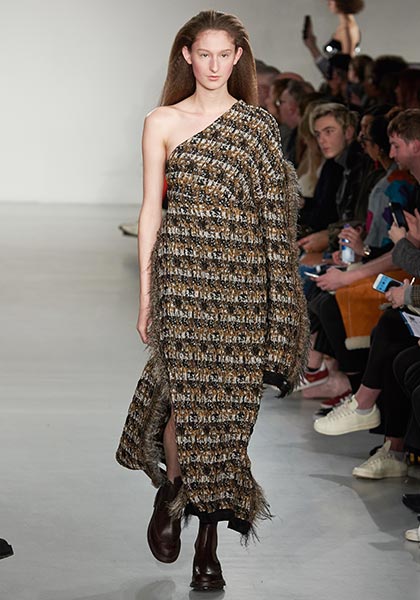 A look from the Le Kilt fall/winter 2017 collection