---
In recent years, fashion schools in London and New York have been pumping out Chinese graduates. These young designers have shown a tendency to eschew the trend of graduates from more developed fashion markets who start their careers by joining the design teams of established brands.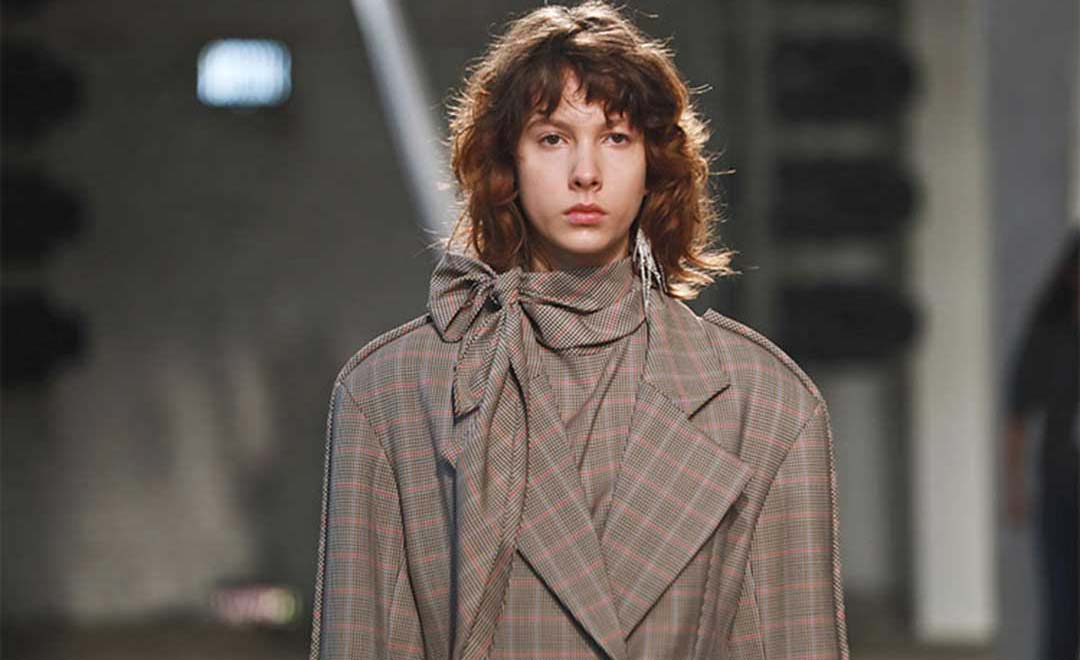 Instead, top Chinese grads from Central Saint Martins, London College of Fashion and Parsons School of Design immediately launch their own brands, often returning to China to take aim at their huge home market, though their international education contributes to an outward-looking, more global mindset. The ambition of these young designers is almost without bounds.
Though the high-level of talent these designers are gifted with has been on display at Shanghai Fashion Week for several seasons, this edition, with a few collections under their collective belts, a generation of designers who graduated over the past five years or so took major steps forward in forming a brand identity based on innovative textile development, quality of construction, and a firm idea of who their brand is for.
With the largely muted colour palette and harder-edged styling, Museum of Friendship's Momo Wang gave the impression that her Little Red Riding Hood-esque MoF girl has hit an angsty adolescent phase and now splits her time between grandma's house and punk shows. The appliqued red balloons on denim and black woollen outerwear gave some otherwise heavier pieces a lift, and wool also played a prominent role in the form of a cropped, extravagantly long-sleeved, cream sweater. The same hue was also styled in a knitted singlet and short shorts.
Burnt orange turtleneck sweaters and scarves were styled under and over billowing dresses and an open knit, orange singlet vest added texture and interest. Down jackets, capes, and skirts were also billowing, but managed to maintain a manageable level of bulk. The final look of the show was also orange, a full-length hooded coat with Museum of Friendship stamped prominently at its back – itself a statement of the confidence Wang has imbued in this collection.
Cool Wool, first used by Xu Zhi and SHUSHU/Tong in their spring/summer 2017 collections also made an appearance in their autumn/winter efforts. In SHUSHU/Tong's case, this translated into structured, narrow-cut suiting, with exceptions to proportion in one jacket particularly, which featured sculptural sleeves cocooning from the arms. Alongside these suits were stand-out shearling coats and a line of bold, shiny sweaters and sweater dresses constructed from a knitted wool and polyester mix. Other tightly-knitted sweaters had thick, exaggerated braiding across the chest. SHUSHU/Tong is becoming known for its exacting construction quality and tailoring chops, with good reason.
Yingpei Studio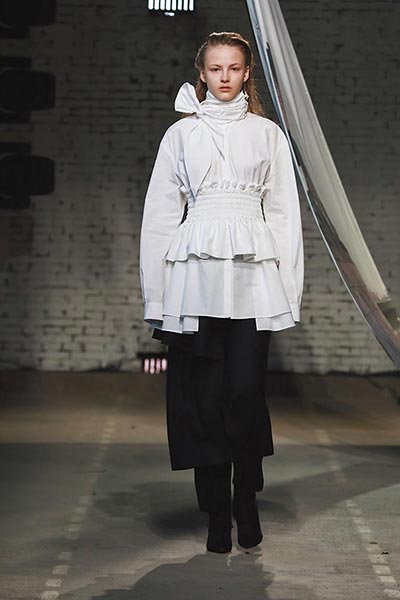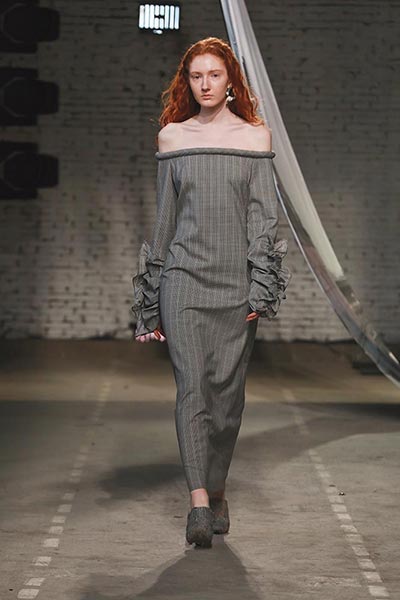 At Yingpei Studio, tailoring also came to the fore, with roomy plaid suit jackets worn atop sleek mid-calf skirts with high slits, or narrow leg pants cropped to the ankle, while ruffled details of varying sizes and proportions adorned hemlines, pockets and seams. The impression was one of easy wearing and easy movement without compromising on the exacting construction. References to the early 1980s period were on display in both the silhouettes – wider at the shoulders, narrower for the bottom half – and some of the materials, particularly a long corduroy coat and the pairing of a shearling bomber jacket with matching skirt. There's a romantic and feminine element to designer Ying Pei's ruffles and languidly cut wool suits for women, but it's never overtly girly – it's a more assured, quiet, largely monochromatic brand of femininity.
The understated sobriety of Mushroom Song's WMWM brand also impressed. The brand's signature colour palette of black, grey and white was formed into wide-leg pants of varied lengths and interesting draping and proportionality with fabric proved a highlight of the collection. Boxy jackets and tunics with asymmetrical hemlines were some of the signature shapes and, as usual for WMWM, oversized pockets applied to woollen outerwear with prominent seams and black zippers gave an added, industrial-feeling edge. It wasn't long ago that this subtle, sombre collection would have seemed unsuitable for Chinese consumers, who were looking to spend their yuan on something more overt, but today, the fast-evolving Chinese urban consumer is much more likely to be attracted to understatement combined with top quality construction.