---
The spring/summer 2017 Hera Seoul Fashion Week, the seventh since it was first launched, took place earlier this week at the Dongdaemun Design Plaza in the South Korean capital.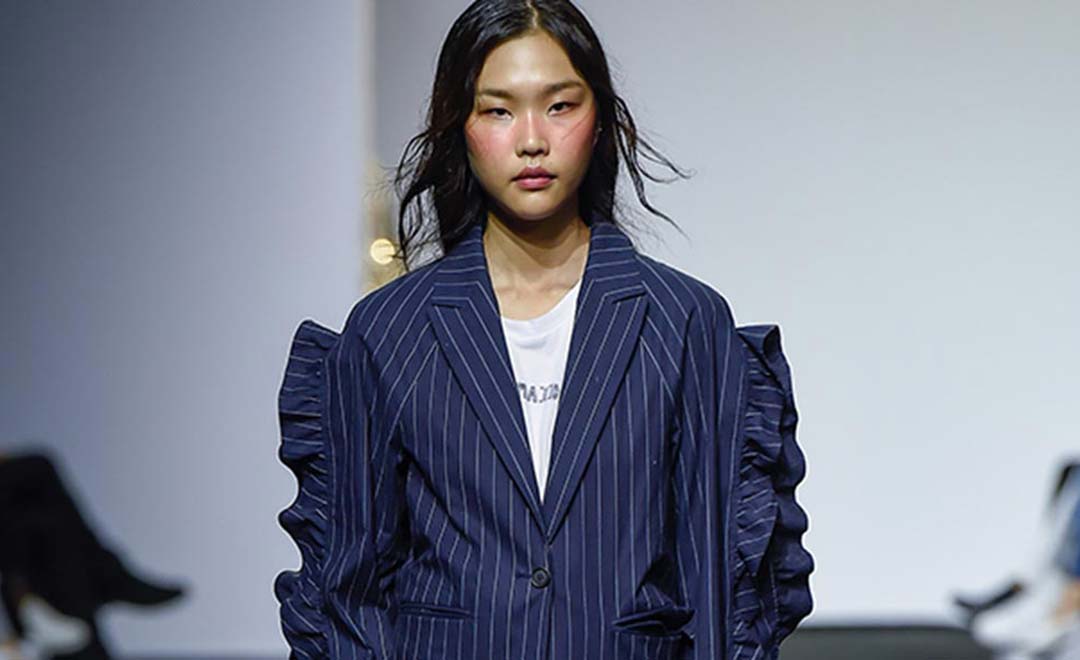 A wool look from designer Jain Song.
Comprising some 47 catwalk shows as well as a plethora of special events, the biannual fashion week attracted editors, celebrities, buyers and industry insiders from around the world, with many of the shows additionally broadcast live via online streaming, bringing local fashion to a truly global audience. With several former and current International Woolmark Prize finalists part of the schedule, Merino wool made up a significant part of the event's standout collections, evidence of the diversity of its application. Here, we recount the best shows from Seoul Fashion Week.
Beyond Closet
The collections of BEYOND CLOSET are characterised by their youthful, upbeat aesthetic, and for spring 2017, that translated to a fresh take on traditional suiting for a more casual wearer. Staged atop a city building on one of the city's hottest days, highlights of the collection included slim-cut wool suiting paired with basketball tanks in a unique combination of tailoring and streetwear, with artistic prints created by Golf Wang and additional pieces by Tyler, The Creator, further imbuing the range with an of-the-moment modernity.
Jain Song
Jain Song's aesthetic draws on the traditions of men's tailoring, with pantsuits crafted from pinstripe navy wool cloth, but for spring 2017, they were elevated by the creative mastery of the designer's cuts, resulting in dramatic effects on the body. Lightweight and easy-to-wear for the warmer months, featured was a long-line, shawl-lapel blazer paired with wide-legged pants slit up to the knee, and a wool boiler suit replete with ruffles along the arms, bringing femininity to a garment historically rooted in men's work wear.


Münn
This year's Asian menswear finalist in the International Woolmark Prize, MÜNN took as its inspiration from Korean film The Handmaiden, by acclaimed director Park Chan-wook. In this way, the label's designer, Hyun-min Han, employed a series of binaries in the collection, fusing Western and Eastern cultural references, modern and traditional styles, and masculine and feminine aesthetics to significant effect, such as the use of inner lining on the outside of a garment, shirts and jackets torn apart and reconstructed, and intricate detailing, such as cherry blossom embroidery, on tough fabrics, like denim. Wool featured heavily in the collection, with gingham cloth cut in various iterations of tailoring, including cropped shorts, wide-legged trousers and cropped blazers.
Munsoo Kwon
Former International Woolmark Prize finalist Munsoo Kwon looked to the mood of San Francisco, where he studied, for his spring 2017 collection, presenting perhaps his most daring collection to date. Pyjama-style wool suiting – short-sleeved on top, cropped in the trouser – were embroidered with the motif of Cupid's Span, the iconic Californian artwork by Claes Oldenburg and Coosje van Bruggen, while other pieces, such as leopard print wool tuxedo jackets, evoked the eclecticism of the West Coast city.


J Koo
"I wanted to make this collection from a wide variety of materials," explained J Koo designers Jinwoo Choi and Yeonjoo Koo. "Like a collage." With wool anchoring the men's and women's spring 2017 collection, textural diversity was added with the inclusion of mesh, tasselling and silk ruffles, taking conservative tailoring to innovative new heights that nodded to both the 1930s (tailored wool trousers were sliced to reveal fishnet stockings, and paired with fringed dresses in the spirit of VictorVictoria) and the 1980s (checked wool suiting was exploded to oversized proportions, with blazers that draped from the shoulders like Wall Street power suiting).
Jarret
Jarret's show was one where unique materials and fabric textures stood out, such as silk with an ink-wash painting, rugged wool tweed, and lightweight jacquard. The theme of the collection was explorer novel Le Petit Prince, with the show set against a background of a desert image. With this in mind, an off-the-shoulder one-piece dress evoked a charming explorer, while a striped one-piece dress and skirt brought to mind an urban traveller. With the addition of streetwear, such as tracksuits and zip-up hoodies, the designer ensured this collection remained in tune with the times.
Surreal But Nice
Via a collaboration with Disney, Surreal But Nice took as its inspiration the film Beauty and the Beast – perhaps given its forthcoming cinematic release – for the spring 2017 collection. "Beauty and fear coexist," said co-designers Su-hyung and En-kyoung Lee. "When one overcomes the fear, then one can be confident." Despite the collaboration, characters were not overtly referenced, ensuring the collection was elevated beyond polite nods to Disney. Snipping collars and the back of a jacket in a rough manner made a tailored wool jacket look atypically balanced with voluminous pants and a tight-fitting dress. There was a suggestion that dresses and dress shirts modified and designed from wool flannelette shirts could be worn as casual clothes, which received a lot of attention.
Nohat
If Nohant travelled to a hotel in the last season with a travel-inspired collection, this time its focus was a university. With the catchword "Université de Nohant", the fundamental basis of the spring 2017 collection was the Ivy League look from the United States. But a boxy shirt, a hooded parka, baggy denim overalls and a t-shirt with a logo "Université de Nohant" represented such a theme with wit. Nohant's talents were observed through the matching of a navy wool blazer, a symbol of the Ivy League look, with a pair of orange Nike sneakers. Even when other brands were working on the same theme, Nohant's apparel always stood out.