---
The double-breasted suit has returned to fashion, but the strict formality of its origins has been shaken off for a more relaxed look, writes Mitchell Oakley Smith.
The double-breasted suit is rooted in sartorial history. From its origin as a naval jacket, the suit was popularised by the Duke of Kent (his fastening of the bottom two of the six jacket buttons gave it its name as the "Kent") and later become associated with mobster culture of 1940s America and 1980s Wall Street bankers, the broad, sharp shoulders and expanse of fabric evoking a sense of power. Distinguished by its overlapping front flaps and parallel columns of buttons, the popularity of the double-breasted suit – or, alternatively, pea coat or trench coat – has ebbed and flowed over the past century, but returned to the fore in menswear in recent years, made popular by contemporary designers' reinterpretation of the classic garment.
Double-breasted suits were shown in countless iterations, demonstrating their enduring appeal as a cornerstone of the male wardrobe. In London, Richard James tapped into suiting's naval history, specifically in the wardrobes of those working on London's docks through the 1930s, presenting a collection which fused the fine tailoring for which the designer is known with traditionally masculine, somewhat industrial references, such as a grey colour palette, chunky cable knits and structured nature of the suiting and outerwear. Double-breasted suits formed the bulk of this collection, cropped short in the waist and cut sharp in the shoulder, shaping the wearer with a bold silhouette.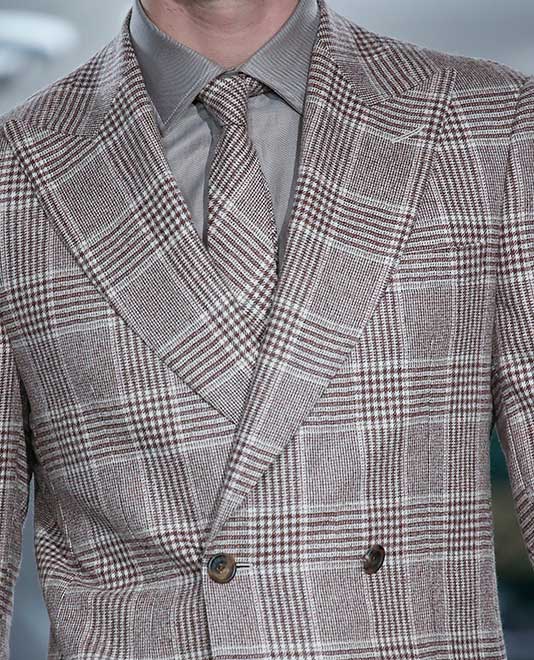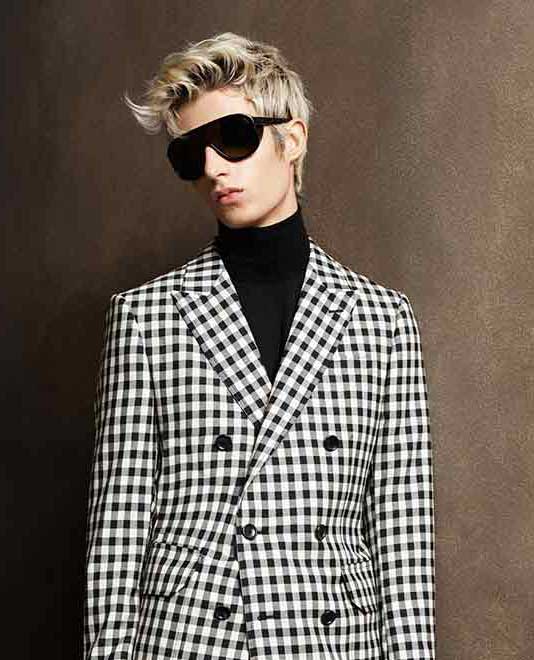 A look from Richard James' autumn/winter 2016 collection. & A look from Bally's autumn/winter 2016 collection.
Swiss brand Bally, too, was drawn to the past and, inspired by photographer Peter Schlesinger's book Checkered Past, crafted a collection of innately cool pieces that might have come direct from the wardrobes of history's best-dressed men. These included double-breasted wool suits in gingham checks – some in black and white, others in bronze and black – ultra-fine roll-neck knitwear in bright mustard tones, and a series of coats in a knitted wool, the softness of the fabric giving the coat a draped, robe-like quality in line with the relaxed nature of this season's collections.
Hardy Amies' head of design Darren Barrowcliff explored the idea of relaxation in tailoring, crafting his double-breasted suiting from soft grey wool with patch pockets and pairing jackets with cargo pants for a casual take on the traditionally formal outfit. Ermenegildo Zegna has, under the direction of Stefano Pilati, adopted a similar approach to suiting, relaxing its lines and strict formality so as to make it relevant to a younger customer. At the brand's presentation in Milan, wool suiting and outerwear, such as double-breasted coats and pleat-front trousers, were cut wide from the body, imbuing the traditional items with voluminous shapes, and decorated with embroideries and jewels. It is, as Pilati says, "an exceptionally sophisticated wardrobe ruled by fearless style".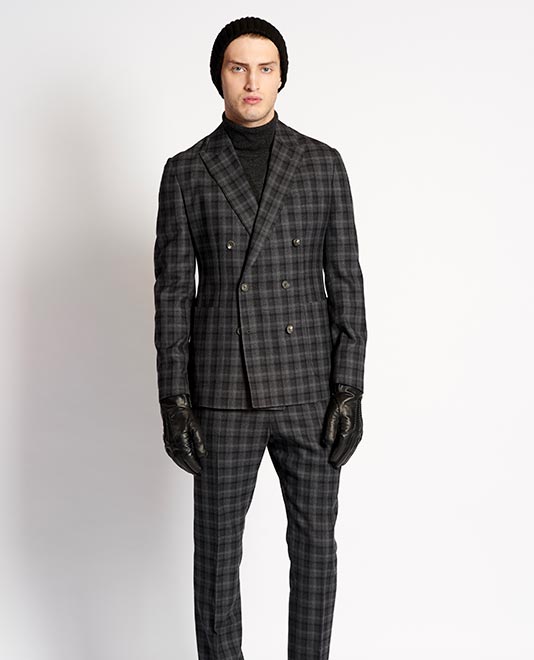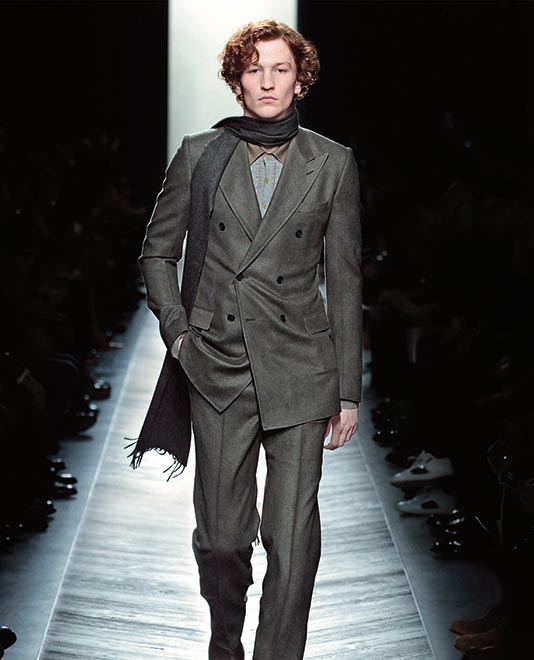 A look from Hardy Amies' autumn/winter 2016 collection. & A look from Bottega Veneta's autumn/winter 2016 collection.
Bottega Veneta's creative director Tomas Maier explained that he "wanted to create a line that's very long and lean, with everything elegant and elevated." And with pants that kicked out from the ankle in a subtle flare, coupled with double-breasted blazers that cinched at the waist and splayed from the lapel, Maier certainly achieved an elongation of the male form. What stood out in this collection was a deconstruction of the suit, but not with the inclusion of sportswear elements as the designer has done in the past. Instead, wool knitwear, such as turtleneck sweaters and sleeveless vests, offered an alternative to shirting; belted overcoats replaced blazers; and knitted wool scarves worn over the top of full looks, trailing at the back, added a level of nonchalance in the styling. "This man knows what he is doing," says Maier. "There are no tricks, nothing ostentatious. It is very discreet, but if you look closely, it is very special."
But how to wear it? While the rules of suiting have been relaxed – the most stylish men today mix their suits, pairing the binaries of their wardrobe in unique ensembles – several still remain in play, and following them ensures that the double-breasted suit, with its ample fabric lengths, won't swallow your figure. If you are on the shorter side, extending the lapel line will give the illusion of height, showing more of the torso beneath the jacket. While here, ensure that the suit is fitted to the natural line of your body, not only avoiding exaggerating your proportions, but even helping to give the appearance of a slimmer waist. Most importantly, however, is to recognise that double-breasted suits have been worn by some of history's most sartorially iconic men – Fred Astaire, the Duke of Kent and Patrick Bateman included – so embellishing is not only to be expected, but welcomed.