---
Through theatrical presentations and collaborations with creators in various fields, Theatre Products has created a unique world. In the 16 years since its debut in 2001, the company has shifted to a more mature mood while maintaining its innovative mindset. Its current designers are Akira Takeuchi and Miwa Morita, and under their joint direction over the past four years, the brand's concept 'Clothing makes the world a theatre', has taken on an even deeper meaning.
Theatre Products has always been sparkly, poppy, and adorable. Creative styles with bold prints and colours, and witty designs and materials were consistently the talk of the brand's presentations at Tokyo Fashion Week. However, in the most recent season's traditionally-themed collection and the brand's first appearance at New York Fashion Week in February 2017, the look was refined, though of course, the spirit of playfulness remained.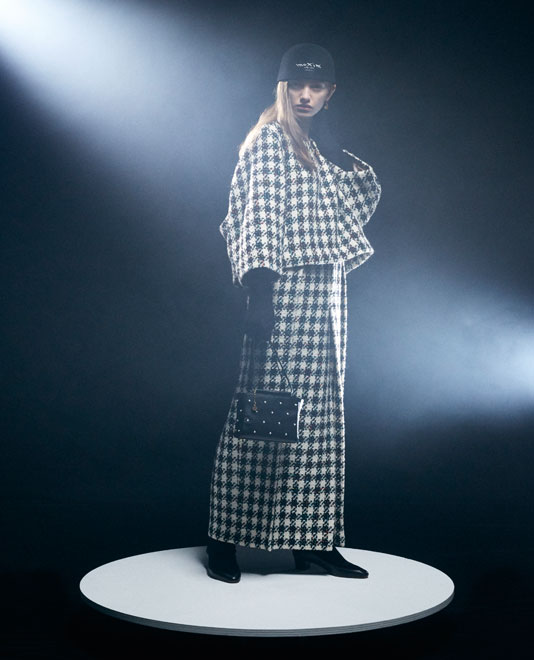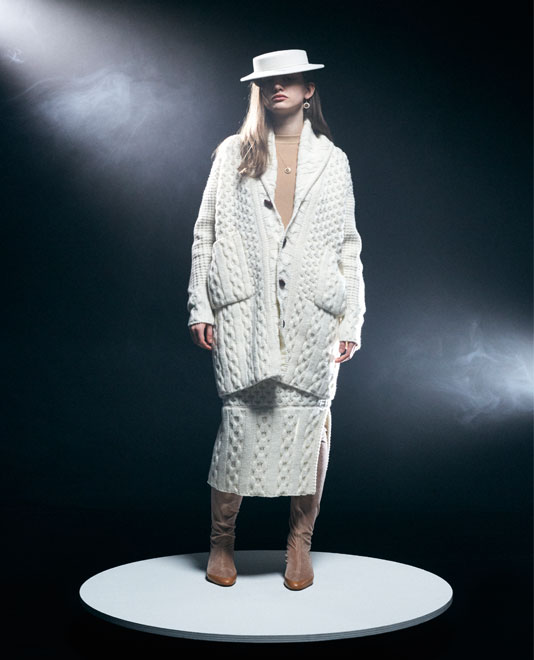 Theatre Products autumn/winter 2017 collection presentation at New York Fashion Week
"I think that even something simple and minimal is valuable for theatre if it has some glamorous elements to it. It's important to have something that makes people want it, want to wear it, and think it's pretty," said co-designer Takeuchi. It seems the designers also use materials differently now. Rather than depending on fancy patterns and prints, they are finding ways to bring out the original beauty of the materials. "We have always been very picky about materials, paying close attention to everything from material creation to thread. Now more than ever, we want the people who wear our clothing to experience this attention to textile. Our way of thinking is not to obliterate the quality of the materials with our designs, but to minimise the manufacturing process and the thought process as much as possible, and create something simple and raw," continued Takeuchi. "This is a very Japanese thing to do, and I think the same philosophy applies to Japanese food. I think this is one thing Japanese people can offer to the world."
Various elements have been deliberately eschewed. In the pieces presented at New York Fashion Week, the designers focused on transmitting the quality of the materials. "When Theatre Products was first founded, I liked the plainer products in that sparkly world - like silk wool knits and canvassed jackets. I want people to know that we do have things adults can wear too, and I've always thought it would be better if these kinds of items became our main focus," said co-designer Miwa Morita.
By tearing down formal impressions of traditional clothing, the autumn/winter 17 collection, 'TRAGRESSIVE', showed a new interpretation of 'trad-ition' that could be 'aggressively' brought into everyday life. "We wanted to incorporate the tried and true designs people think of as traditional, so we took things like plaid, tweed, and cable knits and made bold changes to them. We exploded the pattern on a shaggy wool trench coat to add volume, for example, but then gave it a small collar," explained Morita. "We had fun playing with proportion like that."
It seems like Theatre Products is always in a different dimension from the general flow of trends. Where does the inspiration for its unique creativity come from? "I list the things I'm curious about, then choose the theme that intrigues me the most. I also have a sort of rebellious spirit," concluded Morita. "If everyone runs one way, I like to run the opposite way," agreed Takeuchi. "That's the way I always want to work. I do sometimes take on too much, but with this season's traditional theme, I managed to run in the other direction while keeping balance."
Takeuchi also said he has a soft spot for wool. "When I first started working to become a designer, I made pieces using virgin wool. Even now, wool is indispensable to the clothing we make, and it's a material that we take for granted."