---
In the creative world, the mark of a true designer is one who is able to create something inimitable. For a textile designer, this is quite a task, but there is one company that continues to achieve just this. Canale Co., Ltd., which is now in its twentieth year, tells stories with its textiles through persistence and creative endeavour.
President of Canale, Akira Adachi, studied textiles at a vocational school in Gifu Prefecture, where he was born. At the age of eighteen, Mr Adachi went to work at a textile factory in Bishu, where he spent twenty-four years studying the arts of weaving, dyeing, and finishing, as well as the ins and outs of textiles, and in 1997 founded his own textile company. Canale does not have its own machinery, so it might be better described as a textile planning firm, but Mr Adachi gives off less the air of a textile designer or planner and more that of an artisan. When orders come in, they are sent out to five partner manufacturers in Bishu, often in the hands of Mr Adachi himself who goes in person to the factories to begin the work with them.
Canale's motto since its founding has been "never turn down an order from a customer". Orders come in year-round from designer brands, apparel manufacturers, and trading firms, and this approach to taking on orders regardless of their difficulty or complexity is what has led Canale to gain accounts that other weavers have declined. This has created a positive feedback loop where Canale and its partners have been able to enhance their expertise and ideas through increasingly more challenging projects. Canale still has no website and does not actively promote itself, yet word of mouth in the industry that Canale can make things happen has led to major Japanese fashion brands paying visits to their showrooms. Today, many of Europe's top couture houses use their fabrics.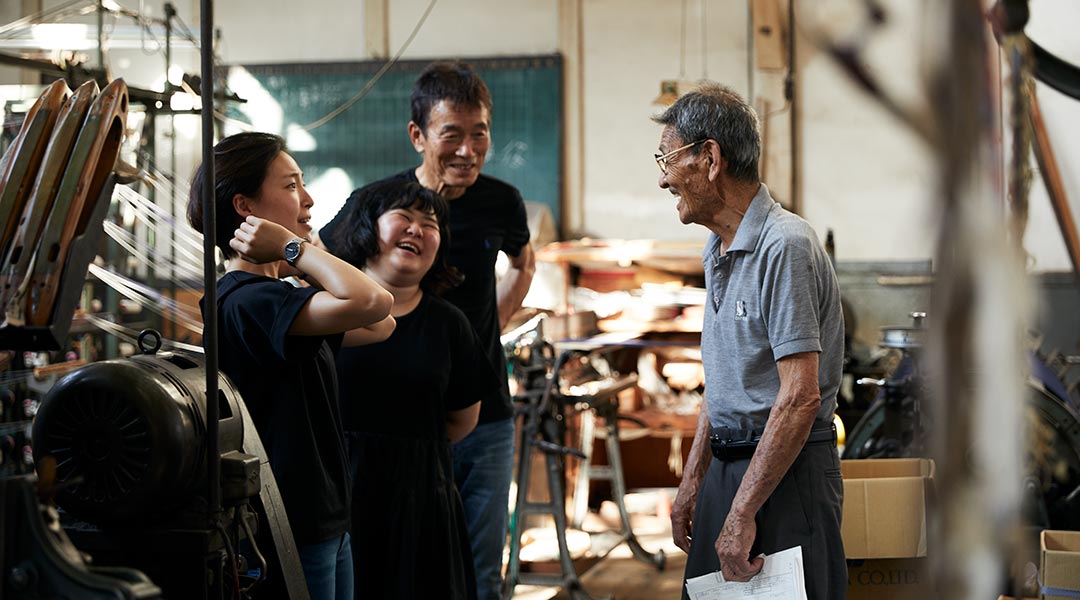 Features of Canale textiles are the use of fancy yarns, three-dimensional structures, and hand cutting. Canale also uses textiles where a thin film is woven into the warp and weft threads of wool to create a translucent material like a window. The dobby and jacquard fabrics they have woven at partner plants sometimes have a weft thread poking out at irregular intervals, yet there is something consistent about these irregularities. By cutting the wayward threads by hand and adjusting them, the fabric readjusts, and these idiosyncrasies become designs. The manner in which a fabric is finished is something only seen by Adachi himself, and the charms of these finished textiles can only be seen in person at the company's showroom in Ichinomiya.
Canale currently has two young female apprentices on its roster, who were attracted by the creative culture at Canale and asked for jobs. Using a range of fancy yarns, these apprentices are already weaving textiles unseen elsewhere, and employ hand-cutting techniques and other methods to create uniquely charming textiles. Adachi says, "Skills only improve through continued use. I am hopeful that the two of them will soon master their craft."