---
Despite being crease resistant, some Merino wool garments may require a light iron, but only if the garment's care claim advises so.
Whether your Merino wool garment requires ironing after washing and drying will depend on the number of creases present and the overall appearance of the garment.
Generally, heavier types of wool clothes such as chunky knits tend to suffer less from creasing during laundering, so these are less likely to need any ironing. However whether to iron or not will largely depend upon personal preference.
How to iron wool in 4 easy steps
Set the iron on the Wool, Medium or 2-dot heat setting. Too hot-a-setting could lead to discolouration or in the worst case causes scorch marks.
Lay the garment flat and reshape and size gently by hand.
Spray the garment with a little water before applying the iron to the garment surface; alternatively whilst ironing use the steaming function to apply a bit of steam. This will make crease removal and reshaping easier.
After ironing, lay the garment flat on a smooth hard surface for 5 minutes or so before folding your knitwear or hanging your wovens. This will prevent further creasing.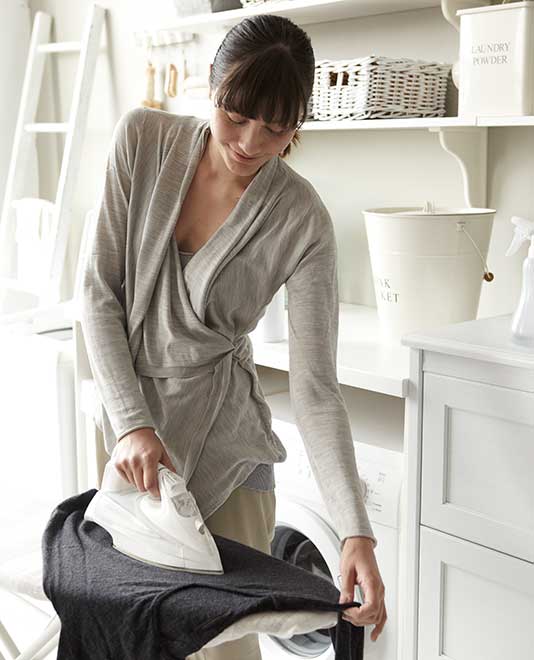 What to avoid when ironing wool
Do not apply heavy pressure as this will lead to the surface of the sweater becoming shiny.
Never leave the iron to stand for any length of time on the garment as this can result in scorching.
Do not use spray-on starch, and it is advisable to avoid the use of spray-on softeners or conditioners as these can lead to the presence of deposits on your sweater.
Do not iron garments if the sew-in care claim label advises "Do not iron".