Merino Vintage Knits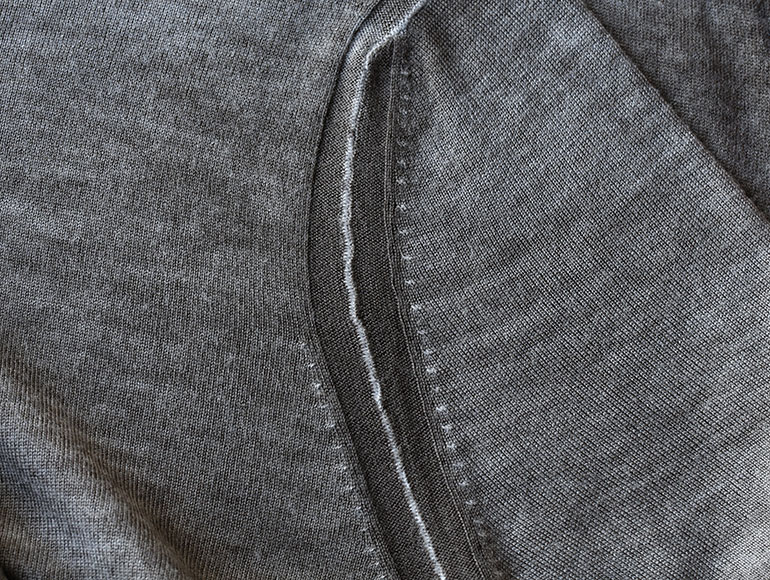 Controlled fading on Merino wool fabrics give a classic vintage effect.
Faded and washed out effects are popular in casual garments but are a surprisingly difficult to create in Merino wool which is renowned for its vivid and vibrant and durable colours.
The classic approach to creating this look is to simply use pigments which can be bonded to the fibre with binders. Such garments are characterised by poor handle and poor rubbing fastness. When garments fade during washing they do so unevenly, especially on seams and raised areas, and it is this effect that is reproduced in Vintage Merino knits.
The technology
The unlevelness of washed garments can be created by unlevel dyeing associated with applying the dyes too quickly. By using more acid and allowing
reactive dyes to exhaust at the strike temperature onto easy care or mercerised Merino knitwear within 20 to 25 minutes, the dye tends to exhaust more deeply in easily accessible regions of low yarn twist or fabric density.
This vintage effect can be rendered uniform over the whole garment by using the correct combination of processing speed and machine loading.
Once the dyes are exhausted, the dyes can be fixed using normal boiling times and if the correct clearing cycle is used, normal levels of washing and rubbing fastness can be obtained.
The features
Vintage/washed effects in by garment dyeing.
Woolmark standards of washing and rubbing fastness are possible.
Works best on heavily textured structures such as ribs and cables.
Works for both worsted-spun and woollen-spun piece-dyed garments.
Each garment is unique within a defined range.
For further information about Merino Vintage Knits contact your local Woolmark Company office.