---
After developing their own sailing and ski garments, brothers Franco and Giacomo Loro Piana saw the opportunity to develop an entire wardrobe that transitions with ease to and from the mountains, the city and the sea.
Growing up in a family whose business maintains one of the few vertical supply chains in the world that creates some of the most luxurious garments available in the market, Franco and Giacomo have a value for quality practically running through their veins. "It's been the best school ever and motivates me to do better every day, especially in blending tradition with innovation," says Franco Loro Piana. And it's in this blended space that the brand SEASE elegantly sits.
The brand officially launched at the Pitti Uomo trade fair in June of 2018, though has been quietly operating their ecommerce and flagship store in Milan since November 2017. Focusing on sailing, skiing and hiking garments that translate into sophisticated informal wear for the city, SEASE is a blend of the words 'ease' and 'sea'. This outdoor clothing is tailored to be particularly relevant for cities like Milan, Sydney and New York whose proximity to water or breathtaking mountains beg for garments that work for all that they have to offer; exactly the lifestyle of Franco and Giacomo, though prior to SEASE there lacked the clothing to suit.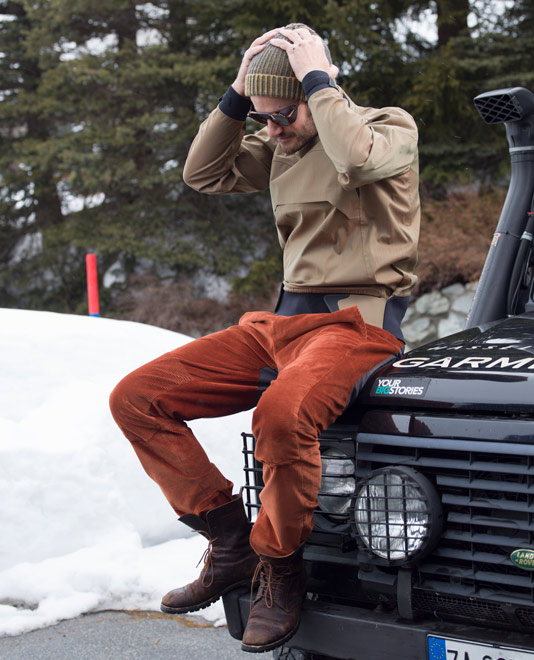 From one family company to another, Franco Loro Piana is the Creative Director of SEASE and looks after daily operations and collections whilst his brother Giacomo is involved in all key decisions for the company. "We share the same values," says Franco of his fraternal partnership, who when building the brand remained close to the eponymous family company – of which a majority stake was sold to the LVMH Group in 2013 – given the connections and rich resources available. "We are on very good terms, both with Loro Piana and the Group, which makes it a pleasure to collaborate on most aspects, namely in terms of fabrics." The Ganassa Jacket has high collar and flat seams designed to shield from the elements yet tailoring that implies an inner city evening stroll from the office to dinner. The jacket's outer fabric is a reinterpretation of an iconic Solaro wool textile used by the British Army since the turn of the century in tropical outposts, now made by SEASE in 70% Merino wool and 30% bio-nylon sourced from castor seeds. It's "a blend of elegance with state-of-the art technology and attention to detail," waterproof, windproof, breathable, and thermo-insulating, and one of the most important pieces in the SEASE line-up.
The George Jacket likewise harnesses the natural qualities of wool in a 3-layer stretch fabric blended with bio-based nylon for a truly technical fabric that performs as well as it looks. But SEASE doesn't just focus on how the garments suit their changing environment, but indeed how they work to help the environment they so suit. Sustainable materials are at the core of the brand, explains Franco, "As a newly launched business, it is a duty rather than an added value."
"SEASE is committed to the environment in terms of materials, supply chain and processes which makes us all well aware of our choices every day and in terms of strategy." The aforementioned Ganassa Jacket uses on average 13 recycled plastic bottles in the fabric for the garment's inner sections, and the SEASE weekender bag is made from recycled sails. None of the garments are seasonally oriented and are available all year. "Blending tradition with innovation, utility with style is mainly our key concern, and hopefully a more responsible consumption also comes with a better understanding of quality. It's a mutual exchange with trade and the end consumer, a call none of us can miss for building a better future."