---
Explore Albus Lumen's Merino wool travel collection, starting with the very sheep who produced this fine fibre.


100% wool, 100% transparency

Every process has been done in Australia, minimizing both waste and travel miles. This allows Albus Lumen to know every pair of hands which has touched the wool fibres before designer Marina Afonina gets her hands on it.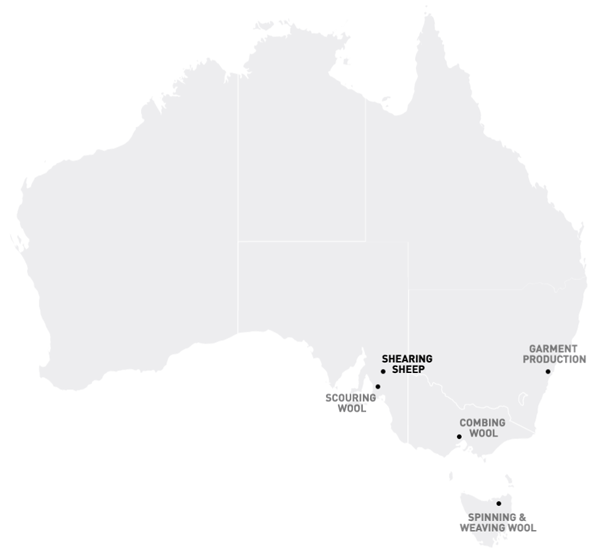 GROWING
Scouring
COMBING
SPINNING
GROWING
ANLABY STATION
Every fibre of Merino wool in Albus Lumen's Travel Collection has been sourced from Anlaby Station - the oldest continuing Merino sheep stud on mainland Australia. Producing luxury 19 micron Merino wool, the sheep at Anlaby Station are amongst the happiest and healthiest in the world, living on the simple blend of sunshine, grass, fresh air and water.
Scouring
MICHELL
The wool is then taken to the outskirts of Adelaide where it is scoured at Michell, using best-practice water management techniques to ensure the scoured wool has had minimal environmental impact. Family owned by David and Peter Michell, the group has been processing the highest quality wool since 1870.
COMBING
Cashmere Connections
From South Australia the clean wool travels to Victoria, to the small town of Bacchus Marsh where family-business Cashmere Connections turns the fleece into premium wool top.
SPINNING
Waverley Woollen Mills
The combed wool travels to the last remaining woollen mill in Australia. Nestled on the banks of Distillery Creek in Launceston, Tasmania, Waverley Woollen Mills spins the wool into luxury yarns ready for garment making. The mill is committed to the environment and to the communities in it operates, minimising waste and giving back to those in need to uphold the ethical manufacturing processes it has been known for since 1874.
The 6-piece travel collection is made using luxuriously soft 19 micron Australian Merino wool and comprises a sweater, 3⁄4-sleeved T-shirt, leisure pant, eye mask, travel poncho and a shawl – which could also be doubled as a blanket on long-haul flights.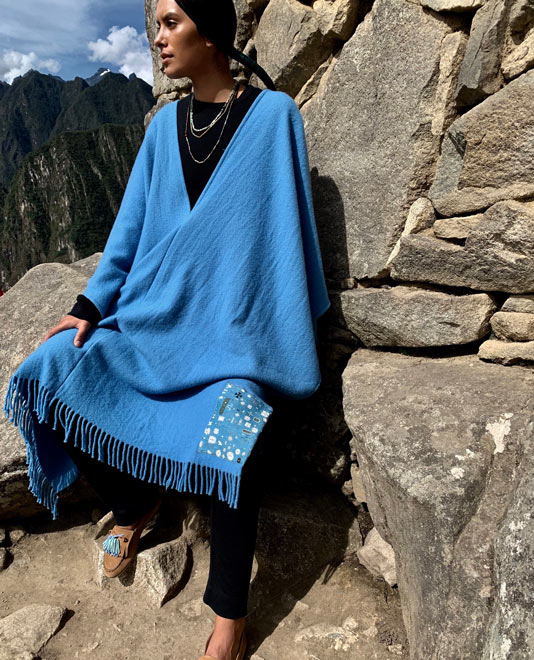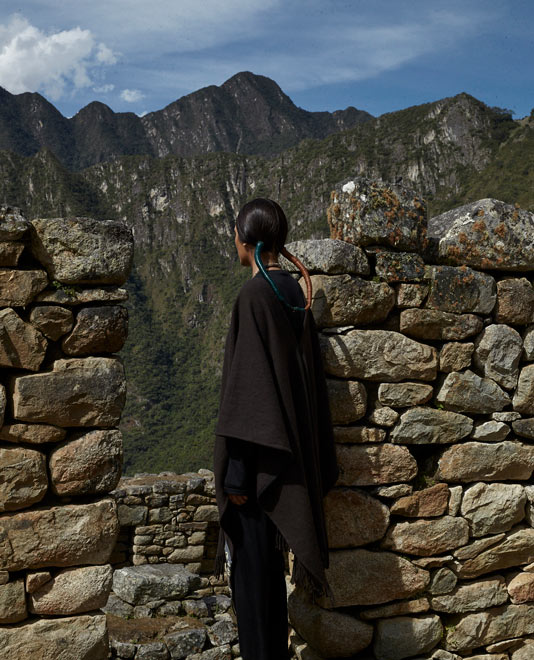 Albus Lumen's traceable Australian Merino wool collection, inspired by travels to Peru.
"Being exposed to Anlaby Station has been amazing."
"Being exposed to Anlaby Station has been amazing," says Marina Afonina. "Wool in general is perfect for travel. It keeps you warm in the cold but also keeps you cool in heat and it's resistant to odour and creases. For us, using wool in the travel capacity is a natural progression and wool is a perfect fabric for that. I also think traceability is so important. People want to know more these days and respect the knowledge of where they buy a product and where the product is made."
A heritage steeped in tradition, Anlaby Station is the oldest continuing Merino sheep stud on mainland Australia and exported South Australia's first bale of wool.
"Marina is meticulous in detail and really interested in natural fibres and we love the integrity of Albus Lumen. She's a wonderful example of a designer who can take a wonderful fibre and make so much more of it with good design and integrity. We have our own brand, but the fact that somebody else is interested enough to want to source our product and do their own thing with it is humbling and also helps us have faith that we're doing the right thing. The fact that we get to collaborate is remarkable and we feel really honoured."
Merino wool travel outfits

What's your favourite travel outfit? Do you roll your clothes when packing? Are you always on the hunt for the best travel clothes?
Resistant to stains, odour and creases, clothes made of Merino wool are the ultimate travel accessory. Merino wool clothes stay fresher for longer, so you can not only wear the same T-shirt all day and all night – but you actually get multiple wears from the same item of clothing. And whether you carefully roll, meticulously fold or just stuff everything in last minute, wool's natural structure means it is wrinkle resistant, so hanging your wool clothing in a steamy bathroom will have it looking fresh and new again in no time.