---
For more than eight months, across four vast oceans and 45,000 nautical miles – and making port in 12 landmark cities on six continents – seven teams are currently racing around the world as they vie to become the 2017/18 Volvo Ocean Race champions.
This year, Spanish team MAPFRE has been given the cutting edge, decked out in Merino wool base-layers by leading outdoor brand and The Woolmark Company marketing partner Helly Hansen as they battle it out in all weather conditions.
MAPFRE, a leading contender for the 2017-18 Volvo Ocean Race, named Helly Hansen as the official apparel and footwear provider for their sailing and shore crew. The experienced team will wear Helly Hansen outerwear, mid-layers, base-layers and footwear designed to perform in the most diverse and challenging ocean conditions during the race. The competition started in Alicante, Spain, in October 2017 and will end in The Hague, Netherlands, in June 2018.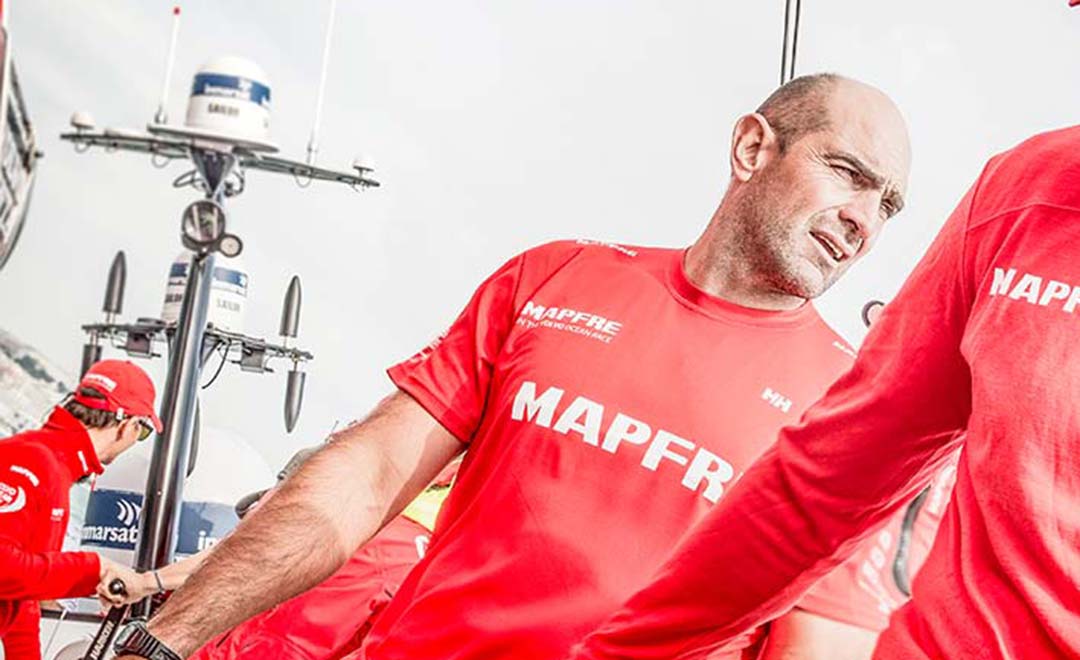 Mapfre skipper xabi fernández, who is a double olympic medallist and one of the most highly regarded volvo ocean race sailors of the modern era, wearing a helly hansen merino base-layer.
Photo: maría muiña/mapfre.
The ultimate performance fibre, Merino wool is trusted by professional sportsmen and women worldwide. Odour resistant, quick-drying, breathable and most importantly thermo-regulating, the base-layers worn by the MAPFRE crew will ensure they retain an optimal body temperature as they sail through weather extremes. Wearing a lightweight base-layer for the warmer climates from Helly Hansen's forthcoming Spring/Summer 2018 collection along with a mid-weight base-layer from the recent Autumn/Winter collection, the crew has been provided with durable, hard-wearing apparel.
Established in 1877 by Norwegian sea captain Helly Juell Hansen, the brand knows a thing or two about sailing and for the past 140 years has been at the forefront of technical innovation and high-performance apparel. Worn and trusted by professionals on oceans, mountains, worksites and ski fields, Helly Hansen continues to support Captain Hansen's legacy.
"Sailors love Merino wool; it keeps them warm, even when wet, and it can be used day after day without building up bad odour," explained Helly Hansen Category Managing Director Kristoffer Ulriksen.
"Helly Hansen has been the clothing partner of different sailing teams in every edition of the Volvo Ocean Race since its start, and before that, when it was called the Whitbread Round the World Race. These sponsorships allow Helly Hansen to work directly with the professional end users of our products.
These sailors use the gear in the most extreme conditions and the feedback and dialogue we have with them is priceless. Many great product innovations across the years started out from a dialogue with one of our professional athletes."
The Woolmark Company has also entered a marketing partnership with Helly Hansen, working with the iconic brand to help promote the great story of Merino wool and increase demand for innovative products.
"Helly Hansen has a long history of using Merino wool in its base-layer," Kristoffer said. "Today, in addition to base-layers, Helly Hansen is using Merino wool in mid-layer products such as brushed fleece and knitted sweaters, in socks and in headwear.
Norwegians have always appreciated the great benefits of wool, especially its thermo-regulating properties and Helly Hansen has experienced an increased demand globally for Merino wool products."