It's the time between winter and spring, when the sun begins to shine, the ice begins to melt and everything starts to thaw. Yet the unpredictability of Mother Nature means the mist may rise, the rain can fall and the snow turns to slosh. Luckily, Tracksmith's latest Merino wool running gear has you covered for this messy period between deep winter and early spring.
Run in wool
Boston-based performance brand Tracksmith once again turns to Merino wool as part of its latest collection, Thaw. Updating its best-selling Harrier long-sleeve tee for both men and women, this running staple has been designed to handle some serious splashes.
The Thaw Long Sleeve's innovative eco finish keeps you drier and cleaner no matter how many puddles try to block your path. It's also PFC-free, which helps keep harmful chemicals out of the snow, ice and water. The natural performance benefits of Merino wool such as resistance to body odour, superior breathability and thermo-regulation makes it built to weather the messy days of shoulder season. Pair it with the Thaw Beanie and Gloves for those cool, not-yet-warm days.
"There's no better feeling when faced with a brisk morning run than pulling on a soft and cozy Merino wool layer," says Tracksmith founder Matt Taylor. "It makes getting out the door that much easier, knowing you'll be warm and comfortable through the whole session.
"When we get back, we hang our Merino layers and accessories to dry and then repeat the next morning. It's an investment that makes the challenges of training day in and day out a little easier."
Woolmark and Tracksmith Strava challenge
Miles in Merino challenges you to log your early spring miles as you pound the pavement in Merino wool. Open to athletes globally, accumulate 10 hours of running activity by April 11 to unlock 10% off any Merino wool product at Tracksmith's online store.
As marathoners gear up for Boston's annual event, Miles in Merino aims to encourage runners to discover the technical performance benefits of Merino wool.
"For marathoners training through a tough winter and an unpredictable early spring, Merino wool is like a secret weapon," explains Taylor. "It's thermoregulating: keeping us warm on the coldest days and cool as things heat up. It wicks away sweat and moisture in a flash and doesn't retain any post-run odours. That means we can wear our favourite Merino layers multiple times throughout our training week without having to do a load of laundry. Merino wool is a staple of our training collections and a best-seller year-round."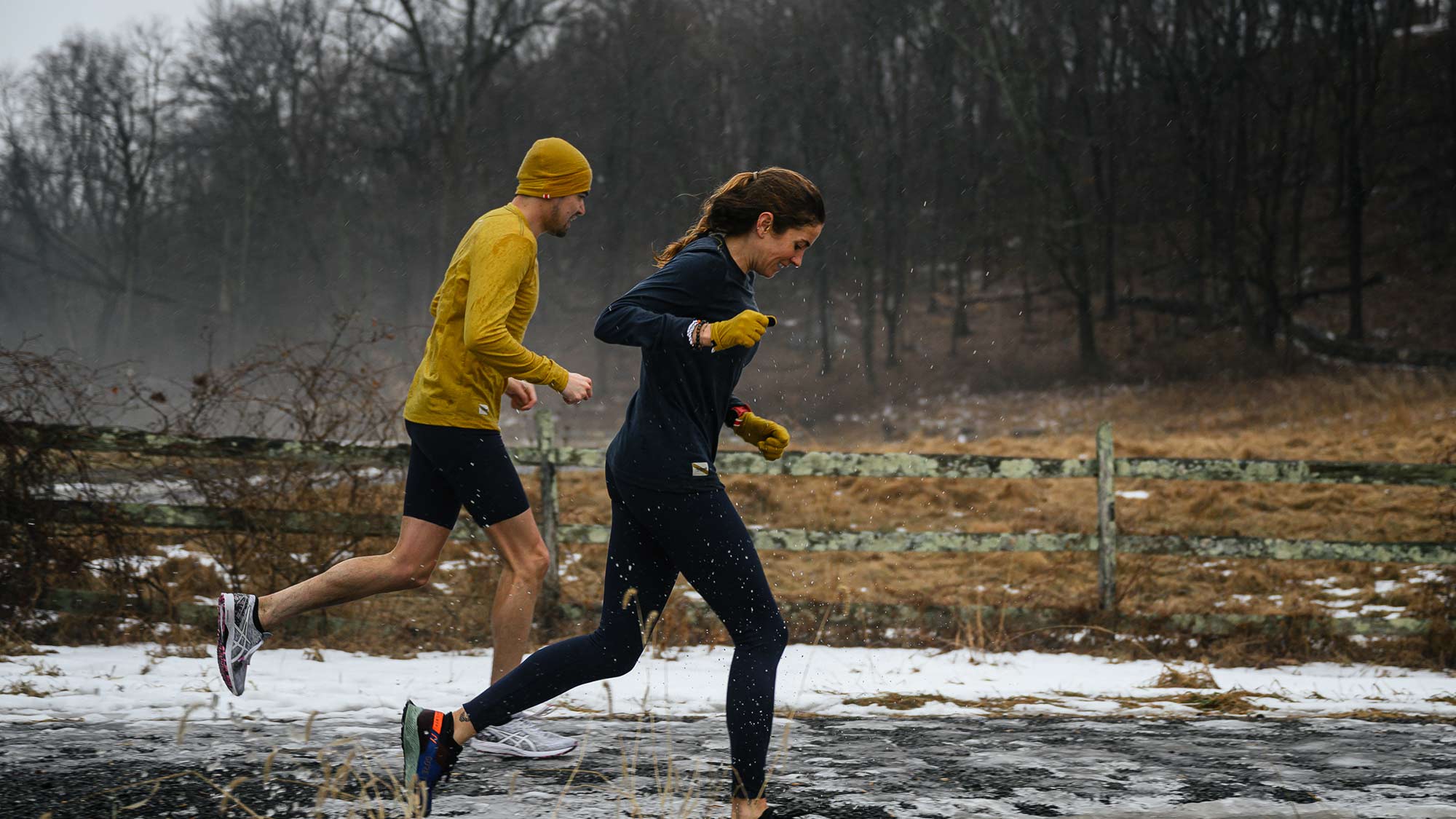 5 tips for training for a marathon
Having the right running gear is an important part of training for a marathon. Clothes that wick away sweat, are breathable and of course comfortable can help you go the extra mile. The original performance fibre, Merino wool is your go-to for running apparel to keep you cool and comfortable on every run.
Want more tips on how to train for a marathon? We asked Tracksmith's community lead and marathoner Louis Serafini for his top 5 tips.
1. Set a realistic goal
Training for a marathon is also a marathon so it's important that you set the bar at a level that feels comfortable. If you've run a half marathon time, try doubling it and adding 10-15 minutes. Remember, if you're crushing your runs and workouts, you can always adjust your goals as things go along. But by giving yourself a generous pace range in workouts, you'll ensure that you get to the starting line healthy and confident.
2. Rotate your shoes:
Did you know that the foam in your shoes compresses after each run and takes a bit of time to restore? I always recommend runners get at least 2 pairs of shoes to alternate with and then a 3rd pair about 2 weeks before race day so you have time to break them in. This will ensure that your feet stay happy and your body stays healthy for your entire training cycle. If you don't know which shoes to buy, visit a local run specialty shop and have an expert help you out.
3. Listen to your body on long runs:
The best practice for your marathon is your long run day. While you're training yourself to be physically fit and ready, it's also important to train your mind. Pay attention to how your legs feel after 2 hours. Do your feet ever hurt? Do you notice yourself not lifting your knees after a certain point? Does your mind wander? If you can train yourself to keep an active mind during your marathons, you'll reduce the risk of missing signals that could cost you that PR.
4. Stay positive:
This goes right along with the last one. Remember, not every run will be perfect. In fact, you may have a few bad workouts or long runs. That's okay. In a marathon, it's likely that you will go through some rough patches and those who can stay positive and weather the storm will come out on top. Don't let the bad runs get you down and remind yourself that the run that matters the most is the race itself. Just take it one day at a time and celebrate the wins.
5. Run in new places and with new people:
Training for a marathon is a journey in more ways than one. Take the opportunity to change it up. Try a new trail. Best a new hill. Keep things interesting. It's good to have your staples and your go-to's but trying new things can keep things interesting and keep you engaged. In addition to branching out your running routes, try group runs to meet some training partners. The best friends I've made in my life have been through running. Who knows, you may even meet someone training for the same race with a similar goal that can help push you the rest of the way.