---
With the help of layers of wool clothing – and a steely resolve – New Zealand mountaineer Sir Edmund Hillary reached the world's greatest peak, writes Hung Tran.
On July 13, 1953, Life magazine ran a cover story about the conquest of Mount Everest, which had been achieved seven weeks prior by a quiet provincial beekeeper from New Zealand and a Nepali Sherpa mountaineer. Sir Edmund Hillary and his co-climber, Tenzing Norgay, were 33 and 39, respectively, when they reached the summit. The cover image that mythologised their journey was captured with the same aggrandising eye that cemented deities in classical friezes, emperors on canvas; then, later, rock stars on vinyl: as symbols both lordly and remote. Hillary became world famous, but the photo captured his first retreat into a mental storm cellar where he shunned the glare of celebrity, and devoted his life instead to lone adventure and philanthropy. Standing left on the magazine cover, he ascended Everest swathed in protective layers of down and wool, lowering his gaze as snow-sprinkled peaks—misty and misshapen—swarm the background.'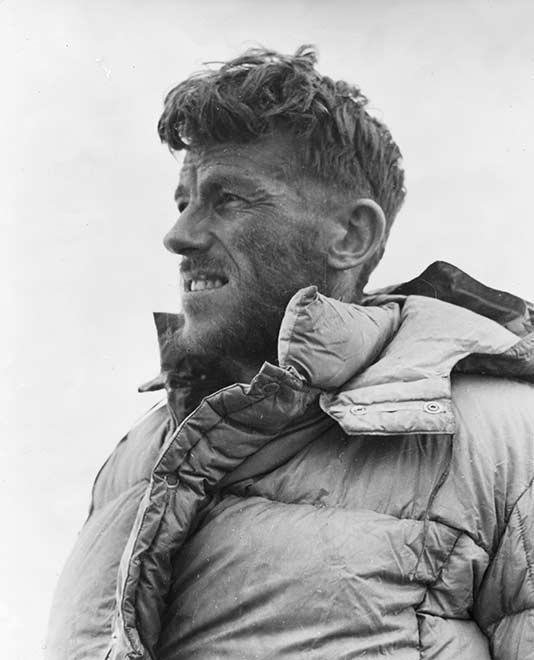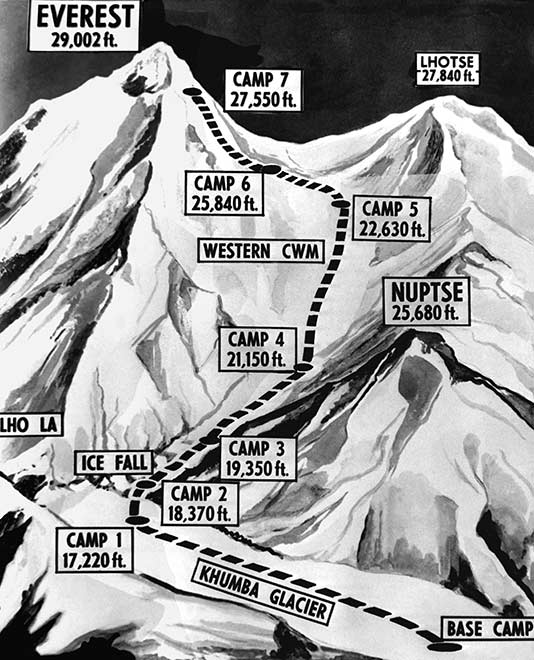 Photography: Gamma-Keystone & Hillary's route up the mountain
Edmund Percival Hillary was born on 20 July, 1919, in Auckland, New Zealand. A year later, the family moved to Tuakau, where Hillary's father had been allocated land after serving in Gallipoli. Hillary attended the local primary school and finished two years early. Shy, docile runts of this enduring allegory often find themselves the target of locker room contempt, retiring themselves into the drab woollen layers of their oversized uniforms. The wool stung his skin. Failing to slough his cocoon, Hillary became an avid reader of Edgar Rice Burroughs, H. Rider Haggard and Zane Grey: purveyors of a seductive fiction genre that strummed his desire to get out of wherever he was. The local vast paddocks and serpentine tidal creeks were tonic for someone of his quiet. He claims to have steeled his resolve and hardened his feet by learning to make an adventure of everything. Pulling up his woollen slacks, he walked barefoot the kilometre to and from school each day, through "wet, fine or frosty" terrain.
Hillary's mother was determined her son get an elite secondary education and enrolled him in Auckland Grammar School, two hours by train each way. The long commute and 12-hour class days denied him the chance to play sport. To compensate, he learned to run alongside the train and jump on before the track ended. In his first week of physical education class, he told The New Zealand Herald, the teacher "cast his eye over my scrawny physique, rolled his eyes to the heavens, and muttered, What will they send me next?" The pupil's wool blazer was marked by a lion crest—an immovable insignia of fraternity—but the young Hillary still found greater comfort in stories of heroes who scorned boarding house manners and fought beasts, of the mind and earth. He began taking boxing lessons to foment muscle. They eventually filled out the hollows of his sleeves, a wool blend derived from the local sheep. At 16, he encountered snow for the first time on a school trip to Mount Ruapehu, the largest active volcano in New Zealand.
"He descended Everest swathed in protective layers of down and wool, lowering his gaze as snow-sprinkled peaks—misty and misshapen—swarm the background."
When World War II broke out, the 20-year-old Hillary applied to join the Royal New Zealand Air Force, but withdraw his application before it could be processed after "being harassed by my religious conscience." In 1943, the Japanese threat creeped toward the Pacific and Hillary was conscripted into the army. His only portrait from this period shows a wraith sitting grudgingly among his comrades. Gloom sneaks into the photo's blur. Hillary later recalled those days as some of the most miserable of his life: the same woollen uniform reminded him that he was fighting for a cause he despised. A boating accident left him with severe burns, and Hillary was repatriated to New Zealand. He then successfully scaled sixteen of New Zealand's tallest peaks, which only whetted his appetite for loftier heights. In 1950, Hillary ascended the Swiss and Austrian alps. During this trip, the younger climber was invited by the Joint Himalayan Committee for the approved British 1953 attempt, which was eventually led by John Hunt.

The ascent was a feat of Kratosian strength. In vignettes of their journey, some of them lovingly coloured by modern technology, Hillary and Norgay sit on snow beds with sweet grins, as if to mock the mountains' purity, or the societal tremors below. Sweaters, jackets, mitts, scarves and caps—all made, lined, or trimmed with wool fibres—hide their exhausted faces and glassy gazes. Hillary and Norgay reached the summit, about 8.85km above sea level, at 11:30am local time. They spent just fifteen minutes at the top of the world. Hillary photographed Norgay yielding his ice axe, festooned with flags representing Great Britain, Nepal, India, and the United Nations. The sky is coloured by insinuations of blue, sonorous and stormy like a Turner painting. The two men dug a small hole in the snow. Hillary placed a crucifix inside, while Norgay left an offering of chocolates to the gods. Hillary never got his photograph taken at the summit.
Sir Edmund Hillary, pictured in a wool suit following his climb. Photography: Hulton Archive.
When the climbers arrived in Britain, Hillary was embraced in beatific manner as a citizen of the Commonwealth. He wore a slate wool suit, middle button done up, which made a slight taper at his waist (he lost four stone during the Everest expedition). His apotheosis was marked by looks that were patrician but pliable, a long face and determined chin. The image was put on the New Zealand five dollar note. He was the first living New Zealander so honoured, and he joked that he would have to remain respectable for the rest of his life. In 1999, Sir Edmund Hillary appeared on BBC in a black wool suit of disarming ministry, his face furrowed and washed by vertiginous weathers. "I really had no conception of the impact this was going to have on my life, or the media, or the world," he said. "I remember standing on the summit and looking over another great mountain named Makalu, just across the valley. Even standing on top of Everest, I was thinking ahead to the next challenge." Whatever the gods were up to that day, he had them beat.