---
Once again it was the up-and-coming independent designers of China who stood out at Shanghai Fashion Week – those who have been graduating in droves from the world's best fashion schools before returning home to target a giant market of increasingly sophisticated consumers who are becoming more open-minded about investing in local, high-end fashion.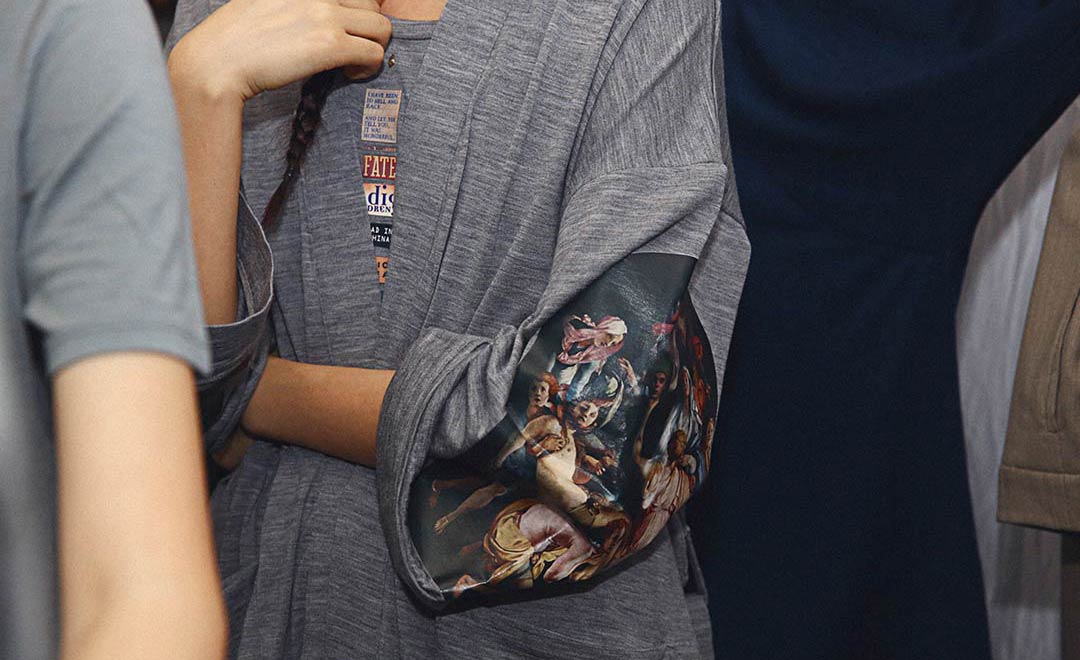 These are designers who are international in their outlook, and could hardly be called out for overt Chinoiserie in their design sensibility, but there is something in the cuts and contemporary feel in a lot of these collections that is sure to appeal to an up-and-coming urban consumer base in China, who are working on cultivating a unique sense of style. We went front row at Shanghai Fashion Week to discover the best collections of the spring 2017 season.


The Woolmark Company x長作棟梁
This atmospheric and sophisticated group show saw looks from six of China's best young independent designers presented in an old church, with a trio of strings playing classical music in the centre of the room. Each of the designers brought their own take to the wool knitwear game for spring 2017, though all incorporated The Woolmark Company's Cool Wool technology, an appropriate pairing for these spring/summer pieces.
The show opened with BABYGHOST showing its signature urban streetwear, constructed mainly in wool jersey. ShuShu/Tong and Yi Ran Tian both brought their sharp tailoring and fitted silhouettes to the table, balanced by Ban Xiao Xue's romantic layering and more free-flowing garments. Boundless, a label from conceptual designer Da Zhang, is a perennial favourite at Shanghai Fashion Week. Xu Zhi meanwhile, presented a collection that showed off his clever material manipulations, which result in garments of enviable textural interest.
The approaches and styles of these designers may be different, but the mood remained rather solemn throughout the show, helped in part by the muted colour palette, primarily of grey, charcoal, black and navy, that was employed by all of the featured designers.
Wan Hung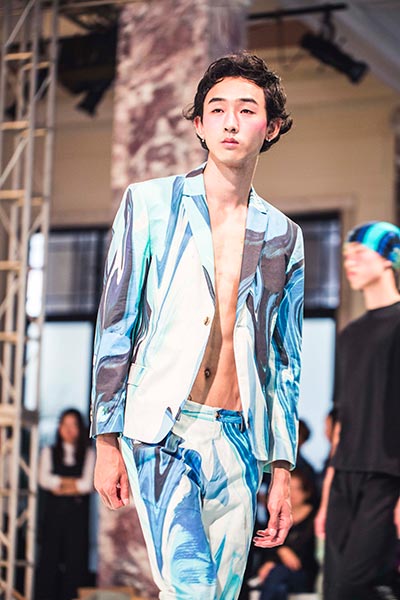 Wan Hung
One of a coterie of Central Saint Martins graduates showing on the Shanghai Fashion Week schedule, menswear designer Wan Hung dedicated his latest spring/summer effort to the island of Hainan, his homeland in the south of China.
A tropical paradise commonly known in China as the "Hawaii of the East", Hainan is currently at a tipping point between its easy-breezy beachy traditions and over-development, driven by China's economic rise and an accompanying desire for people to holiday at a conveniently located island paradise.
Sophisticated light wool looks included sweaters, with and without sleeves, with impressionistic beach scene prints. Wan Hung explored this juxtaposition with easy-wear beach-inspired designs alongside darker, more sharply tailored pieces. It was a distinctly urban kind of beachwear with numerous contemporary flourishes – a Hawaiian shirt for the young, hip, fashion-forward man.
Xu Zhi
With each season, Central Saint Martins graduate Daniel Xu Zhi Chen continues to make significant strides in moving his already impressive technical skill towards a more wearable, all encompassing brand aesthetic. Traditionally, the spring/summer season has been a challenge for Chen, whose techniques include detailed braiding to mimic cable knits in various materials, which creates beautiful textures but is almost always also accompanied with significant weight if not handled with a deft hand.
This collection's fringed, form-fitting dresses retained the brand signatures, while catering perfectly to the season and introducing, for this brand, a newfound focus on femininity. It seems Chen has had something of an epiphany about the clothes he designs not just being wonderful and innovative collations of material, but being worn by people, by women wishing to wear clothes that make them feel beautiful. Alongside these elegant dresses, with their exquisite texture and dramatic movement, was sharply tailored, charcoal and pinstriped wool suiting, with plaited excess material creating feathered features at the waist, sleeve or leg.
Ffixxed Studios
Australian transplant Kain Picken and Fiona Lau, who are now based near the southern Chinese metropolis of Shenzhen, continued their love affair with natural fibres for spring/summer. As with some of the other up-and-coming designers who proved the highlight at Shanghai Fashion Week, Ffixxed Studios impressed, not only with their concepts and creativity, but also with their wearability. Perhaps the mark of a brand scaling their offerings to a larger customer base, particularly around the Asian region.
Materials used in the collection included Japanese cotton, woven bamboo and denim with wool blend, with deconstruction (in the form of shirts and jackets affixed with press studs at various seams that were undone and redone off-kilter) alongside neat tunics and dark-washed denim and wool-blend paneled pieces. The colour palette of mustard, black, navy, white and lime reflected easiness, of wear and of living, which perfectly encapsulated the clothing, the Ffixxed brand and summertime.