---
Fashion week is no longer something held exclusively in the traditional style capitals of New York, London, Milan and Paris, but rather in every corner of the world, from Tokyo to Tbilisi, each offering up cultural differences that make fashion the dynamic global industry it is.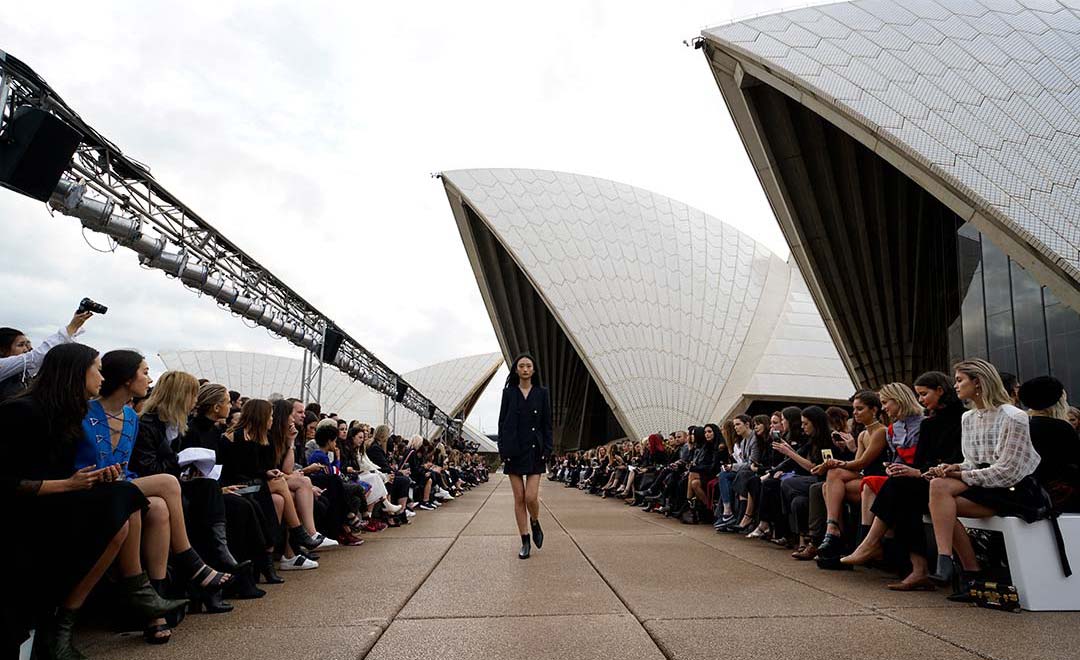 A wool suit at the Dion Lee show at the Sydney Opera House.
This week, Sydney took its turn on the runway with Mercedes-Benz Fashion Week Australia, dedicated to the resort collections that have come to form an important part of the annual retail calendar. And wool – nature's miracle fibre – was ever-present, a further demonstration of its versatility in the wardrobe far beyond classic suiting, with designers using lightweight iterations of the Australian-grown material for its natural drape, cooling properties and luxurious finish.


Sydney-born, New York-based designer Dion Lee returned home to open this year's event, staging a show at no less than the city's most iconic venue, the Sydney Opera House, beneath the sculptural sails of Jørn Utzon's architectural masterpiece. Lee has taken inspiration from the building before, most notably in his International Woolmark Prize capsule collection, for which he competed as a finalist representing Australia back in 2013, and it continues to inform the way he so cleverly slices cuts and applies cloth to the body. Innovations in this gender-neutral collection could be seen in the way double-breasted blazers featured multiple layers of fine Merino wool fabric, parting to reveal glimpses of the body, or that ribbed wool sweaters comprised cut-out panels, giving them a sportswear edge that's in tune with the way we live today.


Another former International Woolmark Prize finalist, Christopher Esber, continued his design relationship with wool, too. For his resort collection, Esber continued to explore elements of traditional men's tailoring for the female body, but subverted the classicism of the garments with cuts that dissected the fabric, resulting in splits, ruching and asymmetrical fits. A highlight included Merino wool suiting, here worn by Australian supermodel Emma Balfour, that tied rather than buttoned at the front.


The collections of Sydney-based womenswear label macgraw always err on the side of romance in their aesthetic, but this season the designers, sisters Tessa and Beth MacGraw, took it a step further, making the resort 2018 a Love Letter, as the show was titled. "This year has seen our business grow in so many ways and, in turn, we have grown," they explained backstage. "We wanted this collection to be a love letter of sorts." Following their presentation as part of the International Woolmark Prize global final in Paris earlier this year, the designers continued working with Merino wool, collaborating with the Country Women's Association and Purl Harbour on a series of hand-woven embellishments – darned harts, swans and other motifs – that were applied to 100% Merino wool blazers and cable-knit cardigans. The resultant aesthetic was of preppy Britishness but with a slight punk attitude; "an English rose, youthful and elegant, though not defined by her heritage," the designers said.


In little more than a year since launching, Mikey Nolan and Toby Jones' label Double Rainbouu has fast become a party favourite, with its lightweight shirts in psychedelic, graphic prints the perfect summery riposte to the seriousness of fashion. This season, the designers translated that spirit into what they describe as "statement knits for seasonal mood enhancement". Crafted from 100% Australian Merino wool in partnership with The Woolmark Company, the new knitwear, titled UUOOLL, embodies the same colourful eclecticism – this season with serpent and thorn motifs – but extends Double Rainbouu's retail presence through the winter period, too. Next month, Nolan and Jones will travel to Pitti Uomo in Florence, Italy, to present the collection as part of a special stand dedicated to Australian designers as this year's guest nation.


Bondi-based label Ten Pieces explored fabrications to deliver a collection stamped with vertical prints influenced by industrial architecture and landscapes. Its sporty punk muse has a more refined overall look, suggested through detailed finishes. References to Sharpies see the collection having a raw and quintessentially Australian edge. Collaborating with The Woolmark Company for a Ten Pieces Merino wool jersey collection and Ten Pieces knitted Cashwool® pieces, the special edition collection comprised soft earthy colours, offsetting the black and white staples and reinterpreting the Ten Pieces signature silhouettes.
Through working with The Woolmark Company, Ten Pieces has connected with one of the world's most important spinners, Zegna Baruffa, which is one of Australia's single largest buyers of fine and superfine Merino wool. The partnership between Zegna Baruffa and Ten Pieces highlights the connection between the Australian wool industry and top Italian manufacturers, providing Ten Pieces designers Maurice Terzini and Lucy Hinckfuss the opportunity to visit the Zegna Baruffa factory in picturesque Biella in Italy. Terzini, an iconic Australian restaurateur, went back to his Italian roots with Hinckfuss to discover the iconic farm to fashion journey and witness how freshly shorn fleece is converted into the most luxurious fabric. "[I'm] feeling a great sense of connection and tradition between Australia and Italy," said Terzini.