From minimising waste to embracing nature, investing in local handcrafts and more, the 2023 International Woolmark Prize finalists unleash the potential of wool and innovative methods for pioneering fashion design.
SAVE THE WASTE
R H U D E
Traditional denim often has a large water use footprint. To reduce reliance on water and minimise wastewater from their designs,
R H U D E turned to digital printing methods. Digital printing eliminates the need for traditional dyeing processes which rely on large amounts of water.

Unlike traditional dyeing processes, digital printing does not create any wastewater and significantly reduces the amount of water usage in the manufacturing process. With more precise control over the amount of ink used, digital printing also ensures less ink wastage and fewer chemicals in the printing process. Overall, this reduces the environmental impact of R H U D E's design and manufacture process to create innovative fit-for-purpose denim designs.
WORKING WITH NATURE
Lagos Space Programme
Working with Adire artisans to create natural indigo-dyed wool textiles, Lagos Space Programme harnessed plant-based dyes for rich blue hues. Adire – which translates to tie and dye – is the name given to indigo-dyed cloth produced by Yoruba women of south-western Nigeria who use a variety of resist dye techniques.
WORKING WITH NATURE
Paolina Russo
Returning to nature's palette, Paolina Russo uses colours created from natural materials including roots, flowers and spices. In collaboration with natural dye artisan, Cavan Jayne, each garment is hand dyed. Colours absorb into the yarns to further enhance the gradient effect throughout the collection.
TEXTILE INNOVATION
A. ROEGE HOVE
Exploring the symbiotic relationship between yarn, machines and the desginer's hands, A. ROEGE HOVE developed each garment in its own studio on manual knitting machines. Challenging the craft of knitwear, A. ROEGE HOVE worked with subtle shifts in tension or material to create a variety of structures that are born of creative innovation.
TRADITION REIMAGINED
Bluemarble
Working closely with Knitwear Lab, Bluemarble pushes the boundaries of traditional knitwear with technical, versatile garments. Bluemarble's creative application includes a bold, reversible double-faced pullover, an oversized knit ornamented with studs, a finely ribbed handpainted signature drawstring top and more. Each design draws on individual expression and versatile wear while complementing diverse body shapes and sizes.
TRADITION REIMAGINED
Marco Rambaldi
With the comeback of crochet, Marco Rambaldi's collection explores an intricate and modern take on this traditional and widely loved technique. Developing new stitches for 100% Merino wool yarn, Marco Rambaldi breathes fresh life into a long-loved fabrication, harnessing modular elements that can be created in a variety of sizes and produced on larger scales, bringing hand-made charm to modern garments.
EMBRACING TECH
MAXXIJ
Combining NFC technology with physical products, MAXXIJ brings creative textile innovation to the digital realm. Partnering with ETRNL VAULT, MAXXIJ offers 100% transparency of the design development process, producer information and raw materials – important but often unseen elements of making a garment. With a highly secure NFC authentication system, MAXXIJ's products can verify ownership, display premium content including videos and music, and provide apparel information to guarantee authenticity and quality.
INVESTING IN LOCAL COMMUNITIES AND HANDCRAFTS
Robyn Lynch
Creating a small-scale traceable supply chain, Robyn Lynch embraces connection with local communities by building a microcosm of creative innovation. Key pieces are developed from fabrics originating within a 900-kilometre footprint.
With wool fabric by Lebenskleidung using elbwolle™ sourced from German dike sheep, Robyn Lynch keeps the focus local, benefitting the Wendland region by creating new jobs and protecting time-honoured sheep breeds. With cooperation at the heart of Robyn Lynch's designs, each garment is a testament to the natural properties of the fibre and the communities connected by the common thread of wool.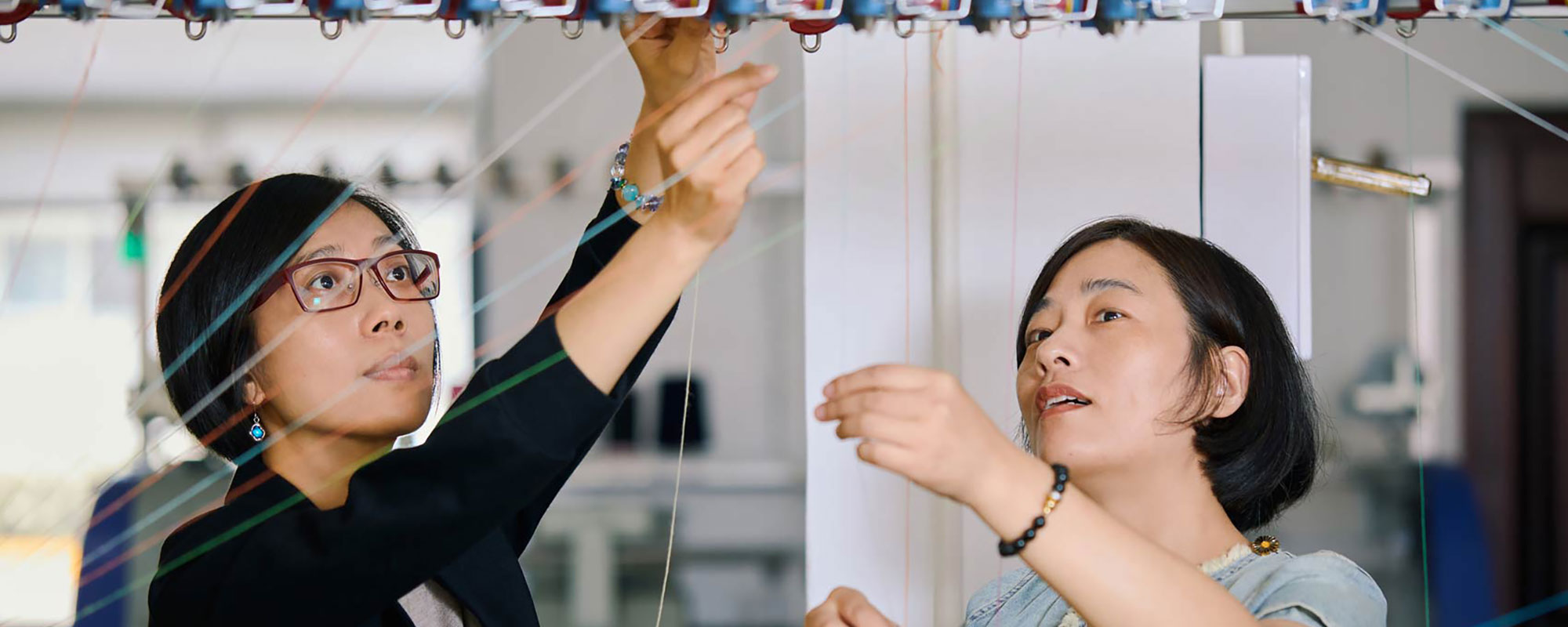 Connect with our Technical Team