---
Merino wool and other natural fibres were in the forefront of driving the trends for the lively new summer season envisaged for 2018.
There was a lot of glamour, with mixed patterns and designs: gold surfaces and points of light with silky looks and airy constructions, resulting in a positive impact of optimism and verve. Fancy knits and printed yarns in attractive mixtures of pale colours come in a variety of yarn types, in luxury fibres and clever blends knitted in intricate patterns. Wool is now a natural choice for summer, often as a solo player or in close partnership with other fibres for special effects.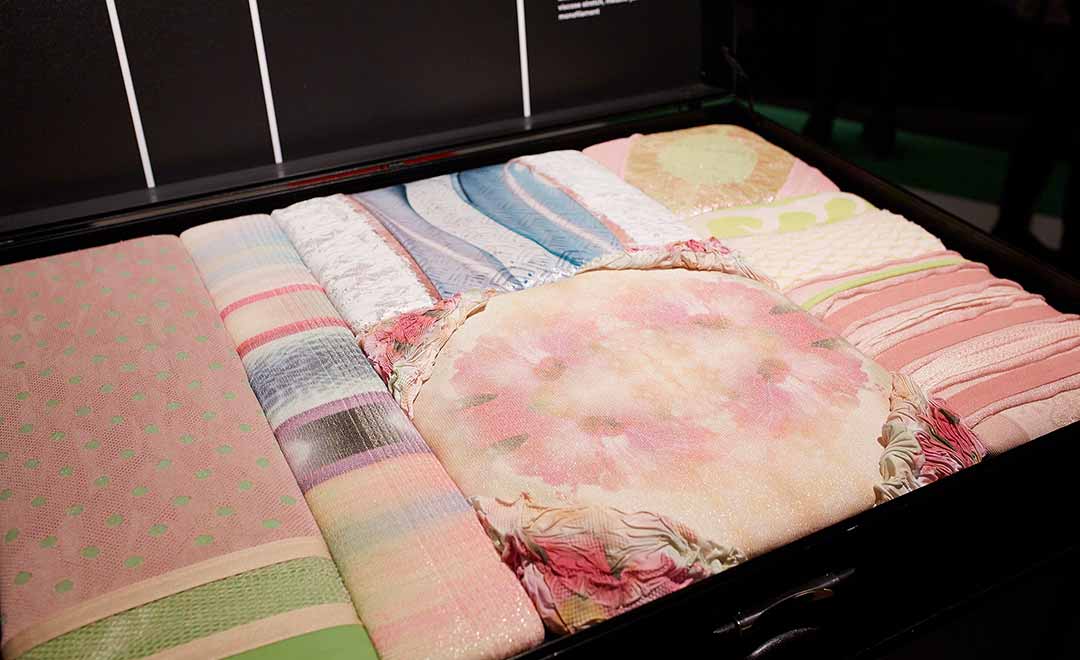 Part of the passenger - archive fabrics in the research area.
The light and airy agenda was paramount in the Research Area, inspiring designs in outfits and fabric combinations produced by Pitti Immagine Filati's consultants, who interpreted the collections of the high class exhibitor mills. Sophisticated and highly decorative fabrics set off the intricately conceived yarns for the new season with the theme of The Passenger, interpreted as moving in both time and space on different journeys and pilgrimages.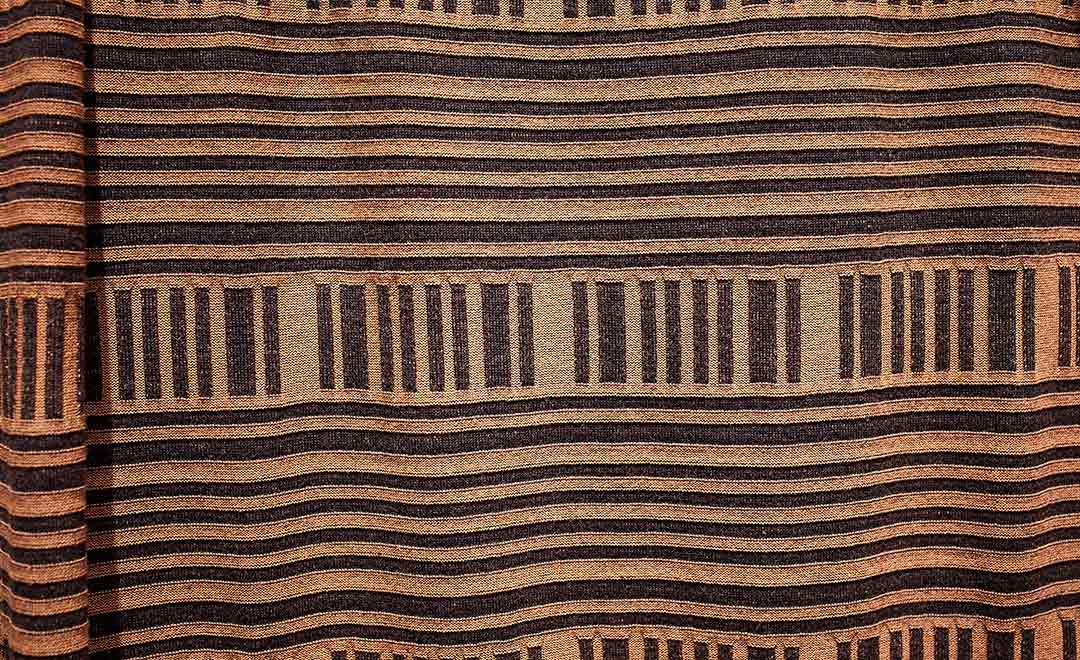 Ribbon texture, wool by Loro Piana.
Softness is prized as never before, teamed with a colour palette in icy tones favouring pale pink, blue, white and lemon, underpinned by the green shades which prevailed in many collections. These soft pastels contrasted with equally strong jewel-like collections of reds, rubies and dark nocturnal blues, with eye-catching pale pink and brown geometric knitted wool fabric at Loro Piana.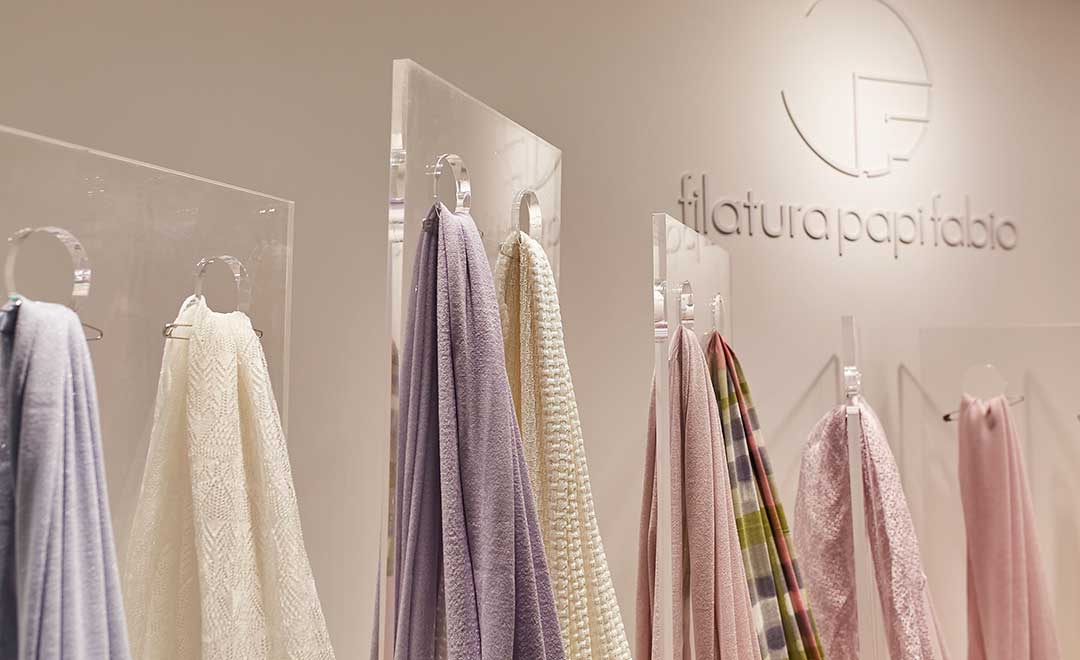 Pink spectrum and fancy stitches at Filatura Papi Fabio.
The versatility of fine wool was enhanced by the wide variety of partnerships: wool met silk to maximise expensive shine; it was twisted with linen, mixed with viscose or took on Lurex yarns and elasticated fibres to highlight the vogue for body-hugging fabrics, while high-twist wool gave extra stretch. Specialist wool spinners like Zegna Baruffa, Chiavazza and Botto Poala, Tollegno, Alpes Suedwolle Biella Yarns and Botto Giuseppe produced deeply researched stitch designs and innovative summer collections. Merino wool - fine and light played – was a large part, often dominating the design stage in these collections, like Filatura Papi Fabio's light fabrics, in light floral tones, the season's favourites.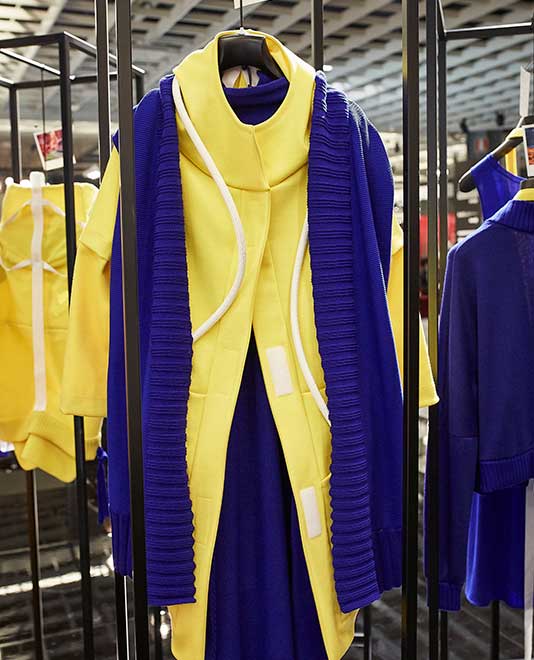 Bright athleisure in Merino wool by Südwolle.
The sporty, athleisure looks were typified by brightly coloured designs seen in pure Merino wool at Südwolle Biella Yarns, where designs for the buzzy athleisure scene favoured shades like buttercup yellow and bright French blue, showing that the entry of high-quality natural yarns into the sporty area is complete. Crepe effects were common when a crisper, springy yet formal effect was required.
Fancy stitches are made for fancy yarns. Knits were cool and holey, with several forms of lace; open work and light feathery nets, or irregular tensions giving an unusual look. Semi-transparent looks were further embellished with passementerie and embroidered effects, piqué and softly interpreted cables. Brushed and fuzzy surfaces were delicate and caressing, being diaphanous, semi or completely see-through, for knits as delicate-looking as gossamer but with innate strength.
More avant garde work came from the Dyloan Studios, where techno finishes and constructions mixed with traditionally precious fibres like very fine wool, in the forward-looking section named Moda Futuribile
Sustainability issues were underpinned by the choice of natural ingredients wherever possible, whether fibre or dyes, teamed with the latest technology to push the boundaries. The result also has to look fresh and exciting.